Tante Emma reloaded – die neuen Dorfversorger | erlebnis hessen | Doku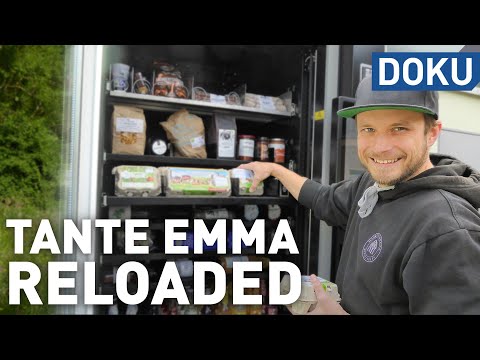 Show Video
Food vending machines that ensure basic supplies in villages. Is there sausage in there too? Eggs, milk, what is missing in the household. Every new producer has his story. And that makes us happy.
It's fun to sell the products. We originally intended to limit ourselves to our community of Ebsdorfergrund. Now we are far beyond the borders. How is it that the two are so successful with their food vending machines? When Katharina and Carsten Marin moved back from the Rhein-Main area to Marburg, all the grocery stores they knew from their childhood were gone. Here on the right is a now closed grocery store that has been converted into an apartment.
There are no more shops in town. Our former village shop is on the right-hand side. As children we learned to buy bread rolls.
It didn't make sense to us why I had to drive 10 km to the next weekly market in order to be able to buy the potatoes from the local farmer . The young people especially celebrated it very much. They pulled a limo in the evening, met there. It has also become a kind of meeting place where people from the village meet again. It got so fast that I had to fill up the machines every evening. We worked night shifts every day.
After the kids were in bed, we continued. The two founded a company: the market barn Wittelsberg. You already own 19 machines and two shops in Marburg.
Morning! - Good morning! Did you survive your vacation well? - Yes. I've already made you coffee. Every Tuesday they meet with Ralf and Basti to plan the week.
Both are employed. If we start in Kirchhain, we can get the cheese from Benny in Hatzbach. Otherwise you simply have to include this in the filling routes. Katharina and Carsten couldn't do it alone anymore. Basti runs the shops and I run the machines. We're trying to keep Katharina and Carsten's backs free.
I'm always on the phone It rings all day. In the beginning it was still possible that we included it in our daily routine. For a long time we had five machines.
I could fill them up when the kids were in bed. It all came at such a rapid pace that we were sometimes overwhelmed. We are very happy to have two employees in Basti and Ralf who have our backs but are also friends.
Did he only bring the little ones? - No, Ralf also has big ones. I've already brought the big ones to the back. You'll have to concede later. Then I drive to a few machines again and make a few more pickups afterwards. If there's anything else, just call! - OK. Bye!
Until then! * dynamic music * Ralf makes sure that everything works, is always fresh and filled. So what do we have here? The Mettwurst is empty again. We have a regular here. She eats it more often. I just cleared it up again on Friday.
But I still have one to refill. We need butter, we need a little milk. And other than that, it's still okay here. * dynamic music * There are a good 20 products in here.
More than 30 products fit into the new, larger machines. (Reporter) Just basic food? No, not just staple foods. but what you often need at the weekend.
Then we have some regional specialties. I wouldn't call them staple foods, but delicious. (Reporter) Like what? We have a game from Marburg, then the pepper biters from our butcher from Wittelsberg. They are very well received. The currywurst is straight from the neighboring town of Ebsdorf. This is a product that is doing very well.
We won't take them out anymore. (Reporter) Is there sometimes vandalism? Luckily we haven't had much experience with it yet. But with a machine we had it. They were two younger guys. They were also caught because they ended up fleeing in the neighbor's pond.
It wasn't big, but it was deep. Then the police fished those two guys out. Photo shoot in the shop in the Marburg upper town. Katharina helps out as much as she can. She doesn't have much time.
On the one hand, this is due to Paul, who keeps me on my feet around the clock , and on the other two, who I have to pick up again by 2.30 p.m. at the latest. Elisabeth is four and the oldest. Henry is two. And Paul is now 8 months. I usually start when the other two are out of the house, around nine.
And then I give it my all. I answer e-mails or stop by the store and try to work through all possible to-dos. Until her maternity leave, Katharina worked as an art director in a Frankfurt advertising agency. At the very beginning I did an apprenticeship as a media designer for digital and print media and studied media management in Wiesbaden, including a longer stay abroad in Bangkok. I then decided to enter the advertising world after my studies.
That also worked perfectly. (Reporter) Do you miss your job? - No, absolutely not. Even if that sometimes pushes me to my limits in terms of our time , but no, I don't want to go back.
She can use her skills just as well here. Better than ever because I can choose. That's the beauty of it. I discuss what I like with Carsten. We have ideas and we can implement them relatively quickly.
I can let off steam quite freely there. That's the most fun. Everything is well thought out, including the homepage. She designed it herself. You always end up on the start page of the market barn. This also includes our regional machines with all locations.
The user can then look for them. Then all machines are connected. You can view current statuses. That is now the example of Wittelsberg. You will then be shown whether it is still worth going to the vending machine for a bag of milk or not.
I can find out all of that here. In addition, Katharina is always on the lookout for new products and suppliers. It is important to her that they are small manufacturers, such as "Viez and Daughters" from near Marburg. "Viez and daughters" will soon be around the corner with two great lemonades. And we are eagerly awaiting it. That's "Lizzi" and "Betsy".
You will soon find them on our shelves and also in the vending machines. That will probably replace our lemonade then. And she's from here! Holger Sommerlad develops the drinks in his own laboratory. "Lizzi" is his latest creation. Basically just tea, some sugar, rose petals, which we then pickle. A bit of grapefruit juice to round it out.
For the color some hibiscus blossom and lots of water. This is fermented with our kombucha culture. The goal is a refreshing, complex drink, where there is a lot of taste and refreshment is due to organic acids. Hardly any alcohol, hardly any sugar, in a natural way, without artificial trick building blocks from the food chemist's box. In order for us to know when things are ready and the next production step can be initiated, we have to have reached a certain acidity.
The titration takes one to two minutes. Then we'll know how much acid is in there. (Reporter) How did you get the idea to do something like this? I'm an agricultural biologist and it fits what I've studied. I also had microbiology in my major. But I actually always liked to cook at home and try things out: brewing beer, making sourdough, baking pizza and bread, experimenting with water kefir and kombucha culture and producing alcohol-free or low-alcohol things. I then had the idea of ​​making a business out of it.
At some point it became a Kombucha-based alternative to sparkling wine. (Reporter) It doesn't sell well, does it? It's selling slowly because the wine and sparkling wine market is very conservative and we have to charge a certain price for it. We really do everything ourselves here. And you have to know: In the German wine and sparkling wine sector, the average price per bottle of wine is 2.30 euros, which I can't believe.
So far he has sold too little with a high investment. That was 30,000 from the EXIST start-up grant. Then I took out a small bank loan. At the very beginning I put some money from the family into it. If you count each glass, we are probably already over 100,000 euros.
If Lissi doesn't become a bestseller, Holger has a problem. Then we need to do something completely different on the food side. Or that's it at some point. Because we still don't really make any money. Is there a dream bursting? No, I would put it differently now. It would be more like I can tick off a dream I had under done.
I hope it will work. I've put a lot of time and energy into this over the last three and a half years. But if it doesn't work out, there's an option to do other things. I have enough ideas. With its regional machines, the market barn not only fills supply gaps in the countryside. it also supports regional producers.
She won the Hessian Demography Prize for this. Afterwards we had a delicious meal in Wiesbaden and drove home with a big grin. This has given the vending machine business a good boost. It is no longer difficult to find parking spaces. People come to us.
We get inquiries from villages that have similar problems as we had in Wittelsberg and want to take the same route to solve the problems. Another new machine will be added. Carsten is on his way to Oberrosphe.
A village less than 30 minutes from Wittelsberg. So I'm looking at a new location. The mayor wooed us in a kind of love letter. It was so charming that we followed the call and checked it out. * Music * * soft voices in the background * Najeth Salomon is the author of the extraordinary letter. I grew up here and my family is from here.
I love Oberrosphe. In any case, I would do everything in my power to ensure that life here continues to be and remains so livable. Hi! - Hi. Carsten Marin. Hi. - Najeth Solomon.
Great that it worked. Shall we see where the machine could go? show me This is our multi-generation place. Central in town. - OK. Very beautiful. We have a carport here, so it's relatively protected. Maybe that would be a possibility.
I find it a bit too hidden here though, I have to say. I would really like people to take notice of it. That you can see it better. We need at least 2.20 m height. If so, then only on the gable ends. But here in front, that would fit.
Then you have the same representative standing at the entrance of your multi-generation place. Yes, everyone who comes here will definitely see him here. No, great. So, we could put that up here. We have sun all day long here from noon, but that's not a problem for you? - No problem.
This increases the attractiveness of the village. I'm really excited to see how the villagers deal with it, what sales are like and whether it will be well received. But I think so.
* dynamic music * Now we're off to Marburg again, to Basti's in the shop. Hi Basti. - Replenishment. Great, perfect. We needed that. The shop in the upper town is still brand new.
What good have we got? Under one roof with the tourist office. An idea of ​​the city of Marburg. Basically, the combination is nice, because at the tourist information you can get cultural information about Marburg and the region. You can get culinary information from us. You already have enough to do with the machines. Then why the shops? Yes, in principle we would have enough to do with the machines.
It's important to us to show what's great in our region. But at some point the machine has a limiting space problem. With sausage and cheese, of course, we only ever have the opportunity to present one product. A type of cheese.
In the store we can draw from the full. Got 5, 6, 7, 8 cheeses. We have a variety of honey things, that's really great. Ohäuser Mühle, they make beautiful products.
Vanilla in honey, roses in honey. And they are located in the Marburg area, in Schweinsberg. It's like a resettler mill.
And it's funny that the beehives are actually behind our house too. And if it is not produced regionally, then it should at least be produced organically or fairly traded. We have brand new Marburg coffee.
He's from Bali. Indonesia. There are four boys here in Marburg. They were on a world tour. The farmers met them there during the Corona period, where there was really hardly any tourism, and they said, man, we support them. That is, it is directly traded coffee with the farmers in Bali. And stuff like that is fun. You get to know your region anew over and over again.
And every new producer has his story. And that makes us happy. It's fun to sell the products. That's it easy. Ralf has also arrived in Marburg.
Your vending machines are now also in cities. We thought there were a lot of great products from small suppliers that don't exist in normal city life. Then we tried to sell the products in the city. That was extremely well received. Then we want to stock up on some products again.
We have an app. We can always take a close look in the app. Or even on our website you can see which machine has which inventory. So I could already see that things were going well here again at the weekend.
We can also store the best-before date in the app. Accordingly, I can see immediately if something is running, then a warning comes up. Then I can lock the compartment so that I don't have to go there and clear it out, the customer can no longer buy it. Our suppliers are small suppliers, with no stock items. We order it and it is always freshly produced.
That's why you can't get it fresher. If a compartment is empty for 2 days, I prefer that to having to throw half away afterwards. In the meantime we are well established that this works, we have almost no committees.
So, off to the next machine. Without Ralf, Carsten would be lost. He runs a retirement home. Are you okay, Ms. Heeg? Yes / Yes. Every day is different. - That's correct.
This is a family business. My parents took it over 25 years ago and expanded it. And that's where I grew up, I would say.
Carsten studied business administration and medicine in order to be able to manage the home. It's a full-time job, and what about the market barn? Well, it's inevitable that there will be work for the market barn when I'm here. For example phone calls.
But I'm trying to separate it in time. That's how it is, in my free time I work for the market barn. Yes, in every free minute. After work we continue. Outside the home, Katharina and the children are waiting for Carsten.
Exactly, we'll pick him up now. Then we drive to the smelting mill to see Kathrin. Why? - We test dumplings in a jar. do you always do this Yes, we always try out all the products before they go into the vending machine or into our range. Now we have to go.
The idea came to us after we moved back home. After Elisabeth was born, it was already clear to Katharina and me that Katharina's main focus of work was no longer in Frankfurt, no longer in the advertising agency, and that she would work full-time for the market barn in the future. Let's go to Lollar to Kathrin. She would like her latest dumpling creation in the machines.
She is a dumpling specialist. dumpling specialist? Specialist is always such a word, which is very extreme. *guitar sounds* I like to make dumplings. I did my training in Austria. Of course there were also dumplings. I think it's nice that you can use something that's there anyway. The dry rolls are used and they can be made in different ways.
I put what nature has to offer in the dumplings. The plantain. There you can harvest the leaves and also the buds. Have a nice mushroom aroma. And by the way, they are also good for the respiratory tract. This is the meadow button.
And dandelion flowers. Can we clean it too? Katrin knows all about herbs. I thought to myself, I live here in the middle of beautiful nature. There are thousands of herbs all around that I don't know what they can do or what I can do with them. Then, in 2015, I did an apprenticeship near here as a teacher of medicinal plants and wild plants.
She is actually a trained hotel and restaurant specialist. The smelter belongs to her family. Since 1844. An inn in the fifth generation. I've worked as a cook here for the last few years. So I was busy in the kitchen, it's a lot of fun. But the things that I like to do, that was neglected.
And at some point my body just couldn't take it anymore. I stopped working here and can now do what I enjoy doing. The herbs, the nature.
The smelting mill is closed during the week. Then Kathrin can use the kitchen for her purposes. I still have a little extra. I'm already cutting the first load.
That's wild herb dumplings in a glass. There are many stews, there are many soups. Dumplings in a glass is something special. And above all, when it has to be quick, not just pasta, but you can open the glass and have a delicious meal that can be used in many ways.
Well, and the stinging nettles, so that they don't sting, break the nettles beforehand. Her friend Max helps out. He is a trained chef. Max, you are a couple. How do you know each other? By cooking together here in the kitchen.
"Love goes through the stomach", as they say. That was also the case in this case. I then apparently boiled myself into her heart. (Kathrin laughs loudly.) Nah! Well, he can definitely cook. That's correct. But I think it wasn't just the food.
Yes, it always starts somehow. It was more cooking together than eating together. Yes, cooking together. Max has also quit his job as a cook. That also took its toll on me.
Since at some point it's always too much, you lose interest in it. And then I went a different way, so to speak. That means that I did a distance learning course to become a holistic nutritionist. The two offer nutritional advice, herbal tours and catering. We became self-employed with "Erna", nutrition and nature. We sell
our products that we boil down, like the dumplings in a jar, under "what's there" because what's there comes in. If the farmer has too many vegetables, we process them and cook them and also use them for our catering. Clean up already? - Yes.
The milk is from the farm. Then we can tap them directly. It's raw milk. That's why it's important that it's cooked properly. * Guitar sounds * We also pick up the eggs at the farm. And how long do they last? Since they're preserved, they'll keep for about half a year, definitely 4 months, without refrigeration.
They are the tastiest: simply drop them out of the jar, cut them into slices and fry them in butter. Cook now and they're done. * dynamic music * * whirring * There's another one inside. 4 new vending machines for the market barn have been delivered.
Also the one for Oberrosphe. Good. Then this is the last wooden frame. The machines have now been delivered. Now they have to be wrapped. Ie they are already programmed.
Now it's really just the foiling and then you can start. Do you know how much a machine like that costs? Yes, of course I already know. But as we all know, we don't talk about money.
It's definitely in the 5-digit range. Babis, you had a cutter knife, didn't you? Can I steal this for a moment? - Yes. Are they here in the dealership now? Exactly. They're here in the dealership now. Because we had the small problem that the doors at Babis were a bit too small.
Since we all know each other well and the car dealership is next door, from another friend or buddy, Fabian, we were able to put this in here. Then we can bring them to the locations from here. Folierer Babis is also friends with Carsten. i know his wife She was an intern with me. 15 years ago I think.
Yes, Katharina was with me, she did an internship. I only got to know Carsten later. We play football together. Of course, this is also free time. Leisure kick in the small field. And Fabian is there too.
Well, somehow I have the feeling that everyone here is friends. I have known Carsten and Katharina since they were children. We grew up in the same village, went to the same youth club. I played football with Karsten.
We were just a clique. Do you have a good social network? A very good social network, I would even say. It's nice to know people like that. A lot of things wouldn't be possible without the people. Let's see how he looks inside.
Ralf has been working for Carsten and Katharina for almost a year. My old work has filed for bankruptcy and closed. Carsten noticed that and then addressed me directly: "Before you apply, can't you imagine that you might manage the vending machine business here for me?" because he simply no longer had the time and capacity for it would have.
did you regret it - No! Not a second so far. It's a varied job. I'm having a lot of fun. Katharina, Carsten and the children have now arrived at the Schmelzmühle. Water. - Water, yes. Don't fall in. - Don't fall in, yes. Well, are you being carried? - Hi.
Well you two. How long have you actually known each other? Well, that was two years ago now. At Christmas time, Kathrin gave us products to test. Yes, then, I think a year later, we had more intensive contact and added the products to the range.
That's how it was. - I think so too. It took a while, but then we had them. Mummy. To the little house. - Yeah sure. Now you can start. In this way, the useful can be combined with the pleasant, and the children are happy. *music* Henri, be careful. - Yes, yes, yes, yes.
Shall I see if we can get fizzy drinks for you? O yes. Fizzy would be great. Three small children keep you on your toes. When the children are sick, everything is upside down. So there are times. Then we simply have to restructure, reorganize.
Of course, our parents are worth their weight in gold for that. I always try to get everything under one roof. You look a bit cookiey here too. Yes, that's normal. I always look like this. With three children, that's a lot. How do you manage all this? Well, thanks to a lot of support from our parents and also that we take them with us to appointments.
Do you still have a lot of time together? Yes, well, we talk about it every evening. We also coordinated this in such a way that we also have our times to ourselves. But a marriage like that has to be resilient? Definitely, yes. But I think we're definitely a good team. I think that's why it works. What are you doing in the herb bed? But the two have known each other for ages.
We've known each other since elementary school. We went to school together. We were a couple when we were teenagers.
first great love - Exactly. But we lost touch a bit. At some point, everyone did their own thing.
We've always been pretty good friends, actually. Also best friends, so to speak. Are both once in the wide world, have let off steam and are both back again. nope We didn't come back, only later, but then we found each other again, I would say.
Exactly, we've been together for ten years now and married for almost five years. Now I've extinguished the club with Cointreau. Because I think the orange goes well with the asparagus. What I'm doing now , we also offer in catering, for example. I have marinated chicken on a skewer here once. I marinated them with a spice I put together myself.
I partially deboned the leg and stuffed it with asparagus, wild garlic and mushrooms. Then there's chicken breast, various vegetables and of course the bread dumplings. Yes, because of me we can finish it. You sit in the middle. I'll pass the dumplings over now.
I'll take one for Paul. Is that okay? That's fine. I'll steal two right now. Good Appetite. Very good! Exactly what herbs are in the dumplings? For example buckhorn, nettle, goutweed.
Nettle too? - Yes. Is the medicinal plant of the year. What I actually love most about bread dumplings is that you can simply eat them with vegetables or a salad. Really tasty.
Do you want to put them in the vending machines? The dumplings? Absolutely, that's the plan. Seriously now. We have to deal with that now. Definitive. The potatoes are running out now. - Exactly. Then they can go in there wonderfully. We change a bit.
Now the potato season is over. And that's a really nice alternative. So as a side dish, what people can buy. Something is happening in Oberrosphe. One, two, and! The thing weighs almost 500 kilos.
Let's try it the other way around. Now let's try again. piece high. Turn. Over there now.
* Music * The vending machine that the mayor worked so hard for has been delivered. Nice, the machine is already there. Hi. I am Najeth Solomon. - I'm Ralph. I am glad. The location is really great, looks really good. Power is also running, hooked it up and tested it. Is it already being filled today? It will now be filled directly.
Then I make test purchases to see if everything really works. Then it would be ready for immediate use. - Oh, nice. I think it's really nice that he's here now. We have planned to hold a party at the weekend to inaugurate our multi-generation place. And then the machine is ceremoniously unveiled and can then be put into operation.
* Music * Of course we've looked at what's needed in the village, especially at the weekend. And then it is often the case that the eggs have been forgotten or you want to cook something again. With potatoes or something. We also have noodles inside. The milk, butter, cheese, various sausage specialties. From different butchers too, really all sorts of things. One of the butchers is in Wittelsberg, around the corner from Carsten's.
* Music * A producer who supported her project from the beginning. We had to persuade one or the other. They were a bit skeptical, or at first they said no because they don't have the capacity for it. When the number of machines increased and we should have asked for more, the capacities were suddenly there. Especially here in town we had growers who were there from day one. The municipality of Ebsdorfergrund with the mayor also supported us and made locations available to us.
We are still very grateful for that. Good day. - Hello there. And of course, how could it be otherwise? There has been a butcher shop here for as long as I can remember. And Matthias and I are not so far apart in age that we have known each other since we were children. The pepper biters from Matthias are always among our top five products.
They were one of the first things we had in the machine. Did you think these slots would be so successful? Would I have thought so? nope I was surprised that there was such a demand and that it worked like that, with pulling and picking up. I have no idea myself because I've never drawn anything.
But the demand is there, and I was surprised that it works like that, yes. How many sausages do you sell to Marins on average? So there are queries about every 14 days, every three weeks, about 100 packages with five, in terms of content. So 500 pieces if I have it there. We almost always get there. Good morning Hello, six sausages. I would also like four sausages.
Yes. Tastes like you slaughtered it yourself, right? Like slaughtered yourself, exactly. Like in old times. Matthias Nau is also a third-generation butcher. The butcher shop has been around since 1924. Training is still given here. And old values ​​still apply. I can say here that the meat comes from the village, from neighboring villages, from farmers I know and trust.
I don't need EU organic for that, the vulture knows, what a seal. I still need the bratwurst. - Yes boss, come on. Matthias butchers himself here. Monday is his day off, that's when things are processed and everything is still done here in-house and by hand. Thank you. Take care. - Bye.
Replenishment for the machines. The barbecue season begins and the demand increases accordingly. * Music * The warehouse of the market barn. Here, too, Ralf has the overview. Looks pretty empty in here right now. - Yeah right.
New orders coming next week. I just checked for the eggs and the noodles. They're almost completely gone now. Do you have a rough overview of how much you sell? I don't know the exact numbers in my head right now.
But I know we're around 40,000 eggs a year. With potatoes, we should be around 1.5 tons a year. Are these machines really worth it? Definitive. The prices are of course a bit higher than when I go to Aldi, Lidl et cetera. But in the end, the things we offer in the vending machines are really handmade . Now I have to go too.
I still have an order to pick up. what do you need to get I'm picking up ketchup now because BBQ season is slowly starting again. Wir hatten letztes Jahr auch schon Bratwürste drinnen, die jetzt auch wieder reinkommen. Und der Ketchup hat aber letztes Jahr gefehlt.
Jetzt wollen wir gucken, wie das angenommen mit dem Ketchup. Grüß dich. - Hi, Boris. Und alles gut? - Perfekt.
Wir hatten Ketchup bestellt, ich glaube 80 mal für die Automaten jetzt auch. Ich habe schon vorbereitet. Können wir gleich einladen. Eine kleine Ketchup-Manufaktur in der Nähe von Lich.
Die Rechnung nehme ich noch mit. - Hab ich hier noch für dich. Boris und Nina Sauerborn haben sie gegründet. Und noch ne schöne Woche. Gerade mal fünf Jahre ist das her. Angefangen hat alles im eigenen Restaurant.
Wir hatten eine eigene Schafherde, eigenen Gemüsegarten, eigenen Kräutergarten und haben ganz viele verschiedene Produkte selbstgemacht und wollten im Restaurant eine Lammbratwurst vermarkten und haben die als Lamm Currywurst angeboten. Wir hatten einen Koch damals, der gesagt hat, es gibt keinen guten Ketchup, er möchte mal etwas machen. Aus der Not heraus, weil wir eigentlich die Lammbratwurst verkaufen wollten. Da sind wirklich Leute gekommen und wollten nicht die Wurst kaufen, sondern haben nach dem Ketchup gefragt. Wir haben dann angefangen, das abzufüllen und zu verkaufen. Wir haben im ersten oder anderthalb Jahren so über 2000 Glas im Restaurant verkauft, ohne Werbung, ohne großes Marketing.
Da haben wir natürlich gemerkt, wir haben ein Produkt, was funktioniert. Hi Johnny. - Servus Chef. Alles gut bei dir? - Sehr gut. Ihr Ketchup wurde sogar ausgezeichnet. Mit dem "Great Taste Award".
Waren wir sehr stolz drauf, ja. Oder sind es immer noch. Habt ihr damit gerechnet? Nee, ich habe es mir erhofft, dass wir einen Stern kriegen, aber dass der Milde gleich zwei kriegt, das ist schon eine sehr gute Auszeichnung. Die die höchste Stufe oder die höchste Auszeichnung sind drei Sterne. Kann man vielleicht im Restaurantbereich so ein bisschen vergleichen.
Wenn man da zwei Sterne hat, das ist schon outstanding. Wir verwenden ein Tomatenmark aus Norditalien, kommt aus der Nähe von Mailand. Dazu zwei Essige, ein Tafelessig, einen Himbeeressig aus Frankreich und verschiedene Gewürzmischung.
Aber Rezept bleibt geheim? Rezept ist absolut geheim, ja. Fünf Angestellte und ein paar Aushilfen, viel macht Boris selbst. Dabei kommt er eigentlich aus einer ganz anderen Branche.
Ich habe Jura studiert, danach bin ich fünf Jahre in Frankfurt bei einer Investmentgesellschaft gewesen. Das war zu viel Schreibtisch. Da habe ich am Ende des Tages zu wenig gesehen, was ich gemacht habe. Dann hab ich 2010 das Restaurant von meinen Eltern übernommen. Nina kümmert sich unter anderem um den Versand. Über 100.000 Gläser verkaufen sie jetzt schon in einem Jahr.
Wir haben 400 Märkte insgesamt in ganz Deutschland. Da sind Feinkostmärkte dabei, Rewe, Globus, Edeka sind wir gelistet. Ihr seid jetzt doch ganz schön erfolgreich? Ja, mittlerweile nach den fünf Jahren, es wächst wirklich. Wir können auch gut davon leben mittlerweile.
Hier hab ich noch ein bisschen Nachschub. Dankeschön. Habt ihr euch eigentlich mit eurer Manufaktur einen Traum erfüllt? Wirklich ein Traum würde ich nicht sagen. Es ist nicht so gewesen, dass wir gestartet sind und haben gesagt, wir haben jetzt den Traum, eine kleine Manufaktur zu haben. Aber das Arbeiten macht sehr viel Spaß und es wird immer mehr so, dass ein Traum in Erfüllung geht. Habt ihr denn erreicht, was ihr erreichen wolltet? Bis jetzt sind wir gewachsen. Aber wir wollen immer größer werden.
Wann ist das Ziel erreicht? Also bei uns noch nicht. * Musik * Festtag in Oberrosphe. Endlich kann's mit dem Automaten losgehen. Einen Tante-Emma-Laden gibt es hier lange nicht mehr. Seit Aldi in Wetter war gings eben das Treppchen runter.
Soll ich allein im Laden stehen und warten, bis jemand kommt. Und abends ist die Kasse leer, wenn ich zu schließen will. Das hat keinen Zweck mehr gehabt. Wenn du jetzt kein Auto hast, dann ist es schlecht. Dann muss man mit dem Bus nach Wetter fahren.
Und dann schleppt man alles nach Hause. Das ist eigentlich schwer machbar. 3, 2, 1, 0! * Applaus * Umso besser, dass jetzt wenigstens fürs Nötigste gesorgt ist. Kauf net alles weg, Jan! Erdbeeren, Eier, Milch, Pfefferbeißer.
Alles, was im Haushalt fehlt. Einfach gedrückt, Eier. Jetzt muss sie auch kaufen! Für sie ist das jetzt was völlig Neues, oder? Na ja, Einen Automat bedienen ist doch so schwer net. Ich weiß es nicht. Ich tue mich da ein bisschen, ich hab immer Angst, ich würde etwas falsch machen. Man muss ausprobieren, bis es klappt.
Ich weiß nicht, wies funktioniert, aber das müssen wir lernen. Aber finden Sie es gut, dass es jetzt die Möglichkeit gibt? Natürlich. Manchmal muss man wegen einem Stück Butter nach Wetter fahren. Die Eier haben wir jetzt hier aus dem Dorf, die holen wir. Aber sonst für alles andere fährst du halt zum Aldi und zum Rewe.
Wenn man das aus der Region hat, ist es natürlich besser. Zum Beispiel das Pils kenne ich gar nicht. Jetzt kann man einfach nach unten gehen und das mit Kleingeld kaufen. Ist auch Wurst da drinnen? - Yes. - Cool.
Es gibt immer mal so Situationen, wo man mal schnell was braucht. Zum Grillen oder so und ich finde das ne klasse Sache hier. Mit ungewöhnlichen Produkten, viel Leidenschaft und guten Freunden haben sie viel erreicht. Hättet ihr mit dem Erfolg gerechnet? Gar nicht. Deshalb ja auch der Name Grundnahrungsmittel. Wir hatten ja eigentlich mal vor, uns nur auf unsere Gemeinde Ebsdorfergrund zu beschränken. Jetzt sind wir weit über die Grenzen hinaus, das ist total schön.
Noch einer, dann sind wir bei 20, und nach oben haben wir kein Ziel gesetzt. Da wir ja Ende des Jahres auf 40 bis 50 Automaten kommen möchten ganz gerne, wird unser Team jetzt stetig wachsen. Ich hab echt richtig Lust drauf und freue mich schon auf die Zukunft. Was ist denn Euer größter Wunsch für die Zukunft? Mehr Zeit! - Ich würde auch sagen, mehr Zeit.
Der moderne "Dorfladen". Ein Ersatz für Tante-Emma ist das nicht. Aber den Dorfbewohnern hilft's. Und vielen Erzeugern der Region auch. Copyright Untertitel: hr 2022
2022-08-28 03:53
Show Video
Other news