Taking the FERRY to Avoid two Border Crossings EP.109 | MIDDLE EAST Motorcycle Tour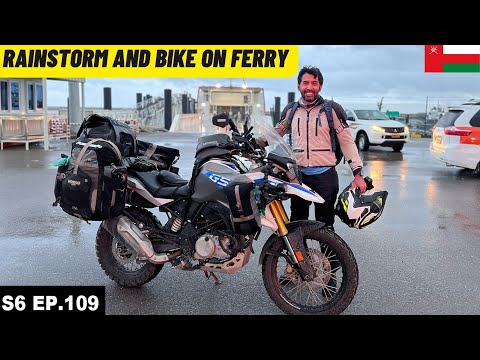 Show Video
Bismillah... In the name of Allah... We have finally entered the boat. Lets see how he is gonna tie the motorcycle so that it won't fall down.
It's raining really hard. We are now at the captain's deck. Thank you very much, Sir.
Assalam Alekum. How are you? There are actual puddles on the road. I've no clue about where to stop. Assalam Alekum Everyone and Welcome Back to the Channel from Khasab, Oman.
I've been staying here for the last two days. And it's been raining ever since. It's still raining. And so it was last night. I don't know anything about the situation in the city. Don't know if the roads are open.
The roads to mountains must be closed for sure. I came to know about this yesterday. Today we are going to leave Khasab and head towards our next destination. There is only one way to go to the other part of Oman by road. For that, you'll have to cross over to UAE and move towards Ras Al Khaimah. And then you can reach there after crossing a couple of borders.
So I decided not to take that route. Instead, we'll take a ferry from Khasab that will take us to a port called Shinas. Muscat is almost 300 km from there.
I'm not sure if we'll be able to finish this today. The boat will leave at 1 pm and reach the destination at 5 pm. More details to come when we get there. Anyways, let's get our stuff on the motorcycle. And pray that the roads to the port are still open.
Bismillah... In the name of Allah... *Prayer for the journey* May Allah make this a smooth and memorable day for us. We didn't have the perfect start today. During breakfast, I put a slice of bread in the toaster. But, it never came out and caught fire, instead.
And that activated the fire alarm, so early in the day. Anyways... The rain seems to be in high spirits. I set off as soon as it stopped raining for a bit.
But it started again as soon as we set off. There weren't much water on the roads here but there may be some on the road ahead. But if the traffic suggests that the roads may be open.
We need to take a u-turn. You can say that this is the main shopping area here. There are almost types of shops here. From a supermarket to a small grocery store, everything is here. Small bakalas. Overall, it's a peaceful little city.
Major work opportunities here lie in construction and port. Then there's tourism. I couldn't find any other industry here. The work force mainly consists of people from Pakistan, India and Bangladesh.
But there are workers from other parts of Oman as well. Our ferry only makes two trips a week from each side. The one that leaves from here, does that on Wednesdays and Saturdays. It leaves at 1 pm. I think it comes from there the same day, picks people up and goes back. I got this ticket for almost 40 dollars.
I didn't do that myself. A friend from Muscat did that for me. That's why I can't tell you the exact price. I just told you the amount written on it; includes motorcycle too.
There's an airport here as well. So the fastest way to reach Muscat from here is by air. Also the easiest.
There is water on the road so we need to be careful. There is less water on this side as it is slightly higher than the other. There's more water by the other side. They must have opened some passages to allow water to flow away. Because it rained all night, last night.
There is some sort of arrangement to get rid of water. I saw them installing pipes and clearing roads yesterday. I think we have reached the main road now. That signboard read 'Al Mina'.
There were few boards with 'Port of Khasab' written on them. There are many trucks here. As it appears, all of them must be waiting for the ferry.
One of the reasons, these trucks prefer the ferry, could be the customs duty to be paid at the UAE border. Hence, this is the most suitable option for them. There are some cars here as well. Looks like the ferry hasn't arrived yet. And besides, I've no idea where do I need to go to get on the ferry.
That's the ferry in the front. You can also make a booking here at the office of National Ferries Company. You can also do that online using their website. But it wasn't working when I made the purchase. I've collected my boarding pass from here.
And now I've been told to go to the other section. We'll get it stamped here and then we can board the ferry. There are quite a few people here. But I don't have any luggage to check in. Just need to get my boarding card stamped. So... they checked my passport and stamped it as well.
They have put an exit stamp on my passport. I didn't expect that though but anyways. And they also stamped the boarding card. People have started boarding now.
The whole procedure was really smooth. Hardly took 5 to 7 minutes. You can expect it to increase if you have more luggage. They didn't check the motorcycle though. The trucks are still here. When are they gonna go?
Or is there any other ferry for them? Assalam Alekum Is there going to be a checking here? Assalam Alekum Thanks Lets see how our sailing experience turns out to be in this rain. I hope it's not too bumpy. It's not windy so we can expect a relatively smoother ride. OK He told me ....'Directly inside'. Bismillah... In the name of Allah
So, we are finally entered the boat. In the center you mean? I just speak a little Arabic. Hello Abrar.
Alhamdulillah... So, you know me? It's nice to see people recognizing you at all sorts of places. Lets see how he is gonna tie the motorcycle so that it won't fall down.
Thank you. Well... So that's what it looks like from the inside. Let's remove the helmet and see if we can do some recording here.
So the crew was just serving the meal. I didn't expect to get a meal here. But they are serving lunch. I'll show you once I get my lunch. So, this is our lunch for today. It's a chicken sandwich.
You can see the sticker of LuLu so they must have got it from them. You also get an orange juice or other juices. I requested them to allow me to come out and check out the rain. Good thing is that our ride is not too bumpy. That's where all the cars are parked. And our Rangeeli (motorcycle) must be somewhere over there.
Can't see it from here. Normally, they don't allow anyone to get up here. But they just opened it for a short duration to let anyone willing to experience this. They also told me that they may arrange a meeting with the captain for me. Because all the crew members have seen one of my videos or the other.
It's a little surprising for me to find out that so many people here know me. A good thing in fact. So lets benefit from it. It may help us make an even better video for you guys.
We are the captains' deck now. I've been allowed to be here. We had a great conversation. They even allowed me to record a video. The faces are not shown intentionally. The view of sea from here is amazing.
A bit difficult to capture it from here though. There's a whole system at work here. Ready to exit the ferry now.
We'll leave after a couple of these cars exit. Don't know what's the weather like outside. We may have to wear a jacket.
But at least it's not raining at the moment. Thank you very much. Bismillah... Need to adjust the mirror but lets get out of here first.
Is that a Ferrari? It looks like this. Looks like the poor guy is having a hard time there. Our Rangeeli (motorcycle) is way better than this. We can just leave from here. Thank you. Assalam Alekum How are you? Great. Alhamdulillah.
OK. Stay there? Let's park it here. He needs to check something. How long will it take you guys from here? We'll be in the company bus. So you work in Khasab? Yes. Working at a site. How's Khasab as a place? It's been 25 months. We have been working here for about two years.
You get a vacation once in two years. So... They did a light checking of my luggage. And then we were told that we were free to go. About to leave the port.
The road is just in front. However, I don't know if we are to go left from here or right. Are they waiting for me? I hope everything's okay. Assalam Alekum Wa Alekum Salam How are you? I'm good.
Thank you so much. Let me just... Don't want the motorcycle to get stuck in mud. Wa Alekum Salam. How are you, Sir?
Thank you so much. Assalam Alekum. How are you? Thank you so much. Assalam Alekum We are your huge fans. Thanks very much. Assalam Alekum. How are you?
Alhamdulillah... What about you? Will you hold this for a minute while I remove my helmet. Being inside the helmet while talking to you doesn't look nice. Thank you. My son is waiting there in a black suit. Okay I'll stop there.
Just go to the cafe. OK OK then. Thanks very much. Thank you. Allah Hafiz.
Bismillah Just see the love of these people. Wherever you go, people treat you very kindly and give you a lot of respect. It tells me that I'm doing something right. That's why so many people appreciate it. Thanks to all of you guys... who meet at unforeseen places. They even insisted that I go with them to their place.
But I've to meet a friend in Al Mussanah. And we already have a booking in a hotel there. It's almost 170 km. That's why I don't want to spend too much time here. There's still some light left. Otherwise riding on this road at night with all this water on it would be tough.
There are puddles of water everywhere. God... Look like small pools of water on the road.
This looks like a small town. As soon as you come out of the ferry port, you see the business center. There are small shops here.
So far, I've found Oman to be really different from other countries in GCC. I wonder why these cars are moving so slowly. I don't want to place my feet on the wet road. I have a tank full of fuel so... one thing less to worry. We can go non-stop. But we'll take at least one break for sure.
Because covering 170 km in one go can be a little too much. We can make a small stop after 50 or 80 km. Somewhere we can find a cafe. I'd rather cross this section in light.
So let's keep going until there's light. Let's hope the water is shallow. Let this car go through first and then we'll follow it. Looks like it won't be a problem. Sometimes the water can completely submerge this passage. Patience, man.
We'll take the highway soon. And the rest of our journey will be on the highway. I did lose my way a couple of times. I hope we'll get to our destination without trouble now. So they are entering from here.
Let's do that. Otherwise, we may have to go a little too far for the next entry point. There may not be another one. Good thing is that the highway has lights. Otherwise, I was facing a little difficulty. Since we just got here, it will take some time before we get a hint of how people drive here.
People just get on the road from anywhere. I don't think this is the motorway or the expressway. It's more like our GT road. (One of the largest roads in Pakistan) People can enter the road from any point... just like I did.
That's why one has to be a little careful. But we are still comfortably going at about 90 or 100 km/h. So, we are inching towards our destination. It's really windy out here. It has also started to rain.
It would be better if I stop at some place for a short break. Because this strong wind doesn't look good. And our GoPro is not waterproof either.
We better stop somewhere now. Where should we stop now? I have no clue where to stop. We can only pray for this rain to stop. Or we reach a petrol station.
I can see a Shell fuel station coming in 1 km. Let's go there. 1 km seems unreachable today. There it is. Oh God... I almost missed it.
Where did the Shell fuel station go? O... there it is. They have done well to conceal it from sight. Can we get something to drink here? I'm sure there's coffee at the fuel station. Looks a bit deserted though.
Good Gracious... It's just empty. There's no one here. We won't even get coffee. Assalam Alekum Can I get some coffee? No.
What do you have here? Nothing to drink. Then what are you selling here? Air Anyways.... Thanks guys. Where are you from? Pakistan. Where are you headed to? Mussanah, for now. You are on a grand tour, right? Yeah.
Did you see any of my videos? I think I might have. We have now reached Sohar. I rode for 60 km at a stretch. I expected to get coffee from this fuel station but didn't. We'll still stop here for sometime.
There's one more thing. When we took a stop back there... Some of our luggage also got blown away. We have a sandwich with us here. A family that came to see me, brought this for me. I am gonna eat it now because I am hungry.
Let me share some info about Sohar. It's the 5th largest city here. It served as a very important port during the Islamic period. If the weather stays like this, we might stay in Sohar. Otherwise, we'll get going. We still need to cover another 120 km.
It has been raining through out the way. Right now we are at a place called Kismat (fortune). Kismat has brought us here. So, Mizan here watches our videos. Yes.
And you recognized me because of that? Yes. How long has it been raining for? It's like you brought it with yourself. It has been raining since morning and I've been taking it along with me. It has been raining since I left from Musandam in the morning. And you are saying that it just started... Yes, it did. You just brought it with yourself.
That means it's gonna be raining throughout the way for me. We have got our karak tea so lets drink it now. I was considering the possibility of staying here but riding in rain is a great experience.
Sort of an adventure that I've started to miss lately. I have never seen this much rain in any of my tours before. Not even once in this tour. So, I'm enjoying this experience. Although, I'm soaking right now as I wasn't prepared for this type of rain.
As unprepared for rain as some of the roads here. Anyways, it's not too cold... almost around 20 degrees. We have reached Al Mussanah. What a ride it has been for us. All my fantasies about riding in the rain have been fulfilled. I always anticipated it to be a fun activity.
But it has been a good ride so far. The only problem that I faced in this rain is that a lot of water piles up along the roadsides. And people don't realize that they are riding in rain... So they carelessly go splashing the water here and there. And everything from your helmet to clothes gets soaked. This is one of the problems that I had to face.
Secondly, when the raindrops are striking against the visor, it makes you go blind when there is light coming from the front. That has been quite an issue for me, in this ride so far. I think we have almost reached our destination. This is the resort where we are gonna spend our night.
Only if they let us in. Assalam Alekum I have a reservation here. I think the last time I had a ride like this was in Slovenia but it's a long time ago.
That whole day was soaked wet in rain. And today, it was hardly around 5 to 7 km when it didn't rain. But it stayed like this for most of the part. I'm feeling cold now. Steady Abrar.... Be careful. So where do we need to go now.
That's it... I guess. Assalam Alekum Wa Alekum Salam This is Aftab. He told me that it was not raining here. Well, I think it is me who is carrying the rain along with myself. Assalam Alekum That must have been a rough ride.
There was nothing that I could do. This is the entrance of the hotel. Finally we have checked in here. We have got a really nice room here. In fact, this is a very big resort.
There's a beach right next to it too. But before that, I want to show you this room. You can see that it's a very neat and clean and spacious room.
We hope to spend our night in comfort and luxury. At the moment, it's too dark to see anything outside. But we hope to wake up to a beautiful view in the morning.
This is our dinner for today. Check this out. Aftab told me that he had already ordered dinner for me. So this is biryani. I can say more about it after I have eaten it. Looks like it's chicken biryani. This is some thin roti.
There's some yogurt and salad. For now, let's sit here and enjoy our dinner. We'll also meet Aftab in the next vlog. Hopefully, the biryani will be good and so will be our vlog. Remember me in your prayers. Do Like, Subscribe and Share.
See you in the next one. Allah Hafiz.
2023-02-09 02:29
Show Video
Other news