Swat to Kalam in Snow! Where to Stay in Swat? 2022 Winter VLOG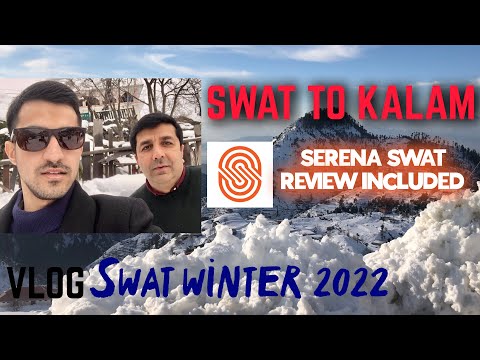 Show Video
In today's VLOG we'll show our urgent trip to Swat. We planned it in 2 days. We offered our old partners Sami and Abuzar, they dint join. We're off to Swat. We'll show you the way and travel cost.
How much petrol civic takes? Where to stay? We'll travel all around there. We stopped at Kalar Kahar. For 5 to 10 minutes.
We missed Jummah prayer. We prayed Zuhr and Asr You can pray both together in travel. We are 30 minutes late due to raid. The rain is increasing and our speed decreasing, It is raining since Faisalabad. We're on motorway ahead of Islamabad, KFC open here.
This is a good service area. We'll make a short stay here and then move to Swat motorway. To save time we brought burgers from home.
It's 4 pm and we're near Swat motorway. From Capt. Col. Sher Khan interchange you will exit motorway and we'll turn to Swat expressway.
Constant rain since we've departed. Take the exit towards M-16. Chakdar, Swat. Karnal It was about to hit us.
Just to clear you all this is day 1. Because part 2 was interesting so we uploaded it before. We'll go till Kalam. Watch the full VLOG. Swat motorway tunnel.
Fully made by Pakistanis. It was Chinese construction at Hunza tunnels. And this is Pakistani, absolutely brilliant.
The management is good Attabad tunnels are long, 80% of the time their lights are off. In heavy rain, the lights are on here. In Pakistan, load shedding is common in rain. Peach is found commonly here. It grows here.
10 kilometres before that was Red blood orange growing it was that area. Motorway ending here. Let's see what's ahead. M-tag working till here. Good work. We're in Chakdara.
We'll stay right. Hello! This is red blood? Yes a little bit. It's a bit red. How much? Shopper or 12? Shopper.
Shopper 700 to 650 rupees. These are from Malakand. Okay. 12 for? 200. Give me dozen. Good ones please.
Swat has changed. Khaadi and Ideas is here. It's Khaadi. A lot of change here. We're here after 8 years.
Mall of Swat, there's J. That's Imperial. Starlet, all is here. Let's look for food.
Miniso is here. I think Mr. Cod will be here. Oh there it is. Good burgers. Limelight is here. There it is. Shoe Box.
Minnie Minors. Diners too. Every brand is here. Nishat Linen. It's a Faisalabadi brand.
We're at Saidu Sharif Swat Serena Hotel. What time is it? At 7 13 pm. It was not here.
Machine without a guard to check. I had something. 4 beeps. Reception here. All same old. There's a pool here, swam a lot there.
So this is Swat Serena Hotel. We were hanging in Swat we have found Pizza Hut here. And Gloria Jeans too. A good mall, all is here. Swat Marina. We're about to visit Blue Diamond hotel.
In Swat. Amazing mall. Pizza hut, gloria jeans, Swat has changed a lot. 10 % off. We'll visit them later. This is our suite.
Heating? We have inverters. Do they work? Yes. Why not. Check out the size of the room. This is deluxe suite. This is the mall view. Where is Pizza hut? Good rooms here.
If you wish to stay anywhere apart from Serena. Try Blue diamond. We'll visit Gloria Jeans.
In Swat Pizza Hut. Damn. Fill it up.
From Faisalabad, we filled up from Sahianwala. This much is used. 474 km.
Lets see how many litres. You can go back with this much fuel. I always keep backup fuel. We'll goto Kalam tomorrow.
Always fill when you're about to move. We're recording because people ask about cost of trips. We're showing fuel cost. We dint show this in last videos.
35.16 litres. We had 15 litres. Hello everyone! It's 10 in the morning, breakfast time limit is 10 30 am. And Ali bhai is sleeping. Serena Swat.
Thankfully we can see mountains now. Rained all day yesterday. It's 10 30 am and 10 30 was the deadline I was here at 10 28 am.
I told you. I was here before deadline. I'll get breakfast. Huge variety.
We left Serena and time is 11 30 am. You don't tell them where we going like he does(Lens by Abrar xD) You don't have any time. We're moving to Kalam now.
We'll go to Kalam and come back today. Malam Jabba tomorrow. Then back to Faisalabad tomorrow too. Kalam's road is very fine now.
Full carpeted road, 2 - 3 hours to Kalam. It's 12 30 pm. I showed you from Besham A 65 km long road connects Swat to Besham. The road's condition is not that good. We can goto Besham or leftwards Kalam.
Madin is here. 10 km to Bahrain. Pakistani Bahrain.
We're in Bahrain. 36 km to Kalam. There's an Arab country Bahrain, this is Pakistan's Bahrain.
We came here in 1 hour and 50 minutes. 1 hour to Kalam. This is Bahrain. It a stop like people prefer Nathia Galli over Murree.
It's Swat's such stop. Just hotels and shops here. A lot of crowd here.
Looks like a road blockade ahead. Let's see. Road is open, we're ahead of Bahrain. Let's see when we make it to Kalam. Target was 2 15 pm.
We'll try our best. 10 km to Kalam Traffic blocked. Hospital ahead so blocked. We might turn around.
It's 2 52 and traffic is blocked. 9.8 km to Kalam. Such drivers block traffic 2 lanes are working normally they block traffic in their hurry the whole traffic behind suffers. Avoid such driving. The police guy is solving the blockage. A car coming here.
And this corolla is wrong. This is called thrill. It's 3 30 pm we're 8.5 km from Kalam. We'll turn back from here. 3 to 4 stoppages ahead, snow is more. So we'll go back.
Let's open it up. We'll take pictures here. Snow everywhere. We need toilet. 8.6 km to go and we moving back.
We tried to take this hotel's room key but we failed. The traffic is still closed. I hope we do not slip.
Frozen stairs. Where did he go? White view. Try to use your feet properly. This will be our stop.
And we'll shoot pictures here then go to Swat. He fell on snow twice since then he's feeling dizzy. The world is still moving. It's due to rapid temperature decrease Don't try this. Still feeling exhausted.
We'll eat Pizza Hut from Swat tonight. Maybe I'm hungry. We're back to Bahrain.
It is 5 24 pm. Then Doha, Qatar then Dubai I messed up Middle east. We're in Swat Pizza Hut.
It's 7 38 pm. Pizza is fresh and of Pizza Hut standard. The wings were good too. We came back from Kalam we'll show the petrol cost.
Make it 2900. 2850. 19.2 litres.
We're back from Malam Jabba. 2350 rupees. This is main reception. One of my favourite pools.
That's all from Serena. Stay here when you come obvious first preference is Serena. Good rooms and services. Very friendly environment. We came here many times.
I was about to show something else, these oranges just came. They're red blood too. They came in the frame by chance. Gymnasium is here too. A good gym. This is entrance and this is parking.
A bigger parking behind.
2022-07-22 21:32
Show Video
Other news