Such an Amazing and Unexpected Welcome in Gujrat EP.17 | Pakistani Visiting India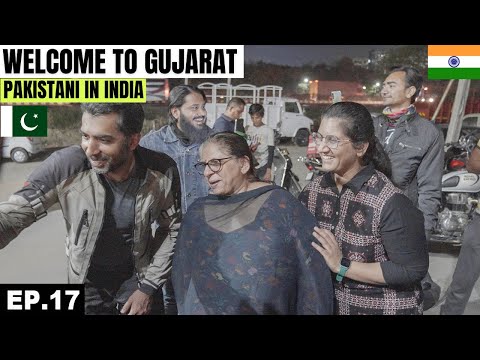 Show Video
This is vada pav. This is called pav. Right? Yes. I heard it's made from potatoes. Yes.
Just put it inside and you are good to go. Thank you so much. How are you? Good. What's your name? Mahesh. I told mom about this. She watches your videos everyday at dinner time.
He just posted it a couple of hours ago. That's why we just finished our chores and hurried to come here to meet him. Wish you safe travels. And keep making nice vlogs for us. And we keep traveling the world with you. Right now we are trying to sort out the gifts that we have received so far.
Trying to determine which of these I can carry with myself. Because there are so many of these and my bags are already full. Karthikeyan, do you have any space? We have to check. What's this in your hand? It's from Pakistan.
Check this out. It's betel nut from Pakistan; Shahi Deluxe. But it's without betel nut. So, it's good.
Thank you so much guys for these gifts. There are so many gifts; some are edible. People from all around brought these for us. We are trying to sort these out. Assalam Alekum. Good Morning. Namaste. Sat Sri Akal to everyone from Mumbai.
We spent last few days in Mumbai. It's a really beautiful city and so are its residents. The way they welcomed me... Thank you so much for that, guys. I'll always remember you.
Today we are leaving for a new city; a new state. We are heading towards Gujrat. We'll try to reach Ahmedabad today. Ahmedabad is almost 530 km from Mumbai. We are in Andheri West right now and I checked the route from Google.
It's gonna be a 10 hour ride to say the least. If we take some breaks, the time can go up to 12 hours or so. So we'll reach at night. We are already past noon.
There's gonna be a lot of traffic on the roads. Let see. Hope to have a good ride and a good day. We have setup the motorcycle. Lets leave for Ahmedabad.
Thank you so much. Bismillah... In the name of Allah... *Prayer for the journey* We pray to Allah for a safe and memorable ride ahead.
We are gonna have a rather long ride today. The navigation has updated the ETA from 10 hours to 11 hours. Let's see. Nevertheless, the plan is in fact to reach there by night.
Otherwise, we might have to take a hotel along the way. In case, we are tired. But our top most priority is to reach Ahmedabad.
Even if we reach late. You can say that Andheri is located in the center of Mumbai. Because it's very close to the airport.
We have to travel northwards today. So, we'll have to ride through half the city. If we were further southwards, our ride would have been 45 minutes longer. There seems to be relatively less traffic right now. That's probably because everyone is already at work. I have seen Nexon (car) rather frequently here.
It's an electric car. I think it's made in India but I don't know the company name. A lot of construction work is happening in Mumbai. Everywhere you see, there are new constructions happening. This construction is probably for the metro. Almost...
Every road has some construction work going on. You may see a rather different Mumbai in next 4 to 5 years. Looks like there's no end to Mumbai. We have been riding for almost an hour now. We have covered a substantial distance in terms of km though. But people here don't focus on kilometers; they focus on time.
At times, it can take up to an hour to cover 4 to 5 km. We have covered almost 40 km in an hour. That's not a small feat. I can see a lot of high rise buildings and apartments in this area. Relatively more than the previous area.
Here's Saif. He recognized us and asked us to stop. Thank you so much Saif. As they say, God does everything for a reason. I planned to meet you at BMW but it got cancelled.
When you were at Juhu, I couldn't get there. But now, I was coming from Mumbai and I met you on this road. Thank you so much Javed. This traffic is crazy. You have 850. I have recently got this one. I almost had my feet burnt.
Previously I had the same motorcycle as yours. I also feel as if I'm riding on a stove. I wonder what you must be feeling. Your engine must be really hot. It is.
Got that one just a month ago. Before that I used to ride this one. I've been watching your videos ever since you got your motorcycle in Germany. Thank you so much. Let me remove my helmet.
You guys tell me to get myself a 1250. See how hard it is for Javed to pull back his motorcycle. And he has 850. 1250 is even heavier. Let's go. We'll stop somewhere.
Riding a bigger motorcycle in a city is a really tough job. But it must be very comfortable on the highway for sure. We are crossing some river right now. According to Google, it's called Vasai Creek. Let's take a break here. We have been riding for more than 2 hours at a stretch.
Wow.. God destined me to meet you here. What's your name? Suraj. How are you? All good. Let's sit here for some time. We are here at Shree Datta Snacks. A lot of people recommended this place for their vada pav.
I mean being in Mumbai or Maharashtra and not eating vada pav... That's not right. Your tour remains incomplete without it. Suraj has been waiting for us for the last two hours at the toll plaza.
Luckily we stopped here for meal. Otherwise we could have just passed by this place. So, this is vada pav. This is called pav. Right? Yeah. I've been told that this is made from potatoes. Yes.
Just put it inside and you are good to go. You eat yours and I eat mine. We got it at what price? I think it's not too expensive. How much is it?
One for 40 INR. Very cheap. Normally you get some cold drink with this. But we asked for butter milk. This is for you. And this one is for me.
Please go ahead. My first vada pav. And it's really good. Probably the best item as a snack. I also liked misal pav a lot. I guess you eat it in breakfast.
This one is really good. Okay Suraj. Until next time. Let's go. Highway is much better now. There's a lot less traffic here. So far, we have been covering our distance really well.
So far the best highway we had in India is this section. Hopefully, it will stay like this till Ahmedabad. The best thing is that I haven't been stopped at any check posts here. I haven't seen so many trucks at any other route in India.
This does give you an idea about how big the trucking industry of India is. It's huge. The whole route is full of trucks. Thank you so much. How are you? Very good.
What's your name? Mahesh. Thank you so much Mahesh. Thanks for bringing such nice flowers. So you tracked us through our story. Thank you so much.
All good? Yeah. I have been following your movement here and was waiting for you to come here. I also sent you messages. Thank you so much.
Let me get some petrol from here and then we can drink something. Okay Okay Mahesh. Thank you so much. It's so nice to see people waiting for you.
I consider myself really lucky. Because not only am I living my dream but also getting so much love from people. We are back on the highway. We are almost 50 km from Surat.
We just want to keep going until we reach Ahmedabad. This is the beautiful Bharuch bridge. Just crossed the toll plaza. I think we are almost 4 to 5 km from the city.
We are gradually getting closer to our destination. Welcome Sir, Welcome. Just a second. How are you? How are you? Assalam Alekum Wa Alekum Salam. How are you? How are you Hardik? I'm sorry to keep you waiting for so long.
Where should I park the motorcycle? You have earned the right to be late. Thank you. Where should I park the motorcycle? Here? Just park it here. Welcome to India. Thank you so much. So we have met these lovely people.
Hardik said he wanted to accompany us till Baroda. On his Royal Enfield Himalayan. I did consider buying this motorcycle as well. Good Lord I didn't know so many people will be waiting for me in Baroda. Hello Sir. How are you?
I'm pleased to see that so many people follow me here. Thank you so much guys. I hope all of you are good.
Namasthe all good? Let me just park my motorcycle first. How are you? What's your name? Nilesh. Thank you so much Nilesh.
We watch all your videos. Thank you so much for this love. How do you do? I sent you so many messages requesting you to visit Baroda. I received your requests along the way.
That's why I held a meetup here. Welcome. Thank you so much. I've watched all your videos. Thank you so much. We are so happy. I'm even happier to meet you all.
Your videos are really amazing. The simplicity with which you speak is amazing. I hope to come back again soon. We are lucky to have met you. You always say that... 'I missed this place... Hope to visit it the next time.'
Hope that you will come back to India. These are some items from our Gujrat. Please do try these. I brought these things in a hurry. But everything is good. We won't let you go empty handed from here. I'm not empty handed. Got so much stuff already.
He was sitting upstairs but he came rushing downstairs. A week ago, he told me that Abrar is coming. Today he told me that Abrar is coming to McDonald's in 30 to 45 minutes. I was a little away. But I just had to come here to meet you.
In our house, either myself or my brother play your video and then the whole family sits and watches. Our parents, my wife and kids. We watch a lot of your videos. You won't believe it.
My father lives in USA and he was visiting on Diwali. I showed him your videos and he liked them a lot. That's great because that's how my channel grows. Actually...
Older people watch my videos with so much interest and calm. They don't believe in fast forwarding or anything. They just get their meal, sit comfortably and watch the whole video. It feels really good when I get their comments.
It gives me the reassurance that not just young people are watching my videos. Even the middle aged fellows and senior citizens watch them. We were having our dinner when I saw your story. So I told my mother that you were coming to Baroda. She watches your videos everyday during dinner time.
He just posted the story a couple of hours ago. So we just had to wrap up everything and came here to meet you. How are you? So were you able to finish your meal or not? Yes, we did. All good now. Abrar, did you have any meal? No, I'll have it shortly. Let's go and eat then.
You are from Pakistan and you came from Germany and we met you here. I always tell her that I want to go to Pakistan once before I die. I'll pray for you.
That's good. Gujrati food is mostly vegetarian. Not too spicy. But you'll have a lot of variety. There will be so many vegetables, pickles and crackers.
I check for updates every night. I came to know about this around 10:45 pm. So I just sped my car to get here. Thank you so much. Please say 'hello' on the phone.
Hello. Assalam Alekum. Wa Alekum Salam. How are you? I'm good. How are you? Thank you so much. Hope to see you in Ahmedabad. Can you take a selfie with my mom? Thank you. Thank you so much.
Drive safely as you have to travel for 1.5 hours. Thank you sir. Thank you so much. All the best for the rest of your journey.
Keep making good vlogs for us. And may we keep roaming around the world with you. What's his name? Krish. We wanted to come.
In the Mumbai meetup. By air or by road? By train. Your vlogs are really relaxing.
Whenever there's a fight or something... we watch your vlogs to relax. I'm Parvez. Thank you Parvez. It's so nice to meet you.
Our meeting here has been concluded. Many people have already left but some are still here. Thank you so much, guys. It felt so great to meet all of you. There's a couple here who wanted to travel to Mumbai to meet me.
That meetup got canceled but we eventually met here. Thank you so much. Thank you for coming.
The meetup went great. Thanks to all of those who could come. So many people joined us there on such a short notice. And I got so much love.
Right now it's 1:30 am. And we have got a room here. It's right next to the McDonald's where we had our meetup. So we benefited from that and got this room.
We paid 1800 INR for this room. It's a 3-bed room. We'll sleep really comfortably here. Since we were at McDonald's and I haven't tried it so far in India. We are gonna try this veg McDonald's burger here. With cheese.
In India, you get a lot of options in vegetarian burgers. This is our veggie burger. Remember me in your prayers. Don't forget to Like, Subscribe and Share.
We'll show you Ahmedabad in our next vlog. Allah Hafiz Awful burger, man. Seriously awful.
2023-04-24 05:20
Show Video
Other news