Street Food & Traditional Dinner of Azerbaijan | Baku Museums & Heydar Ali Centre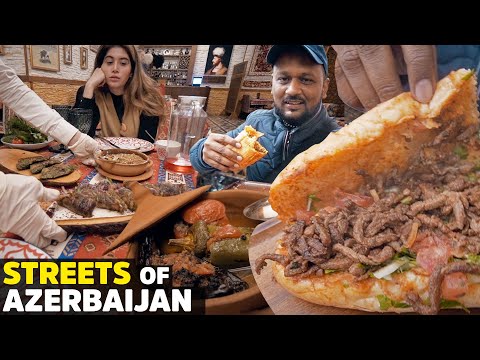 Show Video
Eating this tantuni in the streets of Baku! This is the vibe of real street food. Thank you chef. it was great. Cappuccino. It's really cold here.
And this side feels very warm and this side feels very cold when sitting close to this fire. A fire burning for the last 4000 years, awesome experience. Assalam-u-alaikum, I'm Zia Tabarak and it's new day in Baku. It's very cold, steam's coming out of my mouth. And today too we'll explore some new things. We'll go to a museum and visit a bazar in the evening.
Have a great lunch and dinner. All of my tour has been planned by the Azerbaijan Tourism Board. Let's see what happens today and share it with you too, let's go! You can have breakfast here and here. But it's a bit cold here so I'll have my breakfast inside. But the ambience they've created, the flowers, the greenery, amazing. I've brought my breakfast, a croissant, a hotdog bun, pineapple, corn.
Egg, cake and juice. There are other items here too, I've taken some, though these are a lot! I'll have breakfast and then go ahead, Insha'Allah. Coffee's coming too. We're at the Heydar Aliyev Cultural Center which you can see. Which is the main and an iconic building of Baku. An Iraqi architect, Zaha Hadid has made it.
The entry fee is 15 Manat. It looks a ribbon, a beautiful wave, let's go inside! You can leave your jackets at the entry, to pick them up when you leave. Right off the bat you can see these amazing sculptures.
Restaurants and bars. A great cultural centre they've made. Beautiful architecture. There's the whole timeline here of Heydar Aliyev.
Who is the national leader of Azerbaijan, what Quaid-e-Azam Muhammad Ali Jinnah is for us. Similarly, Heydar Aliyev is the national leader of Azerbaijan since the collapse of the USSR. And they've displayed his whole life here.
They've made it in an amazing way and it is interactive, you can touch to know about it. And this is how they've paid tribute to their national leader. This is the place where Heydar Aliyev was born. And his year of birth is displayed here, 1923. This is a display here about carpets that are woven by women. Different art pieces of similar kind are here in the Centre.
Here we can see a display based on the Azeri alphabet. These are all the cars that Heydar Aliyev used between him being the General Secretary of Azerbaijan and the President of Azerbaijan. And this Heydar Aliyev Centre is named after him. And this bright color in and out represents the bright future of Azerbaijan. These are all musical instruments and if you stand on the red carpets, they start playing.
Their traditional instruments, and the use of modern technology! This is a beautiful scene, we've ordered coffee there and we'll be enjoying it here. These are all indoor plants and the combination of green with white... Too good man! Everything, every corner of this place is artistic! Cappuccino. We're out of the Centre, it's drizzling which has added to the cold! Nice weather.
Let's go to our next destination. We saw that the flame has a strong concept in Azerbaijan and there used to be Zoroastrians here. Azer was the name of Hazrat Ibrahim (AS)'s father, and according to some books, the name of his uncle. Azerbaijan is derived from fire and flames. And they told that this fire has been burning for the last 4000 years.
And while they can extinguish it as this whole area is an oil and gas field. We saw oil being extracted on our way here. But they don't extinguish it because Zoroastrians still come and do their rituals here. And this fire has been burning this way for the past 4000 years.
Which is why they call it The Burning Mountain. Mountain because it's the highest hill among many small hills. And this is the scene in Azerbaijan's background. Some tea here on The Burning Mountain. Not like our doodh patti but the qahva still is good.
Cardamom in it too and they've served a jam with it as well. This is almond jam, one bite. It's like raw almonds. Nice.
This adds some sourness and sweetness to it. Chai's done, that's the Mountain, and now we're going to the next stop. The area we're in is called "28th May". As Azerbaijan became independent on that day and this whole area is like Karachi's Saddar. We'll check some street food here, eat something and enjoy, right? Let's go! There isn't much of a street food culture here. Mostly just indoor restaurants.
The street food culture that we see in Istanbul isn't in Baku. But the team still has arranged some stuff for us. Let's see. There are some stalls here but the people aren't that camera-friendly.
And filming street food and such is a bit hard. You first need permission. In Pakistan, everyone welcomes you. There are some restrictions here regarding street food. Well it isn't like Istanbul.
The preparations are happening there so we're at Kofta Doner. The tantuni guys are preparing we'll have that later. Let's check the kofta doner. Ayaz. Ayaz is making shawarma for us. Beef and I also have chicken.
Beef and chicken? Rice, all the stuff for the shawarma/doner. Pretty crowded, the preparation is happening over there. Kofta doner! We've ordered many sandwiches, almost 7 types of doner are here. Some have kabab, some have that shredded shawarma-style chicken. One is with rice, I'll try that one. Actually, I'll try the kofta first without the rice.
Did you try it? Yes, I love it. Bismillah. This one is with chicken. Great texture, some spices, it's just meat in it.
The salt's taste is very prominent. Tight, it's served with rice so let's taste it with rice. The rice are boiled simply, that's it. It's nice but with the meat it tastes way better. Very nice.
Every doner tastes different due to the sauces and the way they grill it. Tight. Lassi.
Laban! Laban is sold in Saudi too, we have a Saudi brother here as well, it's that same laban. Amazing. Everything's good but the raw kofta is number 1! Let's have it with some pickles and chilli! Now it's better! Thank you chef, the food was great, thank you everyone. You get this when you come out of the warmth inside! Let's taste tantuni. Tantuni has a big chunk of meat that they slice. Then there's his big pan in which they pour sauces and treat it.
Then two types of breads, one chapati-style and the other being doner's. They serve it in them with salads and vegetables, doner-style. But it's different compared to the kofta-style that we had. And hopefully the taste as well, let's have it.
And it'll be a whole different feeling to taste this tantuni on the street! Street food won't taste the same when you don't have it right there, bismillah. Incredible, a bit spicy. Food isn't this spicy here, even the kofta wasn't this spicy.
Lemon's in it too. And the bread is like what we have in Lahore where they fry the naan. This is similar to it. And check the meat here. This meat is with salad, warm and fresh and it's drizzling here. Eating this tantuni in the streets of Baku! This is the vibe of real street food.
And my energy which was down since early morning is now at 100%! Tight. The kabab was good but this is better than that. As it's a new taste. I've tasted the kabab but this tantuni is definitely worth trying.
Very nice. Let's squeeze some more lemon on it. And some more chillies. You are so brave! And now I'll have it! This is the real deal! Amazing! This was with the doner bread but let's now taste it with the chapati-like bread. Obviously, this bread is thinner so there's more taste of the meat. But the taste of the bread is just amazing with both breads.
Thank you chef, it was great! There's dine-in inside and layla had booked a table for us. But this is the right and the Pakistani way to eat street food, right there, right now, on the streets. Do you like it? Perfect. Felt relieved after having some street food.
And we're headed now to another place to eat, let's check it out. In Turkey I've seen many aunties make gozleme. Similarly these traditional Azerbaijani women are making traditional food In chicken and cheese, they told some names but they were pretty hard. Check this bread, a bun-style bread. And there are potatoes stuffed in it.
Let's dip some sauce in it. Very soft, very fluffy. And very tasty.
They told us to come in and eat inside. This Pakistani style won't fly! That you're eating on the street. This is really good.
The breads are very fresh and have different fillings. With cheese, chicken and vegetables. Similar to the gozleme. And I think that we're having something like this in dinner as well. We're at the Carpet Museum.
And this mall behind us that looks like the Australian Opera. This building has been shaped like a roll of carpet by an Austrian architect. And in it this whole museum has been made. You can buy carpets from here too.
This mall resembles the Sydney Opera House. And their national emblem that features an 8-point star with a flame in the center. This mall has been made on that design. And from here you get a full view of the Caspian Sea, this is their marina, very nice. We're in the carpet museum and it's huge.
There's of course the history of when carpets were made in Azerbaijan. And there's different types of carpets, like story carpets that have the whole story printed on them. As well as the instruments.
As the carpets of Iran, Azerbaijan and Turkey are very famous. Before the discovery of oil and gas, the most part of their economy was dependent on the carpet industry. So this is a fully-dedicated museum and a lady is weaving a carpet here. Very detailed, the detail of everything is written here. So visiting it is a must if you like such things, as your knowledge increases significantly once you come here.
We're now at Sah Restaurant. Sah Ismail the First was a King of Azerbaijan and this restaurant is named after him. We'll have dinner soon. Will it be a traditional dinner and what will be in the menu, let's find out inside! We're at Sah and the ambience is very traditional. They've represented their culture here too, obviously it is named after the King. Who ruled Azerbaijan between 1487 and 1524.
And there are small details, this is all the print of a carpet. On the tables and chairs. And we can see their paintings and culture in this restaurant. And the best thing is that they've preserved their tradition and they present it proudly.
Which is a great thing. Great scene for the appetizers, salads, different kinds of cheese. The drinks come here first in the appetizer. I hadn't had much water due to the cold but now I'm very thirsty! Very refreshing. The thing I like the most is the different types of cheese here. Which you can eat by itself and with bread.
Cheese, fresh salad, bread, awesome appetizer. And with it, this basil drink. Kuku is here after the appetizer and it has a red spice on it called sumakh.
Bismillah. This thing is delicious, they've made it with eggs and herbs. Tastes different due to the sumakh.
Let's add some yogurt to it. This is definitely a different thing that I've not had except for Azerbaijan. This is a meat dish and it too has...
Again sumakh. Like the roll. Layla told me that you've gotta eat it like this. Layla btw is a member of the Azerbaijan Tourism Board and is helping us explore. Bismillah. Nice, really juicy meat.
The chapati on it is very light and thin. Meat's great too, I think that this is lamb meat. What was the name of this dish? Kutap. Kuku and kutap, very nice. This is dolma, another variation of dolma.
This is the salmon version. With vegetables. Check the presentation first, served in a earthen dish. With some of its sauce, take it out gently so it doesn't break. Look, this has all meat and it's fully stuffed with meat. Minced meat with tomatoes, I can taste the tomatoes more.
Lemme taste the chilli one too. The bell pepper one tastes better, and the eggplant one. Among the eggplant, tomato and bell pepper one I liked the bell pepper one the most.
The dolma that I had in Firouza was the best. The last dish is here and it looks really amazing. Meat, herbs, some sumakh. This is dolma kabab, basically lamb meat. Smells great, warpped in leaf, let's taste it.
Nice, best to have lamb meat in winter, it has fat too. Tight. The taste, smell and texture of the meat is in this dolma kabab. And I think that the number one dish in this menyu is the one that came in the end! Dolma kabab, amazing. Qahva's here and with it is this halwa.
Baklava but a different word for it. Yes. In Azerbaijan it's? Pakhlava.
Pakhlava. Oh it's pakhlava. Okay, let's taste the pakhlava.
Tastes kinda like habshi halwa. And by the appearance! Yeah, by appearance too, and it's not that sweet. Slightly sweet.
I had a dish in Gilgit, daram peeti. This seems similar to that. As it was made with barley and this seems the same way. But different. And finally in our Peshawari-style, consider this as gurr! And then the qahva.
And with this, our video comes to and end as well. Feeling tired, will go to the hotel and sleep, hope you liked today's video. And if you did then do like and subscribe to the channel.
And remember me in your prayers. Should I do it in my style? If you haven't... I messed it up! Like the video if you haven't already and share your thoughts in the comments below. Click here to watch more of the brother's videos.
And click here to subscribe. See you in the next video, take care, Allah Hafiz!
2023-02-15 18:39
Show Video
Other news