Steyr 12M18 Expeditionsmobil – Fazit aus 10 Jahren Erfahrung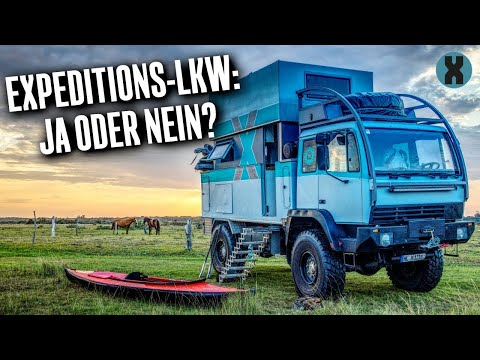 Show Video
He has been with us for a long time and over the years we have demanded a lot from the faithful Steyr 12m18. Whether extreme cold in the polar night, which he finally survived with a major engine failure, sandy beaches, or salty lakes, jungle, swamps ... The Ösi takes a lot of things in its stride. It was almost exactly ten years ago that my cabin over there sailed to South America for the first time on the Rio de la Plata. And pretty much exactly eight months later the Steyr 12m18 came along as the base chassis. So when is a better time than after almost exactly ten years to take stock, to see what has worked and what has not? And not just in terms of the layout and the individual technical components and the reliability of the vehicle, but also to take stock overall.
After ten years, am I still satisfied and a happy truck driver, or do I wish for something else in the meantime? Let's take a look. To understand the car a bit better, I have to send a little prologue up front. It's not like in most cases that I first decided on the basic vehicle and then built the perfect cabin to go with it. Rather, it was the other way around here. I first had the cabin, which was mounted on an LT 4x4, built in '94. I drove it around South America for six months and realized relatively quickly that the vehicle was not the ideal choice. That's why I changed the chassis eight months later and put a Steyr underneath. I'll talk a bit more about the exact reasons later.
Now it's time to get down to the technical aspects. What I really like about the Steyr 12m18 is its very short wheelbase. The vehicle does look imposing, especially when the elevating roof is up, but the car is only 6 meters long, 2 meters 20 wide at its widest point and yes, it is 3 meters 60 high. But because of the short wheelbase, I can turn around on a normal country road in three to five turns. You can't even get that with another vehicle that size. And that's really worth its weight in gold.
That leads us to the first modifications that the vehicle has received. As you can see, I have a very large gas tank with me. I heat and cook with gas. I have to admit, since I shipped here in 2018, I haven't even had to fill the tank. It's running low now. I can really get by for several months, no problem at all. Behind that is the fresh water tank, it's 120 liters. I always have a bit of a trench war with water, so I'm quite happy that the water tank is outside.
Then I don't have the fear of water damage to the interior. And while I'm grumbling, let me get right to that point over here. Here I bought a stainless steel exhaust system that some Steyr drivers also drive. And I am extremely unhappy with it, because it sounds like the car has 1000 hp. That's kind of nice for the first 15 minutes of the day. But when I drive longer distances, with the windows open, this roar starts to get incredibly annoying.
I would rather have a whisper exhaust so that I do not hear anything from the vehicle. Processing, assembly, everything tipptopp. But the noise, it really does not have to be. Yes and grumble the third at this point. I have restored the entire vehicle before departure in the lower area with rust protection paint. I used a product from TimeMAX and I have processed together with an application technician from TimeMAX and am actually very dissatisfied except for the area on the main frame, because the paint comes off relatively quickly, even in areas where is not directly stone chipping. Where there is stone chipping, especially here on the slopes, it is particularly dramatic to see.
So I think that was a lot of wasted effort, a lot of wasted money that went into it. It's hardly better than the original paint that was on it, which is still underneath. Let's move on to the rear. Back here in the end crossmember is one of my two electric side panels mounted. This is a seven ton tie down from Horn Tools. Does its job very neatly. Normally, the rope for recovery comes out here. Haven't needed it yet though. Right now it's looped in at the top to move the spare wheel up and down. And that works very well. The remote control is always right at hand here. Is a cable bound remote control.
I use a main switch to then turn on the winch. All this works tiptop. Just as tiptop here is the installation with the two 2 meter sand sheets. These are pioneer plates from Gmb, which can withstand a light truck without bending directly. Simply secured with two straps so that it goes quickly, put on, actually picked up in the width exactly where they disturb the least. Conceals only the spare wheel. I am also satisfied with this. It's already been used a few times and on top of it I have my surfing equipment on the cabin. But the cabin is the second round topic. One thing I almost forgot there, the Steyr 12m18, as the name suggests, can drive around quite a bit more than seven and a half tons, which ensures that on this vehicle the lowest layer of the three parabolic springs always hangs in the air.
And it took me no less than four years to realize that this deafening rattling noise I always hear when driving over slopes is the springs hitting each other. Meanwhile, there is a piece of foam between them, I have to change every few years. But since then there is silence. That was really a real comfort gain for the ears.
So, let's move on to the passenger side. This is where I mounted my diesel tank. I actually have only one tank, no catalytic converter, no second tank, no reserve tank. I don't have all that, really only once 250 liters in aluminum. Nicely high. That was important to me. I drove a 350-liter tank before that was lower and I learned that when it really comes to off-road driving, if you get bogged down or stuck, the tank can really become an obstacle. That's why it was important to me that it ended very high. Accordingly, I only have 250 liters available. But that's enough for 1000 kilometers. Then the tank goes on reserve.
But that's quite enough for my type of travel. Let's talk about the tires. This is always a big issue for truck drivers and Steyr drivers. I drove the 14.5r20 for the first few years in Europe, which is the original tire size. It somehow seems a bit lanky on the car. But with a Conti mpt81 I was actually quite satisfied from the driving performance. But as it is, You see the big tire on others and there is still a bit more ground clearance and you have anyway now the intercooler inside, so more power.
So why not try the 1400? But first I had to buy other rims. Because the 14r20 do not belong on the eleven 20 Stc rim, which is included in the original Steyr. So that's a lot of money. For the winter trip to the polar circle we also tried the 39585 in the meantime. A very good size. Meanwhile I think it is the best tire size you can drive on the Steyr, because it is a bit bigger than the original, but not as big as the 14r20, which has a lot of power and weight. And now a word about the tire model itself, I previously drove the Conti HCS. Was actually satisfied with it already, especially compared to the Michelin XZL, which is still very loud.
then I did another upgrade, on new tires from Nokien, with the advantage that the running directions are bound. This is what the manufacturer advertised. And indeed, although it has very coarse tread blocks, it rides very comfortably, even at high speeds. Yes, the tires are now only four and a half years old and are mostly in the dark hall. But the handling at high speed is really pleasant, without seeming to somehow lack grip off-road. Of course, this round-up wouldn't be complete without a word about the paint job. I've painted the vehicle three times meanwhile,
because so much has simply changed. And the latest state of 2018 is Naviton as a functional coating. And I have to admit, I'm still very enthusiastic. The Steyr is getting a hard ride. I actually drive through everywhere, that you can kind of drive through, but you don't see any scratches on this vehicle. No dirt whatsoever. The paint doesn't even chip here in the front, where there is constant contact with branches. That's really very, very neat. And it goes even further, at the back of the cabin, we'll get to that in a moment, have a few places where the cabin delaminates because I laminated badly.
That means that there is permanent work in the GRP and the paint is also affected. This is a clear example of how flexible this paint is, what it can withstand. Normal paint would have flaked off long ago. And finally here to the front of the vehicle: the front has also changed a bit. I have converted to LED headlights already in 2014, so these are LED headlights from Truck Light, first generation. Is already a gain to the normal headlights that are in the original inside, the halogen headlights. But meanwhile there is much more. What I absolutely bet on, that are the Plexiglas discs here in front. One I had to sacrifice on this trip with a stone chip.
It shot right through here. Otherwise, the headlight would have been ruined. That was a good investment. There's a big light bar up here. Before I had normal halogen headlights. The LED Lightbar is also much brighter, but it must also be precisely adjusted. Because the stray light, which somehow makes everything organically bright with halogen headlights, I don't have here of course. So either I shine too high or too low, so I have to pay close attention to that.
Here in the front of the bumper, winch number two, as you can see, is always ready. That's important to me. I've used it a couple of times. It's very simple. If you slip off the side, slide into a ditch, because you're avoiding someone, it's quickly at hand. I have the freewheel accessible here. The main switch and control is located in the box on the side. Before we talk about the cabin itself, we have two key points here, two connecting elements between the vehicle and the cabin, in a lofty height. One is the ladder. Here I go for a model from Glowstep with 6 steps. The whole thing is super affordable, works easily. I fold it in, push it in here and assembly takes less than ten seconds, then the stairs are ready to hand. And above all, it builds only very narrow. If it would build in this direction,
I still need good 2 meters more. I'm very happy with that, even if it squeaks a bit. But it's a good, lightweight, affordable product. The second element, that's the subframe. And that's also true there. It had to be cheap and it had to be simple. When I built this in 2013, I was still clueless to the max about the whole thing, as probably most of you are. In this respect, there is a very simply constructed error mounted subframe with a fixed bearing at the rear and springs to the front.
Nothing special, everything built very simply. In addition, made of stainless steel, which, if you believe the experts, should not hold either. But at the latest after the hole, which I have taken on this trip, I am sure, This frame will also hold the next 20 years. Of course. I have the advantage, the cabin is short and light. No big overhangs, no spare wheels hanging on it. That's all a big advantage, of course, so there's not so much stress on the frame.
Let's talk about the cabin, actually built and designed for a VW LT 45 4x4r double cab. There was the specification, that maximum 3.15 meters floor length is possible and I have also fully used it. You can see that, meanwhile I extended the cabin. In the original it starts here and would have ended here. Of course, that was too short on the Steyr 12m18, which offers much more space. I have now added storage space at the back and front. There are for example camping chair and camping table in the front. Here in the back is the electrical system accommodated now. On the other side is the heating and at the same time I got the space for the surfboards. This explains a bit the rather unusual shape.
The lifting technology still works perfectly. It's a hydraulic system, it's in the back here in the storage hatch. So, let's take a look at what I had in mind when I did the inlayout from the inside! Yes, I'm not quite inside yet, but I can already show you the biggest mistake I made when building this vehicle, namely a door that opens inwards. I didn't had the confidence to build a two-piece door, but I wanted to be able to get in and out of the cabin when the roof is down, which is about the same height here. And I decided to just build a door that opens inwards, which of course means that the door is constantly in the way.
That's where my jackets are currently hanging behind. So I can't open it all the way. Above all, I have the problem in heavy rain that the rainwater runs in and I had to construct an extra costly water drain here. So that was a lot of nonsense. Next time a two-part door: probably top flap, bottom door. Then it could have been solved much better. So the biggest mistake right at the beginning. A few words about the floor plan: Entrance at the very front on the passenger side, on the opposite side is the wet cell. That goes up to here in front, so still has room for a shower, kitchen on the side and at the very back the seating area for four people.
I am totally satisfied with the layout of the kitchen. I have meanwhile upgraded to a three-burner gas stove. now there's a normal ship's oven in here with a baking oven. At the same time, the cooking pots and the frying pan are also in there. And I also have the flap here, which at the same time serves as a work surface and covers it during the trip. This all hangs on a simple rope, simple solution and accordingly the kitchen is top. I am actually quite satisfied with it. Also here the cloth bag with the cutlery. This all works quite well for years. I would not want to change more so.
In the upper area I have two storage compartments that are hinged at the bottom. That means that even if it's as full as here, nothing falls against me, because even the cheap push locks hold without any problems, because the load first hits the bottom. And because we already have the wood so visible here: I used olive veneer and solid ash, but it's all painted. It's not just oiled or waxed, it's really flat varnished, which has always, always, always paid off after trips that go to dusty regions. Because I can clean that very well and it's really always dusty in here. You always carry dust in through the door, the clothes and if you can wipe through that then, on such a smooth surface, that's really worth its weight in gold.
What I miss a little bit is maybe some storage space in the kitchen. I can manage it right now. I have a very large drawer here in the lower area for supplies, but it's just three compartments and so I can divide things very badly. If I open the drawer here from the kitchen for the dishes, you can see that it's already quite full, so I have to stuff it a bit. If I had divided it better or had another compartment, then it would be a bit neater. But everything still fits in.
One limits oneself. But I would say that 50 liters more storage space in the kitchen would be most welcome. Here I have the wet room, which was originally thought differently. The idea was to say that you have the closet in this area and the bathroom here in front.
You take out the boxes, which were quite normal Euroboxes, when you want to take a shower. But this led to the fact that the shower was actually not used. Because to worm these boxes out of here and fold down the shelves, that was way too complicated. Therefore, I have rebuilt the bathroom again. Have also installed the wet cell radiator with the water heater. Which also needed space and now have storage pockets and they are actually relatively simple solution. Two carabiners, placed in front of the door and already the shower is available. And so I have used this space twice. To travel, this is not just an empty space, but the closet and when showered,
then these bags just have to go once in front of the door. One point that many here discuss is, do I still need a second sink in such small vehicles? Meanwhile, I would say this also can be thrown out. Then you could make the bathroom even smaller. It is really in principle only about the shower and the toilet.
I also have the sink in the kitchen, so meanwhile I could do without it here. One thing is still there, namely the question bathroom with window or bathroom with skylight? Roof hatch fell out here, because there is the bed above, so only the window worked. I'm really very fond of it, not only because you can see how much fresh air is blowing in. I have natural light in there and I can also just hang the towel out briefly after showering, on the window handle. So for me a comfort feature, which I would not want to miss. Yes up here the bedroom. This is certainly the flagship of the cabin,
because it simply illustrates how spacious it can be at once on 3.15 meters floor length. And it really only became great when I put this window in. it's a real dream to now wake up somewhere by the sea or look out into the mountains in the evening. It's made the sleeping area up here even more of a living area.
Meanwhile I like to sit up here in autumnal weather like on the sofa and still look into the landscape. So, now we sit back here in my living room. I lower the blind so that the light is not so dazzling. Large table, space for 4 to 6 people, my monitor for working, a large desk for working. That was important to me. That has also been the basic idea in this construction. When I built the cabin in 2012, the fixed set was just this work and seating area, a large kitchen, bathroom and a fixed bed. At that time, it was impossible to fit all that into a 3.15-meter space, except with the elevating roof.
Im happy with it. There are a few elements, this strand price profile from GRP for example. They're yellowing now, I didn't know that, they just looked white before, I'll have to replace something at some point. On the whole, however, I am satisfied. And the issue of saving weight is also one of those things. This table looks massive, but it's not. And of course, when the vehicle is on the slopes, it moves really well. You can see that here, it does have a bit of play, but it's still just a simple construction. Even if it's knocked out, I buy a new aluminum profile for €15 per meter, hook it in and that's it.
A larger construction would be heavier again, would cost more money. So I have tried here to achieve as much as possible with little money and can say after ten years, I think that has worked quite well. The ergonomics also work well. I haven't reinvented the wheel here, but have simply copied large lift-roof trucks and scaled everything down to a scale of two to one. Accordingly, these steps and everything has become much smaller. But all this ergonomics works well. I have plenty of room to sit here and can look in all directions. It's super comfortable. But after ten years, the cushions are starting to get a little soft.
I've been traveling with this cabin for ten years meanwhile, and of course you learn what's still missing. And one point was, of course, some storage space. I had already mentioned that in the kitchen, and I found some space here, for example. Because the blind was very far in front, I simply added a shelf a little ten centimeters deep. There now fits all the travel literature super well. And here in the open compartments I can also store something. Now a word about the technology: What's installed here? What has proven itself, what has not worked? I'll start with the electrical system, I started with a 200 amp hour lead battery, which flew out right after the trip, simply because it was so heavy. That was almost 80 kilograms. I saved that. Have changed very early to the lithium iron phosphate batteries. There are 200 amp hour batteries from Dometic in it.
Estor is the name, was one of the first ready-made, which are still in there, works perfectly. I have electricity until I drop. On the roof, there was also a stage of evolution. The first trip, made with 150 watts of solar, only on the passenger side of the roof, because here was still the surfboard. Now the surfboards are in the back. I have the roof free. Now I have about 480 watts from two used regular household solar panels. They're a little older, don't work as top of the line. I have maximum charging current of 25 amps at twelve volts. Normally there should be a little more with the large capacity,
but that is enough without problems. The alternator adds another ten amps while driving. That means that on a sunny day, when I'm driving, I have over 30 amps of charging current, so the battery is quickly full again. I actually only really discharge it below 50% when I'm working on the computer here for a few days in bad weather.
Power supplies run, camera chargers. Otherwise in everyday life only from the refrigerator and a bit of light, they are actually always full. For the power distribution and power supply itself, I rely on an integrated device called Easysolar, comes from Victron. There is solar charge controller in it, a 1.6 kW inverter.
And also already the 230 volt distribution including fuse of the switch makes the installation very easy for me as a layman. This is a device that is also now there since 2013 here in the vehicle. Makes impeccable his service, I can not complain about it. It is outside, so If it is really warm, I hear sometimes that the fan starts. Otherwise, the device also works fanless. And what else do I have in the vehicle? I have a heater of course, meanwhile even two heaters. I have an old gas water heater that I love because it just runs very quietly, is very energy efficient and carries a very comfortable heat. And as a backup solution, there is an Autoterm diesel heater in the front, which heats up the car quickly with warm air in case of emergency and I have a second fuel, should there be a problem with the gas somewhere.
Am I still happy with such a large vehicle? And big is relative, because with 6 meters length and 2.20 meters width this car is not really big. By truck standards, however. On the last trip I saw again that the vehicle is simply too big in many places. And I also know that I can implement this comfort on a smaller vehicle. Now the question is, of course, why is the vehicle the way it is? In 2012, it was a very clear budget question. When I built the LT 4x4, it was clear that the vehicle could not be any bigger.
Accordingly, the cabin became the way it is, with all its advantages and disadvantages. When I realized, that the basic vehicle is not the most suitable, my budget was not infinite and in 2013 I could buy the Steyr for no less than €14,000. Nowadays, of course, that's a big laugh. But I have also learned that
I should invest more money in a smaller vehicle than to choose the larger vehicle only for price reasons. If I had put more money into it, I would have that level of comfort in a much more compact vehicle. I think for example of the Bucher Duro. I met a family from Switzerland on the trip and we put the vehicles side by side. Here a photo. This vehicle is one that I really like, because it is very compact.
Or the Iveco Daily. We are currently building the box van to show that you can also manage with less space. Of course, everyone should drive what they want. My clear decision is: If I were to rebuild again, the vehicle would be significantly smaller. Now of course the question is justified, Where does this change of mind come from? After all, I am actually in love with this Steyr and of course I will not give it away, because I have it and I will keep it. However, meanwhile I know its disadvantages and I notice them quite often where it is not even demanding to drive. It's not about hardcore slopes or hardcore terrain where the car restricts me, it restricts me on normal routes that anyone else with a normal car can drive on. And that's where I want to go,
if in a big city like Mendoza, for example, on the main roads I can already see that the branches and twigs are going to smash nicely against the branch deflector and I have to fear for the roof hatch, for the solar panel and everything they're going to scratch and smash up there, it's just uncomfortable. When I see in the mountains that the rock walls are overhanging and that I have to move very far to the left to the side of the road just to get through, it's not only uncomfortable, it's quite dangerous. When I then see that a normal car can drive along there quite relaxed, it is a pity. It's not like I'm carrying or want to carry around an infinite amount of comfort. It's just that I want to reduce them to a compact size and rather accept a compromise.
Just maybe no headroom, then I get on in any case on trips more relaxed. And that's what matters, isn't it? What do you think? Should I forego the most remote and beautiful places? Or would you prefer more comfort on board? Write us your comments right now.
2022-10-04 03:49
Show Video
Other news