Sri Surya Pahar in Assam | Chandubi Lake, Nishngram, Kasumari and Rangsapara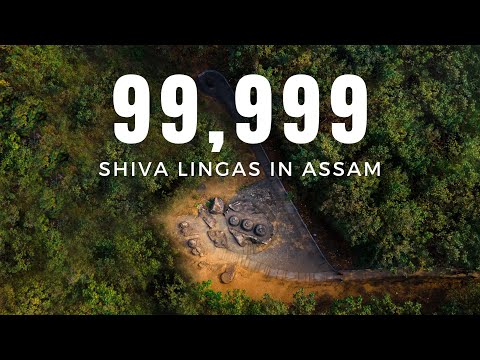 Show Video
Did you know there is a thousands of years old place in Assam which has 99,999 shiva lingas? Let me take you there today And also show you a unique lake from Assam Assam's cleanest village and Nishangarm which has become a landmark for Rural Toursim This journey starts at my homestay in Guwahati I booked a taxi from Guwahati and started towards a natural wonder It's origin is recent and also quiet surprising Only a few places in India can compete with Assam in natural beauty And today I'll take you to a stunningly beautiful lake in Assam It's a popular lake and located about 64km from Guwahati I'll tell you more about it but first let's get on the boat and go inside Right now is cold in the morning, and the sun has also come I'm really enjoying the cool breeze I want to tell you something really intersting and surprising about this lake On a summer afternoon in 1897, an earthquake and formed this lake This has become the centre for biodiversity in Assam Lots of migratory birds come here There's rich fauna, flora and fish here I also see a lot of Water Lillies here and right now we are going towards these lillies One of my favourite fruits, called Kamrarh in Hindi, is also here "Kordoi?" This is a starfruit. "So much for Rs 10?" "Ok we'll take it for Rs 10!" This one looks especially delicious - yellow and ripe! My God! So good! It's like the best starfruit I've ever eaten! Very juicy and very sweet! Next we are going to explore an interesting local market This place is called Bagan Bazaar - Bagan as in 'garden' from tea garden This is a vegetable market selling some local vegetables so we'll see that Perhaps buy some fruits and be happy in the day I tried Majuli's rice beer many times and when I got an invitation to try the local alcohol here, I couldn't say no... Meet our host today - Prasanna ji, and he's invited us home He's a musician, plays many instruments and also sings Bihu songs He'll give us a special experience at him home today He's promised that we'll get me to try the local alcohol here I know it's afternoon time but it's always the right time for a drink This local alcohol is called 'Sulai' Its a popular drink with the Rabha tribe here It has higher alcohol content as it's distilled So it's not like beer or wine but a much more potent alcohol It's a community drink, and it's offered when someone dies also You don't sell it - you make it and consume it within the community itself So it's time now! We saw how it's made and now its time to try this 'Sulai' It's also called locally as 'Modh' or Madh (alcohol in Hindi) Smell is good - smells strong It's quite a nice tasty drink actually It's not so strong and quite smooth, and flows easily down the throat Feels good! Also it's quite warm so I would say it's a tasty one You usually don't mix anything with it and drink it just neat When we started after trying the local alcohol, I thought our day was over soon But I was wrong. We still had a long long day ahead! Nishangram has an interesting place where you can spend your evenings Where you can sit and see a beautiful sunset We are at the Sunset Viewing Point which is about 2km from my homestay But what's really nice is that you see the sunset over the hill there in Meghalaya We are also in Meghalaya right now So the town is actually split between Meghalaya and Assam But the beauty of the place is really nice at sunset time So I would really recommend coming up here on the hill for the sunset You will not regret it! Near Nishangram there's another beautiful village called Kasumari Right now we are at a beautiful house here Actually they curate beautiful flowers here As a tourist, as a guest to the town, you can also come here There's a small entry fee and then you come inside and take some amazing pictures but also just be in the middle of these flowers This place is really beautiful! All the houses here are beautiful, and this one is the most beautiful of them all I have Sangma ji with me and he's telling me how the society here is matrilineal After marriage, the guy comes to the home of the girl He's come into the family - into this stunningly beautiful house This is so unique and different and we aren't used to it. I really like it!
In Meghalaya, all the Khasi, Garo and Jayantia tribes - we have to go to girl's house There was a surprise planned before going to the guesthouse With this surprise, the Garo community here won my heart! So I just had the most amazing welcome ever possible We had a beautiful welcome here in Nishangram We are sitting next to bonfire and some really interesting program is about to start Mr Ajay launched this program on Rural Tourism on 10th January 2023 and we'll get to witness a sample now, and then some food! So next is some cool local here from here (Kasumari) Right now I'm in front of an interesting structure called Noka Chik This is made with two words 'Nok' means house and 'Achik' means Garo So this is a Garo traditional house and this is built as part of Eco Development project So if you are a tourist, you can also come and see this place Let's just walk around and let me show you what this look like There's a nice deck and you can see the river from here Its a great place for sunrise and sunsets, and we'll come back here again Today we have a special dinner - we'll be eating Garo Tribal food I'm vegetarian so I won't be able to eat most of the delicacies Let me start with things that I cannot eat This is chicken. Its cooked in a special way without using any oil. Again I can't taste it! And this is mutton. I can't try this so we'll keep these on the side And let's talk about the food that I'm actually eating There's egg curry made on my request as I love eggs! There black lentils, more egg curry, then there's regular yellow lentil Then I have egg plant which is quite spicy, so be careful when you eat this There's cabbage and peas, beans, potato, and then there's salad, rice and chutney! So let's enjoy this meal next! I've deviated a lot from my health resolution here I'm eating rice often - almost every alternate day But the rice here is so good! Rice is an essential part of cuisine here so if you don't eat rice, practice and come because you'll love eating all the different varieties of rice here We are eating the regular white rice There's sticky rice as well that we ate in Upper Assam It's early morning and we are back at Kasumari village We are at Ariza's house and we'll drink tea here! "Will you give us some tea?" "Yes!" We are eating some interesting delicacies also with tea Both are made with sticky rice. This is called Meenal and the other one is called Peetha. This has a very simple taste. The flavour is of the rice itself. This is chai time! Right now I'm in front of an iconic church This behind me is known as Nishangram Baptist Church This is the second oldest Garo Church in the Garo Hills The building is quite iconic too It's also a very beautiful building and the roof came all the way from United States 1868 is the year when the first Garo, Rev Ramke Momin, converted into Christianity And from then Christianity started spreading here Now the entire Garo community follows Christianity, but this church is from the year when the first conversion took place So much to learn here - so much history and lots of stories also That's why I'm sharing them with you so that you can also learn as I'm learning them It's generally not open to public, but as special guests, we are being allowed to go inside We feel very privileged.
So let me take you inside and show you what it looks like! In Nishangram we are staying at a very intersting place We are staying at a homestay which is run by an SHG An SHG is a Self Help Group where women from the village come together, work and make a livelihood Let me show you my simple homestay - you get food here, you get comfortable stay here, And you also get to stay in Nishangram so that's quite amazing This is the living room - you can sit here, read books and chill One room can fir three people - there are three big beds. Come along! This is a small one. We have a working table here as well. This is how a bedroom looks like at the homestay. This is a homestay as the owners live right next door It's a very homely place to live in L et's go to the kitchen next! Your meals are prepared here.
The women from the local community come and prepare your delicious Garo meals On the backside there a courtyard and then a large lake When you come here as a guest, you can also cycle here as Nishangram is a huge place You can spend a lot of time walk around or cycle around if that's what you prefer In our Assam explorations, we've now come to a very special place We've now come to Assam's cleanest village We are at the gate of Rangsapara which is right behind me This is a traditional Garo village with an old church as well And the village is supposed to be very beautiful too It's a tourist place now due to it's fame as being the cleanest village in Assam Next we'll go and see this beautiful village Come along and hope we can discover it together We have a special guest with us today We have the village headman with us - Mr Robert Momim He'll take us to the beautiful Bamboo Park here Rangsapara has also won many awards including an award this year also 'Sanskar Briksha Award' He's been the village head for long. He always gets re-elected because he's so popular! "You are doing a great job sir. Thank you for meeting us and showing us around." Really enjoyed here.
You are welcome to a fascinating place which pushes the history of Assam by many thousand years We are at 'Surya Pahar' or 'Surge Pahar' in Assamese It's in Goalpara district and only recently declared an archaeological site by the ASI. This happened in 1980s only, but this site goes back thousands of years! What's most special here are the 99,999 Shiva lingas here Just one less than 1 lakh It was believed then that if this place also had 1 lakh Shiva ling like Kashi, this would become the second Kashi It's just one less than Kashi so many still refer to it as Second Kashi Another intersting this is that there different faiths - Hinduism, Buddhism and Jainism, all co-exist here So you'll find Buddhist Stupas, Jain carvings and Hindu Temples YOu'll find shiva lingas, carvings and statues of many Hindu deities You can spend many hours here especially if you are interested in history, archeology and old temples So next we are going to the Jain caves. We didn't realise that the caves are on a hill even though there are only 300 steps It's late afternoon, we are little bit tired, so...
seems like a lot of walk! Since we can't go back after coming mid-way, we'll go up and ahead No stopping! Let's go! This place is also so special because there are hardly any Jain remains in North East And this is one of the few rare finds! So let's go and see the Jain cave and see what's inside here This is a small Jain cave and inside we have the Jain Tirthankar Very simple, very minimalistic place of worship But...very significant one! This is all for today's video In the next video, we'll go to Assam's only hill station If you enjoyed today's video, do like it here and leave a comment as well And if possible, do subscribe to it as well. That really helps me. See you soon in the next video. Goodbye for now.
2023-04-25 06:19
Show Video
Other news