Spectacular Ride Through Forests of South India EP.10 | Pakistani on Indian Tour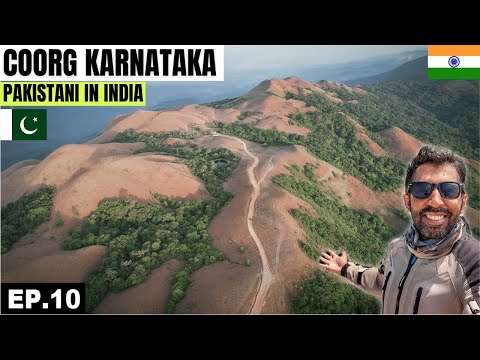 Show Video
If you get to ride like this in the morning, what else do you need. We couldn't see anything in the night. Just see how beautiful the roadsides are. You guys are from Mumbai, right? And you started this setup recently? Yes.
What's the name? Phullu Bai's Food Corner There's something here for sure. Assalam Alekum. Namaste. Sat Sri Akal to all of you from Mandalpatti. We got here around 2:30 am last night. After getting a 2 hour sleep, we came to Mandalpatti for sunrise. But the road was blocked. For the last 3 km, motorcycles are not allowed.
Only jeeps can go from there. So we decided to see the sunrise, right here. It's really beautiful; especially the route we took to get here. We'll record it on our way back as it was still dark back then. Today we'll show you this area. Then we'll go towards the coast in Mangalore.
And then in the coming days, we'll make our way from here to... Goa, Mumbai, Gujrat, Rajasthan, Delhi... All the way to the Wahga border. Hopefully we'll reach Mangalore today.
Let me share some nice drone shots with you all. How's this place, Akram? This is wonderful. Do you visit it often? Yeah... once every few months. Why don't you tell us what happened to your motorcycle? This is Akram's motorcycle.
It was a BMW till last night but we can't see its logo today. Looks like somebody pranked him last night. Not just him... But the same thing happened with Karthik's motorcycle as well. Somebody stole one of the logos from each of their motorcycles.
Apparently the thief now has a complete set of logos for his motorcycle. It took almost 45 minutes to get up here. And the distance was about 15 km. Time to go back now. The ride from here to back down there is really wonderful.
I just loved it on our way up here. We'll record and share it with you. And then you can see the amazing and lush green forest, for yourself.
Bismillah... In the name of Allah... *Prayer for the journey* We pray to Allah for a trouble free and memorable day and a fun ride. And I wish the same for all of you. Right now we are at the beginning of this beautiful road. That's where the jeeps start.
We were told that they charge 1200 INR. But the sunrise had almost started. And we would have missed it if we took a jeep.
That's why we stopped there. However, I feel that the main attraction here is this road. How it moves through this forest is amazing. The overall road quality is pretty good.
There are only a couple of small patches where it's broken. I think you can come here on your own car as well. It's a rather dense forest with many different types of trees. There are also some villages along the way. Or you could say that there are a few small houses every here and there.
Just imagine how these buses manage to ride on this small road. One could hardly manage to bring their car here. If you get to ride like this in the morning... What else do you need... Beautiful Look at these trees. There are other places like this in Karnataka as well.
Someone wrote me about a hill station called Chikmagalur and recommended a visit. But we couldn't go there because it's a little far. And we came here instead. But this area is even beautiful. It's a very touristy area indeed.
I did see some of his videos before coming here. So here comes the village. There were just a few sparsely located houses till here. But now we are back to the inhabited region. There are many guest houses, cafes and home stays here.
Most of the people take a jeep from here. After parking their cars here. But we went all the way, as far as we could. That's the place where we are staying.
Couldn't see anything last night. But it's a really beautiful place. This location is wonderful. Right in the center of nature. And there aren't any houses around.
We are sitting here for breakfast. I'm not alone here. He's here to meet me, all the way from Mysore, which is 3 hours away. He sent me a message yesterday that I saw quite late. By that time, we had already left from there. So he left quite early in the morning and came here.
Please tell his name. He's Raju. Here's Saud who left from Bangalore at 4 am in the morning. And we met his father last night. And.... Where was that? Kushalnagar.
We met him last night and you are seeing him again. Thank you so much Sir. Thanks to Saud as well. Thank you Raju. We have the traditional breakfast in front of us. What's the name? Uppittu It has a lot of vegetables.
Is it also made from rice? No, it's made from rava. Rava is semolina. So, this breakfast is gonna be a little different. We also have a cup of local coffee.
Coorg coffee. Let's finish our breakfast first. And then we'll gradually get going towards the coast. Lets begin. We have just left from the hotel. We'll go down till Madikeri.
Using this mountain road to get to the highway. And from there we'll start riding towards the coast. We have two options. We could stay in Mangalore for the night.
Or we could go to a similar sort of mountain region, Agumbe. We'll make a decision when we'll reach Mangalore. Because we don't have enough sleep. We could sleep for only 2.5 hours.
So we'll finalize our destination after checking our energy level. Anyways, it could still be a 150 to 175 km ride. I really loved this Coorg region. In fact, it is known to be the Scotland of India. Greenery... Mountains... Jungle...
And this amazing looking rural side. The place has all the right ingredients. I think this is where we had a flat tire last night. Well, it was not a puncture. It seemed like a puncture last night. We filled it to 2.4 bar last night.
But when we checked it in the morning, it was down to 1.8 bar. I can't confirm the reason but it's not puncture to say the least. We'll show it some mechanics as soon as we get a chance.
Ride safely. See you soon again. We just bid farewell to Akram. He will return to Bangalore. We hope to see some interesting places today.
We may be riding through some forest or some mountain side road. And all of that will add up to make our day a rather interesting one. We have hardly gone on for 5 to 10 minutes. We did cross some curves. But I felt too drowsy to ride. So we had to take a stop here for tea.
And for sweetener, we have something similar to what we have in Pakistan. It's sort of a peanut caramel sweet. It might help us get some energy by boosting our sugar level to cover this road. The road is beautiful without a doubt.
But you can't enjoy it if you are already tired. I try to cope with that by taking frequent breaks to keep myself fresh. Just a little mistake on these roads can be fatal. So we'll try to take breaks and enjoy this scenery as much as possible.
Okay Hanif... Thank you so much. Enjoy your holidays. How awesome is that... You can't even ask for more.
The scenery is beautiful and the road is really good. The only town we saw so far along this road was Madikeri near the start of our ride. Just look at that... Ma Sha Allah... We can just see some tiny villages. There's hardly any traffic on the road. So, I can afford to look around.
I couldn't have asked for a better ride today. Didn't expect it to be this good. It's simply awesome.
In fact, I wished it in the morning that we don't have to ride through some town or city. A ride like this, through a forest would be great. And that's what we got. Coconut trees look really beautiful. Just look at the roadsides and see it for yourself.
Here we are... Is this mango? This is how a mango looks like in South India. There are many different types of fruits here. Let's try some. So the motorcycle has been refueled.
Initially our ride was just too good. We thoroughly enjoyed it. But a lot of construction work was taking place, during the last few kilometers. It was dust, dirt and traffic. Also, as we are getting closer to the coast, it's getting warmer. So this section of our ride turned out to be quite difficult.
Anyways... As I have said it in the previous vlogs as well... Riding in India is sort of an emotional roller coaster. It's changing every second.
One moment, you are enjoying the ride and are all praise for the beauty... And the next moment, you are making your way through hectic traffic... Trying to sneak your way through... But Alhamdulillah it has been going great. so far. We need to take a break now. So that we could eat something.
We'll definitely find some good option. Let's go. Let's hope we find something here. Hello We have slightly modified our plan seeing the traffic situation. Earlier, we thought that we'll go towards Manglaore.
But this traffic has made me think about going to Agumbe. We'll spend some time in nature. And show you some good places.
We have been on the road since morning. And we need to cover another 70 km. So we are having our late lunch or early dinner, if you please. I always tend to ask if Halal food is being served here. I have ordered some chicken curry and .... What's the name of this paratha? Malabari paratha.
And this is...? Mixed vegetables. Pickle... and that's chicken curry. You guys are from Mumbai, right? Yes.
And you have opened this place recently? Yeah. What's the name? Phullu Bai's Food Corner What's the name of this city? Siddakatte We better get back to our food. Thank you so much. They have made it with such love.
I loved it. So, it's a family business? Yeah. Let's get some rice.
And this is chicken curry. The food was really delicious. Probably one of the best meals that I've tried in India so far. Not just the great taste but the fact that we only paid 270 INR.
That included drinks, tea and it was for two people. That was awesome. I recommend this place very highly. Do support small businesses. Honestly I couldn't understand the name of this city or town.
I mean the locals must definitely know about this place. We have finally reached the place. But I mean, is it really the way? Feels weird though. There's nothing here. But the navigation is taking us somewhere.
It's a home stay I think. Well... there's definitely something here. Navigation was correct.
This is a farmhouse. Let's go. All thanks to Allah... All praises to Allah...
Looks like it has red chillies. Yeah. Chicken Malaysia Dry. Ahan. So we'll have this one. Just one question. Is this chicken halal? Yeah. Perfect. This is chatni.
Coconut chatni. And here we have egg bhujia. These look different. Are these rice mashed? Or they are just like that? That's just how this rice is. We call it red rice. The room we got here is just a basic room.
However, this place is great. It's really clean. And we have an attached washroom. There are 3 beds so the two of us can sleep very comfortably. Let's just have dinner now. Then we'll rest and show you the area tomorrow. Please don't forget to Like, Subscribe and Share. Remember me in your prayers. Allah Hafiz
2023-04-15 09:09
Show Video
Other news