Spectacular Backwaters of Kerala INDIA EP.04 | God's Own Country | Pakistani on Indian Tour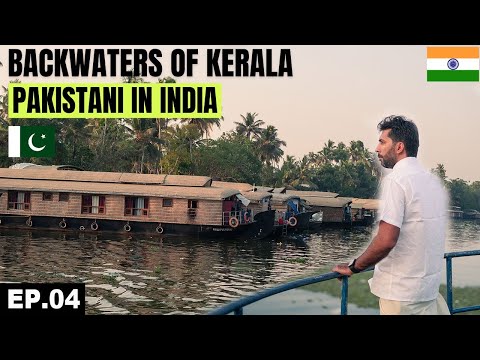 Show Video
What could you say about the country of my origin just by looking at my face? Can we get a room on this boat? Take a look at the boat first. I think they call this loincloth 'vesti' over here. We have got a nice hot cup of tea and some snacks. Just see how colorful this room is. Honestly, I haven't tried anything like this before.
But it's really spicy. Today we have come for breakfast to a place that is equally famous in south as well as north... It's a restaurant known by the name of Arya Bhavan. Recommended by Karthikeyan. I noticed something here that the color of water in restaurants is slightly different.
And here you are served water at room temperature. I think it's much better and healthier than the cold water. I already have a slightly sore throat. Right now we have Masala Dosa in front of us.
Other than that we also have poori. That's for Karthik. Before today, I only tried masala dosa once before in Oman and really liked it.
Hopefully, our first masala dosa in India is going to be better than that. We'll keep on trying different foods in coming days as well. As long as we are in south, we'll try only traditional breakfast. Bismillah... In the name of Allah... What's this? I don't know about it. What's it made of? I'm not sure what's this. It's called vada.
Vada... It doesn't have any spices. I think the stuff inside it is made from potatoes. It's undoubtedly better than what we had in Oman. Let's feast on this masala dosa and then get going. The breakfast was delicious.
What else one needs when you can have such great traditional breakfast. We paid almost 210 INR for this. Assalam Alekum... Namaskaram... Namasthe...
And Sat Sri Akal to all my viewers. Many of you ask me why I don't greet them with their local traditional or religious greeting. Right now I'm with Hari Krishna. I've asked him for some tips. He is going to drop me off at BMW. That's where our motorcycle is.
I have put all my bags and stuff back in the car. In order to save time, I thought it better to carry all my luggage with me. We'll setup all the bags on the motorcycle and set off on our route plan.
Whatever the route plan may be. As you all know, Kerala is famous for its back waters. It's a place called Alleppey. What do you call it in your local language? Alappuzha. So we'll visit it and explore the back waters in the traditional boats.
And we'll also share that with you. We'll reach BMW in about 25 minutes. They told me that the motorcycle is ready. And then we'll get on with our journey.
Hari here was asking me how I knew how to speak Hindi. So, Hari, why don't you make a guess... No idea. Where am I from? Germany. I mean I am but...
But normally Germans don't know Hindi. Then how do you speak it? What does my face tell you about my country of origin? Which place? Are you from Delhi? You guess it first and then I'll tell you. Delhi? Delhi?? I'm actually from Lahore. Well people from Lahore and Delhi are difficult to tell apart. Since yesterday, everyone who hears me speak Hindi is asking me if I'm from North Punjab.
So let's get to BMW. Now we are recording. In Sha Allah we'll see each other again. Thank you so much. Thank you for taking care of the motorcycle and everything. I appreciate it a lot.
Bismillah... In the name of Allah... *Prayer for the journey* May Allah make this ride a safe and memorable one for us. Let me see if someone is coming from behind.
So lets start our ride... Hope to have a great one. We got our motorcycle serviced from BMW. There was leakage in the front fork oil. So they replaced both seals and refilled the oil. They charged me 9000 INR for that.
That's around a 100 USD. People there were really nice and helping. I can't thank them enough for their help. That was just amazing. Today's ride is gonna be 65 km long.
Not a very big ride though. We are heading towards Alleppey as I said earlier. I want to share some really good footage from this area for all of you. I engaged him for this purpose. Many of the viewers even asked me if I was afraid to ride solo here. Honestly, I didn't need company at all.
But I felt if I'm flying drone and somehow I'm questioned by the police... And then my Pakistani origin can result in some controversy. I just want to avoid all of that.
I only want to take good memories and beautiful incidents back home. I don't plan to highlight or show anything negative. I just don't want to be involved in any of that. I believe I'm the first Pakistani to ride a motorcycle like this in India. I believe it should open new gateways for more people.
More and more people will come to explore India. Because India is a beautiful country. Any misadventure from me can make it impossible for more people like me to come here. And that's exactly what I don't want. Lets enjoy this ride. And if you find myself saying something inappropriate, please don't take it in the wrong way.
I'm saying this to people from both countries. Also please show love for each other in the comments section. No fighting please. Just enjoy this ride with me. We've seen enough hatred already.. So why don't we just spread love.
Let's just avoid the negativity. Good Lord... We are trying to gradually get out of this Kochi traffic. You can see the Kochi metro up there.
The roads here appear to be a little narrow with reference to the traffic volume. That means our next 62 km will take more time than expected. Especially the part of the ride in the city. Well to be honest, I enjoy riding on such lively roads. There's a whole lot of world that you can experience on these roads.
That's why such rides in the Middle East can be boring. The destinations there are amazing but the ride itself can be boring. But there's nothing like that here.
Even if I keep riding on the roads only for the next 30 days... It's still gonna be a unique experience for me that I can cherish for the rest of my life. Look at that loincloth.
It's not an uncommon sight in Kerala. I think it's the traditional dress here. I think it will be a good idea to try this myself. People here wear quite colorful clothes. You'll find a lot of people in blue or red...
I can see so many coconut trees here. I feel like stopping somewhere to try coconut. Let's just stop here.
I'm also feeling thirsty because it's a bit hot here. I can see a guy over there. It's difficult to turn around in this traffic. OMG... Watch out...
Allah... help me... This is the most challenging feat here. Well they don't have a coconut... Or do they... It's quite hot. Especially when I close the visor.
Otherwise the air does have a hint of cold. And that makes it much better if you open the visor. But then the outside noise will render me inaudible. Do you have coconut? How do you say coconut in Kerala? In Malayalam I don't know.
It's really good. Thank you. Lets go... No one's coming from behind... This traffic is the biggest challenge here. Lets go Bismillah... We have reached Alleppey.
I wanna get off the main road. And let's head to the city area. Because that's where the back water are... That's where we'll get the boat tour. It might change the scenery as well.
Because this traffic can be tiresome if you just stay on the main road. I have just changed my route in the navigation. We are now moving inwards to the city area. I think all these roads are coastal roads. And we have just left the coastal road.
You'll see a different sort of life here as compared to what we saw before. Most people here are in their traditional clothes. The trees are huge.
Had to turn from here. I was a little late to realize. There could be a way from ahead.
The navigation gets confusing at times... It's now showing me a way from ahead as well. I think the ride through these streets is among the most beautiful bits of our ride. Just see how they have planted so many trees inside their houses. It seems as if... Oops... We had to turn left...
We are now riding along this little stream or canal. What an amazing place this is... The people who were complaining about lack of greenery in my Middle East series... I don't think now they are gonna have that objection anymore. Everywhere you see, you find greenery and water. These two things are in abundance here.
We are almost there. That's a beautiful church. Our navigation is telling us that we have just one more minute of ride left. Well, it will be difficult to turn around here if we had to. There's nothing here... Where's the boat house?
Let's park the motorcycle here and take a look around. I don't see... Let me see if there's anything here.
Navigation has brought us here. Oh yes... there's something here. It's over there. There it is... Just park there...
Lets go and ask them if we have the option of night stay here. We can also ask them to give us a tour of back waters. Check out this water... And peace and calm... It was quite a task to turn around from here because there are no rooms available here.
They have told us about another location for the boats. That's where the boat tours start and end. So there will be many options there. That location is hardly a few minutes ride away from here. Can we get a room on the boat here? Take a look at the boat first. OK. So you'll wait here? Yes I will.
I'll go and check. Welcome to backwaters of Kerala India. One of the most beautiful places here.
I really wanted to see it ever since I saw its pictures and videos. Today that dream is finally becoming a reality. The place is exactly as I saw it in the videos and imagined it to be. It's a really wonderful place.
Full of boats all around us and a lot of tourists as well. Boats are coming and leaving continuously. I'll try to showcase it for you. As you can see, I'm wearing the special Kerala dress for this occasion. I think this loincloth is called vesti over here. And on top of that, I'm wearing a shirt.
I got this dress for 1000 INR. We'll also give you a tour of this boat. There are only two of us here... Just me and Karthik.
He's behind the camera. It's sunset time. We'll try to capture the best images, videos and drone shots for you from this beautiful place.
Our boat ride started a kilometer ago back there. They are gonna take us to the big lake. And after that we'll have the night stay at some other location. But the night stay will be on the boat. More details to follow shortly.
Lets give you a show around. Just watch this and enjoy the nature of Kerala. We have got a nice cup of tea and some snacks. The best thing about this boat tour is that it includes dinner, breakfast and these snacks.
The sun has set. We have also finished our filming. Hopefully you must have enjoyed those shots. Let's sip on our tea and then I'll give you the boat tour. The tea has gotten cold while we were busy with filming. We are now going towards the rural regions as the sun has gone down.
There are just numerous small islands here. That's why the atmosphere here is so calm. The only noise you can hear is that of the tourist boats.
There are so many birds all around us. Their chirping is adding magic to the scene. I think... It's the best place to fully experience and enjoy nature. Back there, it was quite noisy due to traffic. But here... it's just peaceful.
Let me get some shots of the birds that we are seeing here. Let me give it a try. Here we have Saju with us. He's like the captain of this boat. And he takes care of everything else here too. It's a big boat indeed. This is like the drawing room area of ​​this boat.
Here you can comfortably sit and enjoy the ride. Let me show you the other parts of the boat now. It's a nice place to sit and relax. Just see how colorful these lights are.
And this is my room. Let me turn on the lights of my room. But I'll have to locate them first. Look at these colorful lights here.
There are two rooms on this boat. One for me and the other for Karthik. And here's the toilet. Let me show you how a toilet on a boat looks like. It's quite clean and well maintained.
Here's the kitchen. The guy sitting in the kitchen is Nawaz. I'm gonna introduce him once he gets up. Nawaz... Please say 'Hello' into the camera.
He's cooking a meal for us. We'll show you that once it's ready. He served us tea a little while ago. Similarly, there's some space up there.
Let me take you to the upper deck. You've already seen me there. This is a dining room and you can sit back and relax here as well. There's room for quite a few people here. Tonight's it's just the two of us here though. We can sit anywhere we like.
There's a viewing deck in front for relaxing. That's all from this boat. We moved these chairs a bit to clear space for our video. As you can see, it's almost dark out here. This is our dinner. We have fried fish.
Roti This is fish curry. Lentils. Some salad.
Kerala rice. And I think this is some vegetable. What's this? Can't even zoom in. Is it bitter gourd? I'll tell you about it once I have tried it. That's our dinner.
Let me try this vegetable and see if I can tell what it is. I've taken a little chunk. Honestly, I haven't tried anything like this before. But it's very spicy.
We can try these food items with rice and roti. Let me get a bit of everything. I want to try some of this fish too. Bismillah... In the name of Allah... Fish is really good and it's not too spicy. Let's eat our dinner now.
I hope you must have enjoyed our vlog. In case of any shortcomings, we'll try to make it even better in the next one. We'll get back from here tomorrow. The part of our ride that we did after the sunset...
It seemed wonderful. So we'll capture that for you in the morning. Don't forget to Like, Subscribe and Share. You guys forget that quite often though. Hopefully you'll remember this time. Remember me in your prayers. Allah Hafiz.
2023-04-08 17:22
Show Video
Other news