Sozopol to Burgas Day 4 Exploring the Bulgarian Riviera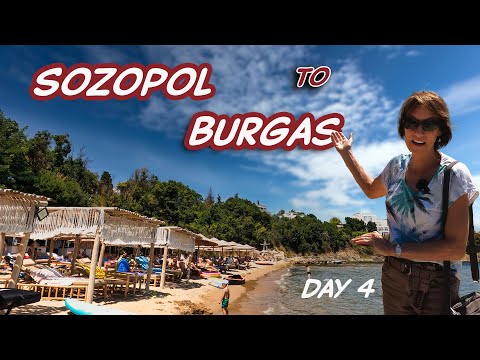 Show Video
We're two retirees hooked on travel. Follow  us on our journeys around the world our!   Our last video we entered in Sozopol and we're  starting here at the north side of Sozopol.   We're going to head north and at the first  stop that we're going to check out,   is a beach. We're taking the old road  north. The old road is a very narrow road.   We just arrived, and we're north of Sozopol.  It's a huge beach and they have a lot  
of parking. We parked out on the street not knowing  there was parking back in here next to the beach. They do charge for parking out here.  It's five five lev for parking which   is about two dollars and fifty cents  u.s dollars to park . We didn't know   but we're here for just a short time anyway. This is our first  time here. Ee've never been here. Wow it's huge! It's about noon and it's already packed it's  between Sozopol and Charnomoritz. A lot of the   locals come here for camping. A lot of the Bulgarians come here for camping.
Wow, there are a lot of restaurants here. Geez, it's not crowded. If I had to  choose between Sunny Beach and here,   well that's kind of a no-brainer. This is  beautiful! Look at this restaurant! I love it!
To my right is Sozopol. The old town   is over on the end of the peninsula.    Gosh, the water is crystal clear! The beach runs the entire way! They have mattresses here for  the day beds, which look really   comfortable and look at this little sitting area. I want to come here and spend the day.  The water is so clear and warm.   They have this set up really comfortable with  a restaurant a bar you can get your lunch kick back get a tan listen to some good music! A new Hawaiian barbecue. I wonder if  they know anything about Hawaiian food?   They have a great white shark.
Want to check out the menu? Oh, it is like Hawaiian. They have chicken  pokey, shrimp pokey, tuna salmon, terriyaki pokey,   quinoa, it's really healthy food.   Shrimp rolls they have an Hawaiian classic burger and  hawaiian burger and a kahlua pork sandwich. Kahlua pork sandwich. If you want to come down to  this beach anywhere between Sozopol and    Chernarmoritz take the old road and then there's turnoffs  all along the way and then you just come in.  
For the whole day they're charging two dollars  and fifty cents for parking or if you get here   early, you can park out on the street for free.  There's a whole lot of different entrances.   Just drive north along the old road and pull off  and discover what's at that particular spot.   We didn't walk up the beach but it looks  like there's services all along the entire   beach. They're signage so you can look at the  signs they're advertising, what restaurants are   at that particular spot but then once you go in  there's tons of seating and umbrellas. Like   there's another turnoff up there.  They're all over the place. There's a whole   bunch of campsites here and little cabanas  that people have built. Wow!
They look new. Everything is  packed and full. Those are nice! Grandia camping. Como del mar. Oh this place  is loaded with camp spots. They have a lot of those cabanas, they're cute! They probably have open ceilings kind of a slanted  roof. Welcome to Dream Beach Gradina Camping,   and that's looks like where you  check in and they have parking! That's the entrance. Oh this   campsite looks fairly new and on our left there's probably the original  hotels. They look very old and dated.
We're starting to get closer to chairnomoritz. It used to be a village and it's grown  up quite a bit over the past few years.   Looks like they're  building a brand new hotel here.  
That's Chernomoritz  over there. Jeez nice homes. Okay, right over there, to our left, is the main road.   They just built this house. It's upside down. It's  quite clever. We're not sure exactly why they did  
it but it's a tourist attraction  and everything inside the house   is upside down. It's really quite clever. See the car, the door is upside down.   You can see the deck, the porch upstairs is glued  to the ceiling, it's upside down. Wow super cute and it looks like they have a nice coffee shop, they have a swimming pool too! We're just entering the village of chernomoritz.  this used to be a farming and fishing village   and there's a lot of residential areas here now. People come and spend the summer  here. Here you can go to Sunny Island,   Flores Garden, Atiyah Resort and Marina Hill.
Hotel Chernomoritz. There's a grill and it looks like a popular  one. People are out there waiting. This is a new development with small hotel vacation rentals.  They have another beach on the other side of   town. Driving in Bulgaria and these towns and all of the  villages, they're two lanes, but they use one lane   to park. They just pull off and have a coffee  or buy something and make it into one lane. It's  
normal practice. It kind of gets frustrating  but, that's the way it is. We're not used to that! Okay, we're approaching the sea. Some more new developments. There is a lot of new  developments going on in this country. Look at   this Sunny Island Deluxe! Beautiful! What  you can do here, is you can buy your own condo.  
You can rent them but they're for sale  and probably people buy them and then   they rent them out or just use them one  week a year or whatever, but that's what   they are. They are condos. Real estate prices for  studio apartments go for 30,000 to 50, 000 euros.   One bedroom is approximately 65 to 95,000 euros.  Two bedrooms are around 150,000 euros. Or you   can splurge on a four-story villa for around 500,  000 euros. Everything is unfinished with bare walls  
which allows you to custom fit it the way you  want too. Materials and construction services are   about a third to even up to a half the price  of what you might pay in the United States. That's all new. There's old and new. It looks like  they're building on the waterfront, new stuff, so   maybe they can knock down old buildings  to build new developments along the beach.
It looks to me like it's just mostly residential. People have their grapes growing, their gardens  in their backyards, their laundry hanging out. You get off the main road and it's quiet. It looks like an abandoned house but gee it  looks like it was really big and they had   some nice plans for it. Amazing. I can't figure  out why people start things and then they quit. It's kind of nice once you get away from all  the people. Nice little neighborhood restaurants. We parked the car and the only way  that you can get down to the beach here   is on these stairs. There's a private access  right over here to my right , but   
it's for private residences  or club members, i'm not sure. it's   private you can't get in. Saint Tropez  2254 kilometers. Mykonos, 1, 330 kilometers. Oh it's a little less here. Achair and umbrella is 14 lev   which is about seven US dollars. Oh, you  can get a gazebo, you can   get a gazebo for 60 lev for the day. We'll  go find out what they look like. Wow! It's a small beach and it's rocky.
It's nice though! Wow! Beautiful , really nice!  Those are the gazebos you   could probably get. They're calling them gazebos  but they're day beds. You can have a fire at night! You come down here to the beach at  night and have a drink by the fire!   They have a bonfire here at night! Wow, this is perfect for kids because  it looks like it's shallow for a long   ways out and they have it roped off so you  can't have jet skis come flying in here. In the distance, over there, where Zarko's  pointing, is Sozopol, where we were in our last video.   We drove by a beach that goes right along there.
This is chernomoritz. Look at those nice homes up there right on the  water. They look new and contemporary. It looks like   on the end, there's a fixer-upper. You  could probably tear it down and put in a new   nice place.Oh, this is nice! I like it and the day beds  look like you get some shade too and they're big.   Oh, they have a spa here and they're booking  massages. Oh, this is one of those electric jet skis. Electric surfboard.
Electric surfboard. Zarko wants to get one but  they're kind of expensive. If you're going to come to the beach and spend  the day, I think this is my style, my style! It's quiet and you have these cute day beds.  It's more private, comfortable, you're  
not going to get too hot and they have cute   umbrellas. They are nice too. They don't flap in the wind.   You get shade from those. Are you from Bali? Yeah. Wow! We'll be back!  Thank you. The woman that's doing the massages was   from Bali and she gave me a handout. She said that  up above, there's another spa resort area and they   do the Hammom, Turkish type of baths and massages  there too. Really nice place! Wow, we're coming   back here to spend the day. It's a village   with a city population, two months out of the year.  
The rest of the time, it's quiet, hardly  anyone here. We just left chernomoritz,   and we're heading north. We've seen some   campgrounds along the main highway and this is the   only way that you can get to it.So we're gonna  make our way up there and find out what's going   on. Over there, we've seen those campers parked  there every summer for the last couple years, but   we never made our way over there. This road looks  like it's totally wasted!They haven't touched it  
in years. It's the only way you can get over  to there to that campsite. Okay, and here   you see people. This is kind of primitive  camping! Actually tents, with campers tents. It's free here, so that's probably  why they're setting up tents.   Interesting! If you're on a budget or maybe  backpacking, you might want to check out this area. The water looks really calm down there and it's  shallow a long ways out. I see people way out   there. If you want to come and pitch a tent and set  up camp for free, this is the place to come. They  
have a nice beach. Right there it's private. Look  at this road. There's the main highway right there. I don't know who's maintaining the porta  potties but there's all kinds of tents.   There's campers. Oh yeah, they have to use the porta potties and  they probably bathe in the sea. Oh, there it is.   It's big! There's a primitive tent. They  have a solar system. Resort and spa.  
Okay, here it is. It's Chankety Resort and Spa.  Where's the spa? Chantey Resort and Spa. Wow!   It's packed! Yeah well that's for some on a budget.  I know some of these people, they    get these trailers and they travel across  Europe. Now this one goes way back in there.   It looks like a field a farmer had it or maybe had some  property and just opened it up to the campers.   We're finally making it out of this  road from the campsite area and we're   going to be going by the naval base. It is called Atiyah, Burgus Naval Base.   Zarko actually was  stationed there when he was growing up.
Our next stop is Oatmanly.  We're going to Park Rosanetz. Over here is fisherman's village. There's a new harbor and a small beach and also  a small playground for kids and a few restaurants.
So just across from Burgas, is this area  owned by Luke Oil, which is an oil company.   It is stationed here in Bulgaria and this is where  the tankers come in and offload their crude oil.   From here it's piped to the refinery that's  located just outside the outskirts of burgus where   it's refined and the gas is then, the petrol is  then, sold all over Bulgaria. We're entering Krymorie, this is a suburb of burgas. A lot of people  live here and they commute to work in Burgas.
Nice church! A lot of apartment complexes, small apartments, vacation rentals. There it looks like a nice  beach, a parking lot. A nice big parking lot. Wow! It's a really nice brand new  contemporary home facing the sea.   Really nice! There's a lot of  new development going here.   Hey, if you don't want to live in a city, a big  city like Burgas, this is just outside of Burgas.   You can kind of see where we're located.  We were just over there by Luke Oil.
You can see Burgas across, and at the  entrance of the harbor and the port. It's warm today and everybody's  enjoying the warm sea.   It's protected here it's not too too windy  and it's not rough and it's shallow on a long   ways out too. So people are way out there  and it's shallow so it's great for kids. I love this home. Geez, somebody's got  quite a project. It's huge. I don't   know if it's a home or a compound or a  resort. It's really nice. I think it's a home.  Wow, these are single family homes and  it looks like they're brand new and they're   still building them and they're for sale. Now here it  looks like a huge duplex or a house.  
That's a nice place! Wow. I  think it's someone's home. That looks like a home going in right  there and that looks like a brand new   hotel. Not even open yet. Probably  next year. Really nice! Krymorie.   Looks like a nice place to live and  you're just 10 minutes from downtown Burgas. That person has a really nice, really  nice garden. Just growing everything. For sale! So you can be in a nice new home  right next to a corn field and right next to   a beach. If you want the country feel,  the beach, there you go, this is Kymorie.
It's Friday and a lot of people are here.  Bulgaria, the majority of them are from Bulgaria.  I think it's an area that not that many people  know about, at least if you don't live here.   People that come here to Bulgaria the first  time, they book a resort and stay in a hotel.   There is a lot more choices, a lot of nice  beaches, you can stay in apartments.You don't   necessarily have to be in an all-inclusive!  Try out some of these nice restaurants.   We're approaching Burgas city. Our next video  we will be starting there. If you're interested,  
be sure to click the bell and  you'll be notified when we post it!
2022-08-04 05:13
Show Video
Other news