Shipping My Motorcycle to INDIA from DUBAI EP.01 | INDIA Motorcycle Tour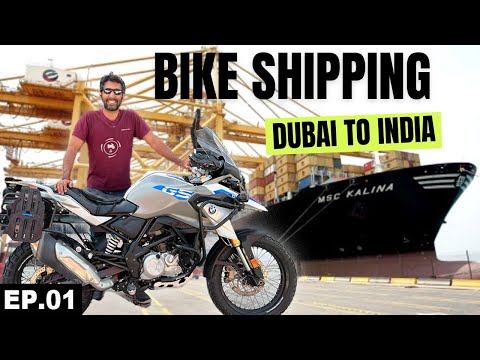 Show Video
The guys from the shipping company have arrived. Only the carnet or...? It's sort of a new experience for me. We need to leave our motorcycle here. Assalam Alekum Everyone and Welcome Back to the Channel from Dubai. I've been here for almost one week now.
Came here after concluding my Middle East tour. Most of the tourists who come to the Middle East, get their motorcycles shipped from Dubai. Because there are a lot of shipping companies here. And that's what brought me here. All the shipping agents that got in touch with me, do it from Dubai.
Let's not reveal our next destination for now. Don't know about you guys but it's a dream destination for me. Many of my viewers would love to visit our next destination. I've to go to Oldtimer where I left my motorcycle the last time. Have to pick the motorcycle from there.
And then we'll go to the port which will take almost an hour. Assalam Alekum. How are you? He' my nephew, Omar. How are you Omar? He has a YouTube channel by the name of Omar's Adventure. Omar has come here quite early in the day and still seems to be a bit sleepy. You didn't go to school today? It's an off day.
Here's Mustafa who is taking me to Oldtimer. To pick my motorcycle. Let's go then, Mustafa. Right, Omar? Since we are in a car now, it's a lot less noisy. Omar, what's the name of your YouTube channel? Omar's Adventure What sort of videos do you make? Mostly food videos... Sometimes I got to Marina, for instance.
You like food, then? Yeah. I'll also put the name of his channel in the description of this video. Do check it out. How long is our ride gonna be? 23 minutes. Driving early in the day in Dubai... Well, honestly, it's difficult to drive in Dubai all day round.
The traffic is crazy. When I got here before, there were school vacations... But the traffic has increased manifold now. That's why I prefer to use metro. My apartment was close to the metro station for the same reason. Let's hope to reach our destination in next 15 to 20 minutes.
The port guys are waiting for us there. We have reached Oldtimer. They don't just have a great workshop but their overall setup is too good.
I'm gonna show you from inside as well. That's Rangeeli (motorcycle) standing here after having all its necessary things done. I can see some of the things that have been replaced. Let me give you a short overview of those changes. The switch here had some issues that have been fixed. Secondly, this rear tire is completely new.
We have to go a long way on these tires. The previous tires were also the same brand... Mitas E7 Plus. Since the previous one had two punctures at the same point, I requested to change the whole thing. I'll tell you about the price after asking the guys here.
They have also cleaned the chain. Looks like it has been a bit dusty here in the last couple of days. They have cleaned it thoroughly, though. What else have they done... There were another couple of things. Yes... they have repaired this as well.
Oil change and the related services have also been done. There wasn't any issue with the brakes. I was told that the handle had some issue as well that has been taken care of. The service was done after 48 thousand km. Currently, we have covered about 53 thousand km.
Therefore, we didn't need any service per se. We are inside the shop now. You know I have this habit... You know in Germany, or any other place for that matter, you normally get to see a huge showroom.
Here, you can find everything from riding gear to any piece of equipment very easily. I haven't seen such a store anywhere else in the Middle East before. This place is naturally highly recommended.
Not just the equipment but the guys here are also very nice. They have helped me with everything that I needed. The owner of this place is a Palestinian. Many other fellow travelers spoke highly of this place. I also need to buy a few things for my next tour. Since I'm not going back to Germany, I'll get those items from here.
I'll share that with you as well. For now, let's get going. There are some really amazing motorcycles parked behind me and I haven't talked about them yet.
Let's go to Jebel Ali port. That's where we are gonna ship our motorcycle from. Okay Omar and Mustafa... Allah Hafiz. Bismillah... In the name of Allah... *Prayer for the journey* May Allah make this little ride of ours a safe and smooth one. It's a brief, 30 km ride.
That's how far the port is from here. They have already arranged the gate pass and other things for me, there. Here you have to give all your documents to your agent, first.
Only after verification, can they give you a go-ahead about shipping. And then they make the necessary arrangements at the port such as gate pass etc. They have arranged a gate pass for my motorcycle. Therefore, we'll be able to enter the port easily. The people here were really nice. I feel bad because I didn't have enough time.
Otherwise, I would have taken the full motorcycle service from here. The front shock absorber of the motorcycle has some leakage. But the workshop didn't have its seals, so we couldn't get it changed here. I hope we can still go for another few kilometers like this. But then, we'll have to visit BMW anyway.
To get the shocks replaced. I plan to get both the front and rear shocks replaced. That's definitely gonna improve the overall performance.
However, that's gonna take some time. Because they take at least a couple of weeks to deliver after you place the order. So, we'll see when they arrive.
Let's focus on the road for now. It's Friday today. They told me if I bring the motorcycle to them in time, they'll do all the formalities today and get it shipped on Sunday. We need to go here. That's why I want to reach there in time.
This is Dubai Motor City. You'll find numerous showrooms and workshops of different cars. There's the signboard. You can now see the Dubai Cricket Ground. That means we are in Dubai Sports City at the moment. I haven't seen any cricket matches here yet.
That may happen in the future though. If there's a cricket match in Dubai while I'm there, I'll definitely go. We are now very close to the port. Our gate, Gate 7, is just a minute away. I was told to meet them here.
It's quite a lively place. Back there, I saw some cars and other stuff ready for shipping. We can't cross right now. Because the shipping guys need to give me the gate pass first. I better send them a message now that I'm here.
They are finally here. Only the carnet or...? Over there, we have a parking spot for you. And we'll wait on that side.
Okay, I'll park there and wait for you. Wait till you are issued a manual gate pass. OK. Sure. And here's our Saudi friend who has especially come here from Medina to get our motorcycle delivered.
How are you Yasir? He told me to wait there. So should we park here? Please park in the proper parking spot. We are waiting for the gate pass here.
Yasir has joined us. You must have seen him in my videos from Medina. Have they? Well that depends on the viewers. So let's wait here because it might take a while.
So we thought to have our breakfast as both of us are hungry. It's almost 10:30 in the morning. It's 11. We do have the tea though. Our day is incomplete without tea.
Yasir has some sandwiches for us. I have strawberry milk and cardamom milk. O that's milk? I have the yogurt. Is it yogurt? I don't think so. So that's why you got only one bottle. But you didn't tell me. I was actually looking for yogurt.
So lets eat while we pray for the quick processing of our gate pass. Habib here has brought our gate pass. But it's for one person only so Yasir will have to wait here for us.
I'll come back after handing over my motorcycle. Sorry Yasir. But you'll have to wait here. Thank you Habib. I'll follow you then. Let's go. That gate pass took quite some time. We waited for almost half an hour.
Hopefully, all the formalities will be completed before the Friday prayer. It's quite crowded though. I'm following these guys. Yasir is also in the car for now. He said he will come back if he is not allowed in. Although he doesn't have a gate pass, he may get the permission on his ID.
Looks like Yasir got the permission as well. So the gate pass is not for the person but for the vehicle. Welcome to Port Jebel Ali. I'll try to share the whole shipping process with you. You can get very useful information. This is the first time I'm getting my motorcycle shipped.
Previous I have used ferries for this purpose; once in Oman and once in Iran. But that didn't involve any shipping procedure. Nothing related to import export. But here we'll have to follow the complete procedure. Similarly, people coming to or leaving from Dubai have to follow the same procedure. That's why this video will be helpful for them as well.
It's a very big port and a very busy commercial area. You'll see a lot of companies here on both sides of this road. Now, I don't know how many kilometers we have to ride inside this port. I expected everything to be inside a 1 km area after crossing the gate. Looks like there's a whole world inside this port.
It's a very unique experience for me. We must have been riding for 7 or 8 km. Apparently we are there. So, that's where we hand over our motorcycle.
Let's see if someone comes to attend us. It's gonna be inside a crate like these. I have with me... Bittu... He's from the company named CSS... Consolidated Shipping Services.
He's gonna help me through the entire shipping procedure of the motorcycle. And that's Anees who is also helping me. They have been very kind throughout. Thank you so much. I appreciate it. I have to name the person who introduced me to these guys. Most of you already know him. Shakir... Mallu Traveler.
I've already given the carnet. Copy of my passport. Correct. A copy of the visa I'm traveling to.
Entry stamp of UAE. And what else did you need? The other things we need are the NOC, the insurance in the country you are traveling in... And also the road tax. There are some other documents that we need in the country we land in.
In order to receive the motorcycle at our destination. I'll explain that letter because I don't know that as we speak. Because that we'll start once the ship has sailed from Dubai. So basically what happens is...
We have just received the vehicle. There's a vessel going on the 19th. So what we'll do before that is to make arrangements to crate it. Because some damage can happen to the motorcycle once it's inside the container.
So, it will be put in a box to avoid that. I'll share the pictures with you. This will be how it will be put inside the container and then it will sail out. It will reach there in 5 days and by that time you'll be there as well. Then it will be stamped by the customs in the country of entry.
Then the motorcycle will be handed over to you with the key. So they'll put a stamp on the carnet? Yeah it will be stamped once it's going out of Dubai. And in Kochin, the customs will stamp it again. It's a very valuable document. So always keep it with you. It will be checked. So just keep it with yourself. So will you give it to me or send it directly to Kochin? We'll courier it directly.
We'll immediately courier it to Kochin. And Anees will help you with all the paper work in between. I'll help you with all the documents required for the clearance.
Thank you so much... Thank you Abrar. So shall I leave the motorcycle here or...? Our guys will take it to the warehouse. Thank you so much. All the best. Actually I forgot to tell you how much I paid for the shipping.
So, everything included... apart from a few small things... That will be done when the motorcycle is delivered. All the way from Dubai to our next destination, I'm paying them 1200 USD. All included.... Almost everything. Yeah.
So... That's it. Thank you very much. We are finally driving back from Port Jebel Ali to the city, after getting our motorcycle booked.
Yasir is driving for us. He brought his own car. He is giving me a lift and taking me back to the city. And as you saw, the whole shipping process is not very tedious. In fact, the most difficult bit of this complete procedure is... to find a reliable agent who can handle everything responsibly. And who can make sure that your motorcycle is delivered from one port to the other without any difficulty.
The only original document that they took from me is my carnet. I have all the other original documents with me and have only given them photocopies. I have been trying for quite some time and I'm very excited. Actually I didn't expect everything, such as getting a visa, to happen so swiftly. I'll share more info in my upcoming vlogs.
That's all for today. Right Yasir? Please go ahead and Like and Subscribe. Because if you see my Oman series... They have hundreds of thousands of views but the likes are too few in comparison. It's not nice to be so miserable. Remember me in your prayers. We'll meet again soon. Allah Hafiz
2023-04-05 07:52
Show Video
Other news