Second part of trip to enjoy the winter scenery of Japan's Hida Highway by train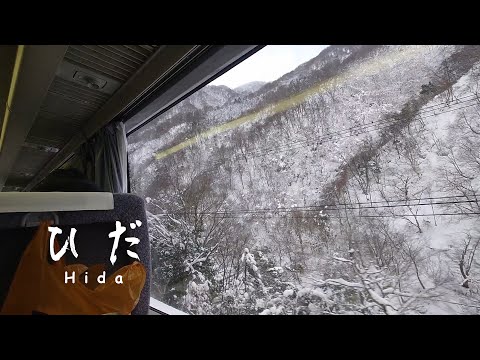 Show Video
It was a state of departure from Gero station while looking at the scenery ahead. Train has left Gero station and is running towards Takayama. The train moves slowly through the mountains. Train window is getting deep in snow, isn't it? Scenery that makes you feel as if the seasons change as the train goes on...
Japan's undulating terrain may be the reason why you can see such a wonderful view. The next stop for this train is Takayama. However, the Takayama Line is a single track, so this train also stops at this station due to crossing with an oncoming train. The train on the other side is also a train with a long formation. This oncoming train is also the limited express "Hida". All limited express "Hida" will be replaced by this new train in March 2023.
This new train is a hybrid car (series hybrid) that runs on electricity generated by the engine! Search for HC85 series for details. Let's stop talking about trains... See the beautiful snow view again We will soon reach Takayama Because Takayama resembles Kyoto in its old townscape and atmosphere in Japan, Takayama is also called a small Kyoto. It's also relay point to Shirakawa-go and Norikura.
Arrived at Takayama One Two I drank 3 beers and half of the chuhai. There are no more "liquor and snacks" to accompany the trip ... The next stop is Hida Furukawa. I think there are people who have heard of this station name? This station is Hida Furukawa. The station is famous for the Japanese animation movie "Your Name" and is also a place that has become an anime sacred place in Japan.
By the way, the direction of the sun has become the opposite side before I knew it. This section runs in a mountainous area, so there are many tunnels. Train finally entered Toyama Prefecture. This station is Inotani station. This Inotani is also a heavy snowfall area where about 2m of snow can accumulate in winter.
By the way, the scenery from the train in the season without snow is like this It's a nice view even in the snowless season. Looking at many snow views, the snow piled up on the trees looked like sweets sprinkled with a lot of sugar. After going through the tunnel... The amount of snow was increasing.
However, the altitude seems to be getting lower and lower. When we left Nagoya, the sun was almost directly in front of us, but now it's on the opposite side. This train also passes through the mountainous area of Hidaji and finally heads for the plains of Toyama. Transfer guidance at the terminal Toyama station of the conductor has begun Will be Toyama in a little while. It seems that the transfer train is waiting for departure because this train is delayed by a few minutes. The mountains that can be seen in the distance are the Tateyama mountain range.
The Tateyama Kurobe Alpine Route, the Kurobe Dam, and a bird called the Thunderbird, a natural monument of Japan. It is a famous mountain in Japan. This train will retire from the Limited Express Hida in the spring of 2023. will be my last chance to ride this train. First time I rode this train was when I was in high school and went sightseeing in Takayama. At that time, I was drinking beer with my friends on the train... This last opportunity was also an opportunity to remember a lot of those days. To translate the conductor's announcement. . . Thank you for using Limited Express Hida 11 from Nagoya today.
We will soon arrive at the terminal Toyama. and guide to getting off Arrived about 8 minutes late I apologize for my late arrival. Even though it was only eight minutes late, the conductor apologized. Is it because it is natural for Japanese trains to run on time? Am I the only one who thinks it's amazing to run only a few minutes behind that snow? What do you think about it? Our trip on the Hida limited express train is over. Finally, train and seats that transported me from Nagoya to Toyama. It was a train named Kilo 85-3. This train that I rode seems to run again in the cold and return to Nagoya.
To Kiha 85 Do best not to catch a cold for a little while until the last day! Thank you for watching until the end I am waiting for you to come to watch this channel again Well then, I'm going to go eat some firefly squid and cold yellowtail. Let's have trout sushi on the way home.
2023-02-27 15:51
Show Video
Other news