Schneller als ein Bugatti Chiron und Tesla Model S Plaid! | 1111PS LUCID AIR | GERCollector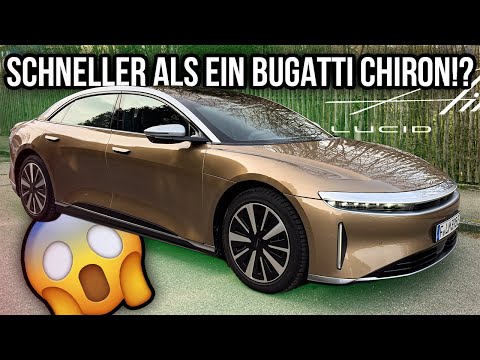 Show Video
Are we at 103 km/h? This is crazy! 2.. really! Ladies and gentlemen, this is a very unusual start in this video. Well, since Michi is not here, let's begin the video this way. Let's start the video inside the car. I'm in the Lucid Air Dream Edition Performance. This car has 1,111 HP. This is remarkable!
I'm going to press "Sprint". "Confirm", alright! Here we go! Whoa! This is crazy! Holy moly, this can't be serious! I'm on the autobahn right now. Just a few moments ago, I drove on a road with no speed limit. And I swear, it took seconds to reach 224 km/h! I drove some really fast cars in my life, the AMG One for example but this car is really something special! I lost the thread, I'm going to be spontaneous. Anyway, I'm sitting in the Lucid Air Dream Edition Performance. There is also a Dream Edition Long Range with a battery that has 118 kW/h. This means, you can drive for 900 km/h. This is crazy!
The e-tron has a battery with 99 kW/h which can drive for 124 km. This is good! This car has 119 kW/h. This is much more! Here is a display that reminds me of the Porsche Taycan. Removing a display during driving is quite impressive. Let me show this to you. We can pull here. And this make the display disappear. This is nuts! Once the display is gone, we get a lot of space. This car has a lot of space in general. I will show you this in detail later. You can find one storage space here, one another is over there with a cup holder and charger. Here is more storage space than we could use. And we also get 1,111 HP on top! This is remarkable! This is completely unexpected! It's difficult to compare this car to the e-tron or the other electric cars. I like to the Mercedes EQS.
These cars are similar but different at the same time! But if I take a closer look, I realize that there is really a lot of space! This is awesome! I'm really impressed by this car! This is a new brand, they were working on some stuff for the Formula E, batteries and engines. This car has 2 engines and theoretically they are both capable of 700 HP. There is a Sapphire edition. Let me show you this clip. I couldn't believe what I saw. English translation and subtitles by Kons-T Let's see, I'm going to switch to the sprint mode. This is really remarkable, I reach 216 km/h from 120 km/h in a few seconds. No problem whatsoever!
It feels like I moved only a kilometer. Sure, not everybody likes electric cars but you have to wait and see which electric cars are going to be there in the near future. I really like the e-tron, this is a great car. The windshield of the Lucid is huge. It goes all the way here and then it continues. Here, the car has all the antennas and measurement technology built in. This car has so many cameras and sensors built in that you don't know where to start counting them. Long range… this car is capable of autonomous driving. The Germans didn't allow this yet. This car can be partially driven in the autonomous mode. In the USA, you can find cars that are fully autonomous. There are some cars which can do that. Lucid made it possible that we can drive this car today. I don't know what to say, this car is impressive!
This car has been built from the ground up. Well, they do have some basic components which they start with. When you produce a car, you cave to calculate certain things. Mercedes has to keep some things in mind for the EQS. They have to follow some guidelines. This makes it difficult to compare a big car manufacturer to a new one.
Both have a different approach when they build a car. So, Lucid did have some freedom for their creativity. This is the reason why they could build this car with focus on the driver. This car has a lot of space. I don't know how many people have to join so that there is no space left. It is really remarkable that there is so much storage space. Now, it is cleaned up, the second display has been removed I'm not a big fan of too many touch screens in a car. As you can see, sooner or later there will be a lot of finger prints all over the place and this doesn't look good. Washing your hands won't help.
I think that it's okay to say that you should not eat too much junk food in the car and make the car dirty in the process. This car has been developed in Silicon Valley, California and has a lot of technology built in. People seem to enjoy it. Still, I prefer buttons and regulators. This is nice but that's not my favorite style. If I switch to this drive mode, this car will get a feature which I had to get used to it.
If I step on the gas, as soon as I stop, the car automatically activates the brakes. This has nothing to do with the drive mode but with the settings instead. You can choose a strong recuperation. This feels like the car is being controlled by the gas pedal only. This almost feels like an emergency braking. Very unusual. I'm driving 40, 50, 60 km/h, and it starts with the braking. You basically don't have to thing about activating the brakes. I have to get used to it. It would be great if my Golf which consumes diesel could do the same! It's unusual when the car literally stops driving once you don't step on the gas pedal. Lucid wants to enter the luxurious car price. The price of the car is 218,000 €. I have to admit, this is not cheap by any means. But since Lucid wants to be on the luxury market, the price is acceptable. I really like the steering wheel. It is flattened at the bottom. It's comfortable to hold and the leather has a great quality. It feels great to drive and you don't feel like the car is big and heavy.
This car weighs 2.3 tons. The road is free. Let me switch to the sprint mode. Confirm… I'm driving 103 km/h… whoa, this is crazy! Holy moly! Two.. this was a little acceleration. I was driving 120 km/h and accelerated to 235 km/h! This is insane! I talked to Michi and he said that it would be nice to measure the acceleration from 0 to 100 km/h and from 100 to 200 km/h. Let's see, maybe Michi will have time to do this. I don't even know where he is now. I just thought I could show you this car. Why not? So here I am, talking with you in front of me the camera alone. It's different than when I'm not doing this alone. I'm really impressed by the car. The range is insane, this car can drive for 700 km! This is incredible! This car can drive for 700 km in the performance mode electrically!. Unbelievable! This car can a 900 volt battery, so you can charge it easily wit 300 kW.
This is really an interesting development of electric cars. This is promising. This is interesting for everybody. I don't know if Lucid wants to sell cars in the budget market in the future. When I activate the hazard lights, I can see what the camera sees on the display. This eliminates the dead angle. This is really a great feature. This is a really technically advanced car. Later, when I show you the interior… Let me actually stop the car for a moment. Let me show you the car from the outside. Maybe we can find something new. Let's drive once or twice afterwards. I will you alone then. I told you a little bit about the Lucid Air Dream Edition Performance. It's a great car. But let's take a look at it from the outside.
Let's take a look at the car from the outside. The front is really beautiful. Here you can see two lights on each side and a trim on the top. Down here, you can't see it yet, is the low range radar. Here is another sensor for the autonomous driving. Here is an air inlet which comes from the wheel. There are Pirelli winter tires. Usually this car would have special cars for electric wheels. This light trim is really nice! Here are also some lights underneath. They are being cooled by these air outlets. The air comes through here and it also cools the lights. Then the air comes under the mirror. The air flows all over to this spoiler over here. The rear is not my favorite. Here is another lights which activates when we lock and unlock the car. Let's take a look. There is a lot of space. It feels like it goes on forever. Here is my camera bag. Let's take a look at this.
Holy moly, here is even more space! I have to make a cut here. Alright, my camera didn't need my help to clean itself up. I have So much camera equipment here and I still got the whole trunk left. The cover looks different than usual. Let me open this, so you can see how much space there is. You can use every tiny bit of it. This is impressive!
Let's take a look at the roof. I told you before, this is not a roof, this is a huge windshield. It goes all the way here. Here is the big display. Here you can open the trunk in the front where we get even more space. I can open this right here for another extra space. Let's go to our cockpit. If I press here, it will close. This is crazy! I really like the steering wheel. This display is really nice! This is great! If you had enough of it, you can simply swipe it away. This car is really clean, has a good structure and it looks nice. This grey color reminds me of Ikea.
I'm not the biggest fan of the colors inside the car. Here is also a lot of space. Let me come here and show this to you. Here is a display. I didn't try it to be honest. We can lift the sunshade. It's also possible to set up the conditioner. This is really great. The car has so much space, it's a 10/10 for me. I'm not a big fan of the color though. A really great workmanship! Let me see… it's really clean and the display reminds me of the Taycan. This is still well done and has a great quality. The interior is clean, it also has a panorama roof.
I'm always afraid to forget the keys inside so that I'm not to enter the car anymore. I got a card with a key right here. The car is unlocked right now. The door knobs are outside, the mirrors unfold. Let me make a step back. It's okay, you can pass. The truck was hiding it. Now, the car is locked. Once I come closer, you see, the car simply unlocks! The mirrors unfold, we can start the ride!
Let's not end the video here. I'm going to come back to the autobahn and see, what's going on. I'll see you in the car. I'm driving in the sprint mode. Whoa! Holy mother of Jesus! I just drove 230 km/h. Let me accelerate. Whoa! This car keeps marching on! How was this possible? The acceleration of this car is insane! Lucid showed what they can do with the Formula E. The batteries are very good and now they bring this car on the road for the customers!
You can simply buy this car right now and I like it! A new player in the game! That's nice. Lucid had a great product on the market right now. It also has a long range. They can show off their skills, which is nice. The established car manufacturers can take a look at it and realize that there is a new car manufacturer from the USA, their cars a well done and they are really fast. They also have a long range and it's possible to recharge the battery fast. This makes the established manufacturers create something similar. This is great news that Lucid is trying to sell their cars. I'm looking forward to the future! I hope I didn't talk any nonsense. I hope that you liked this video. I will edit this video on my own. I did it this way before but usually, Michi accompanies me. The funny thing is, Michi will see this video for the first time once this video is online. I'm excited to hear his feedback. Thanks for watching, I hope that I didn't talk any nonsense and I didn't make any mistakes. I hope that you enjoyed the video. Maybe I'll see you again in a similar situation.
Maybe I will talk to you and you will listen without Michi being here. Honestly, every video without him, is better. Thanks for watching, I will see you soon. Bye!
2023-03-26 07:45
Show Video
Other news