Sapi Lake TREK || Cave Monastery Shargole || Exploring Kargil || Ladakh Tourism || The Seeking Soul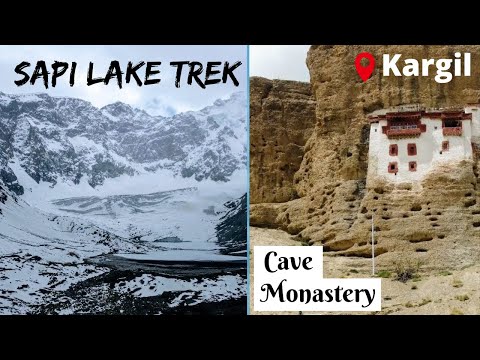 Show Video
Hello and Welcome back to The Seeking Soul. If you are watching us for the first time, a quick introduction - We are a family of three, Sudhanshu, Ankita and our dog Star and we have taken a break from our city lives to come to the mountains and work here as Teaching Volunteers. Hello Guys! Good Morning Today we are going for an exciting drive cum Trek. First we are going to Shargole which is famous for its Buddhist Monastery. Today we will be covering that.
After that the plan is to cover Sapi Lake which is a frozen lake near a Glacier and requires a hike of about 3-4 hours. So we are pretty excited. And in the background, Star and Sudhanshu also look excited.
We have Shantanu here and we have Eshank. So lets have some fun. Situated at 4600 meters, Sapi is the highest settlement of Kargil region.
Its about 70 KMs away from the main city and takes about 2 hours to reach. So one thing that we really like about Ladakh and especially Kargil are the constantly changing landscapes. you see one mountain and when you cross it, you suddenly see an entirely different scenery - possibly covered in snow. Its very gorgeous and its an amazing experience driving on these roads and watching these landscapes change every minute. On the way, you get to see an amazing man-made artchitectural marvel, the Shargole Monastery which is also known as Cave Monastery.
So guys we have reached Shargole Monastery, You can see its built inside a cave. Hence its called Cave Monastery. Its location is available on Google Maps.
We have parker our Car and now we have to take stairs. So lets go. There is a landslide that has happened on this staircase so we will have to go around it. Unfortunately the monastery is locked because the Lama ji has gone somewhere so we cannot go inside. But from the outside the monastery looks amazing.
I wonder how it is built by climbing so high up in the mountains - it truly amazes me - without any technology present at that time. Now we are going to fly our Drone here to see a better and different perspective of the monastery, Lets check out the drone footages. So guys two developments have happened in the last 10 minutes. One is the sudden change in the weather and slight drizzling rainfall has started. And second when we were flying our drone, unfortunately our drone crashed and landed on the terrace of the monastery. Luckily we got the keys to the monastery.
And now Sudhanshu has gone up to get the drone back. I hope the drone survives. So lets see - in what condition it is.
the drone has been found! This is our brother Angchuk and he quickly got this drone from the terrace. Thank you so much brother!Julley ji! So this is the damage. Only the propellors. So the damage is not much. Luckily only the propellors have broken and we do have spare ones.
So the drone is still in running condition. Now we are going to have lunch! After looking the Cave monastery, we took off for the Sapi village. Did you know that the word Ladakh actually translates to "The Land of Passes" and on this road too we crossed another pass called as Sapi La. It is situated at a height of 14500 feet and has amazing scenic views all around including brown rugged terrain as well as snow-covered peaks in the same view. A little further, we found another piece of Nature's beauty, a small waterfall which had probably just begun to melt.
It was a joy to look at. Ok so we have reached Sapi and we were looking for this Padma Homestay about which we saw on some video. But somehow we could not find it. We went around and also asked around some people and we have the number but there is no network in any of our phones so we can't call them also. We got to know that there is a Daak Bungalow down here and we can try it as an option by talking to the Headman of the village.
So we came all the way trekking and here is something that happened and it has totally overwhelmed me. We. were two strangers standing outside the gate and they asked who we are. We introduced ourselves and they actually called us inside and the way they welcomed us, with warmth - they took us inside, offered us hot Tea and Ankita and Shantanu were outside so we told them "No - No! Pls dont bother and take so much pain." We started talking and they mentioned that if we stay down in the Daak Bungalow, we will feel cold, we will have to carry water from a distance, cook our own food. So it will be better if we can stay with them. This moment was very overwhelming.
I feel that the people here are so good and awesome. They are so open, innocent and welcoming and we don't get to see often and thanks to God that this still exists in this world. What are we making. We are making Lentils and Rice.
Its so Good! So Sudhanshu and Nomo Ly (younger sister in Ladakhi language ) are fighting amongst themselves as to who will wash the utensils. So after having an amazing dinner, its time for us to sleep so that we wake up fresh in the morning for the trek. Whereas we had brought a tent with plans to camp overnight - its so cold and we are so grateful that we found such good people and place and now we are going to have a comfy sleep on a comfy bed right there. So see you tomorrow morning . Good night!
Good Morning! Its 6 AM right now and there is an amazing sunrise visible on the distant mountain peaks. We had planned to wake up at 5.30 AM but we got late and its almost 6 now. So now we are going to get ready and mostly start the trek by 7 to 7.30 AM. We are starting from where we were staying. The car will go a little ahead for about 2-3 KMs.
We will have to Park the car there and from there the Trek starts. Sapi lake is a high altitude Glacial Lake situated next to the Gangchenmo glacier which feeds the lake. To reach this lake, it takes a 3-4 hours hike of 6 KMs through a scenic trail of Alpine plants and flowers. This is an amazing trail with slight uphill climbs here and there but the views keeps you going. We are having a lot of fun.
Top of the world Very Peaceful A beautiful milky white stream also originates from the lake, with different, rare and unusual flowers and medicinal herbs at its banks. Other than this you also get to see Wild Rabbits, Marmots and Wild Yaks on the trail. The ideal time of doing this treak is around the months of June and July. However ,the weather is quite unpredictable and hence its better to come prepared for all possibilities. So the lake is behind that mountain. The locals also call it as Headless Mountain.
there are two mountains one of which has a peak but the other one has a flat top. This is Star's water break. We try to feed him through a bottle but he doesnt drink from that.
He likes to drink from flowing stream of water. So we are taking a short break for Star so that he is not thirsty. There is an interesting phenomenon which makes this Lake special and unique is that it keeps changing its color throughout the 15 days of lunar cycle.
Sometimes its milky white and at other times its turquoise blue due to a phenomenon which is still unknown. We have covered almost 5 KMs. But for the last 500 metres, we are encountering and walking on very large boulders so it has become little tiring but the views have become even better. Towards the end of the trail, the climb becomes very steep and this is where it started snowing as well as we saw that Star got a bit tired.
It was already 1 PM by now and was time to eat something. Guys, i think we are just 300 metres away from the lake but the weather has become bad. Its snowing and has become very cloudy.
So we have decided not to trek any further. Sudhanshu is flying a drone and has sent it ahead to take a nice footage of the lake which will show you shortly. but we can't go any further and we are pretty sad but i think that is the right thing to do.
If the weather is bad, we should immediately start the descend right now. Sapi Lake is a big example of how Global warming is affecting our planet. Like a lot of other villages, Sapi village too is dependent on the Sapi Lake for its water needs.
However, in the last 8-10 years the lake and its waters have shrunk to half their size. And hence, it is important that we travel responsibly as well as live responsibly in our day to day lives in order to conserve and preserve our nature and such miracles of nature like Sapi Lake. Thats Star leading the way, He actually has figured it out and is quite intelligent that he stops once in a while and checks if people behind are coming or not. Star is our ideal Trek guide - he waits for us. Till we catch up, he stops and waits and maintains a distance and moves again.
Ok, it seems our guide has found a new way. So we did this trek by ourselves but after finishing the trek, we realized that its not an easy trek. Its moderate to a little difficult trek and hence its absolutely important that you hire a local guide so that you can take the best route possible and your overall experience is amazing. There are many local travel companies in Kargil who do this trek. One such company is Roots Ladakh and their details we have mentioned in the description box below So we are back from the trek.
We are pretty tired but we immediately started back post a quick stretch and now we are back to our home. And the most important and the best trekker of this trip. So Star followed us while climbing up but on the way back he got this energy boost and was acting like our trek leader while we were coming down. For once i think he is tired. Usually star is an outdoor dog, he loves to walk and run around. But today he looks tired because obviously 12-13 KMs is a lot of walk for him.
We hope you liked this video. If yes, Please Like, Comment and Share. If you would like to join us on our journey - do subscribe to our channel.
See you next time. Bye!
2022-05-26 15:45
Show Video
Other news