Rohan Khaunte sets tone for Tourism, IT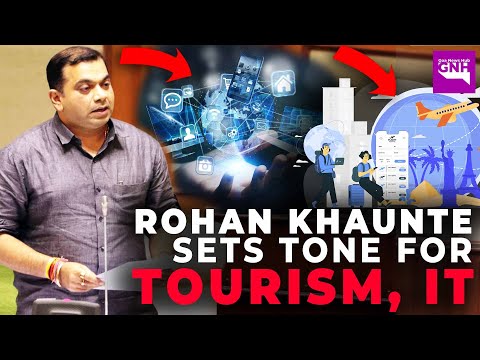 Show Video
benefits Next, thank you so much for listening me patiently. Speaker sir, main department of printing and stationary cut motion commits Marilani, department Speaker sir, speaker of Printing and Station how we need to take it ahead is a thought which we have to move ahead with. We needed somebody with lot of competency, experience and expertise to come in this department. Along
with the director and his team. Taja Khati, Mukya Mantra director of Printing and Press, RX collector we invited back to look after the affairs of printing and stationery. Our speaker sir, printing and stationary and Department of Printing and Stationery is the department which is responsible to procure all stationary And ensure that all the departments are given this procurement department stationary department there was a lot of revenue leakage also on Manippi. Stationery ji purchase department wise where the quality and the price will be predetermined and kept Printing and statistical and they can procure. Duplication of every department wanting to do the same thing tender cut, quotation card, supply hard, rate check, Taja Piksha, one department will do this. Secondly, quality check
department and speaker sir, he is a printing a stationary Printing industry speaker sir, Halichali, we were not able to do much because of COVID. Yeah, Printing and stationary in four color offset printing three clamp perfect binding machine colour digital printer. As main target private how best we can adopt to the new technology and make it a more modern printing ah press there is what we are looking at. In the Where we are situated right now. We are trying to move into a new place. We are trying to locate a new land. Where we can get a
state or a state of art printing and stationary. The department if it move there with a new positioning. Makaista department can do a lot of more justice. As far as
the Department of Printing and Stationery is concerned. Speaker sir, as Tourism IT. I would like to talk on IT first.
Yeah department speaker sir being a electronic engineer also. It's quite close to my heart and in my last tenure we were trying to see how best we can groom up these things. Ka The bus. And I back to the we have not begin miss the bus. We
are adaptable to new technologies without carrying any legacy behind us. Konchi state as Karnataka worldly states when they adopting to new technologies, they are having a legal change. We don't have to. And in my last tenure
as a IT minister speaker sir, enough we needed to carry a create a backbone. Backbone policy Lockhanji Magani I opportunities investor industry the country even today. As far as the IT sector is concerned. Implementation. Startups disbursement certifications speaker sir. The first 100 days
that the startup policy is put back in place where we needed to understand from the industry and we needed to from the academia where the shortfalls were. IT policy startup promotion correct not suffer. Startup under the cone. Startup idea given creative he may be a 11th standard boy, he may be a graduate, he may be anybody. It can be you, it can be me. And that idea when it comes in, it becomes a problem solver. That is where we call
him a startup. And today I can proudly say that we have certified close to 146 startups. Disbursement two point 77 crores, Dilya Sa, Fakta startup. So wrong mighty disbursement I think they need to recheck. At the same time speaker sir, marketing and technical support grand Oralia sir. As speaker sir whom we have in the process of certification and also in the next Today I have started building success stories around the ecosystem. Kunji Gazal success
Zali speaker sir, be live. Be live is India's first electric vehicle experience platform in driving. It started from Goa. At Span India present they are building, they are growing. This ecosystem was started with the state funding and every possible thing. Certification
from Goa and we supported them from Goa. Today, they are Pan India. They are the the CEO is a goal. The owner is a goal. They have deploying people and manpower and this is exactly the which we wanted to do. Startups because on the floor of the house the legal capsule Speaker sir, legal capsule is a award winning contract, life cycle management platform that helps enterprises to automate and streamline the contract management from drafting to renewal. Atta speaker sir, yes success stories build up. Turn
around time change we have shared internally and ensured job on startup policy apply as a startup. As it to be a startup we have first reduced his paper work. And minute he submits, we have kept four days for him to be certified just four to four days from the earlier 30 days. Taja Financial aid financial aid speaker sir, if everything is correct, we have said disbursements will be done within 30 days. So funding grants he can play in his role.
Business venture and this is exactly how we are being around with the startup, very with a very strong backbone to say that when we are talking that we wish to be Asia's twenty-fifth, 25th preferred destination, that's what a startup culture is concerned. It is very important for us to implement. Policies implementation. Doctor Pramod
Chavanta, given army, CMA, given army as we have been able to run the thing by practically understanding that we need to touch the last where we are able to groom jobs these becomes a opportunity for a person to create a business venture. Speaker sir, IT, Amitja was a ultra policy ultra policy land builder debates in power subsidy scheme, internet subsidy scheme, lease rental subsidy scheme, salary scheme, campus recruitment scheme, your scheme it's campus interview scheme we started targeting the brain drain industry policies one time saying employment from the college trade into the industry. Industry matching ground. So he is above the policy EITG ecosystem a government governance model E governance model investor connectivity seamless connectivity infrastructure and the third in terms of creating a infrastructure where we are able to cater to his requirement in terms of space land plot or anything At the speaker sir, I teach a we are today moving ahead. And Gordon
and Sachin Ulidasana speaker sir. State data centre. Speaker sir, we were tied up with orange. data centre which will host the government departments data. At the same time speaker sir, we are also trying to see that is a suitable model for revenue for the person who is coming in, who also takes services and gives his services to private companies. Where that revenue share can come to go ah to the government. So in total speaker
sir, state data center revenue model speaker sir, every person whether it is tourism or whether in our departments or any tourist coming or visitor coming. Very Important is a GIA system in place. Speaker sir, anybody coming here should have a geographical information system. GIS and speaker sir, ask one map Goa, GIS portal GIS speaker sir And if I, whether if I am a tourist and if I need to know how to do a take my excursions right, how do I travel? How do I make my two ah my holiday right, I need a platform to understand other than going through a tours and travels in other agencies. If a
department, any government department today with HPWD, whether it is water supply, whether it is health. On transfer needs to understand where the schools are, where the institutions are, where the medical care centers are. Around the place you would like to come and stay. Yeah,
platform Sunny speaker sir We need to get this thing right. And he is above the Dilia sir. We have already started with his GI system. Department on
board we will have a full layered GI system which will cater to the requirements of every government here. Within the government for better governance. At the same time we will be able to cater to the people who are coming here to give them a one window to showcase this. Speaker sir, when we want to regulate this geospetic, the use of the geospetical data. Then Amka
speaker sir, Jio spectacle activate already IT department get there. Assembly in Mackay which will create a lot of regulations by collecting this information. Speaker sir, I mean last time E district E district platform Amit and on boarding start in this case because sir G two C, G2 B and G 2G, government, government, government to business and business people and government to citizens. Amit Shri Services department on boarding revenue and labor and employment services today I can happily say that today offering various services to the citizens. So, online services end to end. Resident
certificates certificate Garapata. He district model website WWW. Goa online. GOV. in. These go online website turned out to be a boon during COVID for every pass, every transaction, every certificate, everything that thing was wanted was through this website which was done. Which was on this realistic platform speaker sir. District platform Makat San today till now we roughly have about 6. 8 lakh
registered users with twenty-two point 5 7 lakh transactions out of which almost ten lakh transactions are towards utility services. Speaker sir governance online offline offline we started the concept of citizen service centres. Citizen service centres was basically to bridge that gap between the citizens and the government with the interface. There were allegations, there were other things coming up. We said, let us get this platform in. We put it at around seven locations.
That is salsa, cafe, Satari, Ponda, Sange, Kankawani, Honda. And it is a ND way to go to every Taluka also. Speaker sir, services whatever services a person who is not digital savvy can go apply within that specified time gets his services right. Speaker sir we are coming up with a plan. We are coming up with a plan where Grammy and Mitraje Shasa, Tasha we will get to the every village level. Village level
executive who is servicing through the CSE's. We are proposing to have a very clear defined plan. Where each Taluka will have a one particular person who will be in charge of a CS which will go down, percolate down to the constituency up to the village. and we will offer services of giving you certificates in your house to what you apply at the CSE's. Yes, speaker sir. Ek Sadiq, Sark I think we'll be touching the last person, the last person power park E office. Our speaker sir, ITJ
Madhya Mathlan, we want to make every department through a system of E office on a ERP backbone. Is something which we are trying to integrate. There are successful models in various parts of the country. There has been NICO has been instrumental in launching E office. Thought
I take don't the IT department has started in a pilot basis. I think in days to come, we will have this module also put in. Speaker sir, special assistance to states for capital investment twenty-two, 2 thousand 22, twenty-three. He is scheme central and he has central just we will be ensuring that we are going for digitization. Java is our department digitized score.
Import score and ensure that we have a digital locker in place, things systems in place will ensure proper governance as far as the state of Goa is concerned. Speaker sir, industry connectivity is a main issue connectivity issue noone under swan project. Tenna, boo basis big, own, any operate. Not boot bases, not built, own, operate and transfer. But blue bases, agreement earth was put in a QGR base. Every quarter parts in my tenure as a IT minister last time we went we had gone in a process of exit management and we had given them a 10 year of one year we had asked them for extension. So that we could
take corrective measures. Today speaker sir, we are actually transiting through technology. We are going to 5G. We are
going through different phase. At the same time, we can't buy a outdated thing which is already there. But every part of the government today is connected by the GBBN network. Every part of the last mile that is up to the Panchayat level through a pop location is done by the GBBN network. And
yet GBBN network we will not have any service to do. So, today we are trying to find a solution and we are committing that we want to do it in the earliest possible time by twenty twenty4. We want to finish this project. Is a anywhere which you have taken. Center is under prime minister's vision of digital India. Amso IT minister Jawasa,
Ashwini, Vaishnav Ji, who was a earlier chairman of MPT also. today is the IT minister there. Also understands how things are required for Goa. And they are trying to support us as far as this infrastructure is concerned. We have come with the broader mutual. By Divya Rani and Malia. Army pandemic
Tower We have three ways of connectivity. One is tower. One is fibre. and third is Wi-Fi but towers are coming in only in locations which can be commercially exploited like or may be inside where the network is required. We have also been calling them and will be calling them again for a meeting to ensure that this thing happens. Simultaneously
on a broader region we are going with fibre to the home project. What is fi to the home. Ours already private players they may not be registered with IT directly. Through right of way they have found theirselves already being laying cables in the past. And today we are
looking at regularizing them to ensure that they are available in the system. And we need to create a system of revenue. Today when we are looking at fibre to the home we are envisaging that we will put a whole fibre. While looking at these fibre it is not only laying the fibre but also create a revenue model 5G as a challenge. We have so many challenges we need to go with. Today I can announce as we get our connectivity right.
That within these two years we will try to ensure that fibre to the home. At least laying the cable to the government and the ah village level and fibre to the home in most of the locations can be achieved is our ambitious plan. Last and Wi-Fi connectivity this secret rate is having a system which can give access to about 10, 000 locations and that we had started in the secondary in my last tenure which we were able to give Wi-Fi access which today also when you come as a guest or you are a minister or a MLA coming to secret can access this particular module of Wi-Fi. This excess points today we want to go out. And we want to go out to education institutes. We want to go out to retail, we want to go out and give a seamless connectivity on the way. When
we are trying to do this, we are also going ahead with the PM one scheme Prime Minister Chiyasa. Wi-Fi already constituency which we will propose and try to make them as Wi-Fi locations in each constituency of yours. Which you feel is having really returned with as far as internet is concerned. In the
this will be transient to the time we come with the whole full network. is to be given, what service our providers required, what bandwidth is required, that also we are working on. So, we are able to give you seamless connectivity in days to come. Speaker sir, Atha Etani industry. I 1. 7 lakhs one point 3 lakhs
which is under IT at we are having in square meter. We are having in Chimbel which is roughly another eight lakh Sumar. We are having location wise we are able to create one concept is IT anywhere and second company we already opened again two lakhs of rupees home. His salary mayor, it answers every question to every Goan, every MLA, every business entity who says today that is a opportunity for everyone to come back. That is a opportunity for Goan diaspora to come back. That is a opportunity for every person whether he is abroad or in the country to come back and help Goa to create this IT ecosystem.
He is in Google. Translation it's a big achievement. and When he came down, Chief Minister Felicited him to recognize what he has done. But what he has done today, he has created that Goa comes on Google. Go ahead and
Sachin Lawanda is a Goan settled in US, CEO of Vishteon. He has got a love for the soil. They want to do something, they want to give back something to Goa and this is a opportunity for all of us to come back and and cash on what they want to do for Goa and what we want to do for Goa. And Taja Gandhi speaker sir, we have come up with Goa IT advisory council. Goa IT advisory council has been notified. Where the chairman is the chief minister.
Why co-chair is the IT minister. There are vice chairmans in place. People like Baba Demppo, Mohandaspaya invite Kurun Parat, we have got him back on board. We have got people from GIM, we have got people from institute like Bits Milani on board of this IT. So, we have the academia, we have the industry and we have the government together talking.
How to take IT ahead? And this is exactly the plan which we want to follow into ensure that we are having industries and we are also able to create employment. Our speaker industry startup. It's going to be a unicorn may be in the next one, 2 months. Tea company Noshe million dollar it is the promoter is Anand Prabhudesai Mading also. Brother of Amtra Doctor Amar Prabhudesai. Who is
our very well known cardio. A very and he is opened office. He has started about 30 people. He
wants to move. Again, he wants space. Ask Tajagadi speaker, sir, we are coming up in one area. In Purvarim. Purvorin
just because sir, which is my constituency itself. We are wanted to cater and build up a iconic building there. Which will be a startup. We are planning to start something on the lines of what Hyderabad, Telangana has done, pick up the best practices. destination for startup start and Taja Khadi speaker sir we need to start advertised calling for people to lease out their spaces so we can connect. industry connectivity we should be having a ready database today we have created a database. We are inviting
companies, putting in them to those particular people who are build our own spaces. speaker sir. Which is a challenge again. IT, IT, IT, Amir, IT, IT. Skilled manpower already company as manpower manpower, skill and peace adopting a similar way. We are
going to sign MOEs and ensure that we are following this. So, we are having skill ready people for the industries. Electronic manufacturing clusters because sir, central centrally and electronic manufacturing cluster is taking shape. At no cost being a Alwara land with no regulations or rules that time was taken back but before we started our work. So, compensation priority helper but much more going savvy than any other thing and we should be acting more responsible to ensure that we are walking the right path. As EMC Kurtasana,
electronic square meter and land rate has been very subsidized by the chief minister to attract the companies. We need the right companies. We need a right electronic manufacturing companies to come and set up Taja Kadir, Path Azhar square army PW power department substation deposit work but today speaker sir when we are creating this we are also helping the ecosystem in Tune to get on employment micro industrial zone where Goan origin people can become ancillary to the bigger units.
And we will try to do it. We need a right industries to come. We don't mind scouting with the bag. Going and meeting each industry. Calling the industry are required and we are looking at these particular part.
We are able to close as far as EMC in Tua is concerned. Calling the right companies and helping them set up shops. Where you get a good company for us who is able to get the right. Thought for Goa. Most welcome. Semi conductor industry, chief companies ask, guardio speaker sir, chiefs and semiconductors now. Chiefs electric vehicle clusters that is the future. We want to
create it here. Can we do it together? Let's do it. We are open to every idea. Speaker
sir, we want to make this journey a very successful journey for Goa Kidak Jain. Daboli MPT, Anim, Mopa, Don Airport, Ekport, and Tariji connectivity connectivity of four lane or six lane roads. which is can help in logistic purpose for any industry they would come want to come and set up shops. Speaker sir, overall I have covered as far as overall IT is concerned through our schemes through tribal plans of SC plans we have ensured that we are giving schemes to them students category we are giving them going to be giving them laptops at the end of the chief minister these scheme has roll out sir speaker sir knowledge centers we want to increase those knowledge centers basically we do with idea digital India digital everybody should be very we should understand how to use UPIG topic fraudulent we are trying to able to give all these local youth housewives and other citizens all this opportunities. So, Pochapali and manager one case two case every vendor in terms of supply of equipments to government Is done in ITG, the IT corporation. They can call for whatever purchase of department is there. In terms of hardware.
In terms of AMC's. So that we are able to regulate this. In terms of software, we have trying to give this to gel.
Coronary topic Panch website speaker sir each Panchayat is taking services of their own vendors, own people. Sir, Karacham otherwise would get it done through their own resources. This opportunity will help the startup ecosystem to go in the right track when it comes to software, development or software, website update which will resolve these problems. And website WIDG Munda, WRDG website speaker sir, was done by a private vendor. Jannah
government we go through procedures. We have certain which certifies this particular thing. We have SLA's in part where you have two levels to ensure that we are not able to go through those particular things. And Taja Kadir, speaker
sir, Zababtar in Punemata Asana, IT, Fude Vartasana, Goa Ek, IT destinations and we are lot of passion. I want to ensure that because this is something which is non polluting. at the same time be ensuring that we are running out things right. We don't mind being model of Estonia Luxembourg.
Where today those countries have gone far ahead, per capita has gone up. But they have still been able to retain their things. AR, Goa is automatically become a place for creativity. And take creativity. I mean our our
Dizali already. Creative works are coming here. And to give that creativity a support, we are coming with the ambitious plan in this year's speaker sir. Where we are getting co-working spaces on the beach.
Morji Ani, Miramar. Three locations which Karanjali which you identified. Co-working spaces on the beach where a person coming can work, can serve, can do water sports, come back, chill out and still work with a shower. If you are giving this
thought, we can have the best people coming here with the best thoughts who can be high spending network in the IT industry coming and creating their part. Vocation hashtag. vacation, Goa Hashtag tourism. Tourism vacation Goa is going to be the theme. Hashtag workcation Goa. Not vacation, vacation Goa. Because COVID
economic we are able to work from home. Kalui union minister of commerce circular you can start working from home. Pandemic pandemic and we have these type of coming and staying here. The type of quality of people coming and staying here itself helps the ecosystem. Or the economic conditions of the state.
Because they are those spenders who come here, work from here at the same time are able to help us. As far as the IT core system is concerned. Speaker sir. BPOs priorities speakers are coming to tourism.
Speaker sir, tourism Mandakar is quite vast. And last I have been practically trying to understand from the other side how we need to recreate the whole system. Speaker sir mining was contributing to 17 percent to the GDP. Anik, tourism was tourism is concerned. If we need to run the economics of the state right. Contribution
of tourism to the GDP is 16. 43 percent. 16. 43%. There are lot of revenue leakages. We need to tap it. There are lot of illegalities. We need to tap it. But when we are moving in a
direction of tourism until leader opposition and high Tourism Yojana. speaker sir, we have the son, sand and sea. always looked upon as a beach nation. Speaker sir, centre of Asia Pacific Aviation. Which keeps a report of what is happening around and how the tourist and the thought of the tourist is changing gets listed around. Today when we
start looking at the speakers, speakers sir, we are competing, we are in competition. We call ourselves the world's one of the world's most preferred destinations. Yes, we are. But do we have the right quality or do we have the quantity? Don't Azhar, Econisan, 21, seventy-one lakhs, 27000. Was a flow of domestic tourist and nine lakh 31000 was the flow of foreign tourist. 2020 and 2021
came a different thing with the pandemic struck and we were really down. And that is a time the numbers really came down. The numbers came down to almost point 5 or point four percent of the foreign tourist. And
hardly something about the hardly point5 point six percent of the domestic tourist. Manji seventy-one pandemic we started realizing one thing speaker sir coming here as a tourism minister every place needs to start thinking on its own we can't copy anybody else As we are predominantly depending on two markets. We are predominantly depending on UK. And we are depending on Russia.
Speaker sir. And some part of Europe. Are we on the right track? Are we looking at the same tourist coming in? How we look at these domestic tourist coming in? And Tajakati speaker sir, we need to start looking at how we need to go ahead. Leader operation and Midland Tourism Master Plan, yes.
Tourism Master Plan because sir. Don Azhar It described about 27 tourism programs. Each tourism program speaker sir had a specific thought. I will just run briefly. I will not. If you
want, I will go in thorough. Speaker sir coastal culture and heritage, nature base, leisure and entertainment, mice and weddings. Where the total five heads under which 27 programs were identified. It is a tourism master plan. Which I have also spoken. And which I also wanted things to happen. Which I can see in this
tourism masterplay. From the Tourism Master Plan in two thousand sixteen, speaker sir. Next came the Goa tourism policy twenty twenty. Goa
tourism policy twenty twenty. Municipal council Panchayat bodies. Government corporations public notice inviting comments and inputs from the general public.
Public notice inviting comments from various tourism stakeholders such as travel and tourism trade, industry associations, NGO, Anik public, Maglitu papers. consultation sessions were done with TTAG, GCCI CII, the Goa chapter, hotel and restaurant association, state level marketing and promotion committee members. Consultation was also done with travel operators, Goa Salon and Spa Association, Goa. Tourism Taxi Association, Shack owners Association, private checks and heart owners association, diving associations, Goa small scale industries, water sport operators, charter operators, EIG, wedding planners, NGOs, email the Delhi government are asking for various departments asking for their suggestions.
Consultations were held. FNB service provider, abroad, transport provider, environmental provider group, some robust suggestions consultations and market speaker sir. These particular policy came in place. Policy this policy came to transfer transform Goa into innovative and responsible tourism destination. While preserving Goa's attractions, unique, historical and cultural heritage and its natural assets and providing ample opportunities for economic prosperity of all. Yes, speaker sir we had the whole platform went from a tourism master plan to Goa Tourism Policy 2020 and form Goa tourism twenty twenty was born the Goa Tourism Board.
Goa Tourism Board was born somewhere in 2 19 -11, 2021. Policy board forms board forms meetings and we thought where we needed to make corrections, we have spoken to the industry, the other people and made the due corrections. Specially speaker sir, GTP sir role like Alex Baba and Goa Tourism border for planning policy making, strategizing and overseeing the implementation of various tourism programs and initiatives in the state. As I advisory there were people who suddenly said that we want this, we want that. Speaker sir, arts and government arts and private sector arts and CM is heading the whole board. And from there we percolate down as a minister for IT, then you have secretary, you have WTCI, everybody who is there from the government side. And then you
have the people from the industry. Now, who do you have from the industry? You have representation over TTAG. You have representation of Goa Chamber. You have
representation CIA. You have representation WDCI. Each GTB, each GCCI, each TTAG, everyone has a presence there. TTA, whether it charter operator or whatever. Who they want to represent is something what they have to decide. After
that therefore inviteees, now four inviteees should be specialist. Somewhere should be from the culture and heritage. Somebody should be from the other industry. I look more one wants to be. I would also love everyone to be on a boat.
Speaker sir, we are also part of the industry. It looks like a personalized thing. I don't mind to be in Sangat Gevya. Each one has to
have a definite role and as a empowered committees. We are having those old and today we need to legislate and come with a new act for a regulatory framework. Speaker sir, army as department of tourism has proposed to appoint centre for law, entrepreneurship and action research centre clear. Tashar National Academy of Legal Studies and Research that is Nal sir. As legal consultant for legislative drafting and related policy, assistance, advisory for updating and consolidating legislative framework for tourism for Goa.
He is so we are going to appoint him on nomination basis. These agency is going to give us everything what you and I want as far as tourism is concerned. For the proper valley legal framework. The act itself we do not have the powers. As army dependent as a police agenda. And let me
be on record speaker. Sir, the opposition and thought process that people lacked. complaining we went on clearing the deck beds, we went on clearing the things. Michael must be aware about this. Michael and Punjab we needed to ensure that law is abided by. I mean
Haluna. Illegal touts, hawkers, beggars. Buns of space at least. No, I'm coming to I am coming to that.
Then we can do and things which are required in the interest of tourism. At the high spending low spending, high spending low spending quality design. Vision statement quantity Vijay Pali statement was caught. Industry started debating. I am not saying that I am tourist coming in. Don't we all want some good tourist coming in. Don't we want some good
footfalls whether domestic or ah beach clean He complained of C. Rojan. Now speaker sir, challenges Is a threat. about how we stop this sea how we can go back because there are technologies today which we can adopt to and ensure that we are able to get our surface right back. Surface right we are able to get the sand bank back. And yes using with the help of environment, with the help of WRD working together. I think we can achieve a lot.
Department let us look at the commercials and technology. techno commercial, Korea and decide Korea. It's a good concept. But whether we can add adopt it, whether we can have it proper. We have to sit with environment, we have to do things in the right sense. And
Tajagat is because sir, department beach clean So today we have challenges of touching upon from the beach bell to the Panchayat area, Mudli Dead and Jimunta. who is the beach cleaning contractor. He will have Department of Tourism. He will
have police. And he will have the shack owners, the associate as your particular stakeholders in this app. Kona and Dista beach cleaning agency photo, video it is done. Real time speaker and I think we need to improvise. Be Drishti is doing
the job of life saving. Drowning cases reported by 40. Drishti, I believe have been doing their part in a satisfactory manner. Beach cleaning we need to improvise upon and very important comes to give a message of a very safe and clean beach. Safety
speaker sir, this year we are proposing two things. One is a integrated beach management policy. A integrated beach management policy where with lifeguarding zone. Safety zone through tourisms security force. Surveillance illumination everything will be in one integrated policy. So
the person coming as a consortium also will be responsible to answer the questions what we are facing as far as beach cleaning is concerned. 24 by seven. Why? Aata speakers are everybody is a ambassador to tourism. Water sports taxi everybody is a ambassador for Goa as far as tourism is concerned. Our speaker sir checks music salta. Somebody is just bypassing the laws. And it introduced a single window system.
Single window it has to stop and get regulated because of for which the what sports. queue system, queue system is followed. Q system speaker sir. Q system and ah ah Sheikh policy right. Speaker sir, we propose doing model checks. What are model
checks with two. Today, I am proposing four. Two in the north, two in the south. We are going to go with Kolwa or Benauli as one stretch. Baina beach has one stretch. Northak, we will mostly go with Kalangut or Baga is one stretch. Where we want
to create this model check, concept check System of plug and play. Facility, facility, facility plug and play including Wi-Fi. We will give it to you. Let us look at a different model to run a check and ensure that the shack owners are making money. Government gets extra money and we are able to ensure the extra money extra revenue we are working on a policy. And take Kurta himself speaker sir.
Coups and COVID business for three years and we are paying money. where got only two years of 50% in one year they couldn't run their businesses Anidon was speaker sir Yes. Motion is that duration sitting of the house extended half an hour. Those who favor I. I. I. I submit. I submit the election
of sitting of the house. Accele by. Speaker sir. As a Sheikh, Valand, Sheikh, Bawan, Khadir, Tani extent on the same terms and conditions. Policy
For a policy we will talk to you all. Coastal MLA meeting assembly problems we couldn't call how to make it better, how to make it inclusive. Second challenge taxi speaker sir as aggregator was taken up by Goa Tourism at no cost to the aggregator but revenue to the ah department was not a focus but to create a technology was the thing agreement percent of gross revenue important technology adopt current system tourist can be into a plan where we can support them. Ecosystem family, insurance, pension, let us support them. Let us
create this model. Let us get them into the system. I'll been on record saying that Mapa is going to be the game changer speaker sir. Speaker sir, 4. eleven million traffic is in Daboli and they are envisaging a traffic of 4. 1 million or 4. 23 lakhs in the
initial year of Mopa starting. We have to start reviewing whether the taxes will be sufficient. Whether electric vehicles can play a role.
Whether aggregate is how they can be coming in. Nautical PPP model MPD starting nautical tourism in a much bigger fashion. Today we are looking at a bigger plan whether we can connect from Dhonapal to MPT on a PPP basis or on a scheme floated by the centre. Where we can look at a cable car running from this particular thing. As consultant if the project is feasible we'll think of going with it. MPD is running this thing to ensure and check whether we can do this. But as we get a new
thought of a cable car coming in from to MPT. There is a new thought. Nautical tourism is going to come in a much bigger fashion. Shorty backbone taxi wallet bows and yes exam. Cri and CM is on record. Let us
do it. Let us sit together. And I think it is a call of for us to put this message very clear and right. That I don't think it justifies any road map for any tourism to happen in the right sense. Speaker sir, Hindal and Tourism sun, sand and sea, sun, sand, and we are moving towards Hindal and tourism. As senior home stage topic I am trying to be very brief and crisp. I am not going with the whole length. Home stage topic home
stay today is unregulate we need to regulate it. But for which we need our policies right. Today we need to have a policy in home stays. We need to have a policy in adventure. Tourism. We need to have a policy in caravan tourism. We
need to have a policy in many years part JT policy All these policies will become the backbone of creating the right thought. Illegality summers. We need to regulate. We need policies right. We need to have the act right which has said Halsar will be doing the act. Will be getting a thought. Getting these quality, we need to move. Center Asia, Pacific
Aviation. Speaker sir, distribution of visitors from common source markets to competing destinations. Ask speaker sir, number of tourist which are moving armies over. We are just at about one point four four percent to call that type of tourist to Goa. Ask
speaker sir, Amy West Europe, Tajit Kanda, China is a emerging market. US is a emerging market. People today are travelling by waiting and travelling. Direct connectivity
round travel and maximum army junkets but business with some base out there. Varan Bhan, Maruna and I have enough statistics to prove that what I am talking on the floor of the house has material to say that the tourist mentality is changing. The FTA is a foreign the tourist arrival foreign tourist arrival. The mindset is changing. As
for the charter business. foreign tourist settler will be much more than your number of charters. The people coming through charters might be more economic change in days to come. We have we have so many things which are changing and it's a game changer. Taxi tourist tourist tourist app will define even internal ah transportation. Army, Varna Chan, Punjab, Kai Crush, Velichant, Punjab, Banali Chanji, Atlan, and has a option to decide. As Buryan's they
have options to decide and that is aggregate as thought. And speaker sir wish you are talking about. Hind Every area where we go, we need to know how we can use technology. AR When they come and see on a air, we are experiencing what Goa we can see? Whether it is cuisine, whether it is medical, whether it is adventure, whether it is you name it and what we are trying to do has to be there. Tourism speakers are Hindal and Hotel room limited as total number inventory of rooms A, B, C, D, E, category, Delhi, Jara, Java Java 82, 963 is our total inventory of rooms registered and legal number of rooms which are there number of beds is eighty-two thousand nine sixty-three. Number of
rooms are fifty thousand7 0and 4 which are registered with us. Which is much lesser than what the things will be when the footfall start coming in. And Tajal Radi speaker sir, I mean Dhoni Kam Kela. Chimtoya
Karpajala and registration hotel renewals online. Paper works minimal. It will be coming out in this week. Minimal paper work for a registration. So, we are saying home stays now, guest house now, hotels are category. Register increase the fines and we will ensure that that hotel if it is not registered or does not register and creates a revenue leakage further will also be tapped in that direction. Register home stay policy and we are contemplating signing up with Oyo and Airbnb type of people where we start generating revenue towards GST.
Have proper policies in place and also ensure home stay certain standard also is maintained. That we will take Airbnb and Oyo to maintain those standards what are required for those home stays. So everything when we start giving that quality, that quality of tourist will come is a strong thought. Which I have. We are coming up with the app. We are coming up with the tourism card which will have a wallet also. We are coming with this app which will allow a person who is coming to Goa or wanting to come to Goa to know what is his dining experience, where he can table, what he can take as a excursion. If he has
a grievance, redressal, and the tourist can use this app. The same app generate a card and that card can be used which will be having a QR code will be used for various locations and places where he goes to. He technology adapts because sir, we are trying to make it a very memorable destination for people who are coming to Goa. Jaw Tourism experience we want to change it. And we can change it by all
of us together on one forum. Speaker sir Toilet one Punja Speaker sir, Tourism project convenience center centre, a convenience which will have a changing room, a toilet, ah locker area, a medical unit, a table which will have all informatories, the subjects as far as tourism is concerned. Where you can go and check and do what you want to do. That was service information call was speaker sir, we have taken on the call war on the iconic project. Project fishing village everything is being covered.
Festival, Korea. On the floor of the house festival, Korea. South Africa we will sit with them. Heritage festival Parat
Sura. We will have some festivals. no division of thoughts where everybody is friendly and we want to do it, let's do it. Speaker sir, we were very clear this time Ironman RFC person to ensure Goa sells in the right direction. One event calendar, one finalization and giving them enough scope. Finalist December and finalist corona. And his son I have been
vocal and saying that we need Goa inside. We need the world to see Goa movement. When they came for a presentation, may be with my courts, they have come there and showcased. They are ready to give one stage dedicated for Goa. With that setup, they are ready to promote Goan culture. They are
able to ready to promote Goan cuisine. Things which are never happened they want to do it. And if we are able to explore this opportunities for our Goans, to the world through events like Sanban, they are most welcome. As far as revenue
is concern and income is concerned. We are looking at making a single window. Wedding destination wedding 1 hour 20 of Basilica of Bomb Jesus. Forty point seventy-nine crores as a project is coming up at Old Goa. Agwa DJ Museum, Amcha
Agbad port already has started. Agwad digital museum is supposed to be coming in which will showcase all the historic moments. Speaker sir, convention which will be giving a support to the mice thought.
Complete speaker sir. Complete Goa speaker sir Single window is something which we really need to do. Wedding Dad of permission. So, let us create an infrastructure. Okay. Speaker sir, lifeguard women it's okay. In terms of infrastructure requirement, in terms of other things which are there. Each
MLA individually Vasha Piksha. we will no even if you don't write it is there. I will ensure that our office coordinates and ensure that whichever our priorities with the help of the finance we are able to take it ahead. Speak. Because Wait a minute.
First of all on the properties that tourism owns. That he has to commit. How will you incentivise it? Sentence answer BJI priority other than that we need to ensure the facilities start we need to take decisions on this properties we will take decisions on this particular thing in days to come inventory or spaces a constraint revenue department state level speaker sir not center level are contemplating looking at private properties. Private property you can come in as a equity holder. We government participates and then gives out on a model of PPP. The government participate
in a government invest facilities structure is an infant space. PPP model. PPP question. Participation. No, no, no. Zoom in the private agenda. Speak. Because sir, government speaker sir. Project Galpa. Concept
for which a equity holder will be the person who comes with the land. It's okay. Policies director, Anya, Anya and speaker sir. I have I have request where I have honorable minister please listen to me.
To renew your tourism license It can be done only after you pay Panchat tax. Punch do not accept renewal fees in the month of April. They normally do it in the month of mid by mid May. My hotel is illegal between first April and that day. The till I pay the tax. Yes. I, I, I will request you
to, no, I will request you to look into this. This is one. Okay, sir. Now, I will just clear this. Let me complete. One more issue. To renew the excise license, we constantly have to go to the police station. There again, if you and come out with a with a discussion. Sir, we have
removed that. Removed. Sorry, Man It's a Ignorant.
Renewal of Sudhaam Yata. Reduce renewal. Please if you could consider that request. Because sir, decision heritage house the conservation tourism scheme there are lot of things your people are not staying invent is a problem and forty crore seventy-six lakhs 2 thousand twenty4 exposure beauty kitchen.
Minister Okay, sir. It is central scheme. we will ensure that within the next 15 to 20 days the money is sent to the people irrespectively. Okay, minister. Speaker sir. I am very much and happy to announce that just while ago, the government of Goa has received a email from the Indian Olympic Association. In consultation with the ministry of youth affairs and the sports. Though Goa will be
the host city
2022-07-21 20:08
Show Video
Other news