Road Trip! Explore & Photograph Oregon Coast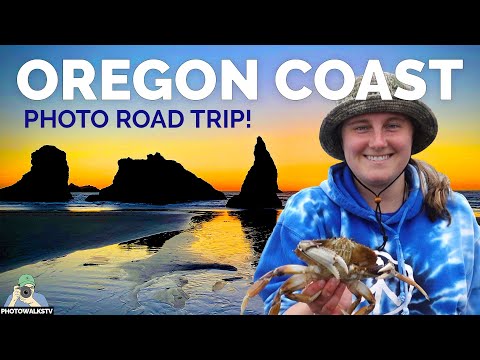 Show Video
(upbeat music) - Who's up for another Photowalk road trip this time down the dramatic rocky, Oregon coast. So right now we're at the very top of the state where the coast begins about a little bit north of seaside, and we're gonna go all 363 miles down ending by the California border. Along the way, we'll see iconic lighthouses, dramatic rock formations, tide pools, fishing villages, and you know, we'll also meet some local characters and great photographers.
And speaking of shutterbugs, I'm Jefferson Graham. I'm a lifelong photographer, writer, and video maker. I am your guide for today's Photowalk of the Oregon coast. The whole goal of the Photowalk series is to show you how, when, and where to get great photos. Our first stop will be in Cannon Beach, Portland, and Seattle's favorite little seaside, nostalgic community and home to dozens of galleries, and that mammoth 235-foot Haystack Rock.
Then we'll head to the fishing village in Newport and end up in Bandon, home to more rock formations, tide pools, and a great home base to check out some of the coolest lighthouses in the state. As always check out our blog for detailed mapping info and suggested Photowalk route. Before we get started a quick word on gear. You can do it all with a smartphone and get fantastic landscapes and snapshots.
You won't be able to get in tight on sea animals and other things that might strike your fancy unless you have a camera with a zoom lens. But that's okay. I want to focus as much as I can on smartphone photography because that's what you're using. However, if I see a puffin flying by, or I want to get in tight on a sea animal, I'm reaching for my Sony.
(wind blowing) Cannon Beach is at the top of the state, just south of Astoria, about a 90-minute drive west from Portland. It has less than 2000 full-time residents, but it swells in the summer and on weekends where people have been coming back for years to rent beach cottages for extended stays and to walk those nearly four miles of wide sandy beaches. So this is it.
The 225-foot-high iconic Haystack Rock. It's the symbol of Cannon Beach. This will be your key Photowalk shot. It's all over Cannon Beach, everywhere you look.
(acoustic music) - So for me, Cannon Beach means going to the beach, walking down to Haystack Rock. - Tide pools. - The beach itself, I mean, the Pacific Ocean is an incredible being that we get to be really close to. - [Jefferson] And may I add dramatic cliffs, tide pools, an ever-changing tide, a really long walkable four-mile beach, fun downtown, saltwater taffy, local art, and more. - Favorite photo spot here? Favorite photo spot. You gotta get to Haystack Rock.
- I think it's one of the most photographed things in the Pacific Northwest. I mean, people come here just to take a photograph with the rock. - We will dive into photographing the rock in a minute, but first, it's Photowalk time. So we'll start here at the edge of town at Bruce's candy kitchen and work our way up to cute downtown past the cafes, little shops, headed towards that big attraction, of course, the rock. We're not hanging out at the beach and marveling at that huge rock. Hemlock Street retail is all about food, gifts, and art.
Art in Cannon Beach is a tradition that goes back to the 1960s and 70s. When the town would shut tight in the fall and winter, providing affordable accommodations for working artists. - So we developed a little niche of being arts on the Oregon coast.
In the sense of the community, becoming an arts community, as well as a landscape that was very attractive. So they worked together very well. - There were over 10 lighthouses in Oregon, but here in Cannon Beach, the only way to see the Tillamook Rock Lighthouse is to wave at it from the water.
It sits on a rock about a mile off the coast, near Ecola State Park. The lighthouse is not open to the public. (calming acoustic music) Because the beach is so expansive, people love to ride their bikes and horses on the sand. In the classic movie, the "Goonies", which was shot in Cannon Beach and Astoria, they even drove their cars on the sand.
(seagulls squawking) See, you can't really get a bad shot of the Haystack Rock anywhere in town, from the left to the right or straight on all work for me. I also love some of these out-of-the-way places for a great expansive view of the rock and the environments. This is a side street called Ocean Avenue. Pretty cool. It's right by the sand dunes. (calming acoustic music) If it's sunset you want, you don't want to be here.
You wanna be on the south side of the rock to get that glimpse of the sun. It's kind of hard right now because for video I'm exposed for myself, but trust me, there's little sunset over there. That's why all the photographers are getting the shot. Now, remember you'll need a wide-angle lens to capture this all, or just go ultra-wide on your smartphone. (calming acoustic music) Okay. So don't forget about the tide tables tomorrow morning, these tides all the way back to the rock, there'll be all these amazing tide pools.
It changes every day, different times. So be sure to check your tide tables before you head out. The magic of low tide is getting to see the tide pools that form. You get your best glimpse of starfish, which tend to cling to rocks early in the morning.
Finally, we have one more great shot to show you of Haystack Rock in the expanse of the Cannon Beach coast. It's about a mile away, but you'll need to drive there. So this is it. The Ecola State Park. The best place in town to capture, not just the Haystack Rock, but all the rocks with the big wide view looks great with the telephoto lens. Not bad with a smartphone either.
Take a look. It's pretty cool, right? Now, what do Cannon Beach and candy have in common? - I think it's the beach and candy. You know, any beach town you're gonna have a good candy store. - [Jefferson] Salt water taffy. Why don't you tell me, do you go out there and fill the bucket? - It's synonymous with the beach.
No, it was a really good marketing tool by someone a long, long time ago, way before us. I think it was like one of the first world fairs or saltwater taffy. It's a beach thing. Started, the tale we know started like the Atlantic boardwalk and a man had left his shutters open one night and the taffy got wet. And the next day he put a sign out for saltwater taffy, and he sold out. And it just became known as saltwater taffy from that day forward.
There is- - [Jefferson] What is in taffy? - Sugar, corn syrup, little bit of coconut oil, color, and flavor. - [Jefferson] Butter? - And butter and a few flavors. - Now, before we leave Cannon Beach, a quick word about the weather. We did our Photowalk in the summer with a mix of sun and clouds. In the winter, it must be said, Cannon Beach is very, very wet. - Oh, they're quiet and can be slow business-wise, but like weather-wise, it's just a little rainy and windy.
- During the winter. You've got some great wave watching. When the storms roll in the ocean just gets really rough, really violent. It's not safe to be in it or near it. - But we love you anyway. (acoustic music) Now, it's time to get back in the car and take off to our next stop.
So long Cannon Beach. Can't wait to come back. We're in route to Newport, of course, and along the way, we'll stop at Hug Point, a secluded beach about five miles out of town with a natural waterfall. (water running) As we continue down 101 South we'll pass Tillamook, home to the factory that makes Oregon cheese and ice cream, among other things.
The busy fishing village of Lincoln City and our favorite lighthouse on the coast, Yaquina Head. It's five miles from downtown Newport. The lighthouse is Oregon's tallest at 93-feet and was built in 1873.
As part of our Photowalk know that there are three different ways to photograph the lighthouse: straight on, from below in the sand, or above via a short hike. Which do you prefer? We got this angle of the lighthouse just down the way at Agate beach, and we didn't have to climb a hill. Well, we made it to the Central Coast in where else but Newport, Oregon. We'll start by taking a Photowalk through the village as designed by my friend, Janell Goplen, one of the co-owners of the Clearwater restaurant in town. And then we're gonna meet up with a local photographer, Sharon Biddinger, for her take on some of the best-hidden spots in Newport. Are you ready? Let's go walking.
(acoustic music) Newport is home to about 10,000 people, some pretty cool bridges, a historic waterfront, and a fishing industry that dominates the town. Add some great outdoors, hiking and scenery. And it's a great place for a coastal Photowalk. Okay, so you wanna do a Photowalk of Newport, Oregon, go to the source.
Talk to a local. - There you go. - Janell, thank you.
- Thank you for having me on your show. Yes. Welcome to Clearwater restaurant. - We're thrilled to be here and we're thrilled to follow your steps of the best photo spots for a Photowalk in Newport.
- Thank you. Well, Newport has amazing weather today and it's a great day to get out there and do our Photowalk. So let's do it. - [Jefferson] Where to begin the walk? How about on South Bay Boulevard in the historic waterfront district? - Okay. So if you come to Newport, I think a great walking tour is a place to start would be in Embarcadero.
Embarcadero's been there for a very long time. It's condos, units, hotel rooms, et cetera, but it's got a beautiful view. And first photo I would snap is right there. Go out on the docks. You can walk out onto the boat docks, take a picture. The bridge is behind.
It's a great spot. Fish plant. You can take pictures of the fish guts falling down.
(sea lions barking) The sea lion. The next place would be here at Clearwater restaurant. So Clearwater, you do see the sea lions here and it's really fun. - [Jefferson] And you hear them - [Janell] And you hear them and smell them.
- [Jefferson] Yeah. - As you keep walking down the Bayfront, you'll see lots of painted buildings. These have been around for a long time. Some famous artists have painted different, you know, sea scapes and fishermen paintings, which are really fun. If you keep walking down, you'll also see older, it looks like older restaurants or little shops that have the traditional coastal buoys on the front and signs.
And those are really fun too. You get to the end, you walk up the hill and you can see the beautiful bridge. The symbol of Newport. Yes.
And it's art deco, but you'll get some great shots. (acoustic music) - [Jefferson] Another must is grabbing a quick portrait of a fisherman. And it's not hard just ask. I got this quick shot of three brothers as they prepare to take off for five days on the water, in search of their catch. And speaking of local fish. - These are our Dungeness whole crabs.
I believe, and I wanna think that Newport is the number one place for Dungeness crab. These whole crabs are pretty amazing. They have the best flavor that I ever tried in Dungeness. We get 'em pretty much year-round. Like this one's right here, I just got 'em yesterday.
We cooked them freshly, got 'em out of the boat to the restaurant, and here they are. - [Jefferson] You wanna tell me about how somebody eats one of these? - [Doublas] Yeah, you gotta take the shell off like that. - [Jefferson] And then eat the insides. - In the inside, break them down. We have all the utensils that go with it, so you can enjoy. (acoustic music) (seagull squawking) - So that wraps up our Photowalk of downtown Newport, the historic Bayfront.
It's the jewel of the city. There are other highlights as well, including this vintage historic bridge, which we're gonna check out in a second with our friend Sharon. Let's go meet her. Come on. So Sharon, what do we have in store? What are we doing? - Okay. So first of all, we wanted to take you to the Devil's Punchbowl.
It's pretty spectacular. You'll see. - [Jefferson] So, a Photowalk adventure in Newport. - [Sharon] Absolutely.
We're gonna take you to all of the cool spots. - [Jefferson] Great. Let's go.
- All right. The coastline is sensational. It's gorgeous.
It's absolutely beautiful. You know, the weather doesn't always cooperate, but go out in it anyway. So we're at the Devil's Punchbowl. This here will be a trail that we'll walk all the way down to climb into the Punchbowl. So we'll be able to do that.
It's only accessible in low tide. - [Jefferson] And we better hop hop to it, right? - Yep. We better do that. Tide's coming in. As we're gonna walk right through that little opening there.
Not bad. - [Jefferson] And why did we do that? - I'm sorry. - [Jefferson] Why did we just walk in the water? Because? - Because the tide is coming in. It's incoming tide. So it's raising. So that's just gonna fill up a little bit more.
So we're gonna come in here through quickly. Isn't that gorgeous? - [Jefferson] What will this look like in an hour? - In an hour, you won't see any of the rocks. This will come all the way in. - [Jefferson] Let's set up a shot.
Where should I stand? - We can get on the rocks if you want. - [Jefferson] Okay. - So we're just gonna take you on a little adventure around these walks, so. - [Jefferson] Yeah.
And the landscape picture that most people take is a wide shot of the opening, right? - [Sharon] It is, a lot of people will come down here and just kind of get the walls with all the rust color. (ocean waves crashing) The Oregon adventure here. I said it's the Oregon adventure here, it's just like the coolest spot ever.
- [Woman] It is, I love it. - So check your tide tables before you come. - Absolutely.
- Right? And that way you won't have to walk in the water. - And you can find tide charts everywhere online, apps on your phone. Super simple. - Yeah. And you wanna be here, what? An hour before high tide, at least like the latest.
- Well, you'll wanna be here when the tide is between three-foot and less, regardless because the tides change. Sometimes low tide is four-foot. Sometimes low tide is negative two. So you don't wanna come in here when it's more than three foot. You won't get out.
So right below is right where we came from, which here's the up top above the punch bowl. This is where you come and see it's pretty interesting when it fills up with water because that's all you see, all the rocks go away, everything goes away. And all you see is the churn of the water. - [Jefferson] From there, we headed over and under the bridge for different ways of photographing the art deco in iconic Yaquina Bay Bridge. It opened in 1936 and is now on the national register of historic places.
We began by parking by the public fishing pier and then walking over the pier for our shot. This also happens to be a great place to catch your crab and perhaps photograph it as well. We thought this might be a great spot for a time-lapse then decided that maybe we should go to the marina instead for a wider view. This was also a great place to bring out the drone and catch the sunset, which was not visible to the eye-level camera.
What do you like about photographing the Oregon Coast? - [Christian] It's just beautiful. You can capture like all kinds of stuff from rocks to waves, to birds, to pretty much everything, wildlife. - [Jefferson] I mean, they say the winters are rough. - Yes they are. The best time will be fall, during fall season, September, October is just the best weather out here. - It's a bit temperamental.
We say our weather here on the coast, if you don't like the weather here on the coast, wait five minutes, and it'll change. Most of us, most of us locals have umbrellas, blankets, jackets, and rain gear in the car, just in case. Extra pair of socks and shoes, because that's how it is here.
- Sharon Biddinger. Thank you so much for taking us on this Photowalk, photo journey, photo tour, all over your town of Newport. - Thank you for having us. That was fun. - Yeah, it was great. And if people wanna see your work online, if they want to contact you, how do they find you? - They can find us at www.simplydesignstudios.com.
- [Jefferson] Goodbye, Newport. Next stop, Bandon. We've got a two-and-a-half hour drive ahead of us, and our next big rest stop will be another historic lighthouse. The Heceta Head, which is 203 feet above the ocean.
It's said to be the most photographed lighthouse in the US, but take that claim with a grain of salt. What we do know is that the lighthouse is so tall, it will be hard for you to capture it when you stand in front of her. Like we did at Yaquina, there's a short hike to the side. I suggest you go up there for a way better view.
(acoustic music) We made it to the south in part three of the Photowalk. Now in beautiful Bandon By-The-Sea. I'm not alone in saying that Bandon is a photographer's dream. The Chamber of Commerce puts it front and center in their promotional materials. Why is that? - [Susan] Because it has such an otherworldly feel.
And it seems like photographers are always searching for that sort of other worldly type of location. The Oregon Coast and Bandon in particular, I think really meets that. - [Jefferson] That was the voice of Susan Dimock, a local photographer and motelier, who we will meet up with in a minute.
But first, let's explore downtown Bandon. Photographing Face Rock is the main attraction, but let's walk through the cute Old Town first for some snacks, antiques perhaps, and a visit to the marina. One of the main attractions is public art made outta garbage left behind in the ocean by an outfit called Washed Ashore. It's art to save the sea and an important lesson for all of us.
People also come to Old Town for the marina where crabbing is quite popular. This is Oregon after all. - Swim from the back.
See that how you come, try and get at you. - [Man] There she is. - From the marina dock you get to see the Coquille River Lighthouse, which has been standing since 1896. To get up close and personal, you'll need to take a little drive down the way to Bullard's Beach Road. (acoustic music) Now let's go meet Susan at La Kris Inn. Well, hi Susan.
I'm Jeff. - [Susan] Hi. - How are you? - [Susan] Great.
- Thanks for having me. - Yeah. And nice to meet you. I was looking forward to this.
- Photographer by night and weekend, motelier by day. - There you go. - With beautiful pictures everywhere. - Thank you. Yeah. We live in a beautiful place.
- And I'm thrilled that you're gonna show us around a little bit. - Yes, I'm looking forward to it. - Okay. So snap on Cannon. - You wanna get going? Okay.
- Snap-on your jacket. We're gonna get really windy out at the beach, right? - Yes, let's go. - Alrighty.
Here we go. - [Susan] Yes - All right - Okay, here we go. - [Jefferson] Hi.
So I guess I have one important ingredient I have to add, right? - The camera? - [Jefferson] The boots. - The boots - [Jefferson] The boots. - Oh, you don't wanna not wear boots. - [Jefferson] You don't wanna come here and not get giant boots, right? - [Susan] Exactly. - [Jefferson] Rubber boots? - Yeah, there's water everywhere. - So we're doing this in the second day of summer, on the second-longest day of the year.
- [Susan] Oh, there you go. - And we are dressed for winter. - [Susan] There you go.
- Yeah. That's what the Oregon Coast is like. - Yep. Summer by day, winter by sunset.
- [Jefferson] To Wizard Hat - [Susan] To Wizards Hat. That is beautiful. - I have a feeling it's right around the corner.
- It is. - Cannon beach. The iconic shot there is the Haystack Rock Here it is? - [Susan] Face Rock, Howling dog, and the Wizard. - [Jefferson] All right.
And what makes it a wizard's hat? - [Susan] Well, if you move over here to the correct angle. - [Jefferson] Yeah. - Then it really does look like a wizards hat The classic wizards hat shot is to approach it from here with these two rocks flanking it.
- [Jefferson] Do you know my stupid iPhone trick? - [Susan] Beautiful. - [Jefferson] Yeah. - [Susan] That's sickening. - I know, that's the iPhone slow shutter trick.
It's the easiest thing to do. You make sure to go on live photos and then you flip it up and you just, you have four effects to choose from, live, loop, bounce, or long exposure. Check it out. Now, what do you say to people who say, "You know, I love Oregon, I love the coast, but I'll just go to the north because it's so much easier to get to.
I could just fly into Portland. This is a trek." - It really is. Yeah. But it's worth it.
And people are discovering that, you know, I think it's the most interesting beach on the Oregon Coast. I don't wanna, you know, advertise that too much, but it is. - [Jefferson] What makes it the most interesting? - [Susan] Well, the sea stacks, the variety and the majesty of these sea stacks is unparalleled.
- This is how Howling Dog. - Howling Dog Rock. From here or over you wanna try to separate the rocks. - [Jefferson] Okay. - [Susan] The separation between the rocks is the main thing We'll try from over here.
- [Jefferson] Okay. I think I like your angle. - [Susan] Yeah. It's between the bluff and Elephant Rock. So it's kind of flanked nicely.
- [Jefferson] Okay. You going low? - [Susan] Yeah, I usually do. - [Jefferson] Okay. Then I'll go low.
(ocean waves crashing) This is Face Rock. - This is the famous Face Rock. - And what makes it famous? - Okay. So Jeff, tilt your head back like this. - Yeah. - And look up to the sky.
- Yeah, I got it. - [Susan] Okay. That's the profile and lots of tourists come here and they'll stand in front of it until the head back and take that shot.
- Okay. So the way to really enjoy this rock, I got to come to Bandon and find out. Show me Susan, is it like this? - Okay.
So we go back here and someone would be standing over here and take our picture. - Okay, here we go. And do we go like this? - Yeah. - And our stomachs stick out and everything. And let's look at Ruth. (acoustic music) Now that all the photographers and everybody has found out about the magic abandoned through this Photowalks episode, your phones gonna be ringing.
Everybody wants to come to Bandon now, right? - Right. - If you need a place to stay, Le Kris Inn. - Le Kris Inn, right. - All right.
Thank you, Susan, for showing us. - Your welcome, it's great. - [Jefferson] Let's head out before it gets dark.
- All right. Bye. (acoustic music) - And with that, it was time to take off on the road again, about 90 miles south to Brookings and the state line. Saying goodbye, Oregon. Hello, California.
(acoustic music) The Oregon Coast ending right over there on the other side of my camera, California is right around the corner. Hope you enjoyed our Photowalk road trip. Any questions or concerns? Look for me on Twitter or Instagram, where I'm @JeffersonGraham. And I will see you on the next Photowalk. Bye, everyone. (ocean waves crashing)
2022-06-14 11:17
Show Video
Other news