RANGEELI IS READY FOR ANOTHER INTERNATIONAL TOUR S06 EP.00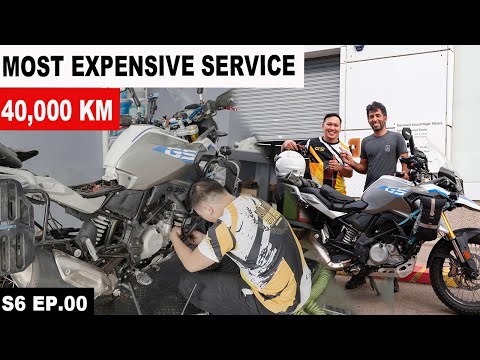 Show Video
Asalam-o-Alaikum everyone and welcome back to the channel. I hope all of you are fine. I have parked my rangeeli here so that it can get service. From the day , I left Pakistan , I had not serviced it , from Iran, Iraq, Kuwait and now we are in Jeddah. In Jeddah, there is a big showroom of BMW, in which not only bike service is done ,and also can be car repaired here. This area is called auto mall.
Here you can find not only BMV ,but also other major brands of cars and motorcycle are also here, I am a foreigner here, and I find difficulty in locating the best company of bikes , because of too many companies, but finally I found the best company . When I entered Saudi Arabia, BMV Jeddah and BMW Riyadh contacted me for bike servicing. And we well try our best, In Riyadh, I don't have time for bike servicing. But , now we are in Jeddah , and we service our bike properly. And I will give you details alongside about its work, Because many people are interested about our work during the journey.
I will show you the things which we changed during first service, and now what we do! Now , I'm showing you the meter. You can see the service card, which we did 1000km before. It will disappear shortly. .Here you can see rang ,fuel is minimum in it. you can see here a total of kilometers, it has covered a total of 37684 km. When I purchased, it was showing 60 km It is 9085km , which I covered from Pakistan to Saudi Arabia. next,, The fuel average is 4.1litre per 100km, which is quite decent Average speed is showing 60 km/hour including off road of 37000km. Three main things are important, one is total Kilometer 37000+ km plus almost 38000 km it has almost covered 9000 km of this tour from Quetta to Saudi Arabia Including, I also moved toward Baghdad and Samara, so some additional km is added in it, which makes it a little bit longer Otherwise you can reach here in 5000 to 6000km.
Then comes fuel average which is 4.1 lit per 100 km, which is quite decent. When I purchase it ,Sometimes air comes out more from the front that's why the average drops a little bit but in the start it is 3.4 to 3.5 liter, but now its on 4.1, I think it is increasing because of air pressure in desert, Now let me tell you about the rest of things that changed the last 30000 km And now we have to change that here you can see ,my old mirrors was damage and I already changed in medina, And other thing is a charger(12 Voltage) will change you can see here, normally, It works very good, I charged all my battery's from here, it needs to fixed, I was adjust this from Pakistan but it was damaged in this joinery, here you can see this light it was broken when I had a accident in Iran , But it will still pass because it is a good and very bright light we change our front bulb because it was not working I try to turn on but it was not working brake pads are in good conduction, and it is not required to change it, here you can see my chain sprocket, last I change it in Pakistan on 30000 km it has just become a little loose. we will clean it and apply oil on it
you can see, it is in good conduction because I clean it regularly in this joinery , Here you can see the sensor of side stand it was also broken in Iran accident, we tray to make it in his original conduction, due to this some time you forgot pull up your stand before starting This is the rear brake pads as you can see his conduction is also good because last time in Pakistan i also change it and it works 10000km I think it think it work more around 7000 to 8000 km On the other side you can see the profile of the tiers is really good it run around 10000 km, after this conduction I think it must be run around 10000km because I cant see any creaks on it but we can also check this in detail, after that it required to change it then we change our tiers See the inside profile of it, these are in good condition still. It hasn't been punctured yet . Moreover, the front tires are also in handsome condition Hopefully, front and rear tires enable me to drive more than 6000 to 7000km. I already asked the mechanic about everything about it that usually changes. Allhum du Lillah, bike has performed very well. And as such no issue occurred that it requires any sort of changing.
But after 10,000, 20,000 ,30,000,40,000 km it must be major serviced. They check, some things are not updated in the system. Because last service I had taken from Pakistan and also from BMW. So things must be installed in the system. We contact them and ask for details. Also other things like oil change, mechanic change and other little things ,this Mechanical will check and inform me after one day And we will change everything accordingly But Today our bike is here and next day we will come back and ask which changes are required Hopefully , everything will be good. Now the computer is also connected with it. Our bike is parked at BMW They will service it tomorrow. we will try to take the hotel at the best place and stay the night there . Here we have Brother Aamir from Multan Wherever I go , I meet with Multan 's people. I am experiencing many people from Multan and all are very good.
Here We came to the area of azezia, because Pakistani and Indian communities are present here. Also here you find the best hotels and restaurants .We will try to find the best hotels here for night stay and may go for an outing. Let's look which hotel is available for night stay This is our room, not room, you can call it an apartment, This is the kitchen ,where you can find things for tea and coffee. Also the refrigerator, sofas and TV there. I also show you a bedroom This is a small washroom and its very clean Here is our King size bed, which looks quite good And behind , there is a mirror in which you can see me Now I also show you the view from outside This is the out side view from window this is the highway and the good thing is that when you close window the noise are not coming in side the room and in the behind you can see the mall , know as flamingo mall and it is one of the biggest malls of Azizia's, yesterday I visit it This location is very beautiful I pay 300 Riyal per night, if you convert this in US dollar it might be around 89 dollar, I think its expensive, Butt I select it because of the shopping mall is infortune of my location and every this is so accessible, restaurants because mostly Pakistani are live here in Azizia, and the Restaurants are on walking distance from my location, So I prefer this.
And today I feel very tired, now we take some rest and done all our work like washing our cloths because when we wake-up in tomorrow we feel fresh, go and check our bike now we are at Jeddah corniche, and (with me) Shehran come for meetup with me, and Shehran want to show me his Rangeeli, show this to every one This is Shehran's Rangeeli, behind me he is his elder brother Shahroz and his sister , how watch my videos? me,, me,, me,, today I have not my bike, SO tomorrow i will give you the rid of Jeddah, say hello in my video because you want to show your friends that you come in video, wave ... after getting rest in next day we come to BMW for start working on my bike bike are parked here on stand, and those things are change it required first of all oil is changed because service are already done in Pakistan first the pervious coming out, I asked to machinic I ride my bike almost 9000km in this journey but in Germany BMW recommended oil change on 10000km. before 10000km hardly people change his oil if they has a lot of money then they change it but normally people can't change it I'm also set it on this mothed we check the oil conduction and he says that on issue you can use until 10000km this information is for those people how ask me for yore oil change, you must use a good company and recommended oil for your bike I think you must rid at least 10000 km. But you must ask your mechanic according to your bike, I'm not a mechanic he told me according to my bike, I only share only section of my bike now I brief you this part of my bike, it was damage in my Iran accident, first they set liver on its original position I set at that time but it is not in its actual position Sensor are also broken in this accident and they replace it with new one and the last thing he says inside the front sprocket of chain the "seal" are damaged they want to changed it but at this time he has no "seal" in there store they order for me and in few days its also change We are checking here because the front bulb is fused and charger is also not working properly. and so jab , his name is jab, is checking the issue. Here you can see two bulbs. This one is old , I bought this Philip bulb and it is fused within 1000.
This is original . From which company ? OSRAM written on it , you can see here. I don't know about it , but they are saying it is original. It is greater in size as compared to the previous one, but I don't know about its light. This is our air filter , look how much dust is coming from it And with it ,I have covered 9000 km. This is the new filter paper of 64 or 65 Saudi riyal I think it's time for a break Ten minutes are remaining. Do my work immediately.
All our work is almost completed here. Now they are using the service Indicator. Here jab is becoming ready for the road test May Allah make everything good. So we done our next bike rid completely So our bike work is completed Let's go with Rangeeli but before going from here, I will tell you about its work mostly I have done most of it in Pakistan. Here oil change, bulb change and air filter are changed
And I have paid 1100 riyal equal to 300 dollar and in Pakistan currency it is around Rs 56000 ye, Rs 56000 One thing I want to show you , it is chain oil Original BMW's product and 300ml size and we have paid 238 riyal for it, just for applying oil on chain it is around 65 Us dollar, for this Bottle! just for applying oil on chain. I am stunned and I want to ask from BMW why it so expensive. Normal it comes in 10 to 15 dollars. And air cleaner is 10 dollars which is acceptable but But 65 dollars is very. expensive Next time we will ask before work. because it is so expensive anyway! let's ride you from Rangeeli, lets go, after getting very high rate from BMW, now we are going to our hotel I still can't believe their rates every thing is fine I tell you one thing some people in you thought that you purchase the whole bottle, but I cant purchase it, I just says about apply oil on chain. normally where I go I just told that apply clean it and apply oil on it, most of the time some workshop done with out money if he charge hardly charge one dollar because it has no major work, only clean apply oil on it.
he is very clever, they open a new bottle for you and add in your bill, and after that they cant give me I says to him give my bottle, a little Quantity use but not full, so told him to give me my bottle and I also pay 65 dollar for it then I get this, I told that when we apply oil on chain, it remind that every time today we apply 5 dollar on chain in form of oil but the men is so kind, he work with full attenuation but this thing is not really good so this is warning for you!! when you go to any workshop please check all the rates, this is not my habit that I disturb anyone during his work now I rid around 10km and it gives proper fell that comes after every service its smooth So at least we have some output after so many charges! hope fully May Allah in next tour it works without any problems ,I think with your prayers it work perfectly, main thing is your prayers for me because without prayers rangeeli can't works properly now this is the traffic jam but we try to move forward by left or right sides There must be some benefit's of bike riding in city's because it is very hot outside, it is 46 degrees outside all I know is how I sitting on my bike with wearing my jacket The air is so hot and also moisture in air, jeddah's weather is similar with karachi's weather we are back in our room, our bike is totally ready for new journey, Me and rangeeli are ready to start our new tour, towards medal east and Saudi Arab and there is so many plans... with your prayers we explore all these country's, you must be support in this tour like pervious tours i will share all datils with you in next vlog, please don't forgot press like, share and subscribe and not going on BMW for apply only oil on your chain.
2022-06-07 09:25
Show Video
Other news