Qatar ലെ പശു ഫാമിൽ പോയപ്പോൾ | Sealine Beach, Desert, Cow Farm & Purple Island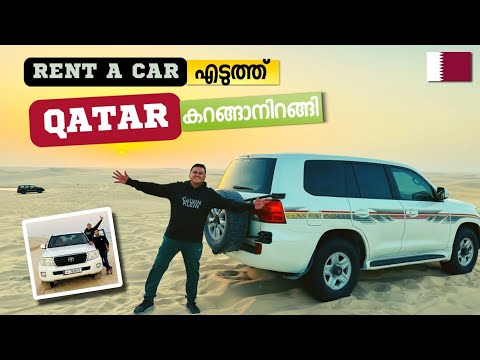 Show Video
We have taken a car to go around for a change. Usually we take a taxi to go around We thought of taking a car for our needs. We went to the rent a car office and took one Qatar is not only Doha but much more to see To go from one end of the country to the other, it will take an hour.
Then from there to another end it is 45mts and to drive down another 1 hour You can drive the whole of Qatar in 2 hrs. Qatar is a very small country Welcome to a new video of Tech Travel Eat We are starting todays trip in Hyundai Creta You might be wondering how are we going to drive. Mishab will drive. He has Saudi license and can drive here too
Could have taken my car from Saudi and come. He first said he shall drive and come. I said no need. Just fly down. This is a new vehicle, 2023 model It doesnt even have an infotainment system It might be the base variant Rent a car companies will use only such cars The base variant You have a fire extinguisher in the front itself That is one of the safety precautions we need in a car I shall tell you how we took this car Our rent for a day (24hrs) is 285 riyal 250 riyal is the car rent and 35 riyal is the insurance Doesnt that mean if anything happens tot he car, we are not responsible? They wont charge us anything If we dont take that, then we will have to pay minimum 1000 riyal fine You cannot drive here with Indian license If you have Saudi license or any other country visa that is acceptable here, You can drive here on your tourist visa Can Indians drive if they have an international license? Not sure about that. Those who know about it, do comment We have to give 1000 riyal, that is almost 23000 INR through credit card They will block that limit in our card They will not take it, but block it. If anything happens to the car, they can take that amount It is kept to take if any traffic rules are not kept.
They get to know it a week or so later They will release that blocked amount only after 2 weeks Those using credit card will know, you will find that the amount has come later When they take 1000 riyal from credit limit, it shows less in our limit But not from the amount in our account spent. You can take a car only if you have driving license, credit card and a passport We took a car. Not knowing to where, we are going to an end of Qatar. Now we shall go to see Purple island We have to drive 40km straight on this road We are going through an express way in Doha town only Gooseberry owner is in gooseberry t-shirt today Many were complaining I wasnt wearing gooseberry t-shirt We should support all the brands There was a time when we used to stand in wow seeing GCC express highways Now we have 4-8-12 lane roads We went all over India the last 8 months. So express highways are nothing now Here you can drive only 80 when its written 80 Over there even if its shown 80, you can drive higher Even if you are fined, there is a limit for that Isnt that modified. The tyre is bigger than the car. The speed limit has increased to 120 when we came this side.
For us India a whole country is divided to states States are then divided to districts and then panchayat, municipality etc Here Qatar is a country and has municipalities only It is a small country. Nothing to divide further During world cup, football had taken place here at Al Bayt stadium It is 40-55km away from Doha I have the problem of not seeing Doha before the world cup I am not able to compare todays Qatar with what it was then People living here said as world cup came, Qatar has changed a lot World cup helped in changing the quality, infrastructure, international standards World cup was a huge achievement for Qatar. World cup was a huge investment to Qatar's economy too You can say Qatar before the world cup and FIFA after the world cup You can see old Qatar in old videos. It surely is a great thing to see We went through 8 lane, 4 lane and now ended in a normal road It is absolutely empty You can see some industries far there Some houses near it too. We are going to the sea shore The main border of Qatar is with Saudi On top of Qatar, you can see a small group of islands of Bahrain But it doesnt have a land border Land border is only with Saudi You have to cross Saudi to drive to UAE You can drive 8hrs and reach Dubai In 4-4.5hr, you can reach Bahrain All are close by and simple to travel Now tarred roads are over.
We are following google map and going on road now Let us go an see. We came to enjoy Qatar's nature This is Purple island beach or Bin Ghannam Island, It is an island. You have lot of mangroves here We shall park our car here and walk You get 5G at all the corners of Qatar 5G is simple and you get it in super speed here We are at a mangrove, corner in Qatar and look at the 5G speed here 700mbps download speed and 90mpbs upload speed You have a write up on what is here Jazirat Bin Ghannam Island might be its Arabic name It is written Purple island You get to see all these here All the flora and fauna here are mentioned here You have the same written in Arabic on this side.
I never expected Qatar to have mangroves Thats new to me This is a new initiative in middle east countries. It is there in Dubai and Saudi too. Oil companies take the initiative to do it Is it man made? It is done by the government and Exxon mobile as a joint venture Isnt mangrove for preventing erosion and adapting wet soil Dont we have a mangrove island in Payyambalam Kannur? People are making artificial forest You have lot of these fishes in this water here You have little bigger ones too. You get get down and do fish spa here
Lot of small fishes here. Its so neat and clean and no waste at all You dont find any lays cover or plastic bottle A very peaceful place Only we are here Nobody to stop our car and ask us who are you? If I am right, most of the mangrove is seen at Kannur in Kerala Do you know which is the biggest mangrove forest in Asia? Sundarban, West Bengal Sundarban National Park has lot of animals You have crocodiles and Bengal tigers One side of it is Bangladesh You have the mangrove forest at the Bay of Bengal side One side of it is Bangladesh You can even say Sundarban National park is in India and Bangladesh It is huge. I couldnt visit that place yet We missed it this INB trip. You cannot go there always. Climate should be favourable to us It is so dense as you move forward They have something else too other than mangrove forests How many in Qatar would have seen this place When we asked many, some dont even know about this place You have more of foreigners visiting here People from UK, Europe etc like to walk, enjoy nature and heritage Many of them come here. This is an awesome weekend destination
It is very quite. The only problem is that you dont get anything to eat or drink We walked and reached Purple island This is it and nothing else. Nature at each country is different We should never say only nature in Switzerland is beautiful All these have its own beauty Isnt a bare desert beautiful? All these have been made artificially and looks awesome When we walked little forward, Qatar ends here What you see here is Arabian Gulf or Persian Gulf If you go little forward by this sea, you can reach Iran You cannot call this a beach Just a place where you can see the sea You have many beautiful beaches here in Qatar We just came to see the sea near the place we came We have reached Baladna food industries at Baladna Restaurant is open from 8am-8pm We have come to Baladna outlet in Al Khor We would have seen their production unit on the way That may be the place they make diary products This place looks like a resort It seems we can see milking the cows here. Lets see You have the Baladna farm visitors hall here I think they have an entry fee. Before that lets have food. You have a mosque here.
This is Baladna restaurant. You find cows everywhere Baladna company began in 2017 at Al Khor You know the diplomatic issues with Qatar and neighbouring countries Milk and milk products were brought from Saudi for years When that was blocked, they didnt have anything To over come that, cows were imported by flights and ships from many countries That is how they began milk processing and diary products here This began in 2017, just few years back Today in 2023, 95% of dairy product usage is from this company Moreover they export their products to Yemen and Afghanistan too Procedures are taking place to send their products to other countries too They have nearly 20000 cows in this company Cows that give nearly 10 Lakh litres of milk a day Welcome to Baladana restaurant They have their products for sale her They have lot of their products here All 100% natural juices too 100% fresh milk How do they have apple juice here? They would be concentrated juices Baladna name means my country The branding would look better if improved little more It doesnt look attractive. You have so many products here. Wow! Varieties of cheese Lot of products. I dont know many of them
What all can be made of milk, you find all that here Shakes and milk We shall ask them if they have sour leban I want the sour one This is the restaurant here I think we will have to wait for 1hr to get food It is a huge restaurant I saw that it is expensive in google map review We ordered food. As said earlier, a chicken biriyani costs 138 riyal That is 3000+ INR It is expected. Such places will be expensive We didnt order biriyani. We ordered shawarma and some grilled items We asked them for water and they got it for us Pure mountain water God knows how much this costs. Might be 50 riyals or so Shall tell you once the bill comes Lassi made of pure cows milk produced in their farm They call it Ayran This is amazing Salt and sour Nice aroma too You can feel the freshness too We checked the menu and found out that this is 22 riyal That is nearly 500 Indian rupees Thats it The Ayran is only 18 riyal. It is better to buy this
What is Gooseberry's next plan? Expanding our franchise outlets Reach more audience through online We have now already given to 140 countries. In India it is free delivery and you have the option cash on delivery too Out of India, it will be minimum 100 dollars Earlier it was 5000 Rs. Now it is 7500/- A valentine campaign is going on A gift card like for companies or corporates Companies can give gift cards to their employees or friends during celebrations They can buy what they like We can send the vouchers to them If they remember a birthday is tomorrow, you wont have time to send a parcel. We can send them a voucher. They will be happy for the gift on time Our food has come. Shawarma and grills
It is called sheesh tawook Both are chicken with french fried and grilled vegetables Veg in brine is served with shawarma all over the world They have given us bread also along with that Though the rate is high, their presentation and food is worth it They are trying to give a premium touch If you want to start a franchise outlet of Gooseberry in your place, Or associate with Gooseberry and do a business in another country In that case, you can contact Mishab We can guarantee them on the product You have any issues, speak to the customer care and they will sort it out for you Or you can mail to help at gooseberry. I respond to it We make sure customers are 100% satisfied If you dont get response then too, put a review on google You can see that 98% is positive feedback there We care for customers that much Let it be damage or any issue We cannot satisfy a person 100% Some mistake may happen Get back to us and we will sort it out for you Many contacted me after buying your product. Some had delivery issues and some product quality issues You have grilled veg, French fries and mayo with this To make it spicy, we have this one.
This is not the kind of shawarma we get in our place This is different It is not spicy if you are having it as it is If you dip it in this sauce, it becomes spicy To make it easier for us to have, they have cut it to slices like this Nobody eats with their hand. They use cutleries. I am super excited to see the way they are milking the cows This is the visitors hall I read in google that there is an entry fee to get in But cant find anything here There it is This is their milking time I have only seen this on You Tube videos It is like this in foreign countries. I dont know if its there in India Milking is done using these kind of technologies It is a huge platform It is going rotating How many cows would be there at a time on a platform? ' Around 100 I guess You can see numbers on the board Correct 100 cows. We can see the numbers
The cows are made to stand over this You can see them loading cows to the platform Why would this be roatating? It may be a time for it They will have to wast time to bring cows all around So it is done this way to make it faster Nice air ventilation and fans are put up here Awesome! The place is so neat and clean too No cow dung or any dirt anywhere A very neat and clean place The cows are sanitized before they are brought in here All healthy well fed cows. Looks like the bulls we have in our place You might be having a doubt where is the milk collected? You can see a machine connected to the cow We have only seen cows being milked with hands Here the machine pumps and takes milk The milk goes through the pipe to a storage place. From there it is taken for processing A small video is presented here showing how the cows are taken care of How the process works here and so on Look at the way calfs are fed milk It is bottle milk They are not fed directly from their mother. They drink milk frm the bottle I had been to Milma plant Trivandrum Milk comes from somewhere and all. Only processing takes place there Some homely fed cows milk are given at societies Such milk is collected in tanker lorries and taken to Milma It can be from Kerala or TamilNadu or anywhere That is processed and sold outside But its not like that here Here its their own farm with own cows That video was amazing You will know when you see it.
Each drop of milk is collected is under quality check and more The make sure it is pure and neat. Only then do they give it out The way they look after the calves itself is amazing We saw their process from the time it is born till it grows up Cleaning process, sanitization etc That is amazing Many think why cant this be implemented in our place After it is done, it may turn out to be a Here its monopoly Many people will loose their job. There are many poultry farmers You have less of them in Kerala, but lot of them in North India You have lot of people growing cattle for daily income For them its their main source of income. Here you dont have such people Here this is the only company.
It is just monopoly here. The decide what the rate of milk is If they increase it goes up and decreases, it goes down. That is the difference here and in our place What can be done in our place is, quality control in the milk collected If we can control the quality of the milk, then it would be amazing We have many things in the milk we get. We buy milma trusting it There are many brands in which there are matters to be trusted and not Quality control is very important there All that will work only if the government interferes in it We can smell cow dung now. Can smell cow dung in Qatar You can spend at least 2-3 hrs or a day here if you come with your family You have Baladna park here You have to give 35 riyal to get in here Lot of activities for kids You have a coffee shop in the front.
You have a mini zoo too A normal person will find all these a bit expensive It is expensive. The food we had today afternoon came to nearly Rs5000/- When converted to Indian rupees, it is 5000/- That is expensive We bought 2 Ayrans This is nice and rour You get sour ones and thats not sour too The other one doesnt have salt or sourness 6 riyal for 1L. That will be around 150-180 Indian rupees This is Anand. He has done these cows. He was painting there
All in Qatar, do visit such places I meant those who havent seen. I dont know how many saw it If you havent come here, do come and see the place We drove 120km in 1 hour and reached sealine beach This is a place where sea and desert meets together You find very less places like that in the world. There is such a place in Qatar. Let us see it. You have buggies, helicopter service, land cruiser trips etc You have a family beach too We are planning to take a Land Cruiser trip Those who want to have a camel ride can have one here He got up He was sitting idle. He got up and went seeing me Nice and huge. Its so neat and tidy
You have a group of camels here So many of them. They have paramotoring here A parachute that goes with a bike You have all that here You can see people sit on it and fly A cap is put on its mouth for it not to bite We have been standing here for 20mts They have canvased us and kept us here saying would give us a Land Cruiser 250 riyal Its been 30mts. No tourists here How many days has it been after FIFA got over? You have very less tourists here We could see some tourists come by ship and go to the supermarkets They have done a huge investment If they dont promote tourism accordingly, wont it be a waste? Not sure. You see very little tourists here Its a good evening to see sunset. Hope we get a Land Cruiser In this case, Dubai is the best You have so many people for desert safari Finally we got a Land cruiser What is this? The glass in here is not clear.
I dont think this car goes out of the desert What did he say. He said 1 hour and to go only for an hour and not more. This is going to be awesome. Shabab bro is taking us on an awesome ride This is a beautiful place. We have been to many deserts I have got to Rajasthan, Dubai and Abu Dhabi deserts But the specialty here is that the desert meets the sea We are going to see that You can see the sun going to set from this desert As I said, this car doesnt go out of the desert It takes back to back trips You wont understand the feel in the video Its a different feel Its not like in Dubai He is driving in 80km speed through this desert It is like a highway here I think he is going to make it jump. He has slowed down
Shabab bro.. That was good. We reached down. We were on top of that all this time Dont motivate him much. I am very good in that. You have the sunset here and the desert there The sea on the other side A vehicle is stuck here That vehicles 2 tyres are on 2 sides.
In Dubai desert, its dune bashing Here it is high speed driving Land Cruiser is an awesome car You wont understand the desert safari on video Because even we jerk or jump, the camera has stabilization. Now the car is slanting You wont know the feel through the camera due to stabilization He is going to go through some deep one now You feel like going on the Ferris wheel and coming down You feel the same when he goes into each dip You have mobile network towers in the desert too You have small camps here and all Small resorts, camps, desert camping Lot of things here We are going down this. You can see the angle in the camera that we are driving down We drove down the mountain We drove down nearly 30mts and stopped here to see the sunset You can see the sea far there. This is water that has come from the sea. Beautiful view and place I am first time coming to a place where the desert meets the sea I think he doesnt like driving below 80 speed Let it be any sandy desert, he wont drive below 80 Our owner is drowsy sitting behind Finally we have reached where the desert meets the sea.
We get to see sea and sand everywhere But that is the normal sand But here it is the desert It looks like this because a lot of cars come here Otherwise you would see the same dunes here also like there That is the specialty of this place in Qatar A place where desert and sea meets Gooseberry has these too? It's a new launch. We be out in 20 days Things to be worn when its cold We dont have a place like this in India. But its there in Karachi, Pakistan The desert there meets the Indian Ocean It is there in Australia and many other places too You have many deserts meeting the sea at many places in the world You can easily come and see this place in Doha If you know any other places like this, do comment This was a good experience It is a different desert drive experience Dubai has a golden colour background but here it is whitish This is an awesome experience. Dont miss it It is 5.20pm. The sun has set there
We are going back Mishab has closed his eyes behind I am sitting with my camera on Today we have come to have dinner at a Chinese restaurant in Qatar Shanghai Garden, a Chinese restaurant inside City Center Something like stir fried beans Lettuce in oyster sauce Stir fried broccoli There was a big bowl of hot and sour soup. We drank it Since these came late, we had that Chicken deep fry is yet to come This is our dinner for tonight Healthy food. Today we walked 10000 steps This is our chicken Chillies are less in it. They are actually supposed to put lot of chillies. But its ok. Can be adjusted and had
2023-02-12 13:31
Show Video
Other news