PROBLEMAS en la FRONTERA para ITCHY BOOTS (S20/E13) VUELTA AL MUNDO en MOTO con CHARLY SINEWAN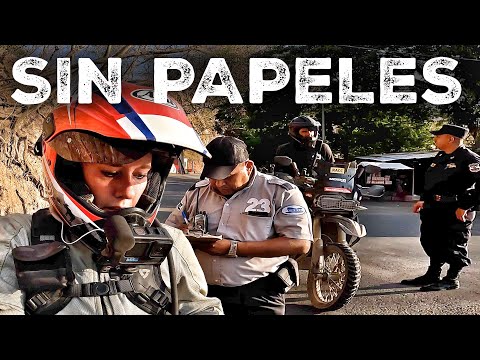 Show Video
Well, these are, I think they are already the last kilometers before reaching the border. If you didn't see the previous chapter, I remind you that I am traveling with my friend Noraly, a Dutch motorcyclist who is heading to Alaska and who currently has her motorcycle illegally in El Salvador. Well, the truth is that you travel very well with Noraly, huh. We have become very close friends. What a pity that one goes up and the other goes down! For that reason, we went to the Chinamas border, to try to get the problem solved at Customs and to be able to cross into Guatemala without complications.
Well, it's the last mile traveling together. Is that what you're telling me? You know I'll miss you, right? I know. Do you need a ride across South America? Yes please. No problem. But, let's see, I haven't crossed the border yet. Maybe I can't get across the border today.
Maybe you'll stay stuck with me for another day. Maybe. Because the truth is that having a foreign vehicle without a temporary import permit has a clear risk that, if you are stopped by the police, they can take your vehicle. In this case, Noraly's motorcycle. Well, we're almost at the border.
A kilometer and a half. So fingers crossed, everyone. Here is a first checkpoint. Ok, fine. That was a police station.
And if we have come to this border, mainly, it is because we have contact from Orlando, a doctor with whom we spoke a few hours ago. So do you want me to help you or do you want me to stay here until...? And that he will try to help us. before the problems? It's up to you.
I think I'm going to try it. You try it yourself. Yes. If there is any problem, I ask you to translate for me.
Although Noraly's fate depends solely on the Customs department. Orlando! How are you? How are you?. Noraly. Thank you, how are you?, how are you? The world on a motorcycle with Charly Sinewan Chapter 13 Stage 20 Saying goodbye So, here are two professional travelers First, she is illegal in the country, her motorcycle is illegal, and now, the "super traveler" and her friend, the other "super traveler", they realize that they might need a COVID test for Guatemala. F*** disaster!" Of course, to enter Guatemala you need an antigen test and we just realized that you don't...
Orlando, one question, besides this, can you do it... in Guatemala? They 're going to ask for antigens, right? Exactly. I mean, here at the border there aren't any.
No. They'd have to go back to Ahuachapán and take the test. Ok, Ahuachapán is here 15 km away. -The "super travelers"! -¡ The "super travelers"! Do you want to drive my motorcycle? No. Because we were having such a good time together that we lost perspective of the trip.
Why not? It's too heavy. We're not going to cross today because it has no antigens. Let's cross tomorrow. I know, tell them I'm a mess. It's a mess, he says. And I'm another mess.
If I was maybe a few inches shorter, I would. I can't barely touch the ground. Then we can do something What can we do? To avoid the problem. What can we do? We can create an arrival, a permit for her... from the motorcycle.
Ahhh, already. For the motorcycle. -Because Now it's practically illegal. -Illegal And tomorrow it comes out and that's it. And that's it. I mean, that can be done. I'll tell you right now.
You won't have to pay anything. People are wonderful. So, the thing is... because it doesn't have antigens, how do you say "antigens" in English? Antigens, yes. Because she doesn't have antigens we can't, she can't enter the country, in Guatemala today because it's going to get dark soon. So, the man said that what we can do is give her a permit for today to drive the motorcycle within the country, and tomorrow she leaves as a normal person.
as lawful. Like a normal person. About. Almost normal, I will never be able to be a normal person. Let's fill out the permit so you don't carry around. And there, if you want, come back now and not tomorrow.
We already give it to him, but better than... Better to go with permission? Yes Yes. When she comes back she does have to introduce him, but... To go out, perfect. Oh yeah, what were you saying? That the police control that is there, imagine that they stop you: Hello. How are you? Document.
Sure. "The motorcycle papers!" About 50 meters before the border. Of course, that's what I was thinking. -My passport? -No, the arrival. The motorcycle or the passport? The arrival. It's, what is it, about the motorcycle? what do you want? You came to do the paperwork...
What did you say? Yes, do you know about us? Yes, when they went down. Oh perfect. We did your paperwork. The papers of the motorcycle. Well, well, right? We have solved your papers , which was the most important thing.
Thank you! And yes, I definitely think we've been very lucky. Because of not legalizing Noraly's motorcycle if we went for the antigen test without papers, we were still telling a very different story. I could have gotten into trouble. OK, let's go! Noraly is going to get some antigens and tomorrow morning, she will cross to Guatemala.
Well, this hotel is featured on iOverlander. I check the connection. If the connection is good... I thought so. For me it's fine. Passenger motorcycle. luxurious life.
Working. Hey, see you tomorrow! Until tomorrow! -Until tomorrow! Very well. -Bye. Bye, internet. Bye, internet. Hello! Hello! This is the end! Well, the time has come to say goodbye. You will miss me? I'm going to cry every day.
Well, I'm going to be a Spanish gentleman, if you don't mind, and I'll go with you to the border. You're going to escort me. Yes, I'll escort you, just in case. Do you have flashing lights or something? Your motorcycle is like a mosquito, isn't it? Or a fly, right? Have you seen the BMW GS? No, I never saw one.
I am a lion! Well, nothing, let's go. I'm going to accompany Noraly to the border and then I really don't know what to do. "So...this is the end?" -This is the end, yes. Are you going to miss me or not? No. -A pleasure. -No, I'll miss you. It was great meeting you, really.
-It was amazing, yes. -Fantastic. -Short but fantastic. Yes, it was very good. We have to repeat.
-We don't know when or where but... -We have to meet again, yes. If you need anything in Honduras... -With the border, right? -With the border. -You're an expert. -You're an expert, I can cross illegally without problems.
Tell me why maybe... If you want, no problem. -OK take care. -Good luck. -Good luck, see you! Goodbye friend. Goodbye friend. Enjoy!
Luck! Good trip! Thank you! Bye! Well, we continue traveling. What a nice girl, huh! What good people! What a laugh I've had! But we continue traveling. Now I'm going to find a place to edit and think about what to do, because I have doubts about what to do. As usual. See you tomorrow. Santa Ana A few days later.
After saying goodbye to Noraly I have decided to return to Santa Ana, to edit for a few days, see my friends and make a few minor adjustments to the bike before continuing the route through El Salvador. Well, I have returned to Santa Ana and I am here with my dear Gato and my dear Jaime. Well, Jaime dear, thanks for everything again. You know, Charly, to order, here is your house and we wait for you whenever you want! And Gato, what have you done to it, what have you put on it? We put some de-aerators on it to make it easier for you to walk de-aerating the bars, so they don't harden. Eeehhh, we straighten the legs a little bit. Shift and brake and...
Well, we've finally traded in the seat. There goes the seat already with a couple of centimeters less, so that we reach the ground. That, in the end, seems silly but it changes your life, huh. Let the problems come! Exactly, let the troubles come! For my friend Charly, as a sign of appreciation for adventure.
A hug brother! Thank you! Enjoy and here we are! Thanks guys! -Thank you, Charles. - See you next time. Bye, guys. -Thank you, Charlie. -Thank you! Hey, let's go! We continue route! Traffic jam... I've had a lot of fun with Jaime and Gato, because, of course, we've obviously gone to eat and it's very late.
I'm going to the coast, and from there we'll see what we do. No plan, more or less. For now, I'm going to see if I'm able to leave the city of Santa Ana. Well, we leave Santa Ana and we're going to quickly look for a road to land and, from there, I connect again. Are you ok with it? Well, I hope so, that it seems good to them because the decision has been made. But while I'm looking for a dirt road to get on my way, let me give you a little update on where I am, where I came from, and where I'm going.
When I received the call from Noraly, I was in El Pital, in the north of the country , from where I undid part of the asphalt road to get to Apaneca, and from there with Noraly to the Chinamas border. From there I returned alone to Santa Ana, from where I now head south towards the Pacific, again, although the truth is that without any clear plan. Come on, we're already on the ground! Pretty fast land, by the way. This fine sand! It's very peculiar, really. Very particular.
Forgiveness! Yes, yes, it goes everywhere. Oh what a jump, look! The other day I left Lake Coatepeque and that I had a flat tire or so I thought and I went on asphalt, instead of coming this way. So, now I'm going back to Lake Coatepeque, and from there we're going to go down to the coast. Hey guys! It is that nothing is seen, in addition.
In addition to fine sand, that is... there are sandbanks. You don't know the thickness until you're inside. There is a lot of sand, eh.
Is incredible! Wow, how pretty! The lake is there. Today's road takes me to the Pacific through Lake Coatepeque. The same one where I was a few days ago and where I met Morgan. Whoops! With whom I arrived by a somewhat complicated path, and now I have to leave the lake by a different route that I do not know very well how I will find myself. I'm going around it, half way around the lake, more or less.
Same as the other day. But now we're going to get out of here and up. Where, well I don't know, really. But there is a path that goes up, so it must be that way more or less.
I see everything very mountainous, that is, he is still distracted. Considering how the descent went with Morgan. Are you okay, yes, no? Yes I'm fine. If one day you want to dedicate yourself to the tourism industry, better not do it. People are going to hate you. I don't know.
We still get into trouble. Well, let's go up! Man, it's quite steep but it's hard... and this is half cement. It's nice too, eh, the walk in the countryside. They are pulling the arms because all the weight goes on the forearm, mainly.
And on top of that, well, how he's jumping. Well, you're like cushioning. Oh look, that's the road around the lake.
We have left the lake behind, we continue on asphalt. How beautiful, isn't it? Suddenly now a valley here, all green! Well, I'm going to the coast but that's it, the usual. Searching the way. And I'm having a great time, because I really like riding a motorcycle, I don't know if you knew, so it's distracting to go down these roads...
Kids who come from school, sugar plantations, this man who leads... .That will take? Well, the Lord goes... Good afternoon! Then there are times when I go wrong. That you don't know that.
But, for example, now I have spent a piece there that smelled quite bad. So, I'll save you that. Will there be a day when you can smell it through a screen? That is, that the video camera also captures odors? It would be amazing, wouldn't it? Well, freak out, because the technology does exist to make this happen. "Olorama" is a technology that allows you to enjoy your favorite movies with smells like you've never felt before.
The company that invented it is Spanish. It's called Olorama and I think it hasn't been very successful, so for now, we're going to save ourselves the trouble. Well, I've gotten into this piece of asphalt and I'm having a great time, really. There is good asphalt in Salvador, huh.
Well, it's spectacular. Right now we're going up this narrow , rough asphalt road. But before reaching the coast, I am going to leave the asphalt to cross a spectacular mountain massif by land that will almost literally plunge me into the Pacific. Pike this up. But they do not know what itches this, eh! Whoa! I have to stand up. Fuck it now...!
No no no no! wow! This with rain has to be hilarious. Here if I stay, I stay, huh. What a barbarity, what a way to climb! What madness! Sure, look, look, I've climbed the mountain...in no time! Phew! Good afternoon! How beautiful, look, this road is very spectacular, huh! Up! What a good suspension there, huh! Well, does this perk up a bit or what! The mud is treacherous, eh! Let's see, one, two and...!
Thank you! Well, here we go. Rear tire that doesn't... I mean, it's as if it didn't have one, directly. And, from this point, the road is supposed to start going down towards the Pacific where I hope to arrive during the day and look for a quiet and safe place to spend the night.
Well, how nice, huh! All this, assuming that there will be no more setbacks that will make me lose time. The drone has crashed. How weird, right?! Where is? Well, here we are. Let's not make a mess. Well, according to this it's up there. Let's see.
It should be around here. Hey, I don't see it. I'm going back to have the bike next to me. Well, according to this, it's here. Oh I found it! I'm going down there. There is a good "game over"! Like this... but it has not come to fall completely.
Look at it. Fuck! Well, you are alive. Two wings are missing.
I had thought that I was going to reach the Pacific at sunset. No problem! Well, I'm afraid, that it's going to make no, that I'm not going to arrive during the day once again... Well, I'm going to give this a fist.
The road is very fun, quite fast at times, at times not so much because there are like big stones but well... I'm going to give it gas to try to arrive not too late. Because I think that since I'm here, I'll get to the coast, right? I don't know how many kilometers will remain, or if it will be all dirt or there will be asphalt, but what is clear is that since we are here, right? We have reached the asphalt. To the pavement. There's a long time left, eh, until the Pacific.
Nothing, it has been very dark for us. At this time asking for permission to camp is already a little late, so today we will have a hotel, I think. Very good, for both lanes. I don't notice anything, that is, I don't perceive El Salvador's insecurity at all. That, obviously I'm not saying that there isn't, I'm saying that I don't perceive it.
I have not seen anyone in El Salvador, yet, with a bad face. That I, I insist, that I already know that they are, that they are, that they are, but that I have not seen them. Obviously, what you have to think about is sleeping. In sleeping and not paying an outrage to sleep. Camping, obviously, because it is not the place.
I think that what we are going to do is start paying for it. The plan is that there is no plan, huh. hehe, haha.
So, what can we do now? There is a surfboard. Where will I be! Here we are...we are by the sea, obviously. It is an area of ​​many waves. surfing area. "Beach camping" Look! I'm still lucky. I'm still very lucky, could it be that I'm finding a campsite and can camp today in front of the sea? It may be that I have... Uh, look, yes, yes. that is...!
Ah, we are in the sea! To be continue
2022-04-29 11:48
Show Video
Other news