Prairie Pulse 1927: Sara Otte Coleman and Heather Hjelle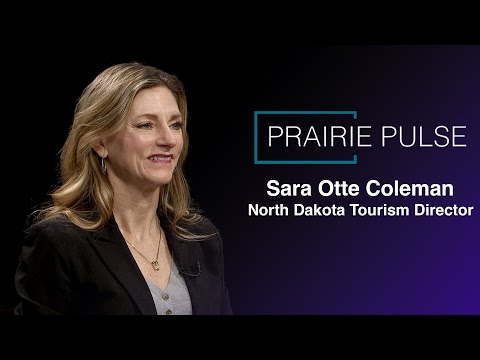 Show Video
(bright upbeat music) (air whooshes) - Hello, and welcome to "Prairie Pulse." coming up a little bit later in the show, we'll hear music of Heather Hjelle. But first our guest joining us now for our annual spring guests, I guess, we always bring you in, North Dakota Tourism Director, Sarah Otte Coleman. Sarah, thanks for joining us today. - It's always fun to be here. And you're right, it means spring and summer are on the way.
- And it's about time, we've had too long a winter, so let's start... We always ask, tell the folks a little bit about yourself. - Well, I am originally from North Dakota, came back after college, married to a farm and a rancher, so we're pretty married to the land. I've been in the tourism position at the state for almost generally 20 years. So it's been a fun ride, really seeing how the industry's evolved, how the offerings have evolved, but even more interesting, how marketing has evolved and how we market our state.
And then prior to that, I had done tourism and marketing for about 15 years, just for the Bismarck-Mandan area. So I've been in the industry a long time and just love being a spokesperson and a salesperson for the great state of North Dakota. - Well, let's look back first. Looking into 2021 overall, I know we were still dealing with COVID, what did the numbers look like last year? - We had decent numbers last year. We aren't quite to recovery yet. We just released our spending numbers for visitor spending and it was at about $2.71 billion,
which normally we're right around $3 billion, so we're still lagging a little bit in the spending area. Over 21 million visitor trips, which is a strong number. Another data source shows us that we had just over 16,000 road trips to the state and that road trips from every single state, the origin states, up every single state except one state. Do you wanna guess which state wasn't up? - South Dakota? No, I dunno.
- West Virginia. - West Virginia. - Yes, but indications are, they're coming soon because website traffic from West Virginia was up almost 60%. But we had double digit growth from a lot of states and so strong numbers were not quite fully recovered, but a number of the tax data that just came out shows that arts entertainment and recreation and accommodations and food services have pretty much rebounded, so we're pretty close. - Yeah, all right, but now, upcoming summer, what are your expectations, visits and motel bookings, how's it looking? - Yeah, we're positive. Of course we're always optimistic.
Last year we had some additional dollars that we've put worked for to the state. So our campaign lasted through the end of the year, which we think put us on maybe the short list last year when people were thinking about vacations going forward. And the fact that we're really a safe and affordable destination with inflation and gas prices, I think is really also gonna help us rise to the top. So we're really optimistic. We were off, we were about 4.3 million room nights sold. And our peak is just over five.
So again, we've got some growth, some room to rebound yet there. We believe a lot of that, we love our Canadians and they come down on a regular basis, their repeat visitors and just getting across the border from Canada, even when the border was opened, you had to really wanna get here to do it because of the testing and the testing availability and the protocols that were required. So we think that hopefully this summer, our Canadians will come back and we'll see strong growth in the room night sold. - Yeah, of course we see things are moving back and I guess it never gonna be back before pre COVID, but are things getting back to sort of a normal sea, I guess I'll call it that.
And are people, do you think really ready to explore and travel again? Or what's your sense and what are you seeing with your colleagues out there? - Yeah. Absolutely. I mean, I think people have pent up demand, right? And they wanna, the number one thing people wanna do is get together with their friends and family and travel, whether that's going to see somebody, visiting friends and relatives or whether that's going together, but that's leads the list, as well as people wanna discover small towns and more rural places, which helps us in the national parks. Those are like two of the top three. What we're seeing, it's been an uneven recovery.
So where some of the states that have led recovery have been like Montana and Idaho and South Dakota, they've done really well because of the worry free, the less crowded. And so we stand to benefit from that as well, where you're seeing less recoveries out in the east. You just don't see as many. They're considerably lagging in the more populated states. So whether it's New York or Massachusetts or California, even Nevada, they're definitely lagging and they don't have that comfort level to travel as much.
But the good news for us is that we market regionally and that will help us attract visitors from those regions. And so we're optimistic. - Hmm.
what was sort of the hardest part of your job during COVID? - The hardest part I think was working with the businesses and the venues and the entities that could no longer do what they love to do. While retailers and restaurants, they got pretty creative, right. They got really good at takeout and adding some of those things. Some of them obviously couldn't because maybe their location or whatever, but it was hard to see those. And it was really hard to see like our venues, especially empty for so long, any of the entertainment events and festivals that were all canceled and just kind of seeing all of that social activity that not only attracts visitors, but is what we love to do, 'cause that's why we live here, is to do all those things too. And so that was hard.
- Yeah. Can you talk a little bit about, I mean, you mentioned some of those things are, 'cause some festivals or things are, when you talk to your other tourism directors, I guess in other states, are they losing those things or are they really gonna get back to normal? - I think on the leisure side, that is also what led the recovery was leisure travel as opposed to business travel, which makes sense. So I think on the leisure side, you are gonna see a return to normal in most states.
It's just some of them are a little bit slower depending on just the protocols that they're working with at their own state. But we all believe in travel. There's so many advantages beyond the economics.
It's good for your health. It's good for you mentally. People learn more and there's just so many benefits to travel and even those cultural events and activities. So I think eventually it will return. Now will there be protocols in different ways that you get admitted to these festivals and events? Probably.
I mean, it's probably gonna be like 9/11 where we could never imagine an airport, like it was prior to 9/11 now. And so I think some of those things will just probably be permanent changes, but hopefully they won't discourage travel and they'll allow us to all get back to somewhat normal lifestyles and activities. - Yeah. Well, let's talk about some of the things in our state and with, I wanna pick a few here.
How can people explore the Lewis and Clark Trail? - Well, that's one thing. Our website, and I'm gonna be a little procal here, but ndtourism.com, we have such great itineraries. So many times people are just busy, right? And they don't have time to figure out where they should go and how they should plan it. But then Lewis and Clark is one of them where we just have a great itinerary out there where it just kind of spells out the route and you can start down in 40 eights and work your way through the historic sites and Bismark, there's a number of 'em, cluster ground Bismark of course the Heritage Center and the Capital Grounds have a lot of tributes, a lot of information, Fort Lincoln, you then you go up to Washburn and you go up to Knife River and work your way up to the Williston area.
So it really kind of tells you the stops that you can do, what the historic sites would be and maybe activities along the way. But there's a lot of ways you can do it. There's even a Lewis and Clark Golf Trail. So if you're a golfer and you maybe wanna hit a historic attraction or two, you can do that too.
So there's lots of different ways to hit the trail. - Well, it sounds like it's so, that's good. What about some of the other offroad adventures people can experience in North Dakota? - So when you say offroad, of course, my mind automatically goes to like offroad vehicles or off highway vehicles or ATVs. And we've got a lot of land that's great for exploring that, whether you're in the Pembina Gorge area, they've got recreation trails up there that provide really good offroading opportunities or like the National Grassland out West. There's some areas south along the Missouri that provide those really fun experience as well, but offroading can be, or off the trail, that's everything, hiking, fishing.
We have great waterways. We have tremendous hiking trails statewide, kayaking all sorts of ways to get off the road and really enjoy. - Well, there are so many and probably don't have enough time to do 'em, but what are some of the best days to go hiking in best hiking areas in the state? - So I love the Little Missouri State Park. That is absolutely beautiful scenic area. They've got some great trails, it's near Killdeer.
So that's one site that's really fun out east here, if you go down by Fort Ransom, the North Country Trail, which is developed and cuts through a lot of North Dakota, that's another great destination that's closer to the Red River Valley that people can hike. Of course, the north and south units of the national park are always great. There's wonderful trails throughout both of those, especially the north unit.
I think a lot of people maybe just do the quick loop and they don't get off. And there's some really undiscovered trails out there. And then there's just a lot of other Pipestem Creek and Harmon Lake, and there's just great longer trails throughout the state. And again, I'd refer you onto the website because we've got a great list of all the great hiking spots. - And are are all these mention, are they sort of day hiking areas? Are they camping areas? - Most of them are day hikes.
The most of them that I mentioned, but they're certainly are longer ones. North Country Trail will be a longer one that goes through the whole state pretty much. And then the Maah Daah Hey Trail, of course I didn't even mention, which is the epic trail and the throughout the Badlands of North Dakota. And that is definitely a multi-day, especially if you're hiking it. - Yeah. You and I were talking, coming on it. We advise people to let people know when you're gonna go out hiking and let 'em know where you're going.
And when you expect to return is a safety thing. - Exactly, especially if you're on the Maah Daah Hey, or out in the Little Missouri National Grassland, it's the largest national grasslands in the country. So yeah, you wanna let people know where you're gonna be. - Yeah.
I understand you recently handed out some Governor's Travel and Tourism Awards. Can you talk about that and who earned them? - We did. That's one of my favorite things to do throughout the year is to really honor the people who are the hosts, right? They're the people that really host our visitors. So we gave out a few awards. The Heritage Award was given to Al Michaels, who has the Scenic Theater in geez, I don't wanna get it wrong now.
I wanted to say Lisbon and yes, it's Lisbon, the longest running theater in the country. 111 years it's been opened. And he, there was a chance that that community was gonna lose it and him and his wife bought it and kind of restore it.
And they have movies that run every month. So a couple times a month, our Sakakawea Award for behind the scenes was given to Joel Walters, who is with the Dickinson CVB. He's developed a number of really cool programs, but one of them is the Coffee Cruise, which is a really fun way to explore Western North Dakota. One coffee shop at a time, which is right at my alley. On the Telegraph Award for Marketing Technology was given to "FORKS: Five in Five!" video series done by the Greater Grand Forks Convectional Visitors Bureau So just a really low cost way to get the locals telling the story through video. Our Trailblazer Award was given, and that's for innovation, was given to the North Dakota Native Tourism Alliance and super proud of the work that they've done, working together with all their tribes, creating experiences, building out the stories that they can tell.
Those rich, rich stories that they can tell, they've become a model. South Dakota's modeled after them. And George Washington University has kind of taken the model built here in North Dakota to other areas and other states. So that was a fun one. One of them we don't give out every year.
We only give it out if there's really high project would be the Wade Westin Award for Marketing named after Wade Westin who is a former marketing director in Medora, who passed away at a very young age. And that award was given to Luke Schaefer, who is one of the founders of ND Country Fest, just a really smart marketer who has grown that to be the fastest festival of its type in the country with just tremendous engagement. And they do a tour around the state and they've just done some really cool things.
And the last one was the, oh, I missed one. I missed the Firestarter Award, the Flint Firestarter Award, which was awarded to the Broadway Square right here in Downtown Fargo. So that's kind of a development project that spurs future development.
And then the last one was the Legends Award for Travel and Tourism Industry Leadership. And that went to Charley Johnson, who's the executive director of the Fargo-Moorhead, West Fargo Convention and Visitors Bureau for making his second career, a really great career and really having passion for the industry. - Well, yeah, there's a lot of great awards. And can you talk about how breweries and distilleries are sort of becoming tourist spots that I think you're promoting now? - Absolutely, people, there's that whole culture that really wanna do those types of attractions in every state and like here in Fargo and in Bismark and across the state, really you're seeing them become destination centers. So it's not just about where it used to be just about gathering with some friends and hearing the story of their local brew and how it's made, now they are have entertainment, they have activities, they're family friendly, they have food trucks.
You look at Drekker expansion here in Fargo and what they're doing to just kind of build around that whole culture and community so that, yeah, they definitely are an attraction. And especially for people who love to hit that off in every state, but also for younger travelers. - Do you anticipate Theodore Roosevelt Library being a big tourist attraction when it's built and open. - It is. It's gonna put us on the map. There's just no question. There are only 15 presidential libraries and the plans and the programming and the architecture and the implementing into the landscape and the body of work that they're looking at doing will definitely draw visitors from around the world.
- Minnesota's a known land of 10,000 lakes, but North Dakota has some lakes too. Can you talk about what there's to explore in North Dakota lakes. - Absolutely. We say 10,000 lakes and no fish, gotta come on this side of the river for the fish. So of course we've got our destination fishing lakes, which most people are pretty familiar with, Devils Lake, Lake Sakakawea, Lake Oahe are really, really strong fisheries and attract anglers, as well as recreation seekers.
There's great sailing on Lake Sakakawea, great boating on the other lakes, but there's about over 200 fishing lakes in the state. So even when you look at ice fishing and whatnot, we definitely have things to offer for recreation and fishing. - Yeah, we're trying to cover a lot of ground here, but what about your marketing tools and strategies? How's that going? And what are you looking for for the future for that? - Well, always evolving.
It's super interesting, the data you can get, especially on the digital side and really understanding consumer behavior and what people are interested in. So continually evolving. We continue to focus on a broad range of messaging and channels, because we know that works the best. So we continue broadcasting, connected television and other video methods, because as we all know, people like to watch now not read. But that doesn't mean we aren't doing print and we aren't doing digital and some of the other formats. So, it's really a good mix of media that we do.
And then we've been really successful out of home. So whether we're wrapping a train in Downtown Chicago or we're doing some billboards in some really popular areas in Minneapolis. We also use that as a way to really elevate awareness and increase awareness.
And the big thing is we're constantly evolving. So we put the plan together in the fall, we start implementing in the spring, but we tweak it because we look at what's working and what isn't, what messaging is getting the most interest. And we evolve it from there just to make sure we're showing a strong return on investment.
- So what are the biggest tourist attractions? I mean, the Heritage Center in Bismarck has to draw people, the Theodore Roosevelt National Park. Can you talk about that a little bit? - Yeah. Yeah. So Theodore Roosevelt National Park is the largest attraction in terms of sheer numbers. And part of that is because we have the beautiful Painted Canyon Visitor Center right off the interstate. And so it gives it's kind of like our little Grand Canyon right there, which makes it really easy for people to get there.
But a lot of them do go into the park and do more there. So that is the number one, that's followed by a lot of venues throughout the state. So you think about the Fargo Dome or you think about an amphitheater, they do host local people, but they also host events that bring in a lot of national people.
And then you've also got the listing of the higher end museums that we have that offer great experiences and some of our great state parks would kind of top the list. - Yeah. Well, there's so much to talk about. I wished we had more time, but if people want more information, you've mentioned a website, but where can they go? Who can they contact? - Ndtourism.com. There's a search. I mean, it's full of information. It's fun to just explore, but there's also a search button there too. So if you're looking for something specific, just punch it into the search and hopefully you'll find what you're looking for.
And if not, we have a live chat on there, or you can pick up the phone and give us a call. - Well, Sarah, we wish you the best for the upcoming summer season with the tourism. - It's gonna be good. We'll see you on the road. - Stay tuned for more.
(instrumental music) Dramatic soprano Heather Hjelle was living in Chicago pursuing a career when COVID hit the United States. She moved back to the family farm in Barrett, Minnesota, where she grew up and she is currently teaching and performing to communities throughout the region. - I'm Heather Hjelle from Barrett, Minnesota. With being a dramatic soprano, I get to sing longer lines. There's less moving notes, lots of legato singing. I was always surrounded by music.
My grandmother loved playing hymns. My grandfather listened to poker music. My mother was into eighties rock, and finally I was introduced to the musical Grease and there began my love of musicals, which stemmed into opera eventually. I did my undergraduate degree at Bethany Lutheran College in Mankato and there I majored in theater actually. So I took voice lessons and was in choir and discovered my love of opera.
And then I auditioned for grad school and began singing in Chicago at North Park University. From there, I was assigned more and more roles and fell more in love with the art form. I think when approaching opera, we need to not be scared to ask questions. Oftentimes, artists are more than willing to talk to someone that has never experienced this art form before. - Hello, my name's Nathan Berg, and I'm one of the general music teachers here at Kennedy Elementary, located in Fargo, North Dakota.
I teach general music, which consists of a variety of things from singing, dancing, or playing instruments. Hey, Heather, some of my third graders haven't had much exposure to opera, so here's a couple questions for them. - Hello, my name is Jahmila. And I wanted to know, how did you learn how to sing in so many different languages? - Thank you for your good question Jahmila. It took a lot of practice.
When I went to school, we had to learn something called the International Phonetic Alphabet. And for each letter in our alphabet, there is a symbol that makes a universal sound, and we learn how to put those symbols to words in other languages so that we know how to pronounce them correctly. So I know what I'm singing about in these songs, but I'm not very good at speaking the languages.
A lot of operas are in other languages because that style of music originated in Italy. But now there are a lot of new operas and American composers writing a lot of operas in English. So that's very exciting that opera is still growing. - Hello, my name is Griffin. I've been wondering how many different places have you sang at? - Well, I've sung in Italy.
I've sung in France. I've sung in Canada. I've sung in, now in North Dakota, also Minnesota, Colorado, California, New York, Florida, across the United States. More fingers than I have to count it out for you. My favorite place to perform was in a church in Italy, and it was this beautiful church that I couldn't even see the back of when I was up front. And it was a role where I was playing a nun and it really made me feel connected to the character and the dramatic things that were happening to her.
And it was just the most beautiful setting I'd ever been in. - Hello, my name is Mia. I was wondering how long have we been singing for? - I have been singing for probably at least 15 years. So in opera, the voice categories are a little bit more specific than when we talk about coral singers, which we have, soprano, alto, base, baritone, tenor. In opera, we get to classify and subclassify. So for example, I'm mainly a soprano, but under that category, I would be considered a dramatic soprano, which means that I sing a bigger style of repertoire louder.
The orchestras usually has more pieces in it, bigger, fuller. - Hello. My name is Gavin. And I was just wondering, how long have you practiced for? - I practice probably an hour a day. And that doesn't always mean that I'm singing during that time, it means I'm practicing the languages and the rhythms and on the piano. But then I sing for part of that time as well. - Hello, my name is Zoey.
I just wanted to know how do you sing so long? - That's a very good question, Zoey. It actually takes many years. It's kind of like when you first start working out in fi class, you can't go as long because your muscles aren't as strong. And then you realize you can go longer.
It's the same thing with singing with your body and your throat. Those muscles need to build up. So you do that throughout your years of training.
- Hello, my name is Aria. I was wondering if you've ever lost your voice. - Aria, what a beautiful name and a good question.
I have lost my voice and it's usually because of getting a cold or something like that. And then you have to be very quiet, which isn't fun, but it comes back eventually. - Hello, my name is Stella. I was wondering if you have ever played a different instrument. - I used to play piano when I was very little and also clarinet, but I am not as good as the lady you've heard playing with me today. Now I'm just better at singing.
(guitar music) I actually am a teacher right now. I'm a part-time professor down at Bethany Lutheran College, my alma mater, and I teach voice lessons there. And I also teach private voice lessons back in Barrett.
I would love to help you find your next steps if you wanna start to learn more about your interest in this art form. Your career is not gonna look like everyone else's. You just gotta stay on your own path. (opera music) - Well, that's all we have on "Prairie Pulse" this week and is always, thanks for watching. (upbeat music) - Funded by the Minnesota Arts and Cultural Heritage Fund, with money from the vote of the people of Minnesota on November 4th, 2008, and by the members of Prairie Public.
2022-05-16 01:17
Show Video
Other news