Porsche Club Championship 2019 Prog 7 Snetterton 300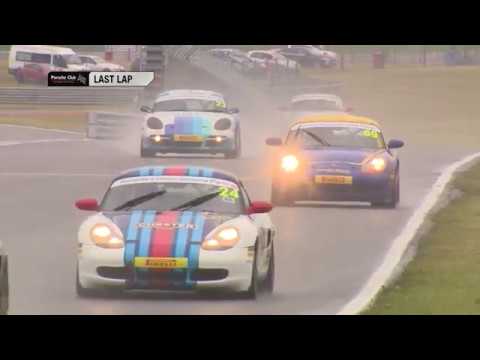 Show Video
This program is the Petro Canada Lubricants Porsche Club Championship with Pirelli. [Music] Hello and welcome along to the Petro Canada Lubricants Porsche Club Championship with Pirelli plus the Restoracing Championship here at Snetterton. [Music] Michael Price, we've not seen you for a round or two, great see you back on the grid here, how's the qualifying gone so far? It went fine in terms of arriving at fourth but to be honest I was expecting a bit better. I struggled with some understeer in the wet here, we've made some changes and I'm looking for better in the race. Quite a contrast to last time we saw you out in the championship which was on the Brand's GP circuit which was a great weekend as well. Cracking weekend
yes. Good result for me there but actually, particularly the 1st race, but the manner of of a P2, I think I went past a total of about 14 cars because I had to do it twice having made a bad start and then later made a bit of a mistake and got caught out with cars passing and then I had to get all past them again, so fantastic racing. I don't think we'll have the same sort of games played in this race in the wet but you never know! I mean I think it might be a drying track. Last time out at Brands Hatch, great weekend one of the days, not so
great the other day and now because of that I believe we're now using a sister car? Yeah, yeah. A good friend got me back in the car again so yeah ready to go again. This one is Karim Moudy's car isn't it, which were both built at the same time so, everyone's happy enough with it being an identical car? It's good to race? Yeah, identical, no changes at all. You're known for your
starts so you get to take a little bit steadier to start off with? I mean you have some cracking pace at Brands Hatch. Yeah the pace was there and obviously we had good pace yesterday in the dry but we've made some more changes since qualifying because I wasn't really happy with that so yeah, just see, see how it goes. Normally I'm okay in the wet, it's just it is quite torrential out there. [Music] Well not the best of weather here and yet you've got pole position in class there and not many have done that before in front of Ben. No, I'm over the moon with the result that come out of it. We didn't do no testing here yesterday. I've
done a few laps around here about six months ago. I've never driven the car in the wet but the settings that we went for, we guessed at, seemed to work well. I found a little bit of a gap right on the final lap and I managed to hook it all up and get a nice clean lap through. I think the 911's that were in front
seemed to clear a little bit of the spray out the way. I think 4 of them passed me just before the start/finish so I think that obviously aided me to have a bit of a clearer line but treacherous conditions! James we last saw you out at Brands Hatch, some great podium wins there. Snetterton now, the first time on wets I believe? Yeah first time out in the new tyre, yeah really liked them. Loads of grip on them so yeah really pleased and again you got pole so it's obviously worked. Yeah that's down to the lads really with the set up they put in the car. Just found loads of grip after lap 2 which was the quickest lap,
yeah just loads of grip. They kept coming so I pushed it as hard as I could, a couple of little off's nearly but pretty tidy overall. [Music] Some great, modest drivers in the grid listening to those interviews and that really epitomizes this championship. It's a super championship. Here's the grid. A full grid of 32 cars here at Snetterton. Pole position to Simon Clark, the championship leader, Peter Morris next to him from Chris Dyer and Michael Price. The class 2 pole James Coleman seventh overall and he's got a couple of class one cars between himself and second in class Angus Archer, then Kevin Molyneux, our class two championship leader Ross Morris, the Restoracing championship runners headed as you heard by William Heslop from Ben McLoughlin, Simon Ruffell-Ward and Paul Blakesley. Very much Paul on home tarmac this weekend in the Porsche
Centre Cambridge machine. So it is a massive grid and in these conditions it's going to be a big ask for the drivers to get home in one piece and keep it on the track. In car with Steve Freeman and you can see there's a little bit of a hold up there on the start. That was I think Del Bret
has possibly impinged on the start there of Jake McAleer. Yes it was Del. Del qualified ahead of Jake McAleer. Of course our previous race winner, Jake McAleer and it's difficult conditions and well, nobody to blame there. Big field, nerves are going to be rattling a little bit and they go into the Hairpin for the first time. It was a good start from Pete Morris on the front row of the grid who leads, as we look at some of the middle order drivers there. You can see James Caley in
the 50 car but it's Pete Morris leading from Simon Clark. These two very much battling it out towards the top end of the championship as Clark..Look at Clark's determination to get the inside line down into Agostini! There wasn't quite room. Ayrton Senna might have gone for it but Simon Clark deciding, I think rightly in the conditions, that discretion the better part of valor. Clark gets a very good run out of Agostini down the straight into Hamilton and gets the lead in the Cayman from the 997 of Pete Morris. So Morris' lead is short lived or is it? He snakes his way back through on the inside line.
Goodness me, superb racing for the lead as again look how difficult it is .Clark's fish tailing there and Pete Morris is looking through on the inside line again but it was a much better run on to the Bentley Straight here for Simon Clark, the championship leader and told position man and goes through. Now riding on board with the 21 car, that's Sam Beckett. Sam running in the Porsche Centre Wilmslow car. Issues unfortunately for Carl
Hazleton. Carl who's done a couple of other races, couple of extra races you might remember outside theEestoracing championship on day one of our doubleheader, in the last Brands Hatch meeting that we had. Peter Morris going through. There is the number-7 car, Michael Price, who we heard from running in fourth place at the moment. Chris Dyer having a good run
as well. Chris is in third place so it's very much Caymans versus 997's at the moment at the head of the field and there is Mark McAleer. Mark running at the moment in 6th position in the championship, trying to close down the points on Andy Toon and ahead of him the returning Kelvin Harris. Really good
to hear from him after that huge damage that he suffered in qualifying in day two of Brands Hatch, having taken a double win on day one on the indie circuit. We had some great races but always a major shame to see any damage to that magnitude There's the sponsored Strasser prepared Cayman looking up the inside line now. Simon Clark building a bit of a lead and Peter Morris still in 2nd place and as you can see it's a a very, very wet track indeed. Now who's leading in the Restoracing class? There in 32 is William Heslop. That's the Porsche Centre Wolverhampton machine and you can see it's Ben McLoughlin in fact in yellow in the distance has got through into lead position. McLoughlin qualified second as we go in car with Steve Freeman. This is what the drivers have to deal with. Steve Freeman here putting pressure on William
Heslop who runs a little bit wide, gets a bit of opposite lock. Steve Freeman in the class 2 Boxster going through on the inside line. There is Mark Duncan in the blue and yellow Glasgow car, now being chased by the recovering Carl Hazleton. Carl who qualified in 12th position in class, class three being the
Restoracing, the classic livery Boxster's. William Heslop going well actually dicing with Ross Morris there in number three. He's the championship leader, Ross Morris and immediately in front of Ross is Del Brett in the class1 997 car. Del you might remember joined us in round two this year. Missed Donington
Park, the opening round, but joined us for his first event of the season which was the Brands Hatch Grand Prix round on the Blancpain supporting package, which was a mega...I was going to say a mega weekend. Overall it was a good weekend but the club championship racing on day one there rather than spread across the two days as Michael Price stays in front of Kevin Harrison and Mark McAleer makes a move down the inside line. McAleer passes Kevin Harrison. Good to see Harrison back but doesn't look like the start he wants in this race as Mark McAleer makes up a position. Mark winner of round three, so we've got two of our race winners from Brands Hatch on the indie circuit together there here at Snetterton. I hope things brighten up for our second race. Very tricky conditions and I always say that extreme wet and Porsches would probably be my driving nightmare! The most difficult scenario, so I take my hat off to the drivers doing so well here.
Still Chris Dyer in third, Peter Morris in second. There is Mark McAleer actually putting a little bit of space now over Kevin Harrison. Steve Freeman up ahead of Ross Morris. We've still got James Coleman who's at the head of the class two cars. Steve Freeman running well at
the moment in class. There is Jake McAleer and Ben McLoughlin, what a leveller the way it is. Ben McLoughlin has got a good lead over the other class three guys. You just see at the back of that previous shots as they come along the straight, the flash of pink of Will Heslop's car which was going through the final corner on the lap. There in car number 46 is Wayne Minogue, the Porsche Centre Nottingham car. Did well at Brands Hatch with a podium on the Blanc Pain meeting and this is the Wilson Hairpin with Ross Morris, multiple winner this year. Won the first three races of the championship, was back on the top step of the podium for Class two in race two at Brands Hatch. There in 55 is Scott
Adams the Welshman who we have a chat with at Brands Hatch, learning his craft and doing very well as McLoughlin continues to lead. That's great driving for Ben McLoughlin, leaves the door open for Steve Freeman and Ross Morris to go through. It's a much more standard car that yellow one and the Porsche Centre Bournemouth car that leads the honors and a sideways moment here for Andy Baker. Another newcomer to the championship, joined us at Brands Hatch for the first time, day two at Brands Hatch was Andy's debut having a little bit of a moment there. This is a super battle between Ross Morris and Steve Freeman who were
onboard with. Meanwhile frenetic battle going on in class three. Mike Thompson in the number 6 car, Porsche Centre Bolton machine as we can see Mike Price is making a little bit of ground up here on Chris Dyer and as they come along the Senna Straight, looks to the outside line, comes out of the spray, Dyer meanwhile i's trying to hunt down Peter Morris and this is 2nd, 3rd and 4th position all having a great race of things at the moment here. [Music] Michael Price up into third place now then Chris Dyer in the Millers Oils backed Strasse prepared car and then Mark McAleer whose making good progress here, so a three-way battle at the moment for 3rd place. It's still Simon Clark leading from Pete Morris and McAleer multi champion of course with another champion immediately ahead of him and here's the man who's looking to win the championship for the first time, he'll be if he does win it, in position to do that at the moment being championship leader, bee the first driver to take it in a Cayman as well. He was the first driver to win in the Cayman last year was Simon Clark and a super year, obviously development work to be done on the 997's, still feeling their way. There is Pete Morris in second, Michael Price in
third place in his two races at Brands Hatch, the Blanc Pain meeting, took 2nd and 3rd as you heard from interviews, raced well. There is James Coleman in the white, green and black Boxster ahead of the two class 3 Boxsters of Simon Ruffell-Ward and Welshman, Scott Adams, in the Porsche Centre Cardiff car so Leeds v Cardiff having a good battle there. Leeds 5th in the Restoracing Championships at the moment. There is Wayne Minogue. I think that PC Nottingham car is
6th in the standings coming into this race and Scott Adams having a look down the inside line of Siomn Ruffell-Ward. Both of these two are newcomers to motor racing, courtesy of this wonderful innovation that Porsche have put together and you can see that, they've got the yellow square with black cross in indicating they're new drivers but learning their craft well. What a super environment, the cars were more standard last year, they've had small mods this year. Modifications on the car. the drivers had to learn about that as well. Through shot goes Toby Barlow from Ross Morris. They're 3rd and 4th at the moment in class 2. Simon Ruffell-Ward goes a little bit wide there. That's going out of Palmer Corner, about to head down into Agostini
and here's the run. Very slightly downhill on the infield now and Scott Adams read that superbly and he's going to go through on the inside line. Scott Adams makes it through, that's sixth position in class three for the Welshman. Both of those guys who we spoke to at Brands Hatch are thoroughly enjoying their racing and learning their craft. There is Pete Morris, a master craftsmen as ever there were in Petro Canada Lubricants Porsche Club Championship Racing. Mark McAleer
another of those masters as well. Those two, so much experience and great to see Michael Price in the mix as well, busy challenging for second place. Its a keen between those two. The Cayman is running well. The Cayman of race leader Simon
Clarke is pulling away from these but certainly with these two battling that will help him maybe eke out a little bit more of a gap as things go on. That was the pole position man in pink, William Heslop. Ben McLoughlin still leading class three as he has done for much of the season. There's Jake McAleer running well. Jake up ahead of Sam Beckett then James
Coleman, the leading class to runner. James has got a pretty good lead if you look back from his 47 car. Treble class 2 winner last time out at Brands Hatch in his debut with the championship. He used to race with the BRSCC Porsche Championship. Was runner-up in that championship last year. another graduate of that championship there, Angus Archer, in white and with Del Bret immediately ahead, class 1. Del Brett having recovered from that problematic start. So it's Del Brett from Angus Archer
then Mike Thompson in the class 3, number 6 car, Carl Hazelton, then the 39 machine of Ollie Coles. Ollie had a non finish in race one at Brands last time out so good to see him running and getting some mileage in the Coca-Cola liveried car which is for Porsche Centre Swindon. So many cars to cover in this championship and indeed this race. The Elite Motors number 10 of
Julian Morris. There in 49 is Steven Shore. Again you can see another newcomer so we've got a lot of long serving racing drivers running in classes 1 & 2 and a lot of the newcomers in class 3 so it's very much a mixed grid as we go on to the last lap and now crossing the line is the race leader and it is Simon Clark looking, amazingly, for only his third win of the year. It's been a very competitive championship in terms of different winners that we've had this year but Clark has been so consistent. His drop score which I think I mentioned earlier on in the race is a 10th place, round 2 at Donington Park and Clark 20 seconds clear of Peter Morris in this race. There is Peter in car number 2. Mike Price still challenging for second place in the number 7 car and getting closer to Pete Morris as they go through Riches and the back end swaps around on the 7 car. He very nearly holding nudges the barrier, a little bit of damage on the
Farelle car and hopefully he'll get going again but I think will lose third place now, well he will. Mark McAleer is through into third, may well loose fourth is what I was intending to say. Chris Dyer could well go back up into fourth place. Here is James Coleman. James running in ninth place, so inside the top ten is James Coleman here and two top tens at Brands Hatch. He was 11th in his first race so top ten overall, good for a class two car as Simon Clark negotiates the 41 car which is Kevin Molyneux. Kevin running in sixth position at the moment in class two. Momentarily saw Chris Dyer there running in fourth position overall. Ross
Morris being chased by Wayne Minogue whose 5th in the Restoracing Class. Ross the championship leader should maintain that over Matt Kyle-Henny, whose not racing with us this weekend sadly so Matt will be closed in on by Steve Freeman, maybe not enough in this race, as Ross Morris...there is Toby Barlow running in third ahead of Ross Morris. So Ross 4th at the moment.
He'll be eager to get back on the podium having taken the race win, the final race of the weekend at Brands Hatch, race 4, but round for background Coram for the last time goes Simon Clark. This has been a super drive by Simon Clark, did a lot of work in qualifying with the wet weather, has had even more work to do here to negotiate a lot of traffic here at Snetterton on the 300 circuit. Simon Clark will take win number three of the season. There is the chequer. Simon Clark takes the win here at Snetterton! Someway clear. Immediately behind him were
the class three runners but we're looking at the back of the second position. Pete Morris has got some traffic. He's got Carl Hazleton in the Martini livieried 24 passes him. Mark McAleer goes past as well. We've got Duncan, Mark Duncan immediately ahead as well but Pete Morris takes second from Mark McAleer. You can see they're in the 49 car is Steven Shore we've just got the better of Mark Duncan in class three and the recovery of Michael Price who's on his way to eighth place. Just saw Jake McAleer going out of shot who is immediately up ahead of him. Julian Morris battling for top ten with
Mike Thompson. Thompson 9th in class in blue. Ollie Cole's immediately ahead of them as through goes Ben McLoughlin. Ben McLoughlin 16th overall but another class win for Ben McLoughlin in the Porsche Centre Bournemouth car. There is
Jake McAleer who finishes in seventh place. Watch for the green car in the background which will be Michael Price. In the mix as well is Paul Blakesley there. The number 80 car finishes second to Ben McLoughlin in class 3 and here comes James Coleman who will win class 2. Great performance from James Coleman, lead lap, top ten finish again for James Coleman in the 47 car.
We've got quite a few machine still on the lead lap battling it out. Angus Archer is second, he's just gone out of shot and now Ross Morris has gone ahead of Toby Barlow to take third place. So Ross Morris in the number three car in the closing stages has past double podium man at Brands Hatch, Tony Barlow to take third. I think he's going to hold onto it as well. Down towards the
flag. Good end to the race there. Ross hammered the life out of the car. Immediately ahead of him the blue and white number 70, Angus Archer, takes another class 2 podium but it was Ross Morris behind him in third place then Toby Barlow, Steve Freeman taking fifth place in class ahead of Kevin Molyneux new but the winner once again, third time this year, Simon Clark will extends his championship lead going into the anti penultimate race of the season here at Snetterton. So here's the result; Clark from Morris and McAleer, McAleer senior that is, ahead of Chris Dyer then Andy Toon and James Cayley, Jake McAleer next, Michael Price, James Coleman winning class 2, Dale Brett next up, second in class 2 Angus Archer from Ross Morris. The Restoracing Championship race won by Ben McLoughlin from Paul Blakesley with William Heslop in third and Sam Beckett in fourth. [Music] Well from a spectator point of view that looked amazingly easy, what a hell of a lead! Yeah it was. As soon as I cleared Pete I was kind of fairly confident that I was going to have the pace based on qualifying so it was just a case of really just trying tomaintain a bit of a lead and then I could pick any line I wanted, which was quite important actually because the tyres towards to the second half the race onwards were massively overheated. It was a
fairly uneventful race for me but I'll take it. It was good. The chassis has been really well set up, really happy with it. Well the nickname Podium Pete is consistent, we've got another second place after a following from Brands so it's a good start to the weekend. I knew it was going to be tricky conditions and the cars are heavy. I had a cracking start but the grip of the
Cayman is just far superior so I dropped about three places on the first lap. Mr Price caught me up. We had a cracking race. Mr McAleer managed to get 3rd because Michael span on the last lap. After the great success of Brands Hatch for the team that was quite a tricky race this first one at Snetterton. Yeah well obviously qualifying made it
difficult for the race anyway really. We didn't bring qualify where we hoped to. We had a couple of problems with both cars but then we have a couple changes with the 997 because to be fair, I mean, this is the first time we've used the 997 in the wet so it was really much of a testing session if anything so to get a podium out of that, we're very happy. Congratulations, great to you on the podium there, not an easy race? Not at all no. That's the first time I've raced on full wets for a long time and same for everyone obviously but quite lively, quite interesting! Too be honest with you there was so much spray, it was just a little bit lack of luck of the draw.
We just, you know, had a little chat on the grids a few of the guys in the collection area, a few of the guys just said "look, be sensible first corner. It's a long race, you're not going to win on the first corner" and thankfully all got round, it's all good. Victory on the third place there but not an easy race. No it was really difficult. I mean I qualified fourth, I got a great start off the line, up to second place I think and then going out around to the back onto the back straight I just had no grip on the outside and it just went around and I thought someone was going to collect me and damage the car, but everyone managed to miss me and I got the car started again and so on the the last lap I managed to just get alongside and pass Toby but he didn't make it easy! [Music] Ben, no stranger there to the old podium, another fantastic win there, tricky conditions for all. It was, very much so. We went out in in qualifying and it was damp to start with, got wetter, it was very, very tricky. Went out on what we
call our dry tyres and qualified second which was fine. Will put a fantastic time just down there and he put a fantastic time on with it with the wets so we thought, okay let's put those tyres on for the race but I made a great start, knew I had a nice gap so I could just relax and just explore the track a little and yeah it was just developing the lines and the normal line on others so now I think I've got it sussed in the wet, so, I feel more confident now for the next race. [Music] So James, one of our newer drivers. This is your first full season and you've just done your first race in the wet. Yes I know. It was very exciting, very good. I
qualified 13th, managed to make a few places up on the first lap and yes as things dried out I managed to work my way through. There was a few spun in front of me so I was replaced with p6 at the end, so yeah really, really exciting and a good first wet race I think. Bit of a baptism of fire for you, the first season as we say and you've only just taken the rookie cross off as well. Yes so it's nice to take that off yesterday when we were here testing. So just got my National A License and yeah having
this my home circuit, so I've probably raced here or done more track days here than I have, so I probably know this circuit a bit better than I know some of the other ones but even so, going in the wet was pretty exciting this morning. Del it's been quite a while since we caught up with you and had a bit of a chat. Now second full season that you're doing this year, how's it going so far? Well it's been a really fun season I must say. We're out in the 997 for the first time meaningfully this year. Last year we had it out once but we blew our engine up the first time out at Silverstone, so this year the car has been running really well, we're getting it set up and getting a bit of driver development going, so it's very good, we're having a really enjoyable season so far. My previous racing was in
open-wheel cars back in The States and Canada back in the 90s and whilst I thought I knew quite a lot, I realized when I came out with this crowd that I have a lot to learn and I still do but little by little we're getting there and we're hoping to climb up in the standings as that as time goes by. How do you think seasons gone so far for you? The seasons going really well. Last year I was just learning the car really because that was our first season out for me in this car. This season I really feel I've got to grips with it. We had a season best of 4th place at Brands Hatch last
time out and although I didn't feel totally comfortable out there. It was very, very different tracks, yeah. Normally I'd say the Indy but the GP this year actually I really enjoyed it and bizarrely enough it was raining when we went there and the car, the setup of the car happened to be just right so I was actually really enjoying that. Today obviously we're all in the same boat so we'll see how we go. [Music] Good momentum for Andy Toon in the championship and he lines up in this race in seventh position. The grid headed by Simon Clark from Chris Dyer, Peter Morris and Michael Price then Mark McAleer, class two pole man James Coleman, second in class 2 Kevin Molyneux from Angus Archer and Ross Morris. Class three,
before we get to class 3 it's worth giving a shout out to Jake McAleer who starts at the back of the class ones and twos. Class three poll to Ben McLoughlin from William Heslop, Simon Ruffell-Ward and Paul Blakesley, then Sam Beckett and Ollie Coles. 32 cars again expected to take to a very crowded grid but conditions a lot better as the lights go on. Out go the lights and off the line! Good start by all maybe Mike Price won't be too happy with his in the 7 car. He hasn't lost much ground, then side-by-side Simon Clark and Chris Dyer on the outside line, then Pete Morris has a look to the inside line and Michael Price by Andy Toon and I think Andy's got through there as the leaders in class 2, it is a good lead at the moment in class two for James Coleman. So they've all made a super start. In actual fact
James Coleman I think was passed by Kevin Molyneux, he had a very good start so Molyneux leading. We've had a change for the lead as they came around the hairpin, just trying to survey the field. There's confirmation of that change for the lead and it is Chris Dyer out front from Pete Morris who was side by side with Simon Clark whose down to third. James Caley there up ahead of Ross Morris here are the leaders now sorted themselves out Simon Clark looking to try and get second back and also defending from Michael Price who maybe wasn't as quick off the line as I thought he could have been but he's up in 4th place. So Price on a little bit of a charge, looks on the inside line of the championship leader, side by side. Cayman on the outside, 997 on the inside and
the Cayman gets the better run out of Hamilton Corner into Oggies so Simon Clark in third place. This race is very definitely on. Remember that Simon Clark championship leader and pole position for both races as you saw the class 2 battle going through and it is Kevin Molyneux leading class 2 at the moment, he's caught James Coleman. James Coleman the car just to the left of shot is second in class two. Those 2 with a brace of class 1 cars between themselves and the other podium battlers for class 2, which i think is entirely Boxter this weekend. Yes it is. James Caley side-by-side with Dell Brett. Del's on the wide line here. Tight line from James Caley, career best for him in race number 1 as you heard and then it's Ross Morris in behind so that means that Ross is holding third position in class two at the moment. Then it's Steve Freeman and Jake McAleer has
come through from the back of the field, has passed quite a few of his erstwhile classmates to head up towards the battlers a class one. Jake I think has now lost second position in the championship to Pete Morris. There was only seven points between the two of them. Morris in second place at the moment. Chris Dyer, who has only had one win so far this year, led the championship after Donington Park with a 6th and a 1st. That shows how
competative it's been and this is super isn't it because look at the lead six or seven cars, all pretty much still occupying the same amount of tarmac as we watch the 69 car of Mark Duncan. Mark running well and Wayne Minogue coming under pressure here on the inside line of Julian Morris, the Elite Motors car, has made good progress here actually. Julian qualified in 10th. Wayne Minogue 7th in class and then down behind them the 21, the Porsche Centre Wilmslow car of Sam Beckett. We saw Alistair Nelson driving that car in the opening round of the year. So not too far away as we go
back with the outright lead group. Still headed by Chris Dyer, looking for outright win of his career number two but has had a plethora of class two wins in his career where he took the overall championship a few seasons ago. Pete Morris is still in second. The field starts to get spread out the more standard class three cars of course. The the great thing about having such a big grid and the multi class structure is that wherever you're standing on track, you've got something to watch pretty much all the time after the first couple of laps.
We go in car with Sam Beckett. Qualified 5th in class behind Paul Blakesley and will be looking to get involved in that battle but the lead quintet, nothing to choose between those. Andy Toon not that far away either in 6th position, hoping to equal his 5th. That was his
second fifth position of the year having come from 4th as you heard at Brands Hatch. Had a fourth position rather at Brands Hatch earlier on in the season and at our last event as Michael Price continues to put the pressure on Simon Clark, championship leader. Meanwhile the Restoracing guys coming down into Brundle. Carl Hazleton enjoying his dice with Simon Ruffell-Ward in the Warsteiner livery. The Chester car
though holding the upper hand at the moment and then down behind them it's Scott Adams, the Welshman, who you could see round by round, Scott Adams and indeed many of the other drivers in Restoracing Championship gaining in confidence, gaining in ability as well as they get to grips with these cars and racing in general. It's not a full, full season for them. I guess it's a relatively limited run of races but superb to see these newcomers coming into the sport. Meanwhile of course we get to watch the seasoned pros at the front and look at this group disputing the lead. You've got to say that Chris Dyer is looking relatively comfortable at the moment. Pete Morris is still in second, Simon Clark third, Michael Price trying to work out if he can get further up, then Mark McAleer. Mark looking to
continue hiss climb up the order. Mark one of the drivers who will definitely benefit from the drop score scenario on other drivers and will drop his retirement and non start from Donington Park at the very start of the season. Mark as ever has shown his pace. The amount of different winners we've had this year, showing how very competitive this championship is. The organizers have got things just right. A full grid of cars here at Snetterton and there aren't too
many championships that could say that. So Wayne Minogue still coming under pressure from Julian Morris. Being chased there by Mike Thompson. There's a big puff of smoke from Thompson's car. Is that going to retire, Mike Thompson? It doesn't look like he's lost anything so I'm not sure what that was as Clark explores a wide line there. That was coming out of Coram. Michael Price trying to close in. Price will have Mark McAleer right behind him, but Pete
Morris is in second so it's Cayman, 997, Cayman and then a brace of 997's. Ben McLoughlin is still there from William Heslop. Those two 1 and 2 and not that much between them at the moment to be absolutely fair. William Heslop I know was delighted with that pole position. We heard the story that Ben, I think, intimating that it came down to tyres but Ben McLoughlin running so well in the Wolverhampton car which is second in the championship ahead of the Porsche Centre Cambridge machine will have consolidated that a little further this weekend as the Cardiff car now chases the Leeds car. Good battle on between those two, that's for eleventh position in the Restoracing class. The number six car still
going, so Mike Thompson still going. He hasn't lost that ground, not sure what that smoke was but still going as through the camera shot goes Ollie Coles who's looking to try and get the coca-cola car back on the podium Hazleton being chased by Mark McCulloch then Simon ruff Award as the race leader is now starting to get into a little bit of class three traffic and Pete Morris now passed by Michael Price and there was a little bit of contact there. Michael Price trying to deal with the Porsche Centre Glasgow car. They got very, very close indeed and that was at the Complex so Michael Price up into second. Chris Dyer is away and down the road at the moment so Chris Dyer looking very healthy in lead position. Mark McAleer will now get to renew his
rivalry with Peter Morris which will be good to see. This is the first and second in the Restoracing Championship and now did we see Simon Clark's car parked up there? Simon Clark I think is out of the race so up into second position now goes Michael Price. [Music] Ollie Coles, this is 3rd and 4th in the Restoracing class, Ollie Coles up ahead of Paul Blakesley and the man currently running second in class two, car number 47 is James Coleman. Toby Barlow leading class now so James Coleman down to second. Here comes Toby Barlow in the 48 car then the Rothman's livery of Steven Shore running in 13th place in class three and then 47 James Coleman which means that next up is in fact the number three car, Ross Morris third in class, Kevin Molyneux who was the pace setter in class two, the very early stages is running fourth position in class 2 and Jake McAleer. Things do not look
happy on the 44 car who is slowing up. Mark McCullogh going through ahead of him in class three and Jake McAleer becomes the second high-profile retirement of the race following Simon Clark into retirement so we've lost the championship leader, we've lost the man who coming into this event was second in the championship as well. This is the battle for the lead in class three. Ben McLaughlin still there up ahead of William Heslop. These two developing a rivalry. Remember the Ben McLoughlin's car has a fair amount of ballast due to
the extra experience that Ben has and Ben drove a super race in race number one but as I say does carry the extra ballast over the other runners to even things up. Little bit of flapping on the number two car of Peter Morris. I remind you it's Chris Dyer the race leader at the moment for Michael Price. Peter Morris in third from Mark McAleer then Andy Toon, there's Andy Baker, Julian Morris goes through with some rear end damage but still going is Julian. Michael Price about to try and put the position on him, looks on the inside line up into the Hairpin which is turn 2. Price hard on the brakes. Julian's seen him, goes wide, not ultra wide but plenty wide enough for theclass one car to come through then, great driving, goes to the outside of the next corner to allow Pete Morris and Mark McAleer through. So very well done indeed to Julian Morris who saw those guys. Lights on from McAleer. The McAleer / Morris battling we've seen many, many
years. Julian Morris going on to the grass which unsettles him a little bit. Look at the line there, the wider line into Agostini for Mark McAleer. Here is the 47 car then of James Coleman, then Scott Adams in the 55. The Welshman still making progress, just outside the top ten of the Restoracing Class at the moment as we watch Wayne Minogue coming down the straight up ahead of Sam Beckett and next up is our class two leader so that last shot the one and two in class 2, Toby Barlow up ahead of James Coleman, we could be heading for a maiden class championship win here for Toby Barlow as Chris Dyer continues to lead. There is
Ollie Coles running in third position in the Restoracing Class. It's a good return to form for the Porsche Centre Swindon car which is running well. Scott Adams about to, I think, be passed there by Del Brett. There again to the right-hand of your shot is Simon Clark, sadly parked up. I think on drop scores though still in a very healthy championship position as past Ollie Coles goes Michael Price here so only Mike's fourth race of the season and it's going to be a third podium if he carries on like this. Pete Morris is still being challenged hard by Mark McAleer. It's a
very close race between those three. McAleer a length or so, couple of lengths down at the moment on Pete Morris as they go on to the last lap. Both of those drivers have had plenty of wins here at Snetterton, Mark having won last year. Mark Sumpter
winning the other race but Mark McAleer has won here in 2006, 2007, 2013 and last year. Pete Morris winning here in 2008 and 2015, Both of whom have had plenty of fastest laps here. Simon Clark it's not the clock second last year we've got a fastest lap as well but all to no avail here as the battle between Wayne Minogue and Sam Beckett for seventh position carries on. Carl
Hazleton is in 9th behind them and at the moment Beckett's got the upper hand over Wayne Minogue. We go in car with Wayne, another newcomer to racing, shows how competitive class three is because Wayne in his previous outing was up on the podium. A good three-way fight between those three drivers as the battle for the lead comes down the straight here into the Brundel Nelson Complex. McLoughlin's got the lead but William Heslop in the Wolverhampton Center Pink Pig is putting big, big pressure on the championship leader here. What a race we've got in
class three! Through Bomb Hole, heading down towards Coram once again they go. That's a great battle and also now the battle here with Sam Beckett. Behind him Wayne Minogue coming under pressure from Carl Hazleton. Had a look down the inside
line in the Porsche Centre Chester machine and there behind them it's Toby Barlow, still leading in class two. Back to the podium battle in class one and overall Mark McAleer and Peter Morris both with their lights ablaze in case they encounter any more traffic. McAleer taking a nice, wide line there but it's Chris Dyer who is going to take a second career win, overall win, the former class two former overall champion is going to take another win here. What a drive it's been from Chris Dyer. The Yorkshireman is going to take the chequered flag. There it is. Dyer takes the win and he's about four seconds clear of Michael Price who bags another podium! Pete Morris third. Mar McAleer is fourth, Andy Toon will take fifth position. We look back. There is Andy in red and black, the number four car, then it's James
Cayley followed by the 39 car of Ollie Coles who's going to finish in third position in the Restoracing class but Toby Barlow's going to take a maiden win in class 2. We are onboard with the 21 car which is Sam Beckett running in seventh position in the class threes. Great shot into Agostini. This man here, James Coleman, is going to bag another podium. I's going to
be interesting to see how much further he's got up the championship table. He came into the event in eighth place as Tony Barlow wins class 2. A win for Barlow, second position will go to James Coleman, there he is there back of shot, the white green and black car. Third position in class is going to be between Kevin Molyneux and Ross Morris. There is Ross in the number three car and it's Kevin Molyneux that grabbed the podium on that occasion. Ross Morris in black and red just behind. The 22 car is Mark
McCullough, finishes in tenth place so a top ten in class three for Mark McCullough and now we've got a new leader in class three, William Heslop on the last lap is ahead of Ben McLoughlin. He's got the fastest lap as well, that was three laps ago but having a good go! Ben McLoughlin all over the back of him as they go into Coram. If there's a gap, which there is, but there's momentum around the outside line here from William Heslop in the Wolverhampton car so is it going to be the Porsche Centre Wolverhampton machine or the Bournemouth car that will take the win? Heslop I think is inch perfect as they come out of Murray's for the last time. McLoughlin's going to try and get the run along Senna Straight towards the flag. It's going to be a great close finish between these two but William Heslop will take the win ahead of Ben McLoughlin.
Superb racing once again in class 3. A great race between those two, proving the worth of that competition. [Music] So Chris Dyer taking the overall win from Michael Price and Pete Morris, Mark McAleer next up from Andy Toon and James Caley. Toby Barlow wins class 2. James Coleman next up, Kevin Molyneux third in class from Ross Morris. Fastest laps Chris
Dyer and Toby Barlow. William Heslop win and fastest lap in the Restoracing Class ahead of Ben McLoughlin, Ollie Coles, Paul Blakesey and Julian Morris. I got a good start managed to keep alongside Simon and just sort of trying out fox him at first corner. He out braked himself and went straight on and I managed to dive up the inside and looked across and in my mirrors I could see Pete behind me, I thought "oh well he's following me through". Kept hitting my markers, hitting my braking points
and yeah, just kept going. Not a great start, got mugged by a few places so I knew I had to get some back early because otherwise you get bogged down. I think I managed 2 at the hairpin and then it was a bit of a grind after that. Pete and I had a good battle. Very good reward for the team because at the end of the day they had two hours to take it apart, put it back together again, put new rads, sort the exhaust out, check it all through to get me back out on the grid so it's one for them really. Michael never makes it easy! The cars are well balanced and the same power outputs. He's hard to keep off. He's
getting as quick as I am now as you can see and he had me down the straight, clocking 130, he had the inside line, 2 bat markers in front, I wasn't going to risk it. I'll settle for third yeah. Really happy. Really, really, really happy! I think that's probably the understatement of the century. We did quite well yesterday. We tested yesterday in really similar conditions to this and we just played around with some damper settings and we found a sweet spot which we were really, really happy with yesterday and then just everything kind of all came together really. We're starting to get there now in fairness. We've had a few mechanical failures this weekend but apart from that it's been good. Obviously
the first one was wet and then it went to dry and so it was a tough drive the first one. The second one dry so, yes, it was great. I love it, I love it here yeah, yeah one of my favourites this one and Donington. I managed to pick off Paul in the Cambridge car early on and then it gave me a good run into the bend, then made an attempt for the second to last corner on the second-to-last lap and it just didn't quite pay off and then we come round and luckily there was enough time on the board to have another go. I knew where I was stronger than him and managed to stick with him close enough to get a good run onto the back straight and make the move stick, so I'm over the moon. First time on Snetterton 300. It's very fast and technical. I've raced on the, quite successfully, the 200 before so yeah the 300 is definitely a new challenge today and luckily it paid off with at P3. So
far the season hasn't been the best. We've had a few issues at all the rounds, some reliability issues so to finally break through and have a good weekend, two strong finishes, a podium, it's certainly a breath of fresh air to you know finally get that off our back. So how has the complexion of the championship changed? Simon Clark's lead down to 13 points over Pete Morris with Chris Dyer next up, Jake McAleer 4th from Andy Toon and then Mark McAleer completing the top six. Ross Morris leads by 68 points over Kevin Molyneux with Steve
Freeman third from Angus Archer and Matt Kyle-Henney in 5th, James Coleman from 8th up into 6th. The Restoracing Class headed by the Bournemouth Centre car of Ben McLoughlin from PC Wolves which is William Heslop, shared with Christian Short. That's all we've got time for today. Thanks very much for watching the Petro Canada Lubricants Porsche Club Championship with Pirelli and please rejoin us next time out at Oulton Park.
[Music]
2022-05-11 11:53
Show Video
Other news