Pangkalan Bun to Palangkaraya - The Journey across Central Kalimantan, Indonesia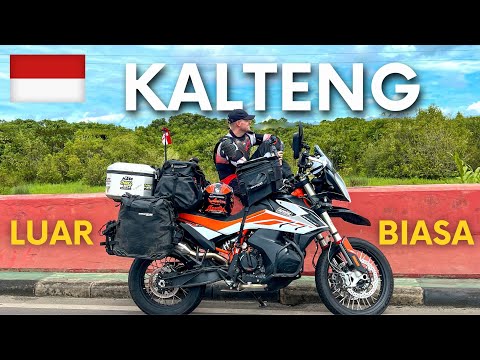 Show Video
and we're going to continue the journey towards South Kalimantan let's get to it and let's back on the road it's gonna be a good day! how many do you want bro? please take it thank you thank you Mister That is Kristian Hansen right? sand.. sand.. sand! my God Macan! you're doing such a good job this was actually gonna be.. the capital of Indonesia Tonight I am loving you I don't even know if it's polite to say that Good morning guys It is another beautiful day here in Pangkalan Bun in Central Kalimantan and this morning..
it's time to continue the journey! Macan is fully packed locked and loaded I am back in my office attire and today we're going to a city called Sampit so I've had an incredible stay here in Central Kalimantan at Grand Kecebung Hotel if some of you guys are the staff from Grand Kecebung Hotel thank you so much guys I've really really enjoyed staying here I hope to see you all again so guys let's get back on the road! and we're going to continue the journey towards South Kalimantan let's get to it and let's get back on the road wooah! it's actually only 30 degrees right now it's 10 past nine but I'm telling you it feels like it is 38-39 it is so hot! let's do it (Macan roaring) I've said it before and I'm gonna say it again the first few seconds back on the bike feeling the wind.. all is packed and you're ready for a new adventure it is THE BEST! so the GPS is saying 234 kilometers today and it's saying four and a half hours and we all know.. that is not correct so I think we're looking at at least six hours of riding today but I don't mind because I haven't been on the road for a while so I am ready! My god! Macan I missed you! I missed you so much! the eargasm Thank you so much Pangkalan Bun Kota Manis we have had a great stay here! Pangkalan Bun! you know I almost can't believe it! in just four more months I will have been on the road..
an entire year it is just crazy! I don't understand it and the last hour guys I have just been driving with palm oil plantations on both sides this area must be.. I see so many lorries as well it must be like a dedicated palm oil plantation area there's like palm oil everywhere! so much you know.. you hear so much about it before you come here "oh there's a lot of palm oil, so much palm oil in in Borneo" "it's so bad" but you don't understand it until you see it here with your own eyes at least for myself I didn't it's so much it's on such an crazy scale! but you know at the same time we also have to remember that it's creating jobs for a lot of people out here! so yeah.. basically guys before you hate too much on palm oil I want you to remember as well that..
the country is making a lot of money from it and it's creating a lot of jobs at the same time it's killing so much forest which is horrible.. you know but uh it's.. difficult just difficult you know it's not a proper day on the road without a little bit of off road otherwise Macan he just gets upset Right Macan? I don't feel any bumps at all even though I can see them in the road Macans suspension is handling it so well! such a good bike! My god Macan, you're doing such a good job! but just as I had complimented my KTM something happened for the very first time on my entire journey so guys..
I have been stopped here by the side of the road for one and a half hour now because this is the first time I'm trying something went wrong with the bike so I was driving out here on the highway right I still have around 80 kilometers to go to Sampit suddenly my clutch got very loose and just so you know, at Monkey World garage we have installed a small extra spare part that makes it easier for me to shift in and shift out and it seems that one of the bolts have gotten loose it was not a good good bolt I think so we couldn't get it really tight around the clutch so we couldn't yeah clutch and clutch out anyway.. these three guys and Naufal from Monkey Work Garage and uncle Hendra from Monkey Work Garage have been on the WhatsApp call together now for over an hour trying to figure it out so uh.. fingers crossed if this works they are in for a hefty tip! HEY it's working! it was simply one bolt that I got loose and the tools I have they were not strong enough to tighten the bolt so I need to get new tools they probably won't accept it but I'm giving these guys tips bro thank you no no no here I insist thank you thank you bro bro thank you very much you're welcome see you again God bless you yeah until we meet again and this is why I'm never afraid to travel alone in Indonesia because there are always good people out there ready to help a stranger in need and as the afternoon was setting we were on our way to our final destination for night and I was then suddenly waved off the road where I got to meet some very kind Central Kalimantan Dayak people hello guys hello who are you? we are from Penyang dayak yes central kalimantan dayaks ready! this is our Dayak tattoos thank you mister from Denmark okay nice to meet you okay thank you guys see you and take care thank you be careful on the road thank you very much see you guys and after a long day Macan and I then set course for Sampit where a most spectacular morning view was waiting for us Good day guys I've made it here to Sampit and I've checked into a decent hotel called Vivo Hotel I got the perfect parking for Macan outside and today I'm so tired you know if there's one thing that's really important on this trip based on my experience it is that you really have to listen to your body whenever it tells you it's tired so today I went down breakfast then went up again slept for another two hours and I can still feel you know, my body is still quite tired so now I'm eating a little bit of early lunch and then I couldn't really find any special places like here to visit in Sampit that I haven't already seen so 20 minutes from here there's an off-road track so I'm thinking to take Macan go out to the off-road track and just have a bit of a day off you know and and yeah practice some of my off-road skills so let's get to it ah! very small track see this oh nice oh a lot of sand oh a lot of sand! oh this feels so bloody good I'm telling you! sand sand sand! all right guys! proper good two hours out here on this dirt track I'll make sure to put the location down here so you guys know where it is in case you want to try it out there's a lot of good hills! Macan did great I'm tired I've run out of water so we better head back good job Macan! thumbs up for Macan it's hot! all right guys it is time to hit the road again I got a little bit late start today because..
yeah for some reason it just took me longer to pack and I've been talking a bit here with guys outside while I've been packing so today I'm going to Palangkaraya and we have 225km to get there around five and a half hours with stops so we got a long day ahead of us and it is a hot day today! so let's get to it! thank you so much guys! and this is the manager Mr. Fano thank you so much all the best yeah thank thank you so much Fano all the best Thank you see you guys take care yeah if you guys ever come to Sampit here this is without a doubt the place to stay here at Vivo Hotel Vivo Sampit okay until we meet again ya see you take care guys okay guys it's gonna be a good day it's gonna be a good day! currently the GPS is saying 4 hours and eight minutes but yeah.. with stops it's gonna be at least 5 but let's see it depends on what we find on the road today I almost killed a kitten! that was way too close! thank god So a thing I really have been enjoying driving here in Kalimantan is driving alongside these rivers in West Kalimantan I drove a lot of kilometers alongside the Kapuas river and you know one day when I buy a house for myself here in Indonesia I would really really love to buy a house next to a river you know where you have the view over the water or maybe even the sea you know with just the sound of the water and the animal life the birds around the water is just.. ah it's so calming I really enjoy it I mean look at this! and with nothing but long straight roads ahead of me I continued further east under the sun and here I found the bargain of the day all right guys! so I don't know if you guys can see it I'm gonna try and show you but I got so tired of running out of snacks so now I bought a whole lot of snacks and put them on the back can you believe it? like 2,5 kgs of bananas was only 15 000 rupiah this is crazy! that's like one dollar for 2,5 kgs of bananas and they taste great! and it looks kind of cool too okay let's go! but I however realized that it might not be the greatest idea to consume it all by myself which led me to an even better idea! bananas how many do you want? just two two? okay boss there you go 3 more 3 okay! okay little brother be careful yes be careful brother careful! you know I loved how the guy's first response was.. "I don't have money" no problem with this business because in this business the bananas are for free! but as I couldn't wait all day for people looking for free bananas and I had already ate nine myself I decided to venture on to see whom else I might meet down the road look what i found! a fellow tourer! hey bro! I was driving this way and Gian was riding that way and then we passed each other about 10 minutes ago and then I stopped here just because I needed some water and Gian had actually turned around and come all this way just to say hi so.. good guy very good guy! we passed each-other at the turn and I thought, that was Kristian Hansen! so guys Gian is actually the first person I've met with a proper touring setup you see he has the boxes, the side boxes, the top box and Yamaha R? R25 he's touring here from Palangkaraya to Sampit yeah? but he is actually from Padang hungry bro? you want a banana? already hello guys you want bananas? come one just take it want? yes you want it all? just one? only one? here you go thank you yes I am already full okay bro see you take care ya yes you too be careful on the road I think I just saw another albino that is the second I've seen here in Kalimantan wow yeah..
the problem is when you're albino then your skin.. hello guys then your skin is sensitive to the Sun so they get sunburned so fast you know I cannot imagine how difficult it must be to be an albino here I don't even know if it's polite to say that? Albino? but that's what it's called right? all right guys so I made it here to Palangkaraya the last few hours have been just non-stop rain so I had to put the cameras in the bag because some of them are not waterproof anyway I've made it here and I've checked in at a place called Neo by Aston it's a really really nice hotel you know the location is right in the city center take a look at this view! we are right in the middle that over there is like the Town Square they're currentlyr rebuilding and we have a mall just down here we have a cinema on the third floor so I think I'm gonna go to the cinema tonight and yeah we're close to like everything so it's perfect! and check the room it looks really nice you big bed and it's big and spacious even though the hotel is not super new it actually is really good condition oh I'm not wearing pants so the first thing I always do when I get to a new hotel is to take my riding pants off because they're so hot sorry you had to see that anyway! they even made this you know they prepared some fruit and check this out oh so nice! I will probably stay here for three four nights because I have some editing to do as well I want to explore the city a bit before I continue to Banjarmasin so yeah guys I'm gonna unpack maybe put on some pants and let's see what we can find here in Palangkaraya let's do it! good morning guys it is my first day here in Palangkaraya City and now I'm just having some breakfast here in the hotel restaurant and guys you know I'm generally not big on exploring big cities I prefer to be outside of the big cities but sometimes I have to stay here do some editing with some decent Wi-Fi and then I can continue but I thought today let's go out into Palangkaraya City have a look around maybe try some different foods because actually guys Palangkaraya is the capital of Central Kalimantan so we have to go and explore it a bit all right guys so I have made it here to one of probably the most iconic places in all of Palangkaraya because this right here behind me is actually the beginning of Palangkaraya It is the Tugo Soekarno monument and it was established in 1957 by Soekarno actually the very first President of Indonesia and as you can see there are 17 pillars and maybe.. I'm actually not going to tell you guys why there is exactly 17 but I can tell you this much it has something to do with the very beginning of Indonesia if you ever come to Palangkaraya this is definitely a must visit spot because it is the beginning of the capital of Central Kalimantan and did you know that when Soekarno first established or rebuilding Palangkaraya he wanted this city to be the new capital of Indonesia it never ended up happening and now.. the new capital is being built in East Kalimantan but yeah..
this was actually gonna be the capital of Indonesia and right behind the monument guys you can go out here there's a small spot where you can enjoy the view over.. Kahayan river I believe it's called all right guys back to Macan and let's see if we can find some lunch so now I've gone to a quite famous restaurant here in Palangkaraya called Kampung Lauk it looks really really nice it has a lot of good reviews on Google and yeah let's go in and try and see what kind of specialty food they serve us here in Palangkaraya hello guys welcome to Palangkaraya thank you and the good thing is I'm here on a Friday and it's around 11-12 o'clock so as you can see it is pretty much empty I have it to myself sometimes it's actually difficult for me to get some alone time when I'm outside because if there's a ton of people then half the time.. will be spent taking some selfies which I don't mind but sometimes you know it's also nice to be by yourself wow check this out! as some of you guys may know I don't eat a lot of fish but this place is famous for its fish so I've ordered some fish I've ordered some shrimps and let's see how it goes okay guys let's meet our table mates here Hi guys where are you from? hello Borneo what's your name? Selvie Eric This is Clara Clara and Amora Amora nice to meet you Single single so apparently there's a lot of bars and nightclubs here in Palangkaraya I didn't even know that yes see you tonight okay.. at Vino (nightclub) Vino? Tonight I am loving you ehm tonight you're loving me? yea okay..
uhm.. see you ya thank you so much.. so basically what I've gotten is I've gotten some fish some fish and shrimps and something called Sop Santan I ordered this because I've never tried it before it's kind of this Milky soup but made from coconut so this is what I'll try first it tastes a lot different than I thought I can't taste any coconut I can just taste there's corn in it and there is a ton of sugar in it all right gotta try something new today yeah and then let's try the shrimps this looks good though and look how massive they are the shrimps and that is really really good! let's try the fish but this is look at this massive plate this is white fish as you can see and it's been grilled no bones and it's really good besides the long waiting time..
and that the soup has probably half a kilo of sugar in it would say.. yeah I would recommend this place what? eventually my new table mates couldn't hold back their curiosity any longer so we spent the rest of the lunch together but if there's one thing we must never forget here in Indonesia it's coffee so I set out to find a famous spot I had found online now I've stopped here at a small coffee place in Palangkaraya called Toko Kopi Santai it reminds me a little bit of like a Jogjakarta.. or even Jakarta kind of Cafe very very chill so let me just quickly show you guys Inside So the plan is that tomorrow I'm gonna continue towards Banjarmasin because actually a lot of you have been commenting "Kris why are you in such a rush this time?" and I'm not in a rush to travel Kalimantan but as you can imagine the distance is in between the cities here in Kalimantan is just greater than it was in Sumatra in Sumatra you can drive 100 kilometers and you're to the next big town but here in Kalimantan it's like maybe 250 or 350 kilometers in between that's why I'm moving such great distances so now I'm sitting right here hello guys hello they went absolutely nuts when I came in here the first time so I'm just sitting here right now getting some iced latte and that's gonna be it guys thank you so much for watching this episode and stay tuned for the next one where I head to Banjarmasin as always massive shoutout to my Orang Baiks members as well I will see you guys in the next one aaaand.. until next time! bye guys
2023-02-13 12:17
Show Video
Other news