No Luck in Hat Yai Thailand / Dim Sum Paradise in Songkhla / Thai Food Tour in the Rain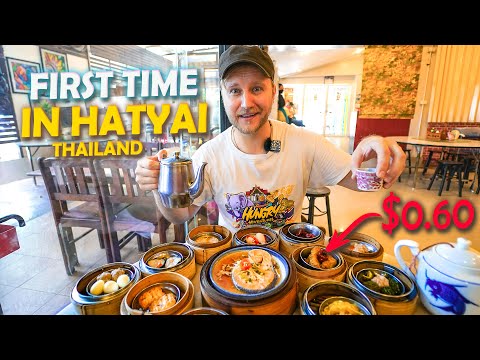 Show Video
ain't no sunshine when she's gone.. hey hey hey! welcome back to our hungry rainy adventures in Southern Thailand.. and welcome to Hat Yai.. to Songkhla province, which is so far away from Bangkok city..
so far away.. i can't even imagine how i'll be riding back to Bangkok on my motorbike.. it already hurts..
anyway, this is the last episode of this Southern Thailand tour.. a little bit later i will tell you why.. probably you already know the reason..
but anyway, Hat Yai is amazing place.. it is the largest town in Southern Thailand.. it is another food capital in Southern Thailand.. it is very popular with international travelers, but not with western tourists - not with American, not with European..
mostly with Malaysian, with Singaporean and with Chinese tourists.. because there is an international airport.. so it's easy for them to come back and in.. in and back.. but why.. why Thai people and these international travelers love Hat Yai so much?
in today's video we will try to find out the reasons.. the answer.. of course there is a beach, there are mountains, there is fantastic food.. Hat Yai has a very mixed culture.. it is a mix of Thai, Chinese and Malaysian cultures.. cultures and cuisines.. which is why food here is just brilliant..
i spent here seven or eight days and food here is really amazing.. but i don't want to make another food tour video.. Songkhla Thai food tour.. I am a bit bored of food videos.. i want to have some kind of adventure, i want to see the nature.. of course there will be the food part too..
otherwise you will never forgive me, because we are in Hat Yai, and food here is really amazing.. we got to try something.. of course we will be visiting local landmarks.. places that everybody knows, places that you recommended me.. and some other places that i personally find worth visiting.. so hopefully it will be interesting adventure.. but you'll have to watch it till the end to find out is it so or not...
so if you've got some time and empty space in your stomach, and you are ready to waste this precious time together with me.. while i'm running away from the rain.. as always.. then join me in this hungry adventure! with this hungry eating machine that never breaks.. let's go! oh.. let's go!
and let's begin this tour with the hotel while it's not dark yet.. 550 baht.. yeah for real.. 550 baht for this room.. uh-huh.. for 550 baht.. this kind of mattress .. this is so amazing, guys.. it's so comfortable..
it's amazing for real.. and check out these pillows.. i don't know how to show you how good pillows are.. they are so amazing.. and here is the charging port for your devices.. check it out..
previously i stayed in another hotel for seven days (for seven nights).. and people were allowed to smoke on balcony which is why all this smoke.. i have nothing against against smokers unless they bother me.. because people were smoking in the next room on the balcony.. and all this smell was entering my room through the windows and through the balcony door.. and they were very noisy..
which is why i decided to leave and found this place.. and i'm very happy with it.. here's the balcony and the view.. there is smart tv with Netflix with Youtube.. and they even have got international channels, can you believe that? MTV live, Fashion TV..
very important.. France 24, Al Jazeera.. no Fox News.. there is no kettle though in the room.. no kettle and no teacups..
however in the lobby there is a microwave, there is a water boiling machine.. and there is a coffee machine Nescafe, which you can use for free as many times as possible.. as many times as you want to.. until 3 p.m.. you can order cappuccino, americano, latte, mocha, hot chocolate.. which is quite amazing.. i can drink for a hundred Baht easily.. the hotel is located close to the main road..
however you don't hear this traffic noise.. there is a large parking area.. i should have stayed here from the beginning.. because earlier i stayed in another hotel and it wasn't that pleasant..
it was nice for the first two days, because the hotel is located close to the railway tracks.. so i was looking at the trains passing by, enjoying the mountain view.. however every morning it was like.. so after two days i lost this romantic feeling.. plus i got new neighbors who were smoking, drinking, giggling, screaming.. and if you got bad neighbors which bother you a lot - it doesn't really matter where you are staying at..
it's not going to be enjoyable.. anyway guys, it's already evening.. you see it's dark.. let's go outside maybe find some food, maybe cut my hair..
it's time to cut them.. still raining,, it's still raining, which means it's a delivery time..   guys i'll see you in the morning.. keep watching..
it's a new day but the story is the same.. two days ago i made an appointment in Hat Yai GPX shop to change oil and check if all systems are working properly.. because this is the first long trip of this motorbike.. we've made almost 2000 kilometers.. 1950 or something around that..
and i should have changed oil earlier.. but i haven't seen GPX shop in Trang and Phatthalung.. but there is a shop here in Songkhla, in HatYai.. and this is the combined shop - here is Ducati service, here is GPX service, here is a large shop of Royal... Royal Enfield.. anyway guys, we've got one hour which we can use to fill this stomach with delicious food..
i know there is a nice dim sum shop nearby.. one of the top dim sum restaurants in Hat Yai city.. so it's got to be really promising.. let's hope there will be not that many people, because it's Monday today.. let's take a walk..
it's 10.45 AM - wow, real breakfast! hello.. Should I put them on tray? Please take the tray and pick dim sum that you like, and once you've done - please bring it to the counter and out staff will cook it for you, and then will bring everything to your table once it is ready.. all right.. big hand.. intestines..
this looks very interesting.. please help.. thank you.. okay I am done..
okay now we need to wait for a few minutes.. they will steam all these dim sums and probably my salmon too.. and the shop looks really amazing.. like i told you Hat Yai has a mixed culture, so here we see a lot of Chinese influence.. i won't be surprised if grandparents of the owner of this restaurant are from China.. no smoking..
same is written in Chinese.. same is written in Malaysian.. at least i believe this is Malaysian.. we also have a drin kiosk.. is this a coffee maker? can cook an ancient coffee? I'd like to order ancient coffee as well..
hot or cold? cold.. but not sweet, please.. a cup of cold anicent coffee, slightly sweet.. wow amazing..
they got my favorite ancient coffee.. and this area is reserved for weekends.. we usually open it only on Saturday - Sunday.. because there are many more people on weekends, right? correct.. please feel free to look around.. and this hall.. this additional room is open only on weekends..
because on weekends there are many more customers.. many more people come here in Hat Yai.. Thai people love to come here on weekends, enjoying delicious foods.. and this is one of the best dim sum restaurants in the town.. and this is the wall with old Thai Chinese movies posters.. this is Thai.. this is Thai.. but this is Chinese..
sometimes visiting an old restaurant is even better than visiting a museum.. because they've got really unique artifacts, unique items.. so many amazing things from the past.. let me know if you've watched any of these movies.. or if you know any of these movies.. and this is the Great Wall..
i went there once when i lived in China.. i spent 13 months in China.. i used to walk here.. it was so burning, so hot.. and so many people! let's go check the food! they brought me Thai milk tea.. this is Thai tea, right? Mickey Mickey..
and this is what i call breakfast for one person.. what is this thing? pork ribs or not? it's definitely pork ribs in sweet spicy sauce.. yeah.. delicious.. and this one looks really interesting.. because here we've got a part of chili pepper.. and these are chicken feet.. chicken toes..
delicious but you always have to handle the bones carefully.. wow decent steak, tender meat.. very well cooked..   thank you very much..
i feel very full.. barely can walk.. I've ordered so many dim sum because i felt so hungry.. but it was worth it.. one dim sum cost only 20 baht.. and i have eaten 11... oh okay no more food today, guys..
we got to spend a really active day, since it's not raining.. i've checked the weather forecast.. there will be a thunderstorm around 3 p.m, but only for one hour.. so it's got to be a good day..
i wanted to show you a waterfall.. here is another kind of waterfall for you..   this is the water and it's falling.. my first time it Hat Yai.. first time in Songkhla..
something tells me i will never forget this trip... what are you doing! here or there? cannot go? i am not afraid.. there is a storm.. really? because of the strong wind? strong wind, yes..
but i am not scared.. it's dangerous! dangerous? really? ah.. trees are falling? there are fallen trees? yes, it's dangerous.. bye bye.. yeah guys, there are so many branches on the ground..
and the ranger said that you can't enter today and tomorrow.. because it's too dangerous.. too many trees, too many branches falling down..
no waterfall.. but there is such a stunning waterfall.. seven levels waterfall.. it is one of the major reasons why i decided to stay in HatYai longer.. because i wanted to see this waterfall.. it's really good.. some people say it is the best waterfall in Southern Thailand.
all right seems it's gonna be a food video again.. i went back to Hat Yai town.. because the weather is really ruining the feeling.. this first impression..
because all of you guys have recommended me to visit Songkhla, old town and Hat Yai.. but because of the weather, because of these gloomy colors.. gray dark sky, strong wind, and of course the rain.. so i can not show you the beauty and i can't feel the beauty of this place.. i cannot fly, i cannot walk with my camera.. because obviously i'm not filming with GoPro..
and if i will be walking around - then it will be the last video i did with this camera.. which is why i went back to the town.. i found a barber shop called DJ barber.. not far from my hotel.. so we'll be trying to fix this haircut..
it's been a while since my last visit to a barbershop.. and tomorrow i'm going to check out of this hotel.. and move to Songkhla old town and stay there for one night..
to walk around.. maybe they've got sidewalks there.. maybe we can take a walk around... we will try to save this video tomorrow.. maybe there is a chance..   to enjoy on the beach, to eat ice cream..  to see the mermaid statue and etc..   we got to try.. since it is the last video..
but honestly i'm just melting down because of.. i know.. don't expect anything and you never will be disappointed.. but i expected things here.. and i don't want to make silly videos..  just walk around or talking about some nonsense.. we.. this channel has reached almost 200 000 subscribers.. i simply cannot make such videos anymore..
i already have developed the style.. so i want to continue creating the same style of videos and better.. i understand, every time i am saying "are you ready to waste your time or not".. but every time i'm trying to provide really high quality content.. at least in my system of goals and values..
every time i'm trying to surprise you.. to show that i can do better and better.. but not with these weather conditions.. feel tired.. and also another thing..
sorry, it's my confession again.. again i'm talking too much.. you got to wear a mask all the time.. and with this humidity.. with lots of water in the air.. with all this moisture..  you're simply suffocating and it's killing me..   i just can't wait for the moment when this safety measure will be canceled finally.. almost everybody in the world has realized that  all of this was useless.. those lockdowns, all of these restrictions has crushed the economy, has destroyed so many businesses and lives...
a mental health too.. hello hello.. so i just hope.. there is a hope that in the middle of June - it won't be necessary to wear a masks outdoors..
except when we enter some shopping malls or places with crowds, places with many people.. maybe we won't need to wear them on the streets, so that we can smile again to each other.. how to smile? hello! okay let's go trim some hair..
very lucky.. very lucky that i'm back to the city.. and it is just 4 minutes drive from the hotel.. thunderstorm.. you see? humidity and you're sweating.. I've come to HatYai to film a travel video, but everything is wet all the time..
yes, it's raining a lot now.. can make it higher.. a razor.. a razor time.. 100 baht.. and a massive pimple on my head.. yeah not everything must be perfect.. even Mona Lisa has got cracks.. at least one crack..
this is a golden rule in my life.. you can enter any barbershop where the boss is a guy, and you can get an amazing haircut for just three dollars US.. and this one costs only 100 baht..
pretty decent.. of course in other places of Thailand you can get a haircut for 200 baht, for 500 baht, even for 1 000 baht.. especially in Bangkok.. in shopping malls.. however why do you need to pay more, if you can get the same thing for a bit cheaper price.. for much cheaper price.. for much lower price..
and there is no food around.. let me check, let me check.. no, no food around.. so perhaps i'll see you in the morning again.. because i cannot control the weather.. what can i do!
i spent two nights in a hotel waiting for the weather to get better.. and it's not raining now.. so we are back to the same national park..
and i'm ready to go into the jungles to feed mosquitoes and explore this massive seven levels waterfall.. and indeed there is a seven levels waterfall in the national park.. which looks quite stunning from the pictures.. locals love coming here during the day to chill in the cold water of its first level.. but what i didn't know is that ascending the top of the waterfall (its seventh level) would take at least four hours.. but unfortunately i've come too late this day..
and at first i really thought to come back in the morning the next day.. but after i left the park i realized i just don't want to ride another 70 kilometers for the third time.. just to see some water..
maybe the Universe was giving me a sign.. well, we will never know! welcome to Samila beach.. probably the major landmark of the entire province.. province of Songkhla..
it is located in about 30 minutes drive from Hat Yai city.. actually this is Songkhla city.. a bit different place.. even though it is the same province the atmosphere here is absolutely different.. the sky is blue.. you feel yourself more chill.. it's more green.. there are so many trees, so much greenery here..
wow, maybe i should have come to Songkhla town from the beginning.. and there is a huge beach.. with many statues on it..
for example this one - a statue of a cat and a rat.. and i've heard the story.. a legend .. let me know is it true or not..
accordingly to this story - a cat, a rat and a dog tried to escape Songkhla by the sea.. cat and rat have drowned in the water and have become two islands.. which now have names - cat island and rat island..
while the dog has survived, but somehow it was transformed into a hill which is also located here in Songkhla province.. let me know if you heard the story or if you heard other stories... also there is a statue of a man reading a book.. there is a statue of a mermaid which also has its own legend.. let's take a walk and find this statue..
and i will tell you the legend.. and this is the mermaid statue.. probably the major and the most popular statue here.. i saw people touching all parts of her body, but i'm not gonna do it.. at this time..
and what's the legend behind this statue? well, in Thai folklore.. a long time ago there was a meremaid sitting here on the beach, brushing her hair.. and then there was a fisherman approaching this place.. she was frightened, so she jumped back in the water but forgot her golden comb.. however the fisherman fell in love with her, he found this comb..
and then every day he was coming to this place and waiting for her to come back.. but she never made it.. ah cruel love! ah this beach is really fantastic.. i've noticed there are so many cowboys, so many horses..
and just look at the size of this beach.. such a massive stripe of sand.. here is the water.. and this is the length of this beach.. really fantastic.. wow Songkhla.. completely different atmosphere..
really i've got some kind of holiday mood here.. amazing.. the sun is going down.. i think we got to find a peanut butter..
not peanut butter.. ice cream with peanuts.. highly recommended many on this beach.. and then we got to try to find a place where we can enjoy sunset or at least fantastic views..
here is the airplane saying that this is a no-flight zone for me.. can add anything.. but i don't want bread, please.. diet.. ice cream diet.. and what is this? oh i don't know..
and this one? I also don't know.. how much is it? coconut ice cream in a coconut shell with peanuts and some extra toppings.. it's always amazing.. what i love about this beach.. half of it is just sand..
beautiful sand, there is no trash, no garbage at all.. but nobody is getting tan obviously.. so another half of the beach is covered with this massive trees which give so much shadow..
so even when the sunlight is so harsh in the day time, you can come here and enjoy.. and there are really many different sitting areas, benches and etc.. no tables though, but it's not an issue.. hey cowboy! are you ready for another hike? are you ready for another climb, huh? the last place of interest in our today's tour..
probably not a must-visit place but the views from the top are really spectacular.. it's probably 40-50 minutes drive from Hat Yai city.. let's go! all right guys, this is the end of the episode.. it's probably gonna be the longest episode ever.. i'm sorry about that.. so there is no reason to hit the like button..
anyway most of you never hit the like button.. yeah i've noticed.. even though i'm asking you about it.. even though it worth nothing to hit the like button.. 95% don't do it, so i'm not going to ask you to hit the like button or subscribe to this channel, or turn the notifications on.. especially after so many of you have missed the Phatthalung video.. video that probably one of the best videos i've ever done.. one of the best videos on this channel..
which took 2 days to film and about 5 days to edit.. to edit, add subtitles, to do rendering, to change some things.. so it was a week of my life in a 30-minutes episode.. the previous one from Phatthalung.. but i've noticed that the more effort, the more energy i put in the videos - the less engagement, the less views the video gets.. sometimes i might film a video in a half of a day, edit it the next day, upload and this video reaches 100.000 views easily..
but the video i worked on for seven days, sitting in a hotel with laptop from morning till midnight - doesn't get much attention... so i will be changing the content, i will be changing the style.. because i've noticed that such complicated videos don't fit everyone.. you guys want just some fun, some entertainment.. just to take your minds off from your busy days..
so i will be switching the style.. there are other news in Thailand.. starting from June there is a new law.. so accordingly to this law - you need to ask permission of any person you are filming.. and even though everytime time i'm asking is it okay if i make a video or not..
it's simply impossible to ask consent of every person that enters your camera frame.. which is why i simply believe it is the end of era of youtube in Thailand.. youtubers and vloggers in Thailand.. with these restrictions.. and the definition of this new law is very vague..
you can't really understand what you can do and what you cannot do.. surely there will be fines for someone.. but peronally i don't want to get in troubles because of promoting traveling in Thailand.. for filming entertaining and positive videos about Thailand..
so yeah there will be something different.. probably there will be no more market videos.. there will be less food videos..
there will be more nature.. probably more hikes, more climbings, more national parks.. more videos we sound, more videos with music, more videos with atmosphere..
enjoyable for those who is watching these episodes on TV.. okay this is it.. i promised you to tell you the reasons why this is the last episode..
well, the weather is one thing.. i'm spending days in hotels waiting for the weather to get better.. and i understand if i'd have friends here.. if i could've hang out with people i know.. but no, you're far away from everything you know.. no friends, no women, no places you know..
and if I am not enjoying what I am doing..  then probably you are not enjoying it too..   ah okay.. i'll see you somewhere else.. somewhere.. bye bye..
2022-06-13 01:28
Show Video
Other news