Night Walk In Daolin Ancient Town, The Old Iron Soul Place In Hunan, China | 道林古镇 | 宁乡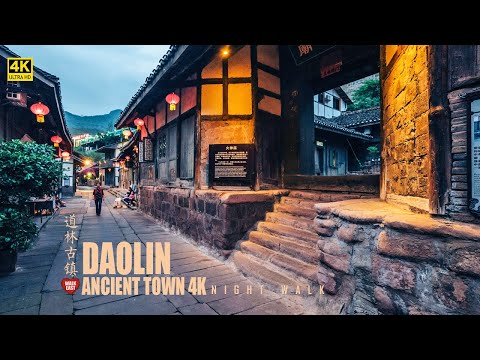 Show Video
Daolin town is an ancient town with a history of more than 1100 years. It is an important town for merchants in ancient times. It has rich resources and profound historical and cultural heritage. It is known as "little Nanjing". Located in the southeast of Ningxiang City, Hunan Province, Jinjiang River, a tributary of the lower reaches of the Xiangjiang River, passes through the town. It is surrounded by lush vegetation and green belts. Qilin mountain and Shizishan mountain are separated on both sides.
The landscape is natural and unique. When Du Fu, the poet of Tang Dynasty, lived in Changsha, he left behind such famous lines as "the southern foot of Yuquan is very different, and there are many mountains and valleys in the forest.". Daolin came from the ancient state of Dao in the spring and Autumn period, and got its name from "the forest of Taoists". In ancient times, water transportation was prosperous in Daolin. There was a prosperous scene of sails, merchants, shops and crowds. In history, Daolin was known as "an important town for merchants" and "little Nanjing". When Dufu, the poet of Tang Dynasty, lived in Changsha, he left a famous saying of "the south foot of Yuquan, the forest and gully of Daolin and the valley of the road" in ancient times. It is said that Xie Ying, a scholar in the Song Dynasty, was dissatisfied with Qin Hui's power and did not try to read it.
He named Daolin after Lin Baodao. He died here, so he was named Daolin. The name of Daolin has been passed on for thousands of years. According to Tongzhi's Ningxiang County annals, Xie Ying, a scholar of the Song Dynasty, lived here in seclusion. When he died, he was buried. He was named Daolin because he held the road in his arms. The "Millennium iron soul of Hunan people" scenic spot in Daolin Ancient Town opened on September 28, 2021 and a molten iron firework show will be performed by over 200 farmers every night after 5-year creation. Daolin ancient town is closely surrounded by " Homesickness 、 Ancient rhyme 、 through 、 Amorous feelings " Four key words , With " The country's first real-life experience through the ancient town of tourism and leisure resort " The theme of , Focus on restoring local memory , Show great nostalgia , Deduce the most prosperous Xiaoxiang story scene .
Daolin ancient town film and television base , It is said that there are already film and television dramas shooting here , While the scenery is picturesque , People can still see the century old old old street hotels , The old attic in the years of the Republic of China , And the old shops and posters in the early days of the founding of the people's Republic of China . Datiehua, meaning creating "fireworks" by sparks from molten iron, is an ancient folk stunt. It originated from the Song Dynasty, flourished in the Ming and Qing Dynasties with a history of one thousand years. In the show, the temperature of molten iron reaches 1600-1700 degrees centigrade. When performers hurl molten iron, it explodes in a shower of gorgeous sparks in the air, shining like stars. Daolin Ancient Town Scenic Area has created a performance cluster, which showcases the Chinese iron smelting culture of 3,000 years and the local traditional culture through a variety of theater forms such as night immersive drama, stage drama, indoor micro drama, outdoor parade, water performance and so on.
The theme play, Millennium iron soul of Hunan people, is a nationally renowned intangible cultural heritage performance of "Datiehua", whose creation took five years, and is directed and performed by local farmers. The performance vividly expresses passionate life, good hopes, the declaration of victory and the cry of Hunan people by dialogues across time and space and passionate Datiehua. In addition, there are colorful performances during the daytime.
Station Platform, Station Hall, Chen Family's Traditions and other plays have connected plots with the Millennium iron soul of Hunan people, which perform patriotism, pioneering spirit and pragmatism of Hunan people through characters. At the same time, various irregular performances will be staged, such as martial arts performance, wedding custom parade, Flower Drum Opera, etc. Daolin Ancient Town Scenic Area is only a 30-minute drive from Changsha city, 40 kilometers away from Orange Isle. After the opening, it will inject new vitality into cultural tourism and further enrich the cultural tourism products of Ningxiang. In recent years, Ningxiang has promoted all-for-one tourism and improved cultural tourism integration by excavating connotations of red culture, traditional culture, rural culture and ecological culture, and made every effort to create a demonstration area of cultural tourism integration, boosting development of cultural tourism. It has been awarded the honors of "China's Most Competitive Tourism City", "China's Most Attractive Cultural Tourism City", "2018 Hot Tourism Destination", "National Beautiful Rural Tourism Destination", "China's Best All-for-one Tourism and Leisure Destination", "2020 National Top 100 Tourism Counties" and so on.
2022-04-27 21:54
Show Video
Other news