NEW! 4 Days in TAIPEI, TAIWAN - Asia's Best Kept Secret? Travel Vlog & Guide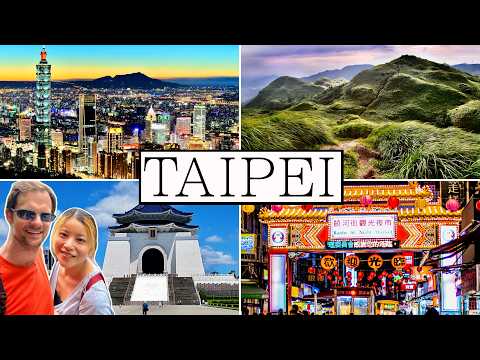 Show Video
This is Taipei. A somewhat overlooked city,   that I can almost guarantee,  is not what you might expect. Invited by their own tourism board, we  were shown Taipei through the eyes of   locals and tour guides as well as our  own time so can now present to you,   what we found, to be one  of Asias best kept secrets. Mixed with an apparent influence  of Japanese style and culture,   a Chinese tone with food  and vibrant night markets,   the island of Taiwan has very much formed  its own progressive, all welcoming, identity.
So in this video, we'll show you just the tip  of Teipei with nature trails, mountainous hot   springs, lookout city views, bustling shopping  districts, a stack of food recommendations,   a selection of stylish hotels, and what has  since become, our new favourite skyscraper. If you're new here then welcome,  we make travel movies and guides   from around the world, hoping you might  just find your next holiday inspiration. This is Suitcase Monkey  spending 4 full days in Taipei.
Our journey begins with a direct flight  from London Heathrow. Despite its name,   China Airlines is actually a Taiwanese  company and the international airport   is an hour from the city, either by  taxi or single direct metro line. Our first full day began with a walk around  3 must visit areas to the west of the   city centre - Ximending, the hip, sub cultural  hotspot, the Datong District, the historic heart   of Taipei and Zhongzheng with its grand National  buildings, and remnants of the old city walls. Of the 4 remaining, this Northern Gate is by  far the most popular. In addition to it being  
the only gate in its original form, it's also  really close to the worlds largest Pizza Hut. Although the 5 kms of wall connecting  these gates were complete in 1884,   it was the 1850s where this area of Taipei  really became a significant trader of tea,   sugar and rice. Today, you'll still find the  clearest echos of this past in Dadaocheng,   and specifically along Dihua, officially  the oldest street in the city. It's a   great place to window shop, and see how both  old and new can blend together so perfectly… One thing we were continuously surprised  about in Taipei was their obvious love for   public reading and throughout the city,  we'd frequently stumble upon the quiet   combination of book hunting, reading  and coffee. If this is your thing,   Kuo's Astral Bookshop on Dihua  Street is as good place to stop by. It's also worth noting at this point, that if  you're using this video as a suggested travel   itinerary I've also created a free written  version of all the places featured in this   video and some that we just don't have time for.  Restaurants such as this one but also shops,  
hotels and other notable attractions, so if you  want a complete list with clickable locations,   scan this QR code now or visit the link in the  videos description or pinned comment below. So With our stomachs full, we next  headed over to the iconic Liberty Square,   an impressive open space that serves significant  public gatherings and presidential ceremonies. Although not immediately obvious, these  red pillared buildings are actually Taiwans   National Concert Hall and National Theatre.  But it's the memorial to Chiang Kai-shek,   president of Taiwan for 25  years, that takes centre stage. Every day, 10 minutes before the hour,  you'll have a chance to catch the changing   of the guards, which I'd recommend  if you're able to time it right. For the late afternoon and early evening,  there are 2 must stop areas I'd heavily   suggest on this side of town. The first is  Ximending, a buzzing, trendy, hipster area  
that we enjoyed so much, we came back later  in the evening, when it really comes alive. Ximending was the first pedestrian zoned area  in Taipei and remains the largest to this day.   Amusement arcades, shopping malls, retro  clothing, and a walk way literally called   Tattoo Street. It's impossible not  to find something of interest here. For us, we really loved the Red House.  Now an independent boutique hub,  
it started life as the city's first public  market. Built during the Japanese colonial   period it remains one of the best preserved  buildings from its time. The stores inside   are also frequently rotated so even  the locals aren't sure what to expect. A relatively new tourist attraction, just  outside, is Rainbow Road. Ximending has long   been considered the centre of LGBTQ+ in Taipei but  it was 2019 when Taiwan became the first country   in Asia to legalise same sex marriage, hence the  addition of this road. The most famous collection  
of LGBTQ+ bars are all along Lane 10, just next  to the Red House where everyone is welcome. Also vying for Taipeis coolest neighbourhood  is Zhongshan, just 2 stops along the metro. Whilst the main road is full of big  commercial brands, during the weekend,   you'll find 500 meters of independent  stalls, selling clothes, jewellery,   handicrafts. But it's these easily obscured  alleyways that really give the most character. For our evening meal, we visited one  of the most popular restaurants in   the area. Although these dumplings or  Xiao Long Bao, originated in China,   it was this restaurant in Taipei that  made them globally famous and they take   that history seriously. This team are folding  each one a precise 18 times, giving the perfect  
texture. After all their work, there's also a  helpful info card on how best to enjoy them,   although looking at this, any British viewers,  will immediately think they've missed a parcel. After a busy first day, we relaxed back at  the hotel to rest our legs. And that's because   tomorrow we'd be heading into the nearby  countryside that circles the entire city.
The Taipei Grand trail is a  purpose built 92km hiking path,   showcasing some of the cities most scenic  landscapes… Split into 8 different sections,   this relatively accessible route  connects to train lines and cable   cars, and over the next 2 days, we'd  sample areas around Sections 3 and 7… The Chih Nan Temple is a Taoist temple built  in 1882. Historically it was famous for its   1000 steps you'd have to climb in order to  reach. Although the cable car has since made   it more accessible to visitors, those hiking the  Grand Trail can still visit as it was intended,   which, despite the extra effort, makes  the destination all the more rewarding… One thing to always keep a look out for during  any temple visit are these moon blocks. These   divination tools originated in China and allow  you to ask any yes/no question, with the answer   determined by how they both land. And yes, for  anyone wondering, I've since sold, all my Bitcoin. Our third and final stop on the cable car circuit  took us to its highest point of Maokong Station.  
There's a nice stretch of road here with various  cafes and restaurants looking out over the scene   below. Price wise, we generally found Taipei to  be between reasonable and low cost. Most 2 or 3   course lunches or dinners would total around $10  to $12 US dollars per person, and that was going   to popular or nice restaurants. For example,  later in the evening, we visited Livingreen,   once a former police station from the 60s, it's  now been repurposed into a well presented casual   diner, where every dish absolutely hit the  spot. Hot tea was served in this pot with an  
egg timer and cold tea, in this wine glass,  which somehow added to the overall flavour. But, we are getting ahead of ourselves here. We   still have one last stop in the  mountains, and that was Beitou… Less than an hour from our hotel, Beitou is the  geothermal capital of Taiwan, and either makes   for the perfect half day trip or a single nights  stay in one of its cozy hot spring hotels. Whilst   knowledge of the area goes back as far back as  the Taiwanese indigenous peoples, using Beitou as   a place to relax came to life during the Japanese  occupation. With their own experience of onsens,   they quickly realised Beitou's potential healing  benefits and by 1916, built this train station   to make the escape from the city all the more  comfortable. The original space has now been   repurposed into this tiny museum that puts  its own history into context really well .
Something that has to be on everyone's  Taipei bucket list, is a visit to any   one of its 30 plus Night Markets. And we  were able to visit 2 of its most popular;   Shilin, and Raohe. At either of these, you'll be  able to sample a wide selection of small bites,   usually around $1 to $2 US dollars  per serving. It's fun, noisy and busy,  
but you can't get a much better deal  for delicious Taiwanese street food. Some personal food favourites include this  hot dog where the bun was actually sticky   rice instead of bread, this spring roll with 3  scoops of ice cream inside along with a double   dose of peanut shavings, these sweet potato  balls which had an almost churros feel to them,   these light, crispy egg pancakes which  were delicious and why not finish with   some deep fried milk ice cream for good measure. Out of the 2 night markets we visited,  we probably enjoyed Raohe the most. It   was slightly smaller than Shilin, but  had two lanes of traffic which made   it a little easier to navigate. But overall,  we largely got a similar vibe at each,  
so if you only had one opportunity to visit,  there isn't a wrong choice with either. So with that, our time in  Taipei was almost complete,   but we still have one giant attraction,  one that we haven't even touched upon… No matter where we were throughout Taipei, this  striking structure frequently sat prominent   on the horizon. And for our last day, we'd  finally get the chance to see it up close,   where it legitimately became  my new favourite skyscraper. The area is Xinyi. The modern, highest reaching  district, we came away from here wanting another  
day. With the highest density of shopping  malls in the world, along with a bunch of   cool cafes that are right up our street, we  felt like we barely scratched the surface. We did however, have plenty of time to  sink our teeth into Taipei 101 itself,   a building that certainly doesn't  disappoint on arrival and somewhere I'd   definitely recommend a visit. Its unique design  is based on a continuously growing bamboo stem,   making it the first skyscraper to have a  traditional Asian aesthetic. Opened in 2004,   its lift zooms you up at 1000 meters a minute.  So, after just 37 seconds we reached the 89th   floor and, were met with the new perspective  of what it looks like to be inside a cloud… To be fair though, you may have noticed  that it's been raining a fair amount on   this trip and that's because we were caught  by a Typhoon that was heading our way. So all  
things considered, we were actually pretty  happy with what we eventually got to see. There's a bunch of fun photo opportunities  to be had and plenty of space to walk around,   but one unexpected highlight was this. What  you're looking at is a 660 ton damper ball   suspended from the 92nd floor, and is the only  one in the world open to the general public. If, like me, you're wondering what it  exactly does, then check out this 2015   video. On the outside, a typhoon was causing  the building to sway 2 meters and this is what   was happening on the inside. Ultimately,  this swing counter balances any forces   received by up to 40%. Although as much as I  was amazed by this impressive engineering feat,  
nothing quite compared to my total wonder of  this persons ability to continue posing for   a photo, even during a 6.3 magnitude  earthquake. Now that is dedication. To go full circle, there are numerous  viewing platforms to catch a sunset   or even night time view of Taipei  101. Depending on how far you go,   this city hike can take anywhere between 20 or  30 minutes and beyond. Just be prepared though,  
there are a lot of steps, but  the reward is certainly worth it. For those wanting a slightly more comfortable  viewing platform, I can also recommend the last   hotel we stayed at. To round off this video,  I'll be going through a quick fire travel guide   with things that might help anyone thinking  of visiting Taipei. I'll cover the hotels we  
stayed at, some notes on safety, and how best  to get around the city with public transport. So, to let you in a bit behind the scenes, despite  this videos title, we were actually in Taipei for   6 nights. But the first 2 simply just arriving  and then getting over jet lag. So we actually   stayed in 3 different hotels around the city for a  couple of nights in each and again for everything   I'm about to talk, and everything featured so  far, I've also made a written PDF version with   clickable links and further info, which should be  really helpful if you're planning a visit here. So our first stay was this really cool,  apartment hotel. It came with a stylish  
homely vibe, a bright open space, kitted out in  furnishings from Taiwanese designers in a chilled   neighbourhood. The location was excellent, 3  blocks from both the trendy Zhongshan as well   as the historic Dadaocheng, and minutes from  another famous night market called Ningxia. The second hotel had a relaxed social vibe to it,  with lots of communal space and a bunch of cool   detail, such as this welcome pack. Amongst other  things, you get these jigsaw pieces that you can  
write your own message on and share it to the  community walls so it just felt really friendly   atmosphere. The room itself was clean and quiet,  the beds comfy and with a really good shower.   Location wise, this one was a couple of blocks  from The Ximending area, so Rainbow Road, The Red   House and the entire pedestrian shopping area was  5 only minutes away, but without any of the noise. Our last stay had the impressive views of Taipei  101. This boutique hotel had so many cherries on  
its cake. Our room had its own wifi router, the  bed was massively comfortable, they offered a   free shuttle to Taipei 101, and their sockets also  included the 3 pin plug which as I'm sure we can   all agree, is the worlds greatest power supply.  For its location, the building was literally   connected to the metro station and also just a  couple of minutes from the Raohe Night Market. In terms of getting around the city, the  public transport network is really efficient,   clean and affordable. You can either pay as you go  by getting these single use chips from the kiosks,  
with most journeys being 20 or 25  TWD. These are a good option if you   only plan on making a small number  of journeys during your time here. Otherwise, the most convenient way around  the city, is with the Easy Card which   you can get by speaking with staff at the  station desks. These are also super cheap   with the cards themselves being 100 TWD  and again 20/25 TWD per journey. You can  
pre purchase these cards and collect at the  airport which I've linked below in that PDF. Buses are equally efficient and clean  to use with prices even lower at 15   TWD per journey. You can pay in  cash, but no change is given so   again the Easy Card would be an easier  solution if you dont have the coins. Just a quick note on safety as it's  something really positive to share:   We found Taipei to be one of the safest  capital cities we've ever been to. Aside  
from just a chilled vibe amongst the general  population, we'd often see things like this   iPhone sitting on its own in a busy shop.  Or these TVs just sat there with no fuss.   The people were all really friendly and warm,  giving genuine service, and when we were on our   own we didn't have any language barriers so  the city is accessible from that side also. We flew direct with China Airlines which is  the only non stop flight from London Heathrow,   and also has some same day connections to  other Oceania countries beyond. We flew   out in economy on an overnight flight and  back in premium economy in the morning. Due  
to the distance the economy seats were  larger than the average seats you'd get   and even as a 6 foot 3 man, I did feel  the difference. For the return flight,   since we weren't sleeping for half of it,  the further extra space was really noticeable   and appreciated and the seats themselves  almost as comfy as our living room couch. These videos take a long time to put together so  please, if you've enjoyed joining us on this trip,   please give it a like, subscribe and share with  your friends who you think will also enjoy this   fantastic city. Let me know if you have any  questions or comments, I do read them all,  
even if I can't always respond. So as ever, until  the next one, thanks for watching Suitcase Monkey.
2023-11-08 04:13
Show Video
Other news