NEW! 10 Days in Canada Vlog - Banff, Lake Louise, Jasper | Full Itinerary & Guide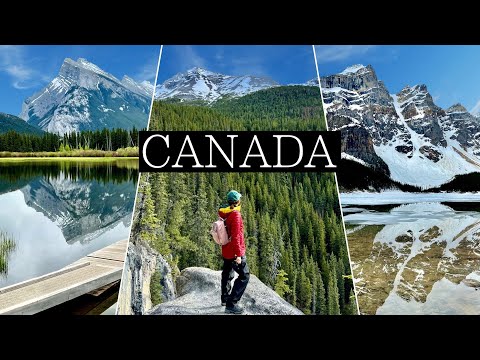 Show Video
Running along the spine of the Canadian Rocky  Mountains, just 2 roads, spanning 300km, guided us   through 12 days of the most awe inspiring nature,  we've ever see. Situated in Western Canada,   in the province of Alberta, our accommodation,  spread our trip into 3 easy chapters. Banff, the commercial centre of Canadas  first National Park. Lake Louise,  
a stunning glacial lake that despite its fame,  still meets the hype. And finally, Jasper,   a relatively quiet mountain  town that stole our heart. To pull the curtain back slightly, I've  delayed editing this travel vlog for 9   months and the reason is simple. I found this  trip to Canada to be such a beautiful and at   times magical experience, I was and still am  so overwhelmed by the seemingly impossible   task of creating a vlog for you that would  do THIS, justice. But we are going to try. With gondolas, lakes, bridges, canyons,  tea houses, over sized chips, wildlife,   log cabins, roads, hikes, icebergs,  walkways, dining out, canoes, rafting,   rainbows, waterfalls, mountains,  hotels and of course, maple syrup. So please, sit back and relax, as this,  is my ultimate love letter to Canada.
Much of our trip would be in Banff National  Park and a popular entry point is the town   of Banff itself. 90 minutes from  Calgary, it's undoubtedly the most   populated spot on this trip and a great  way to ease yourself into mountain life.   Its main road, Banff Avenue is a perfect  crystallisation of everything you can expect here:   a plethora of food, shops, a museum, a bit of  cannabis, reflections and of course mountains. Just 3 blocks away from Banff Avenue, this  bed and breakfast would be ours over 4 nights.   The charming neighbourhood it found itself in  made it quickly feel like home and even with our   initial steps outside, we immediately bumped into  our first Canadian wildlife. Living in London,   a rat is about as exciting as wildlife  gets so this was a fun, unexpected opener.
On our personal list of Canadas MUST SEE animals,  moose and bear are at the tippy top, and adding   this deer encounter so easily, really did give us  hope. But, we were still cautiously realistic that   we might not hit the big three. And you'll just  have to wait and see, as to how wrong we were. With an added spring in our step then,  we explored the local area on foot,   always keeping an eye out to add to our list… By the late morning, we made our way to our  first tourist attraction: The Banff Gondola…   Soaring 2000 feet over 8 minutes, this cable  car takes you to the summit of Sulphur Mountain,   named after the hot springs on its lower slopes… Once at the top, this boardwalk straddles the  ridge for a good kilometre, and really opens up the space… It's easy to see why the Banff  Gondola is so popular as it allows stunning   views of 6 different peaks from one spot, and  with relative ease. But it was also great to  
have a clear view of the river walk we'd  just taken and Banff town from up above. The visitor centre up here is an  attraction in itself though. You   can either treat yourself to  some incredibly scenic dining,   or as we did, head to the rooftop, admire  the views and relax with a nice hot coffee. Walking around Banff, you're frequently  reminded of the sometimes delicate   relationship between animals and people. When  hiking around any kind of wilderness here,  
it's recommended you purchase a can of bear  spray. Although attacks are incredibly rare,   bear spray is a non lethal deterrent, but  should act as a last resort, as there are   better preventative ways to avoid harm to both  you and the bear. The most likely reason a bear   attack might take place is that you unknowingly  startled the bear, turning a blind corner.
So, the good news from Parks Canada,  is that singing might just save your   life. And that was all this ex theatre  student, needed to hear… Hello Mr Bear will be available on both Apple Music  and Spotify by the end of the year… So with the end of our first  full day coming to a close,   we took a 30 minute walk via the Fenland  Trail, over to Vermilion Lakes, somewhere   I would really recommend. Although we were there  a little early, it is a sunset hotspot for many,   but despite this, I hope we can all  agree that our shots still turned out ok. With our body clocks still clinging to UK time,  we had an early night and rested for tomorrow,   readying ourselves for boats, canyons and fondue. Staying in Banff, the question  isn't so much as for what to see,   but what not to see. Although our destination,  Lake Minnewanka, was a quick 20 minute drive,  
along the way, it's very easy to get distracted  and that's what happened with Cascade Ponds. This was also the first time we  came across these. Parks Canada,   the body that manages all National Parks here,  has scattered more than 200 red chairs across   the country, all of which make for a nice  surprise when you later bump into them.
But then, you remember your actual destination,  y'know, that 20 minute drive you had,   only now you're distracted by just a brief stop  at Johnson Lake, followed by another brief stop at   Two Jack Lake. So, just be aware that you're 14km  drive can take 2 hours, but, with zero regrets. Finally then, our 20 minute journey was  compete. Whilst an unfortunate spelling   for anyone who's British, Lake Minnewanka  is Banffs largest lake, measuring 21km.   The name actually comes from the indigenous Stoney  people, and translates to "lake of the spirits".
Our excellent tour guide, carried  us through the lakes history,   which starts with the discovery of human  tools dating back over 10,000 years. Along with the top notch guide and getting  a different perspective from the water,   we really enjoyed this cruise. What was really  nice was that once in the centre of the lake,   they turn off all engines, so you can take  in one of Banffs' most peaceful stops…   (BABY CRYING) Although the baby next to us didn't seem to agree. Nevertheless, we rounded out our time here  with an easy hike towards Stewart Canyon,   which offers stunning views of the Lake.
On the way back to Banff Town, we finally moved  on from deer, with this brief Elk sighting,   albeit from a distance. So, now on Day 3, our  list was very much moving into 2nd gear. But,   since we were in Canada, driving an automatic,  I should say we were staying in Drive and   then lightly pressing the accelerator, which  doesn't sound as good, but is more accurate. For food in Banff, there's an overwhelming  amount of choice, covering pretty much every   type of cuisine you can think of. We  of course had already sampled Poutine,   a Canadian favourite that originated  in Quebec; made up with French fries,   topped with cheese curds and drenched  in gravy, it literally begs to be eaten. One thing to note though, and this is coming from  a Londoner, is that meals can get pretty pricey,   especially if you aren't looking at  the menu in advance. For example,  
this sticky Bison short rib came in at $55  Canadian dollars, with all appetisers in the 20s.   Admittedly this was a really nice restaurant  and personally speaking, we're pretty happy   with spoiling ourselves with food on holiday, but  it's just something to be aware of when visiting. For lunch today, we visited The Grizzly House,   a super popular steak and fondue  restaurant on Banff avenue.   Although I've read some mixed reviews online, we  really loved this place, myself especially, being   such a sucker for any kind of cheese I can get my  hands on. With garlic cloves buried deep within   the fondue, and a pepper sprinkling giving  it a gentle kick, this was excellent. Especially when we next ordered this  hot rock for some sizzling beef.  
Spreading the cuts over a dollop of garlic  butter, and then mixed with a side salad,   potato and these tasty dips, it  all made for a delicate pairing. And obviously, long time viewers of the  channel will know that of course we had sushi,   yes it was surprisingly good value and yes it was  all delivered on a Canadian Pacific Train, genius. As we reached the summit of Tunnel Mountain,  our time in Banff Town was almost over.   This town was a perfect introduction to  Alberta, but we were eager for chapter 2.  
Less than an hours drive, is Lake Louise, the  historical crown jewel of Banff National Park   and for me, the reason this entire area  was put on my radar in the first place.   Although a trip to Lake Louise is often  included as part of a stay in Banff Town,   I wanted to separate the two, for  reasons that hopefully will become clear.   So, for the next 3 nights, our accommodation  here was a vastly different experience. Whether manufactured or not, we now  felt one step closer to wilderness,   and only a 20 minute walk to the famous  Lake itself. Our room was part hotel,   part lodge with a kitchenette that allowed  us to mostly cook for ourselves. But mainly,  
waking up with this balcony view, never  got old. As with everything in this video,   I've linked all the places we stayed and visited  in the description below as well as this pop up,   which support the channel at no cost  to you, so thank you in advance. Perfectly framed by its surroundings,  the scale and grandeur of Lake Louise is   hard to capture on screen. With it being early  June, we arrived just as the lake was thawing,  
which largely removes the notable turquoise colour  it's famous for. So it was especially rewarding,   that as we climbed in height, its  true colour gradually revealed itself.   This striking hue comes from erosion, and the  rock silt that's carried from its glacial source.   The silt is so fine, it remains suspended at  the surface, reflecting blue and green light. Lake Louise was named after the fourth daughter  of Queen Victoria; Princess Louise Caroline   Alberta. So, yes, not only was this lake named  after her, but the province of Alberta itself. Walking to Lake Louise, the first thing you'll  see is the iconic Fairmont Hotel, originally   built in the late 1800s. For a hotel this size  to have such an exclusive front row to nature,  
is almost unheard of and for some, staying  here is a once in a lifetime experience.   And with once in a lifetime prices too. Interestingly, this chateaux was built by a train  company, that being Canadian Pacific Railway,   shortly after they'd achieved Canadas goal of  connecting the Atlantic to the Pacific. So not   only did CPR lay the tracks for the journey,  they would also become the destination. We would actually return here in  a few days for lunch. The original   plan was to enjoy an afternoon  tea, but the queues were crazy,   so I'd recommend booking online if that's  of interest. But the Lakeview Lounge was  
still a welcome change of pace, offering  stunning views of its unique surrounding. After taking in all of Lake Louise,  we embarked on our next destination,   that being the Lake Agnes Tea  House. Whilst still a moderate hike,   the combination of ice and an altitude of  7000 feet, made it our toughest hike yet   and might've made us a little delirious.  But it was all in the good name of tea.
This is going to be the greatest cup of tea I've ever had in my entire life! (SINGING) Tea house! Is just around the corner! The Tea House! The Lake Agnes Tea House, has been serving  tired and sometimes very cold customers,   since 1905. Being in such a remote location,  it's quite the daily achievement, just to keep   it running as smoothly as they do. With once a  year helicopter drops for dry goods and propane,   and staff hiking up fresh ingredients the  night before their shift. This was one of  
my favourite hikes, not only with the hot  tea, but combination of lake and panoramas,   all feeling like a suitable prize. And  as we discovered over the following days,   this sense of reward would be something  we'd continue to be spoilt with… This is an incredibly rare sighting of a white  grizzly bear. So unique, that it makes headlines   when spotted. We of course, didn't realise this  at the time, but we knew this was still something   special. There are approximately 200 Grizzly  bears that roam Banff and its neighbouring   National Parks and the most famous even have their  own nickname. This might be Nakoda and seeing her   was an incredible moment. The road we were on  was fortunately quiet but you shouldn't ever  
be causing tailbacks with animal sightings,  so we didn't have long to soak it all in. What was even more amazing, was  that literally 2 hours later,   we had another sighting, this time on foot.  We'd made a brief stop at Field, a small,   but notable town in Yoho National Park. Wanting to  stretch our legs and explore this friendly place,  
we stumbled upon this. We hadn't actually noticed  ourselves, but a couple of local residents pointed   him out to us. This black bear had actually  stopped them from being able to get back   home so they were waiting for him to leave.  And I thought we had it bad back in London,   for being delayed with leaves on the line,  but it was nice chatting to the locals. Before we left our second home, we  still had one more lake to visit.  
And it just so happened to become my favourite… Along with Lake Louise, Moraine Lake  is an icon of the Rocky Mountains,   even making its way onto the 20 dollar bill…   It was this very moment, sitting by Moraine  Lake, that Canada truly won me over.   Quite simply, it is one of the most  peaceful, serene and majestic places   we've ever been and we both just breathed  in the atmosphere, for a good hour. Tomorrow, we'd be headed to Jasper, an  even larger, and less busy National Park.   Since we'd already done so much and  seen so many breathtaking sites,   we were seeking more relaxation, even though,  we were still missing our top animal sighting.   In hind site though, it is funny that we had no  idea that we were about to triple our numbers. The drive from Lake Louise to Jasper is seen by  many as a destination in itself. Upon leaving  
Lake Louise, you turn into Highway 93 or The  Icefields Parkway. What follows is 230km of   some of the best road trip scenery you could ask  for, complete with beautiful views, sing alongs   with Alanis Morissette and of course, numerous  stops to park up your car and stretch your legs. The most notable stop along the way is  the Columbia Icefields Discovery Center,   where you can explore both the  Athabasca Glacier and Icefield Walkway.  
This suspended platform lifts you  900 feet above Sunwapta Valley,   offering a unique insight into  the life of Wile E Coyote. If enough of you give this video a like below and  people want more, I'll make a helpful travel guide   featuring tips for this whole trip, so I'll keep  my full review of this excursion for then. But the   highlight of the Athabasca glacier, are these  impressive Ice Explorers, that are capable of   travelling at an incredible angle, whilst  keeping a solid grip on the ground below.
Unfortunately, this 10,000 year old glacier  is melting and in the last 125 years,   losing half of its volume. So, yes whilst this  might symbolise an inescapable death for us all,   the upside, it is drinkable and very fresh. So, with the glacier in our rear  view mirror, and 200km complete,   we made our last push towards Jasper… Touching more than 11,000 square kms of land,  Jasper is Canadas largest Rocky Mountain National   Park. Although just as beautiful as Banff,  it's visited by almost half as many people,   which adds to its peaceful setting. Whilst still  clearly geared for tourism, the main high street  
feels much more local and calm, which at  this point, was exactly what we wanted. To spoil ourselves, we saved our best  accommodation for last. Jaspers history   is synonymous with cabin life, dating back  to the Métis families who lived here in   the late 1800s. There are now numerous  cabin resorts spread across the area,   all offering varying degrees of mountain living… We knew our accommodation was comparatively  remote, when a wandering bear passed our window.   They were now coming to us… The end of our trip was a mixture of relaxation,  food and wildlife. Our accommodation was the  
gift that kept on giving, not only with its  public jacuzzi but the wildlife it presented. A highlight was this enjoyable rafting trip  down the Athabasca River. There are 6 different   grades when defining how intensive any white  water rafting is going to be. Grade 6 being   the worst rapids you can think of and Grade 1  being an excitable bath time. This was grade 2,   meaning suitable for me, but even that was  enough to occasionally raise the adrenaline.
To celebrate, we finally found somewhere that  served any combination of maple syrup, pancakes   and bacon, something that was surprisingly  hard to come by but well worth the wait. Whilst driving around, we really ramped things  up, with our largest single group of animals yet.   And then on our way back, we came across yet  another bear, with this one probably being   our best, longest sighting, as it was on a  quiet side road. So it looked like we were  
on a hot streak, and with only one day  left, we crossed our fingers for more… We'd purposefully left   Maligne Lake to the end. Not only is it one of  Jaspers top designations but so too is its boat   trip to Spirit Island. Unfortunately,  due to the lake still being iced over,   its opening kept being delayed and  so, we kept delaying our visit.   And that is how, on our very last  day, the following events unfolded… First, we saw this black  bear, followed by a second,   then we just about saw a mother  and her 2 cubs and then… This… I mentioned at the start of this video how  overwhelmed I was at putting this trip together,   since our time here still really holds  a special place in our hearts. Hopefully   if you've gotten this far, I've done both Canada  and Alberta justice, or you're just a masochist.   These videos take an extremely long time to  make, with a lot of energy put into them,   so if you did enjoy, please share, subscribe,  like and let me know your thoughts down below,   as I'm always interested to hear and  it helps promote the video to others.
Until the next one, thanks  for watching, Suitcase Monkey.
2023-03-07 20:00
Show Video
Other news