Nashik Street Food vlog | #Bha2Pa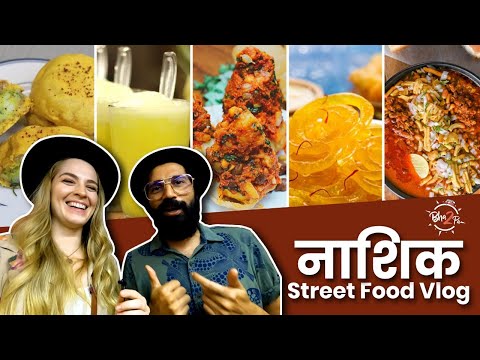 Show Video
Where are we? We are in Nashik. - Who's this guy? Who's the king of Nashik? Artist Gaurav. Yes! What's your name? - Atharva. That's Vinay.
And that's Anuja. That's Paula and I am Sarang Sathaye and we are in Nashik. At Nashik, we are going... ...to eat. - to eat. What are the things that we are going to eat? Today we are going to try various things in Nashik.
Like what? Like we'll start with Jhatka Panipuri. - Okay. Later on... - Jhatka panipuri means the pyramid one right? -Yes! Yes! Yes! Right! Great man! I have seen that in so many videos, I've wanted to try it.
-Yes! And what more? After that, we have Krishnai's Paav vada on the list. Paav Vada? It's not Vada paav guys its Paav Vada. -It's Paav Vada - Remember this. Yes! After that, we will head towards Sayantara's Sabudana Vada...
Sayantara's Sabudana Vada. Then we will have Budha Halwai's Jalebi. All this in one day? - Yes. Let's do some of it tomorrow. - No, not possible. When you visit Nashik, this is the basic one-day plan.
Oh God! What is he doing! Will this happen to us too? Yes! Are you going to try this? - (inaudible) Lets go. In food vlogs... You must have heard about Shaukin Panipuri from Nashik.
Here we find the item named Jhatka Panipuri. Apparently, it's too spicy and is layered. I'm terrified. You are terrified? Ok, so this is her oversmartness, 'lets try this' 'lets try that'. Now I will take revenge on the Britishers for harassing us, in one stroke and show it to you. Okay, now I am gonna try...
You won't see a single tear. It's atrocities that you called this. This is the revenge for that. Oh my god! It's in my nose already. Just see how it is made. This is a special ingredient. Just notice this red colour. See the difference between the two.
Paula, can you see? Yeah! I am watching. It is coming your way. Yeah I am.... Here ma'am. Thank you! This is the ultimate India vs Canada challenge. So I have to eat this in one go? Yes! Come on you can do it.
I am actually scared. Go on! Go on! Slowly, slowly! - Oh. Paula, how was it? Remember what you guys did to us! It's nice! Oh! Oh, no! The real flavour has struck here. It tasted something so glamourous.
It's not that spicy! You cried. No, no. But from this arises 'my dear friends and brothers that's the end of it'. So the review is... It is super spicy. Too spicy.
The spice is like an aftertaste. We don't feel anything while eating it. But later, when we eat the sweet one, it triggers the spice.
You think it's a mistake having the sweet one? So now we... Paav Vada... No, not Paav Vada... Yes, we are going to have Paav Vada, not Vada paav.
Oh! Paav Vada. This is the item. Paav Vada. I haven't understood anything. Because we decide one thing and then reverse it.
We always have to walk in the opposite direction from the whole world. This is the motive. Correct? Inside out. I have heard about bread patis, Does it have Paav in it? But bread patis has bread and not Paav. Come on. Come on.
Oh. Fun. - Try it with the chutney.
Should I put that chutney on this Paav Vada? Yes, this green one. First, I'll have it plain. No. Oops. It's a day full of spilling.
Ok. Paav Vada. This is... This is a quick snack. Quick snack. Did you try it? Chutney is Amazing! Amazing chutney. I swear I have had bread patis a lot of times.
But... I think we all are idiots eating bread patis. And now I take these words back. Try the chilly as well. Its spongy.
So it soaks up the... Chutney really well. It is not as spicy, sorry oily as other bread patis. This is very... So awesome.
This item is really amazing. You have made a mistake by making me taste this. Happiness.
I had zero expectations from this item. So the story behind this is... My father's office is located exactly in the backside lane of this shop. And he use to bring 2 to 3 pieces parcel daily. Hence, this Paav Vada is very close to my heart. So, I brought you here. It's very nice.
Well done. -Amazing. You showed a really amazing item. Genuinely. There is some red chutney also. Let's try that.
Top notch. I am starting to feel a little acidic due to all the spicy food I ate. Don't worry I will take you to Samartha juice center to reduce it.
Are you sure? Pineapple ice cream juice. But does it contain actual pineapple? Yes. Wow, pineapple ice cream Juice. That's what we are going to have. Since we were feeling a little acidic, we are here at Samartha juice center. Right? First, I tried the pineapple ice cream.
And... Once again surprisingly it is amazing. Pineapple ice cream. Seriously, I had zero expectations from this. And the ice cream in this really nice.
It's actually... Fantastic. Yes! This is like the pineapple energy.
It's my favourite flavour. He made us taste such an amazing item. 2 items back to back. OG total OG. What I feel is that when you are trying street food in any city... It must have the original culture of that city.
The taste is amazing. It is because of 2 things. First of all, it has actual pieces of pineapple. The sweet and sour fruity taste is also in it.
It would have tasted just sweet, if it was made out of pineapple syrup But this isn't the case, it has the sweet and sour taste too. The pineapple taste in the ice cream is very subtle. Just like how vanilla has a very mild essence.
Likewise, it has a very subtle pineapple essence. So it doesn't overwhelm you with the pineapple flavour. The most important thing is... I don't like milk. And.
It is the best option for lactose intolerant or people who don't like milk or milk products. It is an amazing combination. It is an alternative for Mastani. Because Mastani is totally based on milk. So what's the point. It's useless.
Instead, We can have juice with ice cream. Unique concept. Amazing. Best in the world? - Best in the world.
We are going to taste Misal. Okay. And we are going to try an old patterned Misal instead of our regular one. Which means we won't be having Sadhana Misal.
So we are going at a different place because anyway we never do regular things. We travel with the local people and try to explore the originality of the place. So this is my favourite and ancient Misal place, Om Tea Stall. Om Tea Stall... Yes! Have you tried it? Let us know in he comments. My most favourite part about Nashik Misal is that they give papad with it.
I'm starving. Pune and Nashik Misal comparison is cool but the most important thing is... But Mumbaikars and Kolhapurkars, please listen to this carefully.
You all say that Punekars add lentils and Nashikkars add sprouts to Misal... But Misal must taste like that. Just adding tarri on farsan won't make it taste good.
This is the true taste, it has special ingredients, farsan, poha, sprouts, onion, etc. And Paula has started eating already. I am too hungry. Ok lets try this. Add some tarri to it. It's a really good one.
Yeah. It's really nice and... It's... Very... Rich tasting. Like... the... rassa is really flavourful.
And everything inside is just perfectly balanced. The texture is good. I'll say this once again. Technically I am a hardcore Mumbaikar. I love to live in Mumbai. And I love Kolhapur and Kolhapuri people and food.
I shot my show B.E. Rojgaar in Kolhapur. And I fell in love with Kolhapur at that time. But when it comes to Misal, Nashikkars are doing the best and the most critical job.
Please add some ingredients to it. Don't just add tarri to farsan. This is the true Misal. Wooww. Still, now I am going to try tarri. Tarri is spicy.
Take a close up and notice the difference. this is the colour of Tarri and this is the colour of rassa. So clearly we know which one the Tarri is. Tarri is spicy? I am gonna try that too. This is the tarri and I have kept the paav ready in case it is too spicy. Actually not bad. It's not as spicy as Jhatka.
It's less than Jhatka. And this is actually good. I mean it is like chilly oil right? -Yeah! It's like having chilly oil on top.
Oh yes! Modak is on the way. So now we will eat peacefully. According to me, this comes at par with Paav Vada. Show your face. What happened. What is the problem. One second.
Why did this happen? Because of rassa. This is rassa. This is tarri. And no one told me this. I just added the tarri and ate it. The sneezes you hear are due to the spice not because of a cough or cold.
The tarri is going directly into our noses. Direct. Our nose pathways are going to be clear today. Where are we going? The next stop is Budha Halwai's Jalebi. When I added to my story that I am in Nashik... Since then, a minimum of 30 people have texted me, telling me to try Budha Halwai's Jalebi.
What is it exactly? What is the matter? Budha Halwai's Jalebi is total happiness. Happiness! Happiness! So let's experience that happiness Look you can see Budha Halwai in front. Wonderful, I can see it. This is God. And.
That is food God. Gaurav let me tell you one thing... I may or may not like Jalebi... But I am going crazy by just looking at this environment.
Look at the font style.. So... You smelled something just when you entered so talk about that. Yeah. So as soon as we entered we could sense that this whole place smells like Jalebi.
I mean everything... These walls, this table, and everything here smells like Jalebi. This place is so old, it feels like everything is dipped in syrup It's a real vibe, I love it.
Absolutely loved the vibe. Once again...old-fashioned shop. Looks authentic. And. And now we are going to try something highly recommended by Nashikkars. I hope it doesn't disappoint.
Because a lot of people have overrated it already. They have told a lot about the Jalebi here. Ok, so now have we have made it, especially for you. It's so hot.
This Jalebi is super hot. I mean... wow. Be very careful. - It's very hot. So let's take a small bite. The syrup inside will be even hotter.
Let us try syrup first. You know how the true syrup in Jalebi is. It's not just sugar diluted in water. It has a ting of spices and a little saffron. It has all of those tastes.
This is nothing like the jalebi I have had before. Me too. I swear I haven't eaten anything like this before. It's so crunchy. And... It's got a little burnt flavour to it. Like... - Yeah! In a good way.
Paula is speaking everything and I am just agreeing with her by making sounds. So now you must have realized what is happening. Hm. Now she is making those noises.
The only response to everything is 'Mmh' I don't know what else to say about it. 2 important... There is Cardamom? Nutmeg i think.
-Nutmeg. It has nutmeg in it. -Nutmeg. So after this, I don't think we can do a show. -Yes! We need at least 3 hours of sleep after this.
This is amazing. It is not too sweet. I mean...
It has the sour taste of curd which it must have. Its much more subtly flavoured. Than other Jalebis. I am not able to share this with the person behind the camera.
And he has started drooling. -Wow! You can only watch. What are you doing, you might make it spicy! So now we are going to Sayantara. -Ok. But what are we going to do there? To have Sayantara special Sabudana Vada.
Exactly. I got that as soon as you said 'Sayonara'... Sorry Sayantara. -Sayantara. Waah! So I was saying that, Just the way we have heard about Budha Halwai's Jalebi... Oh My God! Outstanding right? Amazing! Really nice. Likewise, we have heard about Sayantara's Sabudana Vada.
I'll tell you just one thing that I have really high expectations from Sabudana Vada. Yes! Yes! 100% Because, Sabudana Vada is anyways amaing. It's very hard to... forget it. It's amazing as it is. So in Dattavadi Pune we have amazing Sabudana vada. After that... -Can you smell Sabudana Vada?
Yes, its started. -Yes! Come on lets follow our noses. Nashik food crawl...
Will end with the most important item. Because Sabudana Vada is the... The final truth of our life. I mean if you want to make anything out of Sabudana, always make Vada. 'If life gives you Sabudana, make a Vada'.
What a bad joke. So that is the reason we have visited Sayantara. It is a very famous place in Nashik. We are going to try the Sabudana Vada. This will be last item right? You won't feed us anything else after this right? We will have that Chiwda later...
(inaudible) I can see that. We will make a whole different episode on it. Or now I will die. Ok, so now let's try this. You must seen in the footage that it is served hot from the frying pan. So this is Sabudana Vada. Cheers! -Cheers! Go for it! Wow.
It's like papad on the outside. It's so crunchy. It's so fried. Ok. I am giving a genuine reaction. I liked it a lot. But...
There is a 'BUT' this time. -Ok. For the first time in my life, I have rated full points to 4 food items out of the 5 you recommended. We gave full points to 3, sorry. Jhatka Panipuri was a experiment. I won't relate it with food rating.
It was just for fun. I feel its... A little spicy... And...
Too gooey inside. I was about to say the exact thing. Sorry, I am going to speak a little like a connoisseur about Sabudana Vada. It all depends on how properly the Sabudana is soaked. If it is soaked properly, the starch is very less.
If it is washed and then soaked properly, starch is less and it doe not stick in your teeth. I am loving every bit of this but this is sticking in my teeth. They haven't removed the starch from this. Which might disturb your stomch.
But if you talk about taste, it is amazing. Amazing! And the peanut chutney is amazing too. But... - It's too yummy. The fun in this is a little less. Chutney is amazing.
Chutney is nice. So after a lot of efforts in 2 days. Our Nashik food crawl. - Street food crawl. Nashik street food crawl Episode is completed.
He almost killed us by giving us such amazing food. Paula... If you had to rate the top food in this street food crawl.. Or top place to eat, what would that be? Om tea house 10/10. Ok. The Halwai.
Jalebi 10/10, 11/10. But because its sweet it goes second to Misal. Ok. - Then..
Third is Paav Vada.. 10/10. Then Jhatka Panipuri. Just for the fun. I am going to give the exact same rating to all of these. Just I will reduce a few points of Jhatka Panipuri.
Even if we look at it as a kick, I will give it 5 or 6 points. Because... This is my personal opinion. I don't want to torture my stomach. Eating spicy just to see what happen.
I don't like such things. Based on this logic, I'll rate it maybe 6/10. But for the rest its 10/10 for sure. Om Tea House's Misal.
I can have Paav Vada daily. And I can have Jalebi once a week. Because I don't like sweets very much.
But still, this was the best Jalebi I ever had. So subscribe to Bha2Pa. Please share all the Bha2Pa videos.
Bha2Pa means Bhartiya Touring Party. At times you get confused in BhaDiPa and Bha2Pa. Bhartiya Touring Party. It's free. We have a lot of shows such as 'Aai chya Hatcha' etc. Watch them all.
Now we are going to buy the Nashik speciality. Kondaji chiwda. Meanwhile that Evening. And then later I crossed all limits... I mean, like praying to Nashikkars. So I went there, to Om tea house.
Had their Misal. And despite being a Punekar, I posted that 'Om Tea House' has the world's best misal'.
2022-07-01 20:50
Show Video
Other news