Mumbai Trip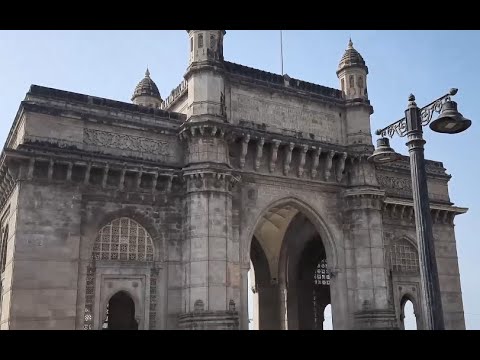 Show Video
Good Morning. I am in Anushakti Nagar, Mumbai as I have small work here. Today I want to cover Bombay as much as possible. They've created this as a Fort of Shivaji. Previously, there was only a statue. Now they've created with Horses, Elephant & soldiers from that time like a fort. It is located just beside RK Studio. They constructed a tunnel here by which we can reach VT station in 25 min from Anushakti Nagar.
Beautiful Roads. No need to stop & toll free. This is on the route. Many towers can be seen here. This area is called Wadala. It's a beautiful road without any speed breakers.
Earlier it used to take 2 to 3 hours to reach VT station (CST). Now it takes 1/2 an hour This is VT station. Now it is called Chatrapati Shivaji Terminus (CST) This station contains many platforms & was built by British people. It's also Central Railway HQ. Because of Sun's glare, it's not coming properly. Here is the Municipal Corporation building, just opposite to CST Station.
Behind this building is the Mumbai Police Headquarters. There goes a BEST bus It's very beautifully made. Lovely. The buildings around are constructed by the British This road goes from CST to Gateway of India If you look around, all the architecture are done by the British. This is a famous place called Hutatma Chowk/Flora fountain It was called Flora fountain in the past. Now it is being called Hutatma Chowk. This is called Jehangir Art Gallery. All sorts of exhibitions happen around here
This museum is called Chatrapati Shivaji Maharaj Museum. This is the famous Gateway of India. This is the Taj Hotel. Palace & this is Taj Towers. There are lots of people here today. Lots of space for people to walk around.
Here it says "Erected to commemorate the landing of the imperial Majesty, King George V & Queen Mary on the 2nd of December 1911 That means, In 1911 this has been erected to welcome the King & Queen. Here is the Taj Palace, full view and the Taj Tower. Inside the Taj Palace is extremely beautiful. Very very nice This is a side view There are many boats here. Look, they are screaming "Elephanta" These boats will take us there. They'll take trip charges - to & fro There are some caves, but they do not have cleanliness & are not that great.
Now, there are some eatables now, but before there wasn't even drinking water. These boats are the ones going to Elephanta. In These people are waiting. Gradually, boats will come closer & take us for the trip. It's good. The journey throughout the sea is good & takes more than 30 minutes. A very good trip
In front of the Gateway, there is a Shivaji Statue built around a garden They've put an entry & exit point. They check each person's valuables & send in. Gateway of India has the same entry & exit point. This is Lion Gate. There are many gates for these navy ships. This is the area filled with these ships. Ballard Pier This is Society Mumbai. This is a very big library.
Most probably according to me, it is the biggest library in India built by the British, These steps are also very famous. These guys on these steps are doing some wedding photography it seems. In the front, there is a good garden. These areas are beside the sea called Ballard Piere Now we are reaching Nariman Point.
This is the place where all the big business happen India's 60% business & economy comes from these places. All the big corporate offices are here. There is a big maidan (Ground) here where people play cricket. This is the entire area. This is Mantralaya which means Assembly. The surrounding area is high graded things.
In front you see Oberoi Towers & Air India building. This is Air India's main office where you can buy tickets too. This area is called Marine Drive. This is the Trident Hotel. This road is called Queen's Necklace. Very beautiful.
The view with sea taking a turn around buildings is awesome. This is the entire area. These are the fantastic buildings built by the British. This is Churchgate Station. Earlier I had shown you VT station for Central line Chruchgate station is for Western Railway. Here ACC Cement office is there and beside it there is their headquarters.
This entire area is Churchgate station There is a small correction here. Churchgate station is for local trains only. In VT Station, 1 to 9 platforms are made for local trains till 8 local trains, 9 to 19 are express trains. Churchgate stations runs only local trains. For express trains, there is Bombay Central Station.
Here, all the trains go towards the western sides. This is called Girgaon Chowpaty. Chowpaty means beach. Look how neat it is. Even this sandy area is super-duper clean. Now it is hot, in the evening there are loads of people around here.
Look at the skyline, so good. This is Girgaon Chowpaty. This is a beach near Girgaon, hence the name. This is Babulnath Mandir. Very famous temple, we have to go inside. Looks good from the inside too. There is a big Shivalinga inside which is beautiful. Different Showrooms around here, (telling cab driver to go ahead) This is Nehru Center. All programs happen here. Sunrays are falling on my eyes. The one you see in front is Nehru Planetarium.
This Planetarium is the 1st one built in India. This is Nehru Center. All exhibitions, seminars happen here. A very posh building. This is Nehru Science Center. There are timings written in Hindi & English. It is fun. Lovable place for little kids. Very nice.
They've built like a terrace garden around here. All the super-rich people live here We are going forward from Worli Naka where we bought out car in Mumbai towards Prabhadevi. towards Siddhivinayaka Temple.
This is Siddhivinayaka Temple. Some repair work is going on. It has been covered. Lots of people here today so not going inside. This temple is actually beautiful. It has been covered. Jai Ganesha. Lots of people around here.
Here is the INS Mumbai Ship. This is known as Worli Sea Link. A very prestigious project for Bombay Because of this all the traffic has been reduced significantly. In order to come from Western Suburbs to the main city, we can use this road. Worli Sea Link is the name of this bridge.
You can see in front of you. On this bridge, 2 wheelers are not allowed. No stopping. No Photography.
It has been made very beautifully. This is Mount Mary Church. Everybody comes. Even Hindus come here to pray.
This is a big hotel here. Taj Lands This is another property of Taj. Just beside the sea. This is Ramada Palm Grove Hotel. A 5 Star Hotel Now we've come to Juhu Beach. There are some statues here. Shivaji Maharaj & his army general & his son.
These are different stalls. All stuff like rabdi is available here. Because it is afternoon, not many people have come here. Look at all the different shops here. Pani Puri, Cold Drinks, Rabdi etc. are available here.
Actually, there is some place here & some shops are here too. With today, this vlog is over. See you in the next vlog. That's all for today. Bye.
2022-10-05 02:27
Show Video
Other news