Mumbai The City of Dreams EP.15 | Pakistani Visiting India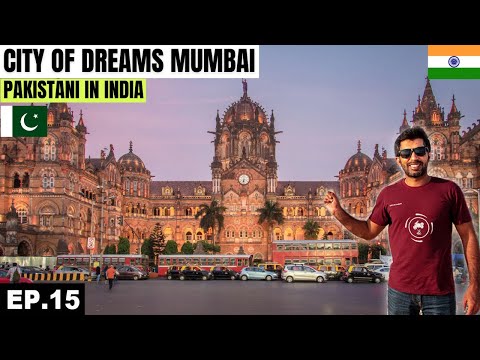 Show Video
This is called Iranian tea here. Looks quite similar to our milk tea. Let me look at the galaxy.
We are standing outside the house of Shahrukh Khan. From Bandra, we have come to this iconic bridge. This is the Central Station or more commonly known as Chhatrapati Shivaji Terminus.
We have finally reached Gateway of India. This is the famous Muhammad Ali road. It's black in color... You won't even see it. Assalam Alekum. Good Morning. Namaste. Sat Sri Akal to everyone from Amchi Mumbai. Amchi is a Marathi word that means 'our'. The city of dreams... One of the most populated cities.
Over 30 million people live in this city. It's a metropolitan where people have settled from all over India. You get to see a lot of different things here such as different cultures, languages ​​and food. Today our aim is to explore this city and share it with you. It was my personal desire to explore this city as well. It's gonna come true today.
I'll try to showcase it for you in my own style. Unfortunately I don't have my motorcycle today, so we'll be exploring without that. It's gonna be a slightly different sort of vlog. Today we'll try different foods of Mumbai and visit different places. And of course, share it with all of you.
Mumbai is the sort of city where people from different parts of the world have settled. It's a mix of different cultures and communities. Every community brings along their cultures. And a big part of the culture is food. Therefore, because of this diversity, you'll find all types of foods here. One of the main aspects of culture in Mumbai are the Iranian cafes.
You can find them almost everywhere in Mumbai. Most of them are followers of Zoroastrian religion from Iran and Central Asia. They came here almost a hundred years ago. One of the Iranian cafes is the famous Cafe Irani Chai.
We are standing right outside the cafe. It's a little crowded so we have got our name enlisted. As soon as our turn comes up, we'll go inside and see what we can try here. I'm with Anas who recommended this cafe. That's our breakfast for the day. Thank you so much. Do you mind me recording while we are talking? Not at all.
That's great. This is minced meat. We call it bun in Pakistan but I guess here they call it pav. Yes. That's what we call it in our local language. Is it a regular thing to have minced meat for breakfast? Yes, it's a regular item.
Let's try it then. We've got more food. It's minced mutton roll. Take a look. It has cheese as well. So that's gonna be our breakfast. And tea? After we have this. What else can one ask for... It's gonna be quite a heavy breakfast though.
As you can see our breakfast is changing everyday as we are traveling northwards. I don't think I have had this type of breakfast here before. As soon as we reached Maharashtra, the southern breakfast are gone.
From hereon, we'll have the northern breakfast. As a matter of fact, one can have any sort of breakfast in Mumbai due to diversity. This is called Iranian tea, here. Looks quite similar to our milk tea. We also have bun masks. It's just this bun with butter.
Although I have eaten a lot of bun today but I'm gonna taste this for sure. Am I supposed to dip in the tea? Yeah. The tea is really good. And it's really similar to the Pakistani milk tea. In fact, you won't get this type of tea in Iran.
In Iran, you always get the black tea or the red tea. I haven't seen milk tea in Iran ever. But here it's famous as Iranian tea. You can call it Iranian Indian tea. There used to be 7 islands in Mumbai.
With the passage of time, those islands merged together to form this great metropolitan city. The place where we have rented a flat is Andheri. Right now we are in Bandra. It's sort of an upper class area in Mumbai. Because most of the wealthiest people and film actors, live here. Both Shahrukh Khan and Salman Khan live here.
We'll try to pass through that area in order to give you an idea... About the grand stature of Bollywood celebrities here. So, we are gonna take a cab or rickshaw and explore this area.
150 INR 150 INR? Isn't it a little too much? I already told your friend there. In fact I asked for 200 but he offered 150. If you have been to Mumbai but you didn't travel on these iconic local rickshaws... I mean for people like us, who have seen these yellow-black rickshaws and taxis in movies. only, So it's sort of a tourist attraction for us. We have rented these rickshaws and we'll show you around in Bandra. This is Salman Khan's house and he often comes out to cheer fans.
Let us have a look at Galaxy. He's trying to show us Galaxy. Salman Khan's house is called Galaxy? Yeah. What's your name bro? I'm Waseem. Waseem made a special effort to get people clear the view for us to see Galaxy.
Hopefully, the GoPro will now be showing you Galaxy. We are finally standing outside Shahrukh Khan's house. It's called Mannat. I haven't seen so many people at any other location in Bandra so far. Must be around 200-250 people for sure.
You can have an idea that Shahrukh Khan is not just a celebrity here... But people also feel an emotional connection with him. I mean why would anyone go outside the house of an actor and take pictures. It means a lot to these people. That's why so many people come here. We have come from Bandra to this iconic bridge.
It's called Sea Link and it connects Bandra with Worli. When was this built? Around 2011. I have seen it in movies and it has a very beautiful structure. It offers a great view of the sky line at night. The sky line is mostly from Worli. It's a commercial area. Commercial and residential mix.
Even this area has a very posh vibe. Elite class. This area is also like Bandra? Yeah. Actually they don't allow motorcycles on Sea Link. Otherwise, I'd have loved to cover it on motorcycle. I have tried to get some footage of the area.
One can easily get here from Bandra in 10 minutes or so if there is not much traffic. We are now in the historical area of ​​Mumbai. It's in fact the fort area with lots of old buildings. One of them is the building behind me. It's Mumbai Central Station. It's called Chhatrapati Shivaji Terminus. It has a very iconic building and is a part of UNESCO World Heritage.
Whenever you see some picture of Mumbai, Or if there's some depiction of Mumbai in any Bollywood movie... It's most probably this building. Before 1996, this was called as Victoria Terminus. It was built in 1888 and took ten years to get built. Back then it cost, 160 thousand INR. As you can see here, there are lot of roadside stalls selling clothes etc.
You can say that it's one of the liveliest areas in Mumbai. You can see the iconic taxis and rickshaws of Mumbai in the background. Well, I don't see rickshaws here... they are probably not allowed here.
There are some areas in Mumbai where rickshaws are not allowed. That could be the reason. We'll try to show you more historical buildings from this area. There are many people here who are taking pictures of this iconic station. It's a main tourist attraction here. Right next to that, you will see this building.
If I'm not mistaken, it's the building of City Council or Municipal Committee. It's very beautiful as well. This is the terminal of train station. Just see how crowded it is. One of the busiest train stations that I have ever seen. Right in front of the train station, there is this roadside market selling different items.
The hustle and bustle of this area and the honking cars here... It gives you the true feeling of being in a metropolitan city. If you talk to someone in Mumbai, they won't even feel it. All this is a part of their everyday lives.
Whenever I meet someone here and I say that there's a lot of traffic here... They tell me that they don't feel it anymore as their lives have come in sync with this. This is how you cross the road here.
I think I heard someone calling my name but I can't see them. We have now come to this place in the fort area. It's probably the quietest, most peaceful and calm place here.
It feels as if life has come to a halt here. It's interesting to find such a place in a city of 30 million people. There are many historical buildings in this fort area. For instance we just visited the Central Library. You'll see many Victorian style buildings in this area. There are banks as well as stock exchange here.
Just see the contrast. Look at the beautiful historical building on the left. You'll see many luxury brands in this area such as Zara. And right across the street from that, you'll see people buying stuff from the local market. The two different worlds right in front of each other. You won't see such a sight at many other places.
Two vastly different markets at one place... This is one of the most crowded places here. We are headed towards the Gateway of India. This is sort of a little market place on the way.
You can even call it a place where tourists can buy stuff. We have finally reached the biggest tourist attraction; Gateway of India. That's what this huge crowd suggests. I haven't seen so many tourists at any other place in Mumbai.
You do expect so many tourists in a city of 30 million people. Also because it's a Sunday today. It was constructed in 1911 when King George of the Royal Family was visiting India. It was built in his honor.
It was sort of a custom to build a monument to celebrate the visit of a monarch. So, it was built for the king. Right in front of that is the famous Taj Hotel.
We are here to have our dinner. It's one of the most famous areas for food and shopping; Muhammad Ali Road. It's a predominantly Muslim area.
You get really delicious non-veg food here. There are so many people all around here. The busiest area of ​​Mumbai so far; Mainly local crowd. Not a very touristic spot. There are many food options here. Let's go and find a nice place to eat.
Other than that, I'll try to capture some footage to show you the vibes of this area. That will give you a good idea about this area. We are here for the dinner and we have nihari in front of us.
We'll have nihari for the first time here. Have tried it many times in Pakistan before. It's lamb nihari because you don't get beef here. I have with me, Shakeel, who has been texting me for a long time now.
Today is the day when we finally meet. Here's Adil. He has been chasing me since morning by following my stories. Eventually we meet here. Lets start Adil. The food here is really delicious.
We can ask for one more plate. Let's enjoy this meal together. Food looks great. This is crispy chicken and that's nihari. Thank you very much sir.
I'm wondering how so many people can gather here in just one hour. You have no idea how many people follow you in India. Thank you very much for that. I'm gonna meet everyone. How are you Sir? I'm good. Alhamdulillah. You came here directly from Yemen? Thank you for the surprise. Thank you so much.
Directly from Yemen?? You won't believe that I'm texting all the guys that you have been meeting. What's your name? Arshiya. Ayesha? Arshiya It was really nice to meet you. Thanks for coming.
My apologies for bothering all of you. Why did you cancel the meetup Abrar? I'm a little overwhelmed because I expected to see a dozen people or so. I posted the story an hour ago. I left from my home as soon as I saw your story.
Abrar, I went through the Muhammad Ali Road thrice to find you. Please make some room for ladies and kids. Thank you so much. She made it for you. I'll take it home with me. My husband doesn't give me enough time because he's too busy watching your vlogs.
I apologize for that. I'm from Assam. I'll definitely visit Assam. It's a very beautiful area. How long will you be staying in India? Do I need to say something for your video? What's your name? C'mon... let's take a selfie. This is black in color. You won't be able to read from it.
It was nice to meet you Zaman. Thank you. Assalam Alekum. How are you? Where are they right now? They are on their way. Will be here in 15 minutes. If you stay here for another day and want to visit New Mumbai, do tell us. We are going to Ahmedabad. It's not on that route, right? Yeah it's not.
Finally back in the room. How on earth do I thank the people of Mumbai.... I arranged a meetup with a one hour notice. I thought there will be just 30 to 40 people... But there were so many of them and they showed so much love....
If only we had a chance to properly arrange a meetup. I had planned a meetup before but had to cancel it because of some permission issue. This was more of a makeshift thing. We though to meet as many people who can manage to come. It felt really great. Thank you so much for that. And I apologize if I couldn't give you enough time.
I didn't want to cause any sort of problem here that could affect my future travels. Anyways, remember me in your prayers. Will meet you really soon with a new vlog. We'll try to cover other areas of Mumbai in our next vlog.
It will be best if we can explore Mumbai on motorcycle. That is if we get our motorcycle back. Don't forget to Like, Subscribe and Share. Allah Hafiz.
2023-04-21 12:06
Show Video
Other news