Motorcycle stalled while single trekking up the mountain in SOUTH FLORES [S2-E12]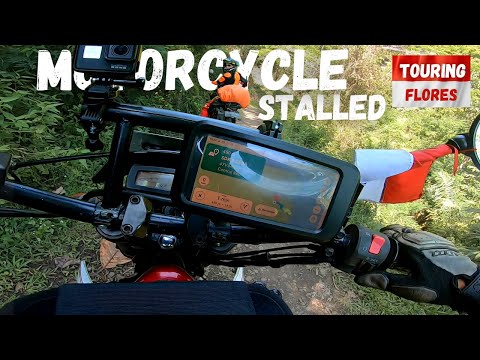 Show Video
Wow yeah, what an adventure! And there are really blue stones, check this out. It's blue. Good morning, everybody. And welcome to Kristian homestay. Here in Bajawa on the island of Flores. So, It's time to move on.
Today, we wanna ride to Ende. I'm going to show you on the map. We are in Bajawa, we wanna take the coastal this time. Going to Ende.
1st some breakfast, look at that. Toast, fruits. Let's eat and then we have to go. Thank you for teaching us about Bajawa Amen.
Later when we came back from Sumba hopefully we could come back here. Okay, it's 8.30 A.M. It's a bit late for us to leave because we ended up chatting with the host, Maria and our friend Alfredo, the really knowledgeable guide from Bajawa And then we met Pak Jhon, he's from the neighboring regency. He's actually there with his guests. They are doing overland from Labuan Bajo all the way to Riung and then back to Bajo again. They are really knowledgeable people, I love it.
They are telling us about Bajawa and Flores in general. Yeah, great stories and the way they are able to give it to us is amazing to listen. So yeah, we were planning to stay only for 2 nights, yeah babe. We ended up stayed for 5 nights. Obviously we like it.
Only Bajawa is really cold. So if you guys are coming here to Bajawa, make sure to bring a nice jacket. > Yeah. Im wearing 2 hoodies now. But now is our time to move on to the next place, we are heading to Ende. Ende is the city where our 1st president, before he was the official president of Indonesia. He was exiled by the Dutch, from Jakarta to Ende.
He stayed there for 5 years, starting from 1934 to 1939. And Ende also the city where Indonesian Philosophy, Pancasila, was born. So it's more of learning the history about Indonesia, getting to know about Indonesian culture in East Flores and then looking at the cathedral. I think they have a cathedral there in Ende. Yeah, really exciting. Hopefully we gonna arrive there safely. And then, the route we are taking is not the national route. Like this yellow line in the middle.
We are taking the south coast route Next to the ocean. Because we have been on the mountain for the past week. We need some changes.
So yeah, lets enjoy the road. OnTheRoadAgain... We didn't expect this kind of road. > Yeah. But that's what google map showed us. Look at this bamboo forest.
So cool. You good? > Yeah yeah. It's a bit slippery here. It's wet. > Yeah. Oy, Buffalo. > Uh, scared the crap outta me. We going where? > I think we're going straight, yeah still straight. Good morning.
And before, a local just told us you wrong, you wrong. A group of local thought that we got lost because we were not riding on the tarmac. But then i explained it to them, no we were not looking to ride on the tarmac.
We wanted to go through this nature. They were confused. We are looking for this type of road. > Yeah, that's so cool. Not easy to find it. > Watch out, left side.
Owh, there's a buffalo in the front. Where? > In the front. Yeah, where? > And a rope in between. Don't drive, he has to go to the right side 1st. Hi buffalo, you have to go to the other side.
Yeah, that's good. Thank you. Nati could talk to the animals. She's been practicing with a lot of monkeys.
I'm always talking to the animals, you know they could understand us. > I know. I don't know if they understand my language. Go quick babe, I think he's a bit cuckoo banana. Yeah, better go far away. Well, that's something I don't wanna see on an offroad.
No, neither do I. > Yeah. Because I can not. I don't know how to judge them. > Ya. At least the road is good, we quickly getting some distance. > And houses already here.
Owh, look these plants. > Oh yeah, I wanna ask. What leaves are these? > Talas. Owh talas, is it food? > For pigs. >> Owh for pigs. Owh, okay. Thank you. Bye.
They used it to cook pork with. That's Talas, I don't know what talas is in English. Is it also to eat? > Yeah they mixed it with pork meat. Interesting. It's not even a road here. It's climbing. > Yeah, Crazy huh. Woah, look at that wall in front of us. Woah, crazy.
It's like overhanging, huh? Good thing we just took a break. So our bike doesn't need to work too hard. Wow, it's cool. > Look at these boulders are massive. >> Crazy, yeah.
Good? Oh no! > Not going on? Yeah, not. I don't know. Oh man, this is terrible. Oh My God. > Woah, my bike almost died on the road, guys.
Are we going up or down. > Up Up Up, Hey puppy. Oh my God, that was a scary moment. We just stopped to change gopro battery. And Mandara didn't go on. I pushed him down and then it went on. WOAH! That's crazy scary. > That's a really scary moment. Somewhere up here in the mountain. Far away from anything.
Now, I have to be careful, making sure that my bike is not gonna die. > Yeah please. And I guess I'm not turning off my bike until we get to Ende. And we just met a local, he told us 3 KMs and then the road will be better, huh? > I think so. Wow huh, what an adventure. I think our adventure is not even done yet. No, It's still going on.
I just hope mandara, mandara will make it. I shouldn't be charging gopro until I changed battery, probably. Oh my god, that was scary moment. We were like, Oh No! Good thing I could turn it on. Yeah, this is the main road, by the way, you guys. Well, it's more than what i expected Yeah after that single track inside.
This is a freakin' highway, here. Make a U-turn here. We gonna go down. Woah, tarmac babe. > Okay, it's okay for now. Did we go through that thing? Or somewhere there. That was so cool! Woah, I see a big bridge. > Owh, yeah. And a proper road. > Yeah, civilization.
There is civilization, not there. > There? No! Of course. Oh look, laundry in the river. > We need to do laundry? Woohoo... We made it
Out of the mountain. We were lucky. What do you mean we were lucky? > What? With Mandara. > Oh yeah. And, we were lucky. I mean no landslide, nothing you know. We never know.
But, you've been learning how to ride a motorcycle and you have to be proud of it. Oh yea. I am proud of my self. Oh look at this baby. > Oh wow, that looked so cool. We are still high on the mountain. Yeah, I'm just not high in my brain. I wanna get high in my brain.
So we are taking a break here, out side the police office. And then, Mr. Hengky, the police officer right here. He's saying hi! > It's an amazing place, right at the ocean. He has the best office. Amazing! That's pretty cool, we stopped in front of the police station and then the on duty police went out. Said hi to us.
And 2 other people stopped by and hanging out with us too. And Ryan couldn't turn off his motorcycle. > So I never turned off the engine. Because we are afraid Mandara doesn't wanna ride again. Otherwise we would be chillin' at the police station. > Yeah, he invited us to his police station. We are following the coastal It's beautiful.
Look at this steep mountain. It's amazing. It was a hard work to get here, but once you make it here. My god it's gorgeous. Only maybe not suitable for swimming, because of rocks everywhere. Yeah but for riding, amazing.
Crazy huh. It's really really beautiful, I hope you guys are enjoying it too. We are looking forward to edit this video, later. Was another amazing day. And soon we gonna be at the blue stone beach. Have you seen it, the rocks on the bottom. It's blueish now. > Yeah they are blue already, woohoo...
Let's goooo..... What is this phenomena? Like, what happened. Yeah, already on the side of the road. Yeah, here on the side too. On the wall.
Blue stone beach. Oh my god, even on the wall is mad blue there. > Oh yeah, wow. Like torquoise blue. Wow, it's insane yeah. Look at this. > So cool.
What is the phenomena, I don't underestand how it turned blue. Look at this, you guys. It's blue!! Alright, guys. So this is the blue stone beach. Blue stone and the beach behind it. That's the blue stone.. > And that's the beach. Wow, crazy huh! Owh, it's here babe.
Oh here we are, blue stone beach!!. Yeah, we can have some coffee here maybe. > Oh yeah, it looked nice. Hello everybody and welcome to blue stone beach. We gonna have a coffee break here And why is it called blue stone beach, because there are blue stones. Lets have a look.
And there are really blue stones, check this out. It's blue. Blue stone, so cool. A lot of them, we asked why they are blue. But don't know really. A lot of different colors of blue. Really cool. Now we have a short coffee break and then Ryan's motorcycle, Mandara doesn't wanna go on.
So maybe I'm going to have to push him down the road again. Lets hope. And then in Ende there is Kawasaki store. We have to fix mandara. Nothing left behind, yeah? No, I didn't see anything. Oh, you got my wallet in your tank bag, huh? Ryan's motorcycle is running again.
And now we know the problem. Yeah we know the problem. A cable is. > Loose. Still need to go to a shop to fix it and put it on.
It's not on the shore. I think it's this one. This one, yeah. The room. Thats the roomz.
Yeah, the roomz. Is it different? > I don't know, maybe is that one yeah. It looked like it. Wanna check out the room? Yea, we have to check it out. And, welcome to the roomz. In Ende.
We found a place to stay for tonight. And, I quickly wanna show you on the map. Where we drove through.
So we started in Bajawa. We went down to the coastal. Followed the coastal. Til here, and somewhere here we went through the mountains and then in between we went down. And then we followed the coastal til Ende.
That's our checkered flag. And, again. Today it was just amazing. Our adventure through the mountain was really really cool. With some nervous parts where Ryan's motorcycle Mandara didn't want to turn on. So Ryan quickly went to the mechanic. Hopefully he can fix it and then tomorrow we want to go around Ende. Have a look and then up to the mountain to Moni.
Where we could hike up to Kelimutu, we are looking forward for this. So, I really hope you like our today's video, if you did then give us a big like and subscribe down below. And then, see you in the next video.
2022-09-30 00:21
Show Video
Other news