Motorcycle's Chain BROKE In TAMBORA [S2-E6]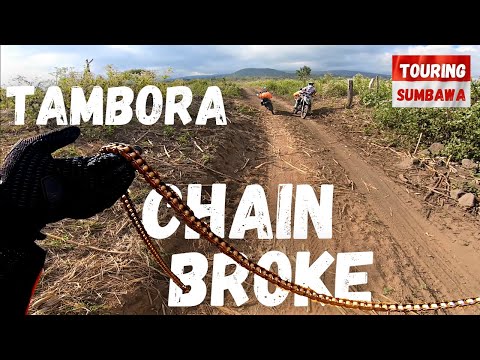 Show Video
Okay let's go! I lost my chain! Hello and good morning everybody at Khalifah  guest house, in Sumbawa Besar, on the island of Sumbawa. We had a great stay here, the hotel is amazing. And today is a special day, what we are looking for since a long time. We are going to Tambora. I'm going to show you on the map.
So this is the island of Sumbawa. We are right now here, in Sumbawa Besar. And our plan is to go this way to the volcano mountain Tambora. Later, Sir.
Metal. Good-bye. They are the coolest older people ever. > Yeah. And we are back OnTheRoadAgain. > OnTheRoadAgain. Welcome to Sumbawa Besar. Now is 7.20 a.m, we are heading to Tambora to celebrate the Indonesian independence day. 
And Indonesia is turning 77 years old now. Getting more mature. Getting more successful, Indonesia. Our trip today will take about 6 hours with  rest and everything. And the distance we're gonna cover, all the way to the entrance of Tambora, is about 215 KMs.
We're gonna go through via doro ncanga. I think it`s Doro ncanga, it`s name. Look at this beautiful view of the city of Sumbawa Besar. Hopefully everything is going to be great today, the weather looks amazing. And hopefully there will be no traffic since we are not nearby any big cities.  
And we cannot wait to enjoy the beautiful nature of Sumbawa. This is our third day in Sumbawa, yeah babe? Yeah. We changed oil on my bike. We haven't changed on Natalie's because she just changed her oil. And then, changed the clutch cable on Natalie's motorcycle.   Not because it has a problem but it's more because it was a bit too short.  
But now everything is great and in tip top shape.  > Yes, we are ready for Tambora. Cannot wait for this amazing journey. On the last video, we were traveling via the south part of Sumbawa. To be exact, it`s the south west of Sumbawa.
The view was amazing and then we are excited to  see what the north central of Sumbawa will give us. Yeah, hopefully we're going to see some wild horses. > Yes. The wild horses are stillmaking a big presence in Sumbawa. So yeah, I'm a bit afraid of horses. If you guys don't know, because I think they bite.
And their teeth are huge, you know.   But I think it's gonna be fine, as long as we're not getting too close, we are gonna be okay. Of course. Selamat jalan semoga selamat sampai tujuan. (Farewell and hopefully you will reach your destination safely). We found some breakfast. Nasi Kuning. Noodles, Tempeh, Chili, Vegetables and yellow Rice.
That was a really really good Nasi Kuning. I would even say it was the best I`ve ever had. Wow that's a big statement from Natalie. Yeah and I had many Nasi Kunings in my life here in Indonesia. I think that's Tambora somewhere in the background there.
Because Tambora is next to the water. They`re from Jakarta, those guys. So many tourer here. Because it's almost august 17th. It's a big day for us. And I think today there are more travelers because they like to go to the mountains for the celebration. Hopefully I will still be alive when Indonesia is turning 100. I think that would be crazy here.
What a beautiful place here. Maybe we can stop somewhere to enjoy this, babe. Maybe in the shade. Oh look, a swing. So pretty, man.
Hello. > Hi. What an amazing place! And I think over there is Tambora. > The one to the left. Yeah, there. We cannot see it very well because of the clouds. But we're gonna ride all the way here along the coastal to this mountain.  And look at the water, it's so clear. And look at this. Yeah I got a swing.
That was a nice break. Beautiful place. > Yeah, amazing. Tambora, to the left. So, I think this is the last town before we head to Tambora.
Maybe this is where we have to buy some water, stock up some food, gas up, etc etc. Yeah, but now instead of going to the left, we have to go to the right. Yep, because we need to gas up. > There's supposed to be a gasoline station.
Oh, it's a market. Hey horsey, you're thirsty? Been working all day huh?. We are getting closer. Almost there. In the front there  should be a little town and there we wanna get some food. Oh, it looks nice. In the shade. We can sit there, yeah? Looks nice.
Mmh. We have lunch. Noodles, tofu, vegetables and egg. > And tempeh, hiding in the back. Oh tempeh, I forgot. And some cucumber with chili. Ah here`s the gate. That`s the gate? Tambora. Doro Ncanga.
Okay, let's go! Don't use your front break. > Oh yeah, you're right. Wow, behind you is just sand. I need to keep some distance. Sand. It`s really really dry. Off-road, finally! I`m waiting for this for the whole day. Okay, I`m coming. Heyo, how are you doing? > Good.
Exciting day! Wow eh, really cool! Oh, sorry! Oh sorry, Ryan! Ryan ended up in my sandstorm... from hurricane Nati. Yeah, why did you slow down? Because we were suddenly in deep sand. I ate a lot of sand just now.
I need to keep some distance to you. Look in your back mirror. > oh shoot. Hurricane Ryan. Uh, so cool. Maybe there`s the gate.
Or maybe we are lost already. Maybe we are lost already. Looks like the gate is there. > Where? To the left. Oh no. O oh, I`ve got a problem. > What happened?
What happened? I lost my chain! Oh my god, my chain is gone!   You lost your chain? what the [ __ ] I have no idea, it's not there anymore. Oh my god. Before, it was already  making a weird sound. Oh [ __ ]   It's over there, so it was too tight. Oh it snapped, huh? > Yeah, it snapped. My chain! Oh no! How can we fix this? I cannot fix that.
So the guy made it too tight, huh? Just this one piece is lost. > Let me see. Look like this. Just this other piece. > Yeah, to lock it. There`s always something, huh.
I have to pull your bike out. We cannot go here today. > Pull it all the way out? We have no option. > I can hold myself on you and you're riding.
No. We have the the rope for it. > Ah yeah. Oh my god. Well, we don't meant to come here. Oh no. We're rushing here for the national day.
Yeah, it is what it is. How could this even happen? I don't know. It's really sad. Good thing we weren`t far yet. Wow, this is insane. > How could this happen? I don't understand. I don't know, babe. > Did he make it too tight? No I lost, I loose it.
I`ve loosen it. Here hold this. I`ll do this. Oh my god. > With your back side. Yeah, that`s it, that`s it.
Oh [ __ ] > What? Ah, your side stand broke. > Oh no. Man, what else? Are you taping this? I'm afraid, I'm so close to you. When you break, you have to tell me. Are you taping this? Oh no. Steady huh. It`s pretty far. > Yeah.
What a beautiful view, huh. > You`re good, babe? Yes I'm good. You good? > Yeah. You got my mirror? Yeah, I got your mirror. What is it? It pulled me to the left and then I... it's good it's good, you can drive.
It came off. It came off? I better tight it up. Ouch ouch ouch. Ouch, you're sharp. It`s our lucky day.
So for now, I could let it roll... down here. I would say.  Yeah but that's gonna be another uphill there. > Yeah, let me roll a bit. It's weird.
It`s weird, riding without my motor sound. Check this out guys. Our camping is done. Done even before it started Tambora doesn`t let us camp tonight.
Maybe tomorrow. so, just met a local before and he told Ryan. That there is a bike mechanic 200 meters on the road down there. Yea if its still open. > Yeah, that´s the next question.
Thank you very much! We `ll see if it works. Amazing! Thank you very much! Bye pretty girl.. Shara... Okey dokey.
Bye.. So we are super lucky. The shop is open and he can fix my stand. My chain is fixed, my stand is getting fixed, what else? We can go up to Tambora for camping. Hell no, I want a bed. Awesome. What a day.
I'm so glad the stand is fixed. So I can put my bike anywhere, I don't need to hold it and it's running with the chain again. And look at this, maybe we're gonna have sunset tonight.
We arrived at the hotel right on time. Unfortunately Ryan's bike doesn't go on. Because in the two minutes he went  inside the battery went down. But we are here now. It was a crazy day we are super tired we just ordered some food. And after this we have to unload our bikes.
Today was actually amazing funny in a way. Unlucky i don't know if we are unlucky or lucky at the end we are Lucky we are here and safe. So yeah, wish you a good night and then see you in the next video. Good night. > Good bye.
2022-09-18 02:06
Show Video
Other news