Malaysia Travel, Putra Mosque (Pink Mosque) is easy if you go by train and Grab.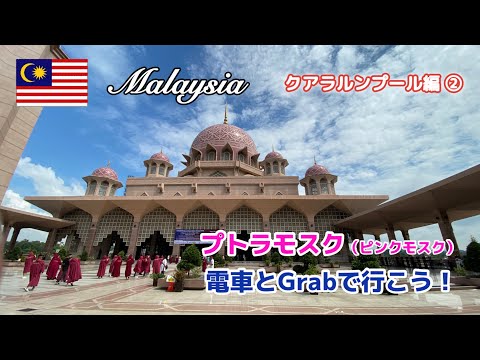 Show Video
Good morning We are "Jaane" It's 8:10 on July 8th Shooted from the hotel in Kuala Lumpur The temperature is 25 degrees now A maximum of 31 degrees is forecast. I will call Grab and go to Batu Caves I will go to various other sightseeing spots, so please look forward to it. Well then, let's go! coffee water, orange juice porridge topping salad Porridge 2 types of noodles rice with beans fruits potato, wiener bean soup serial Today's breakfast menu is simple! Full before breakfast start time! opening time is 7:00, but they are entering since 6:30. There is also an outside terrace seat.
Porridge is delicious! Chinese noodles and rice noodles, the soup is the same Morning view of the hotel It looks like the weather will be fine today I called Grab because time is my top priority RM13 to Batu Cave (JPY390,USD2.86) Arrived at Batu Caves Skanda statue can be seen in the back Let's go! I went to Batu Caves please look! It's a very big Skanda statue~ Largest Hindu temple in Malaysia There is a temple in a limestone cave gods are worshiped There are 272 steps leading up to the entrance of the cave. This place has become a famous for tourists Since this staircase was repainted colorfully in 2018 Instagrammable? It seems to have become a spot! monkeys are everywhere Shiva's son Skanda is the god of war. If you look into the legend of Skanda upbringing, it's quite interesting! We will climb 272 steps A friendly monkey comes right up to you I'm out of breath The 272 steps are quite tiring. "Hello monkey" cave entrance Why are there peacocks? Scenery inside the cave There are still stairs inside The main temple is on the left Skanda seems to have traveled on a peacock. stairs inside the cave A view of the entrance from the top of the back stairs There is a gaping hole above the temple in the back The light that shines in is a mysterious landscape some prices list for gifts? The limestone here is said to be 400 million years old.
why? Free range chickens... scenery at the entrance It may be scary to feel the height when I go down the stairs... There is a tourist facility called Cave Villa on the left side of Batu Caves It wasn't introduced much, so I walked around and saw it. This back is a paid exhibition facility, but there were almost no people We decided to go back just to see the exterior! I came to Kampung Batu Station by Grab From this station take a train to Putrajaya without changing trains This is the scene where you buy a ticket at the station.
It shows RM10.6 RM10 bill could be inserted But not accept RM1 or RM10 bills! ? I found out later, but I had to put in the exact price (tears) I thought I would get some change I was able to buy "Touch'n Go" at the window, which was not sold on Penang Island! Use your boarding token first! kindly explained to me One of the easiest ways to get to the Pink Mosque from Batu Caves Take a bus or Grab from the terminal station Seems to be available everywhere in Kuala Lumpur now It was written that it is difficult to obtain on the net, but ... Card fee RM5, put RM45 on the card, Total RM50 It's cold inside! It's about an hour trip! I'm heading to the suburbs, so it's getting more and more vacant Two more stops to the last station Arrived at Putrajaya Station go to the bus stop I asked a local who was at the bus stop This bus goes to the Pink Mosque, but there is only one bus per hour.
The bus just left, so I have to wait for an hour (tears) I couldn't wait an hour, so I called Grab I arrived at the Pink Mosque in about 10 minutes by Grab It's still early in the morning, so there aren't many tourists. yes this is the pink mosque The official name is Putra Mosque. It is commonly called "Pink Mosque". It looks like a fairyland palace It looks pink because natural granite is used. We rent robes for free at the entrance. There was a long line at the robe rental office, so I entered with my own hooded hoodie.
If you check with the staff before entering, is it OK to wear that outfit? Is it beautiful? (laughs) No shoes inside the mosque The design and color of the carpet also give a beautiful impression. There was no air conditioning, so the fan was spinning. The rose-colored decoration on the dome ceiling is eye-catching.
Describes Islam Muslim means a person who believes in Islam Explanation of worship etiquette Philosophical content was written even in Japanese Lake Putrajaya. Sightseeing cruise ships are also available After the tour, no waiting for rental a robe, so I borrowed it and took a picture. Let's go to the Selera Putra Food Court on the first floor At this time, the stalls were not open.
Surrounding tourist map Let's have lunch at "Old Town" The order form had separate columns for food and drinks! It was full until recently White Coffee RM6.9 (JPY207,USD1.52) White Coffee Hazelnut RM8.5 (JPY255,USD1.87) Ah! I stabbed the straw upside down! whatever! (lol) Hazelnut is richer and more delicious White Coffee is normal! I should have chosen a same hazelnut. NL17 RM21 (JPY630,USD4.62) sorry I can't read english Chicken, Nasi (rice) Indonesian food What is this? Don't touch my food! No problem! I'm going to eat this... crispy fish, peanuts cucumber, half boiled egg Something like rice crackers? I think it must be hot sauce It was a hot sauce! It was so spicy that I choked the chicken was delicious BR4 RM24.3 (JPY730, USD5.35)
Food that looks sweet tomatoes, cucumbers, potatoes This is Hainanese chicken chop Chicken wrapped in batter and fried It seems to put gravy sauce on Hainanese chicken chop It seems to be made by adding wine, onions, and spices to the meat juice and simmering it. The gravy sauce was a perfect match for the fried chicken. Grab from the Pink Mosque to the station Ride with a "Touch'n Go" transportation card Touch and GO Transportation IC cards are convenient in any country. arrived at Bukit Bingrang, it started raining heavily, so I went here.
The first basement floor is a full-body massage room We taken massage firmly for 90 minutes! The tiredness of the trip was healed It was raining like a squall, but it cleared up after 90 minutes. You can tell by looking at the puddles that it was raining heavily! Is it the famous boy before Lot 10 in Bukit Bintang? I helped my father with his work. Demonstration performance of Turkish tea It's the same performance as Turkish ice cream that can't be received easily We will have dinner at Lot 10's underground food court. Dim Sum "Layuncha" 2 shops were in the same kitchen Hon Kee, famous for porridge Order the three-color egg porridge Order dim sum (store name is different) Porridge and dim sum were billed separately at the same place, so I was confused I found out later that it was a different store. It's confusing! Have dinner at the Lot 10 underground food court 3 types of egg porridge: skin egg, boiled egg, and raw egg Smooth porridge with just the right amount of saltiness A raw egg was hidden underneath The mellow egg porridge was excellent! It is a deep-fried flavor of fish paste wrapped in yuba.
This is an intestinal powder containing shrimp! Contains shrimp It tastes like a sweet sauce made with bowel powder! Green jelly is chendol, rice flour and tapioca ingredients colored with pandan leaves Surprisingly different from the food photo! This doesn't have much filling. There are few lotus seeds that I expected! It was a warm, sweet soup. Bukit Bintang intersection is really busy It's a scramble crossing like Shibuya, Tokyo.
A band was playing in front of McDonald's Take the monorail from Bukit Bintang back to the hotel Get on the monorail for the first time Pedestrian bridges are used to move between platforms Malaysia feels like a car-first society I've been walking this pedestrian bridge for about 10 minutes. Because there is no elevator for access to the road, I think it would be difficult for the elderly and people with physical disabilities to use it. After going down the pedestrian bridge, the side of the road to be a wholesale district There are many shops for children's rides. There are many toy stores Similar shops are lined up ahead We turn back to the STEG hotel This event seems to be held On the road,and I could see the night view of the twin towers from my room window. Good night!
2023-09-12 00:47
Show Video
Other news