Largest JESUS CHRIST Statue & Camping in Lo´Lai | Toraja | Motor Touring SULAWESI [S2-E33]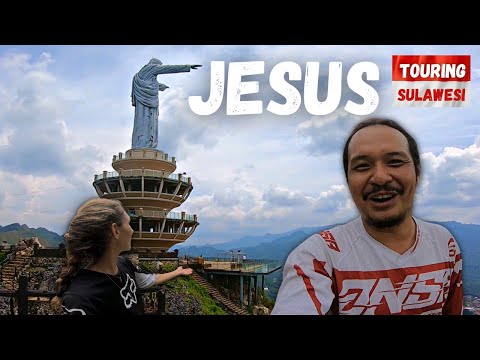 Show Video
It´s a land above the cloud, To´Tombi. Selamat pagi Indonesia and good morning everybody. Welcome to the island of Sulawesi in Toraja and we stayed in this beautiful place here.
Nuansa homestay. It´s time to move on, even though I would love to stay longer in this beautiful place. But the journey must go on. Our today´s plan is we want to go for camping in Lo´Lai.
Bye bye. Thank you for everything. We gonna miss you. Bye Deana.. Bye Ika.. Thank you so much for everything.
Be careful. > Yes, thank you. Good morning everybody, we are finally moving on from this beautiful place with beautiful family. > Yeah, I love this family. They made us feel like home. Especially this lady right here. > Bye bye.. Grand ma, thank you for everything. > Yes Natalie. Bye Auntie.. See you soon, take care of your self. Bye.. > Yes, son. Come visit next time.
I´m so sad saying bye to her. > She was so lovely. She always cooks for us. This is hands down the best homestay we ever stayed. > Yeah. In our journey from Bali to Sabang, Sabang to here.
Amazing family, I love them. It´s a hidden paradise by the way. > It is a hidden paradise with a people family in it. To go here, you have to drive through the school. > You might gonna get confused at the beginning, but just follow the road. Or watch our video. > Ya, or that... We gonna make a right, here baby.
We gonna check out Buntu Burake, which is Jesus statue here in Toraja. And after that we gonna start to go up the mountain. Heading to Lo´Lai. To To´Tombi to put our camp there. We gonna go camping. After trying to convinced Natalie, we finally gonna go camping. Ryan really wants to go for camping in the rain. It´s a bit of off roading here. What is it, something broken here? Oh ow, careful huh. Can you do it? Ooh wait. > I hope so. Car is waiting behind us.
Ah, you could. Just lean to the left a bit. Good? > Yeah. This is not the actual road going to Buntu Burake by the way guys. You could take the main road and you could get there a lot faster. Like 10 minutes faster but we wanna look around you know.
Because on the main road, we passed it already and you can not see all of these. Like paddy fields and then a lot of traditional houses everywhere. I mean, if anyone have watched our videos so far, then you know we like to take not the main road. We´re okay to get an ugly road or off road if needed. Sometimes we opted to go for the off road anyways. Because we wanna something that not everybody had seen, basically Look at this, it´s so pretty. > Yeah, amazing. Wow, look down there. > Yeah, it´s amazing, so beautiful.
You could see the culture going like this. Even though Toraja is really rich with their culture, going deeper from the main road you could see a lot more. And you could see this. What´s up... Paddy fields with the mountains in the back. It´s beautiful.. > It´s really pretty here. The mountains are really steep there huh. Not pretty steep, it´s more like a wall.
Yeah, so if you guys don´t mind off road, not off road even. Like broken tarmac. You will see, you will find this beautiful scenery. Like beautiful scenic road. But yeah, you just need to sacrifice a bit. On this bumpy road.
Maybe most of the travelers, they like it on the nice beautiful road. You know. Hello, good afternoon. We´re just traveling different. Our style is different than most I would say. A lot of kids going out from school huh, they´re early. Ooh, it´s Saturday.
A lot of smiley faces and this beautiful.. You know what, guys. The only ugly thing about this is my gloves. It´s really beat up. I tried to look for it at Rantepao. They don´t have gloves that has armors on the fingers and the knuckles and on the back. So yeah, I think I still have to ride with this for now. Yeah the shed, they looked brand new. This is where they stored the paddy and they looked so brand new. So beautiful. All right, there we are. Our bikes are here and the lady from the store was so nice. We can leave our armors and helmets at her store. They have pretty bags here.
Wow... Look at the view over there. The view is amazing. Look at the rocks, babe. If you count, there are like 12 pictures here. I bet. This is called Jalan Salib (stations of the cross). This is the process from. I can tell a bit of the story about this actually.
This is when Jesus captured by the Romans. So this is the first one, definitely. And then, this is the start of the process of him walking all the way through.
And then, this is Mary Magdalene. At the time, she was a prostitute. She gave uh.. Like a sleeve to clean up Jesus´ blood. This is Jalan Salib (stations of the cross) isn´t it sist? > Ya. Ah yeah, I was right. All the way through, until was put on the cross. He died and taken off from the cross. Put on the tomb, but at the end. On the third day he disappeared. Before it was a bit drizzling and now it´s really really hot again.
There in the bottom, that´s the city of Makale. It´s pretty small huh. I think I know where I wanna stand. It´s right here.
Okay, careful.. Jesus is protecting us. Thank you Jesus. Thank you Jesus for your protection. So, that is Buntu Burake. That´s the statue of Jesus Christ in Tana Toraja. We are now heading to Lo´Lai. Which is our camping area.
Hopefully the weather is still holding up, so we don´t need to put our rain coats. Or our boots didn´t need to get soaked anymore. But in the front of us, it looks like it´s raining. > It looks like, ya. I don´t like my front wheel. I need more air, it´s too bumpy because of no air.
On the turn it doesnt feel good. Maybe best we look in Makale, yeah. > No, on the way. There is still small shops. It´s okay. Okay, see you guys closer to Lo´Lai. Thank you.
Short break to have some lalapan. > Our favorite food on the go. Salad, Tempeh, Chicken, Rice with onions, Soup and Chilies. Good? Thank you. > Bye. My chain is fixed, I just need to spray on Natalie´s lever.
And we are gucci. Now we are heading to Lo´Lai. Watch out. > No, he´s stopping.
And our gas is filled too, we are set to jet. So we gonna make a left here on the bridge. From the main road. So, after we passed Makale and then you drive maybe 20 - 25 minutes. You gonna make a left here on this bridge. It´s looking pretty special, I don´t think you will miss it. Then make a right after the bridge, babe.
You in? > On the bridge. Yes, I´m coming. We are still 25 minutes, only 10 KM though. So I think this will be a lot of climbing. We´re getting close to Lo´Lai. Please, get brighter. Hopefully it´s going to get brighter. > What?
Yeah, hopefully we get to see sunrise. Ya, tomorrow.. It would be GREAT. Sunrise above the cloud.
We are going to camp in To´Tombi by the way. In Lo´Lai. I was there also, once with Sabi. Beautiful memories. There are two places for camping there. The other one is Lempe. Do we have to go to Lo´Lai? > I think so.
Getting closer. > Yes, three minutes. We haven´t camped for so long, I missed it. > Where was our last camping place? Rote. That was such a great experience there. I miss you guys from Rote. > Yeah, miss you guys. Our marines friends. Marines and the kids. > And Nona. To´Tombi. Made it..
Maybe here we gotta pay. What does it mean? > Only us that are staying in To´Tombi could go in. Ooh, okay. We want to camp here, sir. > Camping is 50000 and the entrance tickets. It´s 50 for the camping and the entry.
Could we drop our bikes first? There? Okay cool, thank you. Thank you. A lot of travelers. > Oh yeah, we are not the only one. We just arrived at To´Tombi. I will show you the sign of To´Tombi right here. It´s a land above the cloud.
We are going to camp here and as we came in, we saw a bunch of bikers. And then one of them Fadil, he´s a fellow youtuber. Yes, Team Escorting Ambulance Indonesia. Natalie already put it on her bike. And, Natalie is going to put another sticker from the Brotherhood Of All Bikers from Palu. Cool huh. Thank you Brotherhood of All Bikers.
And by the way, they are going to camp here also tonight. So we gonna have friends to share our journey. Because, you know bikers we love to talk about bikes and about our journey because they like to travel as well. We got our place for camping tonight. And this, this is the beautiful view in To´Tombi. How are you? > We are great. Fellow tourer. Natalie. Nice to meet you. > Suryana.
We met before up top. > Yeah we met already. How are you. You know my name already. > No, I just heard it. I´m Natalie, nice to meet you. From where? > Udo. Holland. Netherlands. I´m half dutch but my dutch is gone. > Hello, Ical. From here. From here? Oh wow. > My friend, already for 30 years.
Oh wow, from here? Toraja? Wow, it´s beautiful here. > It is. Camping place is full of tents and have a beautiful view down to the houses, the lights Alright, it´s time to go to bed. Have a good sleep everybody and see you tomorrow for sunrise.
2022-11-18 17:04
Show Video
Other news