Lakshadweep Guide - Permits | Cruise | Budget | Accommodation | Itinerary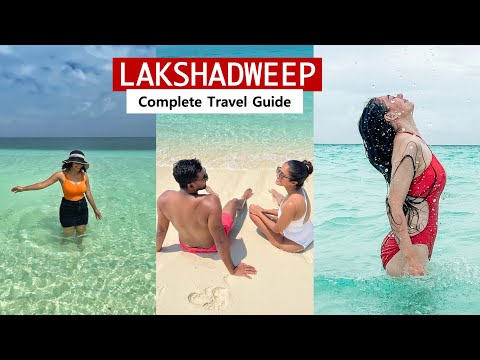 Show Video
I think once in a lifetime everyone should visit Lakshwadeep as it has India's best water and its geography is quite similar to the Maldives as both these places have low-lying islands, reefs, and atolls. In fact, Lakshwadeep's island Minicoy island is situated closer to Maldives and it is said that the culture of Minicoy island is very different from the other islands of Lakshwadeep. Even today it is believed that language, religion, and culture resembles that of Maldives. Lakshadweep is also the smallest union territory and has 36 islands. You will find people speaking mostly Malayalam here especially on Kavaratti island.
Thank you. Thank you. high five high five High five! Apart from that 96 % of the the population is Muslim and the best time especially if you want to dive is between October to April because of no monsoon season. So if you have seen my Maldives vlog, just like the Maldives, even Lakshwadeep has resort and local islands. Bangaram is the resort island for tourists and you will see how locals live and comparatively it is expensive than to other local islands where you can see the local living. So in this video, I want to give a complete travel guide of Lakshwadeep basically different different types of travels that you can do in Lakshwadeep by flights,by ship with the help of Ivana, Prachi and Harsh who took different modes of transportation and & different kinds of packages to reach Lakshwadeep.
So this video will be a wholesome video of how to plan your Lakshwadeep travel and if you want to skip any important part you can check the timeline below and skip it. So before giving a detailed information I want to talk about a few basic points because it overlaps all the information I'm going to give further. Talking about the network, in Lakshwadeep the network is very sketchy none of them works. BSNL works a little bit but you will not get internet. And the hotels that claim that they have wifi, their wifi doesn't work properly.
So expect, that for 5 days you'll be out of network which is a very good thing for people who really want to get away and experience peace. The second point that I want to cover is about ATMs. You'll find ATMs on almost all islands, so cash withdrawal is not an issue. So, withdraw your cash in Agatti or maybe in Kavaratti & you can go to diving spots and just enjoy the activities. Now talking about the most important factor which is how to reach Lakshwadeep.
You can reach Lakshwadeep by 2 ways, one is by flight and the other by cruise. So, the flight is from Cochin to Agatti & the approximate cost for it comes out to be 6000rs. It takes 1.5 hours in traveling. So, if you are reaching Lakshwadeep then your layover will be in Cochin from where you'll get a direct Air India flight. Talking about the ship. You can take the Samudra package about which I'll be telling later in detail.
Otherwise, people really love to opt for Cordelia cruise Prachi and Harsh recently traveled with them and and they had a wonderful time and I loved seeing their stories so over to them. Hi everyone it's Prachi and Harsh, together we're known as two tickets to freedom. We're travel content creators and we're super excited to be making this video for Radhika.
Yeah we've also had the opportunity to experience the beautiful islands of Lakshwadeep and we thought we'd sit down and tell you guys how you can make a trip happen there as well. The trip might sound challenging to make because we also kind of had a lot of hazards trying to figure out how to go about with it and finally we chose to do it via cruise known as Cordelia cruises. Right so Cordelia Crusise is this uh very up-and-coming famous private cruise where they have cruises from Mumbai, Kochi, Goa.
So there are many ways you can book the cruise. You can book it via their website or you can go through a vendor. We initially were thinking of doing it ourselves and we're gonna do it via their website it's completely transparent straight forward but if you're not comfortable with the process feel free to go to the travel agent those guys will sort you out in an instance. And my travel agent Harsh means just someone who helps arrange your flight tickets. If you have that or if not you can just go to google and find a travel agent who'll help you with um booking this cruise. In fact, there is another well-known company with whom Ivana traveled, and this is what she has to say about them.
Hi my name is Ivana and I've been living in India now for four years. I'm actually also a travel vlogger just like Radhika on my own youtube channel - travel vlog ivy and the last November I had the absolute privilege to visit one of the most beautiful places I have ever been Lakshwadeep. If you'd also like to go I would highly recommend you to connect to Gol which is a travel agency specialized in Lakshwadeep tourism.
They arranged everything for Kritika Goel, another travel vlogger and me and it was the absolute best trip we could have wished for. Now if you're really into island hopping, Gol actually also offers this package called the samudra cruise where you visit three islands in Lakshadweep over a course of five days and four nights for 30k rupees excluding taxes per person. I think this is a great deal if you want to see a lot of Lakshadweep in a very brief amount of time.
However, this package right now is being upgraded so you will need to book in advance to make sure that you get a spot which is something that I anyways recommend to anybody who heads out to Lakshwadeep because it is simply a conservation area and the capacity for tourism is limited. So if you want to go make sure to book as soon as possible. Hope this information helps you with booking your trip to Lakshwadeep and now back to Radhika. So before talking about cost and itinerary I just want to say that your plan will be really sorted if you plan with a travel agent. Although I'm not an advocate of travel agents but because of network and language it will be very difficult for you guys to go about Lakshwadeep planning on your own as you'll face problems with bookings, booking an accommodation, and vessel. And if you would need diving packages then if you have a contact point in Lakshwadeep it will be very very sorted for you.
Until and unless if you have a ship package or if you are going with Cordellia or you are going with another agency that is arranging the entire package for you then it's fine. But, if you are traveling independently like how we did on our own, exploring islands & going on local islands. It is always better to have a contact point. So, I won't recommend the people who I traveled with because...
my experience was not that good. In fact, my friends also did not have a good experience but we met another travel agent with whom we did diving in Bangaram and we had a very wonderful time with them, so I will highly recommend Amathi Scuba. You can take diving packages from them you can reach out to them for accommodation bookings or arranging permits for you. I will highly recommend them, links are in my description box below.
So, let's talk about the cost before giving you all the other details. Over here, is our budget that we did independently and here is the budget with GoLakshwadeep and budget of Cordelia Crusies. According to these different budgets, you can choose how you want to travel. Personally, I love traveling independently but if you need someone's help and if you want someone arranging packages for you then you can opt for these. And if you are talking about cost then I want to cover something really important.
So Lakshwadeep is not as cheap compared to the other states but if you plan it correctly and well in advance you can have a really nice experience on this paradise. One such app that can help you in quickly achieving your financial goal is Kuvera. Let me explain you how. So, let us assume that you want to do a diving course in Lakshwadeep after two years and the total cost of this diving trip is roughly costing you about 50,000INR so on the basis of this goal, Kuvera will tell you how much you need to start investing today and where, so you don't have to worry about your finances. How it works? Through Kuvera, you can invest in direct mutual funds without any commission invoiced on selling. You can also look at a wide range of tax-saving investments, U.S. stocks,
fixed deposits as well as avail group health insurance. And for this you do not have to pay anything as they give advice to you for free so you can understand personal finance and manage your money independently. Kuvera is a safe place to invest. Download the app now and join one million-plus users. Links are in my description box below [music playing] I think they have multiple packages like 3-4 nights and 5-night packages all which go to Lakshwadeep and come back. We took a finite package so it starts at Mumbai takes you to Goa then Lakshwadeep and then finally back to Mumbai.
We would like to mention that we were invited onto the cruise by Cordelia themselves so this was a collaboration but what we would have ended up paying would have been about rupees one lakh ten thousand uh on the month and the day that we went at. But the prices are pretty much around there for 2 people that means we shared just one cabin so they don't really price it according to the number of people but according to the number of cabins you're booking. Now all the money, since you're coming to the money part you have to keep filling your card constantly with cash if you want to do any paid activities - but paid activities include like rock climbing, casino and we got a ocean view cabin yeah we would suggest you to definitely take a cabin which is facing this ocean, the sea. There are also options for cabins that don't have any windows and we felt like that would be too claustrophobic but we did see that so many of them were booked because they're comparatively very cheaper than the ocean view.
So the ocean view cabin was about rupees one lakh ten thousand but the interior view cabins were about eighty thousand. So there are 3 different packages for Lakshwadeep with Cordelia. The first one involves just the transfer from the cruise to the island and a welcome dance by the locals on the island and then you get your free time to explore on the beach. In the second package, you could choose between 4 activities that were the banana boat ride, snorkeling, a glass-bottom board -yeah yeah so you can choose any two of these four activities and also every other thing that was included in package one is also included in package two. And in package three, the only addition is um a session of scuba diving if you fail to come on this cruise or not you will have to pay extra if you want to go uh down onto the island and in terms of food it's a great serving which you're already getting on the house it's a buffet serving at the starlight restaurant yeah. And the food court. - the food court.
And they have servings 4 times a day. Yeah, no three times a day. - three times a day, even in midnight oh yeah, even at midnight. Servings for 4 times a day. So, you will never go hungry and the serving is really tasty. - yeah now if i'm not wrong uh the package one was priced at 18 USD , package 2 was priced at 50 usd and package 3 was priced at 75 or 80 usd.
Why I say usd is because everything on the cruise is in usd so you have to pay in dollars. Obviously that doesn't mean you have to pay physically in dollars but uh whatever card you swipe or if you pay in rupees it will be converted into dollars and that's how they work. So on the day of that you reach Lakshwadeep you dock on the island somewhere around 9-10 a.m, have breakfast uh gather all
your belongings whatever you need and then you get off the cruise. Now the Island that we visited was the cutback island. It's damn beautiful very very very amazing, the water is unlike anything you've ever seen before like honestly. uh we fell in love honestly uh the minute we got onto the island.
Just a suggestion if you're planning to really go there for a longer duration, sit at the beach and wipe, carry a big umbrella -yeah I think that will help not even sunscreen, the tan has still not gone there's no use of sunscreen. No, it's just, so you're not like burning. Yeah so just carry something to give you shade all the while. But I will let Ivana take over because what she experienced was something very unique.
She stayed at the resort island in Bangaram, and had a very wonderful time. So, if you want to go on a luxury trip with your family or you want a honeymoon trip for yourself then you can maybe choose this. Over to Ivana.
Now to give you an idea of what your budget should be if you're going on a little bit more of a luxury vacation to Lakshadweep I am going to give you all of the details right now. So we went actually to Bangaram island, which is a completely government-owned island. There's only one resort here, the Bangaram island resort and the cost for a double occupancy room right now are 15k. Now do keep in mind that all the meals including all the tea breaks are included in that price, so it's actually a pretty good deal.
Next to that you can also do a lot of water sports from kayaking to snorkeling to diving to doing island visits. Kritika and I went to Thinnakara island which cost about 1400 rupees for about a 3-hour trip. The prices for other activities vary from, for instance 200 rupees for kayaking and they can go up to 20k if you really want to get certified in diving. [music playing] So, I'm again dividing the iterary into sections and as per your needs and preference you can pick that itinerary. The travel plan I made for myself was a completely independent travel plan. It was on me how much I want to spend my time on a particular island.
But again, I will highly recommend that you should some or the other contact point because you'll get a lot of help with bookings, in getting permits, so I will recommend that you can reach out to Amathi Scuba and we set our entire plan like this. Now our trip started on 17 November and ended on 22nd November. On 17 we took a flight to Agathi and since we were traveling from Mumbai it took us an entire day to reach as our layover was in Cochin.
Decided to sleep and relax on that day as we were super tired because of our long travels. So in the accommodation where we stayed, I won't recommend them because there was not a running tap water and a lot of cockroaches were there although it is considered one of the most expensive stays. Another one that i would like to recommend, which is also Amathi scuba's recommendation.
It is White Pearl and the cost is 5500 including meals for two people. The next day you will travel to eastern jetty and from there you have to take a speed vessel to reach Kavaratti island, which will take about 2-2.5 hours and we reached Shabnam Graphics which was amazing. So, it was for 2000 rs without meals for two people and you can have a really comfortable stay and an amazing view. We rented a scooty from there and explored the island, soaked in the vibe and saw a very beautiful sunset.
So, since there is no light this is our quick fix and we're waiting for the sunrise because hopefully in the next 15 minutes very beautiful colors will be seen and we've come a little early by waking up at 5:30 am and on the side is a shipwreck but I'll show this to you in the sunlight. So, on day 3 we decided to get up really early in the morning to see a very very beautiful sunrise and also a shipwreck in Kavaratti which was extremely beautiful. If you are in Kavaratti, you should not miss out on this spot because this is very unique to Lakshwadeep. After that, you can do diving. And diving at Kavaratti is considered one of the most beautiful dives in Lakshwadeep. Over there you will find still clear blue waters and you will really enjoy.
And, in fact, if you want to learn diving you can do courses over here. It's considered one of the cheapest places to learn diving in India and also one of the most beautiful dive sites in India. So on day 4 our vessel got delayed and in Lakshwadeep, it is very much possible that you either miss your vessel or it can delay that day because the weather is very very unpredictable at times. -So the vessel got canceled - Today no vessel? No vessel.
We are up from 5 am in the morning thinking to catch the vessel at 7 am but it has got canceled. So, we decided to do another dive in Kavaratti because we had a lot of time in hand and reached Agathi later in the evening to catch another beautiful sunset in Agathi. Day five was our Bangaram and Thinakkara exploration which took us the entire day. We did two dives along with the exploration.
Thinakkara is considered one of the eroding islands of Lakshadweep. Over there you'll not find local life. We didn't even see any tourists also in fact, and you will find such different shades of blue in both Bangaram and Thinakkara.
Bangaram is the resort island of Lakshwadeep. Over here you can again learn diving or if you want you can go kayaking or just relax. But you can't miss out on the sand bank which is very very unique to Lakshwadeep. It is one of the most gorgeous sites of Lakshwadeep. Here again, you can do diving.
On our last day, we decided to go to a nearby island, which is rocky island and kalpitti island as our stay was in Agathi. It took us like half an hour to reach there. Even though the island was not that great but the boat ride was amazing. You will find loads and loads of turtles, you have to check it out and take this boat ride.
And after this we checked out and that was the end to our wonderful trip to paradise. So this is my itinerary and I think it was amazing because we got to see a lot of islands and although there were many others too which we missed out on. But at least we experienced both local as well as the resort island. [music playing] So, if you are taking a package trip especially ship packages that Ivana or Harsh and Prachi took then your island to island transfers is sorted basically. But if you are going ahead with independent travel then Amathi scuba can arrange all of this for you as you will have to take island to island transfers to explore as many islands as possible.
So for transportation, it is approximately thousand rupees pick and drop to the vessel area and vessel cost again another thousand rupees to and fro. And usually these vessels run right after the flight either lands or right before the flight takes off. You can book this on the island itself. There are several offices or you can also book through this website which I completely failed to understand.
But if you are able to then you can figure it out over here which is super great. Again link is in my description box. Now talking about the most important thing of traveling to Lakshwadeep, of course you need a permit to travel to Lakshwadeep and only a Lakshwadeep person or a local person can arrange this for you. If again you are going on a cruise, like Cordelia Crusie or Samudra package where you are staying on that cruise itself then you do not need a permit because you'll visit that island during the daytime only & your nights are usually spent on the cruise.
So, you do not need a permit for this but if you are traveling like how I traveled or how Ivana traveled then of course you need a permit through a local person and again Amathi scuba can help you out with this. There are other local people as well who I met in Kavaratti and they also arrange. The contacts also I'm giving below in the permit list you can reach out to them and ask for their rates. What I have been told about the permit cost is 5000 INR, if you take it without fullest clearance and if you take it with the fullest clearance then it costs 2500 rupees per person.
So, you can reach out to them and see what price they are offering and you can negotiate with them and with them and choose the best one for yourself. [music playing] So this is the diving packages they are usually increasing so, you can call them and confirm it again. When I went the last time, the prices were very less but as tourism is increasing and demand is increasing prices are also increasing. But, I still feel that given this price point diving is still one of the cheapest in India. Also one of the most beautiful because clear water like this and the quality of the reef and the marine life and the coral life can't be seen anywhere else in India. It was such a blissful experience to dive in Lakshwadeep & I will highly recommend to dive at least once in your lifetime in Lakshwadeep.
Do your courses in Lakshwadeep and you will cherish driving forever because it is one of the most beautiful diving spots in India. So, this is all the information that we wanted to give about Lakshwadeep. There are various ways to travel to Lakshwadeep you can choose it according to your preference and budget. I really want to thank Ivana, Prachi and Harsh for contributing to this video.
Go and subscribe to their channel guys. Links are again in my description box below, they are amazing they create amazing travel content and if we missed any information then please comment below so that everyone can be aware of it. And Like, share, comment and subscribe for the algorithm and I'll see you guys in the next video Until then bye-bye and take care.
[music playing] [music playing]
2022-04-21 22:54
Show Video
Other news