Lakhamandal Uttarakhand - प्रकृति की गोद में बसा यह गांव - Beautiful Village Homestay & Culture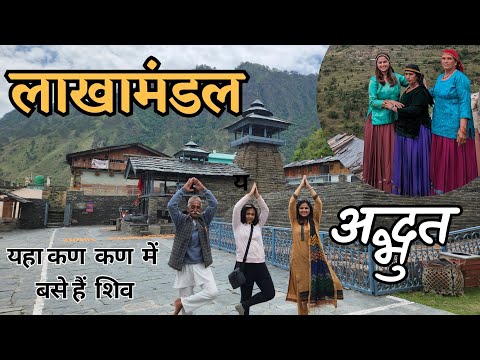 Show Video
You saw the feets of Goddess Parvati's feet, In the age of five years Goddess Parvati had done severe penance to get Shiva. the two modern rooms that we have show you are with attached washroom and western toilet. and here we have shown you the village homestay. If you live in this kind of place and eat this kind of food, then you will increase your years like this. Hello everyone, welcome back to OTA EXPERT we welcome you to Devbhoomi. See how pleasant the weather is, God makes such a weather that one thinks that just go out of the house.
Thank you so much everyone for your blessings that i have recovered so soon that is why we are taking to a new off beat location. we just reached in Mussoorie and the weather is so beautiful here. We have to go approx. 70km ahead of Mussoorie.
If i tell from Dehradun railway station we will go ahead approx 120km towards Yamunotri Two ways connect here, but we are going to Lakhamandal through Mussoorie by passing Kempty Fall what is the specialty of Lakhamandal we will tell it there. So let's go. We've got such a lovely family here we stayed for tea in Siya Village. and we got to see so many beautiful puppies playing together. The Kempty fall is visible in the front,I think this place is the most beautiful to see The point on which we are standing right now, is the selfie view point. This place is very good for selfie but you can also see Kempty Fall from here.
and the view you are looking at is too much beautiful. The way is too beautiful and we will move forward along with the Yamuna river. One way goes to Barkot from Yamunotri route and on the another way see how beautiful rivers you will get to see. We just came 500mtr inside and couldn't move forward because of the beautiful view here.
The area of Jonshal Babar is very beautiful and unexplored. Very few tourists visit here that's why this place is lying as it is. From here approx 4km ahead we will go to Lakhamandal The temple built on the bank of Yamuna river is very ancient. and the history of this temple is connected to the period of Mahabharata. the rest of the history we will tell you later. So lets move. Approx 1km before the Lakhamandal temple we found this ancient pandav savyambhu-gupteshwar tunnel.
The priest gave us this torch to walk in to tunnel as there is too much dark inside. Tia has gone too far. I am bringing torch Har Har Mahadev it's a wonderful place You feel positive energy only after coming to such a place.
i am telling you i don't know if you will feel it or not. We have reached Lakhamandal. We found two routes, one of which ends at the parking lot below You can park your car and walk only 100 meters and if you cannot walk you can come through another route which stops at the front gate. and the best part is that there are staying options also.
We have seen homestay near the temple. so we will see homestay but first we will have darshan at mandir. Look, the Archaeological Department has taken care of our heritage. All this has come out in the excavation here, Pandavas had built many idols and Shiva-linga here.
All the remains that are visible here were found in the excavation of 2007. Here it is explained in Braille script, people who are not able to see, they can get the information here through this. First of all, both of you are blessed by our God.
Namaskar, my name is Pandit Mahimanand gaur. This temple is discovered by Goddess Cow. Gau Mata used to come here daily after crossing Yamuna river.
The Yamuna river is flowing here. The Maharaja's cow used to come every day, go inside the temple and perform Abhishek by offering a stream of milk. The Shiva linga that is inside is from the time of Satyuga. The time when Laxmi Saraswati Shakti Maa was incarnated.
You have seen the feet of Goddess Parvati. Mother Parvati in the form of a 5-year-old girl had done severe penance for 12000 years to get Shiva, then Shiva was pleased. This is the Shiva linga in red color. This is of Tretayug, of Lord Ramji's time This Shiva Linga is established in the middle of the sea. This Shivling will either be found in Lakhamandal's Shiv temple or in Soyat Van Rameshwar, apart from this it will not be found anywhere else in India.
The green color Shiva linga is of Dwaparyuga from the time of Lord Krishna. When Krishna ji was incarnated in Dwapar Yuga There are 33 koti Gods and Godess. 1.25 lakh Shiva has been established here. Every year a huge fair is held here on 15th April. That fair will be held in this place for the first time in the entire country, Hindustan & Bharat.
After that, there will be fairs all over the country. The doors of Char Dham will open after that Whose daughter or son does not have a child after getting married, if you have done penance on the night of Maha Shivratri with pure man and money, son will be born within one year. One gets the boon of son and daughter here.
The hoof marks of the cow that discovered this temple are here You say it hoof, look at this, these are all hoof marks See above, From top to below these are all are the marks of cow's hoof. The structure of this temple, this temple is built on the palm from top to bottom. Vishwakarma built this temple made on the palm of Bhimsen This is a demon, Mahisasura demon. it took the form of a buffalo This demon had assumed the form of a buffalo and was about to devour the Lord. Durga maa understood that it will eat my husband Maa Durga caught hold of his legs, hit him on the waist and caught him by placing it on his head. bow down to the goddess.
Duryodhana made Lakha Mahal Lakshyagrah to burn the Pandavas. This place is covered with red bricks all around and there are Lakh under this seat even today. There was a palace here, Duryodhana set it on fire and the palace was burnt This is an underground tunnel here, who made the tunnel for the Pandavas to escape Vidhur was a engineer who made this tunnel. Those who worked as their labor were rats. The rats made the tunnel from here and the Vidhur made the map from here From here Vidur took the Pandavas out of the cave on the road. The cave you must have seen while coming is the Pandava cave.
Pandavas went to heaven from here What are these idols, in Satyug their form is Veer and Bhadra. In Tretayuga their form is Jai & Vijaya In Dwapar Yuga their form is Dwar & Pal In Kalyuga this ideol is Lord Shankar ji, Bole baba of Goddess Sati and Parvati. His crown is of diamond pearl, see my kid His crown is of diamond pearl and this is the monster, on his skull there is another skull made. This is the mark of masan.
This big Shivling, this Shivling was established by Dharmaraj Yudhishthira Maharaj. Four maths have been built around it On the outside are the four Pandava brothers, Bhima, Nakula, Sahdev and Arjuna. And in the middle Dharamraj Yudhishthira Maharaj is sitting There are 24 villages in our Lakha Mandal And whoever died in these 24 villages, whether old or young, their dead bodies were brought here. This Havan Kund is a tunnel, dead bodies were laid here and pundits used to bring water from the Ganges and Yamuna from their homes. Water was sprinkled on the dead body by reciting mantras and the dead man became alive. Pandavas have established 1.25 lakh Shivling here with their own hands.
This is the goddess Kali of the road. Bow down to the goddess. Jai Jai Kali mata. This goddess has such a great grace, bow down to the mother. Jai Kaali Mata. O mother, protect our body, children, mother, father, brother, sister. Heal us from sickness. Chanting Mantra shivling chinta haran mahadev This is Shivling Chinta Haran Mahadev Seeing this Shivling removes all your worries And this is the transparent Shivling, seeing this Shivling brings salvation to your ancestors till seven births. Pandit ji has described the temple of Lakhamandal in very beautiful words, you must have liked it too..
I don't think that just coming and going to such a place will give you satisfaction When you stay here for three to four days and feel the positive energy, then only you will feel something. We will see what are the options to stay here, we will show you Bahuguna homestay. This is the homestay of Mr Naresh Bahuguna ji he just met us here. So Naresh ji you tell us what kind of homestays are here There are many homestays options to stay like our homestay Bahuguna Homestay since last 8 years. There is an old house of our grandfather and great grandfather in which we started homestay since 8 years. It is 230 years old house, now I will show it you.
How many rooms are there? We have 4 rooms which are ancient, which are from the time of grandfather and great grandfather, and some we have made recently. It is not as small as it looks from outside because it has two double beds. Four people can sit here, A small fan has been given, you will not feel hot, otherwise it is not hot here.
Proper cupboards are made to store the luggage. we entered from there and took exit from here, and did you saw that ventilator there? as soon as we took exit from that room we got a spacious sitting area here. a small kitchen from where the aroma of food is coming.
kids are also preparing food with you? You have made a very nice double Chulha. The preparation of vegetable gravy has started and dough has been set here. You will stuff it in it, hey but it's chili oh my god it is very much spicy. Here is the vegetable, look, cooker has also whistled, all the preparation is complete, now only chapatti will be made and we will eat. very nice This is an actual homestay.
I am showing something to Tia, what kind of stuff used to be in the past, you can put a whole lot of stuff inside it this is deep enough and this is secret room, Tia will go inside it. Staircase is being made to enter inside. A bed is also there. This is your room. how to put bed here? Look, this is a secret room, isn't it? I can see four door in this room, One, two, three, & four. If we will take exit from the fourth door we will reach to the temple. The owner of the homestay Mr Naresh Bahuguna is from the priest community. You can come and stay here we will ask for the tariff soon. You can directly contact to them.
Let's see the new rooms too We got these two rooms together which are newly built and are very neat and clean. You will get neat and clean bedding, TV, Fan and attached washroom. Wardrobe is also given here. A modern washroom with shower and geyser is available. and this is the best part wow, i think people can stay here for months.
what a beautiful place. I think no one will sit in the room , everyone will sit in balcony. And think how much fun it would be to sit here and work on your laptop. See, even though the rooms are together, but the divider is given in the balcony, so there is complete privacy. If you want internet connectivity, you can bring Jio dongle that easily works here. because you won't get wi-fi facility here.
But look at the location, I can't take my eyes off it the modern rooms that we have shown you will come with attached washroom and western toilet seat. there is a common washroom outside for the village homestay that we shown you before. It is a common washroom but it is neat and clean. From here we will go downstairs, there are also two rooms, but their bathrooms are outside, so their tariff is going to be low. We will tell you soon. We are getting the same view from below also.
There is no shortage of views. The balcony of both rooms is common. This is the room, Tia is already sitting here. The window is given in this room so you will get the view from the bed. I found the size of the lower rooms a bit small, but king size bed is given so two people can easily sleep here.
The common washrooms for this are separate This is another room. Its common washroom is here. Whether you stay here or there, you will be connected to the dining area. Here are the stairs where Tia has already gone looks like she is hungry. She has reached the dining area. We've come to the top and some lighting work is going on here. Light will be installed here. Imagine what view you are getting by sitting here, and by sitting here you can have your meals and can do a walk.
You can have a darshan of Yamuna River. It will gonna be tasty as this is prepared on Chulha. The taste of the food prepared on Chulha is always different. Aloo soya badi, Aloo soybean, Rajma, Raita, special chutney, and this is chilly that we saw before. I thought this is chilly and the raw onion with it.
Thin chapatti on Chulha. How? The taste of food is different. The food was too yummy. Tia will tell, how was the food? If you live in a place like this and eat like this, then you will increase a few years of your age. The tariff for rooms with attached washrooms is INR 1500 per person for per day including breakfast and dinner.
That to cooked on the stove, think how tasty food you will get. But if you will book a room with a common washroom the tariff will be 1000 per person per day. So you are getting very good options in this off-beat location when you will come here you will get places to explore told by Naresh Bhaiya. Here one trek goes down and another trek up where you will find caves. If you go down, you will reach the tributary river Yamuna ji that you had seen. When you are taken to the track, then these people also provide you food, so there you can take your lunch too.
That will be a different experience. "Mai banyu cha Uttarakhandi"- Garhwali Language The traditional dress is very beautiful and you can also wear these dresses during your stay and can join the people here. I had heard about the people of Jonsar Babar and that the people here that they do not socialize much with people from outside. But it didn't even feel after coming here that I am an outsider.
I loved coming here, it was a different experience for me and i think you should also come here. Subscribe quickly who are watching this channel for the first time. Keep traveling with OTA EXPERT SAPNA, JAI MAA GANGE, HAR HAR GANGE.
2023-06-13 10:19
Show Video
Other news