Kohima | Self drive to Kohima | Garampani Eco-tourism Park | Places to see in & around Kohima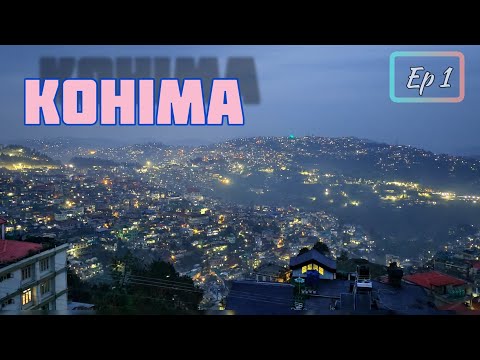 Show Video
An elephant watching a rhino... Today is 1st May 2022 and we are going to Kohima, Nagaland finally covering another state of northeast, which we have planned for so long. But before I say more, my wife is interrupting to say to see the capital of one more state.
You need ILP for entering into Nagaland an Inner line Permit. You can apply it online at nagaland.ilp, where you have to enter your details with latest photo and valid ID proof and most importantly a local hotel booking. & you will get your ILP within 6-7hrs.
If you are coming to Kaziranga, so before reaching Kaziranga, there is a place called Kanchanjuri viewpoint, from here you can easily spot Rhinos at this point. 99.99% you will see the Rhinos here. There are 2 routes for reaching Kohima from Tezpur.
One is from Tezpur to Nagaon, Nagaon to Hojai & take a turn towards Diphu, as you can see. Another route is from Tezpur to Kaziranga to Numaligarh to Golaghat. Time taken at both the routes is almost same.
So, we have decided that we'll go from Golaghat side and come via Diphu side. But if you are coming from Guwahati by road then it is better that from Guwahati reach the Nagaon bypass, take a right turn from first round-about of Nagaon bypass towards Haflong route Then from there, take a turn towards Diphu. We are travelling on Guwahati-Dibrugarh highway. Now for Dimapur, we have to leave this highway and will take a right cut tat road will lead to Dimapur- Kohima & then Imphal.
As of now, the road conditions are pretty good. The road on which we are travelling is called AT road or Assam Trunk road. Now, we are leaving this and taking a right turn. This route is very beautiful, we have travelled earlier on this road , if you have seen our video when we did the road-trip around Brahmaputra. We went to Dibru-Saikhowa National park. After Golaghat, how is the road condition that we will come to know today.
See the video till the end to know the road condition till Kohima. I saw so many videos to know about the road conditions but couldn't find any. So in this video, I will focus more on the road conditions. This is a hot water pool. Hot water is coming from inside the earth.
If you are travelling from Tezpur to Dimapur, you can stop here to enjoy. Bathing is prohibited. Road condition after that Garampani is bit rough because of construction. So many potholes are there. They are due to excessive rain also. Around 4-5kms of road was not good.
Now, we are crossing the Karbi-Anglong district of Assam. This road will lead straight to Dimapur. This is the border town at Assam- Nagaland border. Town is Lahorijaan. Dimapur is a plain city. Naga hills start after Dimapur.
Kohima is a hill station. You don't need an ILP for Dimapur. But for visiting any other place in Nagaland, you need the ILP. Dimapur is a crowded city but because of Sunday, roads are empty.
Whole market is closed. Even the petrol pumps are closed. Same as Meghalaya, Nagaland is also completely closed on Sunday. We started our journey at 6.30am,
and now at 2pm, we are entering Kohima. After checking in the hotel. we have came down in its restaurant for lunch as no shop or restaurant is open today. Kohima is famous for its notorious traffic and jams.
We are at TCP main chowk, and sunday street market is in full bloom. Variety of non-veg food items are here. I am here at Chhole Samose stall.
After so much looking around, finally he has found one muslim dhaba. Road has filled with clouds. So, day 1 comes to an end. Today we just have to reach Kohima. as all the places are closed on Sunday. From tomorrow onwards, our Kohima trip will start.
Tomorrow, we'll start our day at 5.30am & head towards Viswema village. There is a church in Viswema village, will see that Views from that village are superb. From there, one can see the highest peak of Manipur, if weather permits, will see that.
From Viswema will come back to Jakhama village, Another very famous village of Nagaland. From Jakhama, wll come back to Kisama Village. This village is famous for the Hornbill festival which is organised every year from 1st december to 10th december. After Kisama, will come back to Kohima to see the war cemetery And we'll end our day at Kohima Cathedral.
It is located at Kohima's highest point. & the views from here are great. So, we will see you tomorrow morning.
2022-05-08 04:20
Show Video
Other news