Khám phá đèo Khau Cốc Chà và đèo Nà Tềnh nơi cung đường nguy hiểm nhất Việt Nam | DU LỊCH CAO BẰNG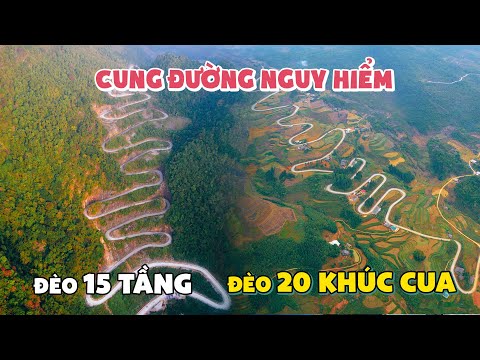 Show Video
Vietnam has two very dangerous passes... You just need to look at the picture and feel a chill down your spine because it's so scary. This pass has a lot of bends lined up like scary vertical springs This is Khau Coc Cha pass in Cao Bang province, Vietnam And this is Na Tenh Pass in Cao Bang Province, Vietnam These two passes are only about 15km apart. We invite you to accompany Tung Tang TV to learn more about reality Please SUBSCRIBE Tung Tang TV for updates! Dear my friends We started from Ma Pi Leng pass of Ha Giang province in the direction of Meo Vac district to Cao Bang province. Cao Bang is a province in the Northeast region of Vietnam Cao Bang is a place with many passes and the second highest mountain in Vietnam with beautiful dangerous roads The distance from the center of Meo Vac town, Ha Giang province to Bao Lam 1 Hydroelectricity in Bao Lam district, Cao Bang province is quite far. These are hydroelectric power plants in Nho Que and Gam river areas We stopped at Bao Lam 1 Hydropower Plant and were ready to travel another 40km to reach the first 15-story pass. That is Khau Coc Cha pass
Hi my friends. In big cities we will see tall buildings. In the mountains, you will see a pass with many layers If you come to Bao Lac district, Cao Bang province of Vietnam, you will see a very unique pass This is Khau Coc Cha pass Please find the location of this pass on Google Map to know more Let's conquer this scary spring-shaped road together You will feel the beauty of nature in Vietnam Let's go! Dear my friends. I will start driving to conquer Khau Coc Cha pass I'm using is a 4WD pickup car We will drive through 14 floors and the top of the pass is the 15th floor This is Khau Coc Cha pass, the previous name of the locals is Me Pia .
The shape of this pass if viewed from above is like a beautiful giant spring This pass challenges those who love adventure This pass road is being repaired so it will be more difficult to drive Khau Coc Cha pass is located in the middle of the valley, on both sides are high mountains This pass is about 2.5km long from the foot of the pass to the top We must drive carefully Khau Coc Cha pass does not have a spherical mirror, so we can observe the opposite driver. We have to use the car horn to be safe Almost all very sharp turns on the pass The pass is very small and steep We drove to the right side of the road for safety There are no people living on the pass Two cars avoid each other on a difficult pass At the top of the pass, there is a people's house and also a small restaurant for you to stop and rest. We went through 14 bends of Khau Coc Cha pass and reached the top of the pass shaped like a giant spring. We invite you to see the pictures of Khau Coc Cha pass from above We parked the car at a small restaurant on the top of Khau Coc Cha pass to walk about 1km to find the best place to take pictures.
We advise people with poor health not to do it This difficult road will take you to the best place to take pictures as a souvenir This is the best place to take pictures on the top of Khau Coc Cha pass After taking pictures, we went back for the night Because there are no hotels or motels here, we slept and had dinner at local people's houses to be ready to conquer Na Tenh pass with 20 bends. Na Tenh Pass is about 15km from Khau Coc Cha Pass Na Tenh Pass means High Field Hi my friends Cao Bang is a province of Vietnam with many dangerous passes Na Tenh pass that we are about to drive has 20 bends with beautiful fields Na Tenh Pass is very little known, located near the border of Vietnam and China Let's discover with me! Na Tenh pass is quite easy and wider than Khau Coc Cha pass Na Tenh pass has a lot of families living and the scenery is very beautiful Very peaceful scene in the early morning We took a break to stop for breakfast and coffee at the top of the pass. A place with beautiful scenery and peace. Please SUBSCRIBE Tung Tang TV for updates! Thank for watching.
2023-03-11 13:36
Show Video
Other news