JAVADHU HILLS - A JOURNEY | Jamanamarathoor Road Trip | Places to Visit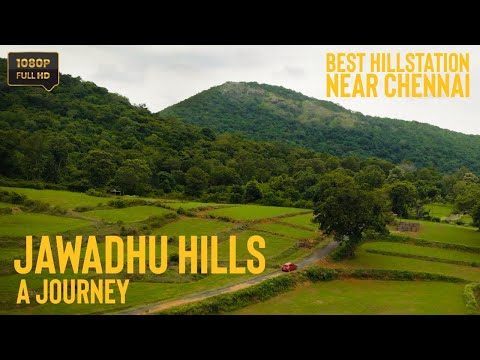 Show Video
Everyday getting up in the morning, rushing and thinking about our everyday duties and thinking about our work and running along with the lakhs of people around us to a destination we never know is currently the situation of our life. But, its not like that here Jawadhu hills as an extension of eastern ghats jawadhu hills is located between vellore and thiruvanamalai is Jawadhu Hills it is located at a distance of 223 km from Chennai and 87 km from vellore Jawadhu hills is located 3800 ft above the sea level and it has a land area of 2400 square km. when compared to other hill stations in tamil nadu it is small but jawadhu hills has one of the most beautiful landscapes and the most beautiful people of Tamil Nadu near Chennai how beautiful this place is, then what other things to see in this place this place had a lot of tourist attractions We also needed a break from our regular work life, and while we were discussing about this beautiful place with our friends and at that time and then this happened. guys this is the official start to our trip, already we are in Vellore highway, from here Jawadhu hills is 80 kms and next stop is Jamunamuthur hills. Next stop is a another tea shop. Fine dude, its tea shop Will it take half a hour ? No it will take 1 hour, since you are going by car it will take 45 mins Guys we have reached the foot hills of Jamunamuthur, we are at the foothills of Jawadhu hill range, this is the first bend, we sat here because we want to just have a look at this view So we sat here and climate is also changing, so we are so exited for how it is going to be on the top of the hills.
what's the next village? Next village is Alangayam bro, just 3 kilometers. Alangayam is it the place where the forest is located ? everything is forest here but we have to reach the top of the hills for best spot. the village after Alangayam is what we are headed right? Yes at the top.
Even he is coming for the first he is talking just like that. when were at our half way , it started raining and with that welcome we reached the top. This is our first day in Jamunamuthur , we woke up in the morning by 6, where we are sitting now is the bus stop, it is under construction. Today our plan is to meet one of this village members Santhanu he told he will give an lot of information about this village, it will take 30 minutes for him to reach here so until then we are going to explore the shops in this place So we are just going to explore that. Hello My name is Santhakumar. My native, Birthplace everything is Jawadhu hills, since I got a opportunity, I went to the low school and become lawyer now.
I am the first layer from Jawadhu hills and I am proud of that. If you see who are this Malayalis, they are the ancestor of this Jawadhu hills, they are born and they were the rulers of mountains. Jawadhu hills is full of dense forest, mountain ranges and it is closely associated with nature, these tribal people live here more than 5000 years. Oh! they are living here for 5000 years! When I was young, They call it Paddy rice I am proudly say that, I won't see what foods are there in my house we use to have millet juice Millet meal morning we have Koozh, instead of tea we have Koozh and by 8.00am we have Millet juice and Millet meal
and we go for our work. and we go for our work. hills all the people are very welcoming and lovely and they will be very proud of you guys for doing this.
They have a heart of gold Do they use Tractors now? Tractor can't be used everywhere, The Problem is it can only be used where there are proper roads that too for past 7 or 8 years. Most of the places here are remote places and there they only use the cows to plough the agricultural fields. What is your age ? It will be around 80 Okay It will be 80 .
Can you stand NOW? I am ready to stand Did you plough this field? Can I lift the wooden plough and show you now ? Sure we will see You did all this work and now your are removing the weeds? Yes We are millet farmers, we start ploughing the fields fields early in the morning soon like 6.00 am and it will go on 10 or 11 Oh is it ? yeah and after that we go and eat and come back and remove the weeds from the land. To maintain your body like this in this age What are you eating? Kali, Koozh Finger Millets and Little Millets. So for you to stay so young is Finger Millets, Kali, Koozh are the reason? Yes How are you able to lift this grandpa isn't it so heavy ? How much it weighs? "Crowd shouting" lift it lift it How much it weighs? Try liftin that Its so heavy, you must be great just to lift this You don't have Diabetes or any other Nothing I have.
We are happy that we met you, I don't have Diabetes, BP or other ailments You should live for more 100 years Once the old man started performing the whole place became so lively seeing his excitement and liveliness at this age we were aww struct, weather we will be able to do all this in our age? We questioned ourselves. We spent a full morning in this village with the help of Mr. Santha Kumar we were able to know more about this people, even it is a small time some memories and laughs are never ending.
Since Vainu Bappu observatory is only open from Saturday 2 to 4 We left there early Guys we came to the observatory and enquired first batch of 50 people have gone inside, only after they come back they will allow us inside. They have asked us to wait for half an hour so we are gonna wait here for half an hour We are already inside the observatory we are second batch for the day, totally they have only 2 batches today, A security is taking us inside the observatory so we are following him, let's see where it goes. A research associate from the observatory have explained to us completely about the telescope and and he also operated it and showed us, This building and the telescope can move 360 degrees in any direction. Indian institute of Astro physics use this telescope for many observations.
And they showed to us the images of nearby Andromeda galaxy and Nebula. The experience was awesome I waited years to come inside this, 4 times I have just waited outside this and went, I have never seen it before this is very awesome, Guys all of you should visit it for sure. Good morning from Jawadhu hills We started the day Today, Now we have started to the Beeman Falls. We are close to Beeman Falls On the way some boys were fishing , so we thought will stop and just watch it for some time. If you come here something good will happen You should bath in the water or at least put it in your head.
Those who are not married will get married, is it? Dai RMD they are calling you only come here, come here he is the guy who wants to get married. Grandpa is it ready to eat ? all of this ready to eat I will cut and give you one fruit, take one home it will be good. Cut a small one and give it to us to eat now I will cut and give you.
while we were worried that the trip is going to end, this grandpa surprised us by telling that there is a a huge falls near the place with height of 750 feet. Athipattu it is, it is the bigger falls than Beeman falls falls it doesn't have a name but it is in Athipattu. If we go there, we can go only by trek.
There are bison's and elephant you can see them. If we go there can we see it? yeah you can. Looks like it's Risky.
They are like elephants cant take them easy. Now you are going in car, once you reach ,there is no roads we have to walk through bushes Their is no road like you saw in Beeman Falls, 4 kms or 5 kms we have to trek and only then we can reach the place. But it is the totally worth it.
750 ft What's the name? Thenmalai Athipattu You Guys won't find the place and Reach there. Can you show us the route? I am fully ready Okay grandpa We have reached Atthipattu from Jamunamarathur, for the falls we have to trek from here, we cant take our car any more, we have to trek inside the forest, To show us the way inside the forest The way is to go through Bushes Our grandpa is going to take us inside the forest for the trek. Shall we go Grandpaa This is the way , let's start getting what is this dude, it's very hard to trek We have trekked half way, it's very hard already we are breathing heavily, but this old man keeps walking and this forest is becoming denser but the goals for doing all this is going to that falls.
We finally reached the spot and this view is totally totally worth it it for all the trek we did. and you have to take a look a it for sure so let's go for it. Looking down from that height I had a feeling as if our life were paused for a minute Who are we before this Greatness of this planet? What's the purpose of our life? We have so many beautiful Places and People around us, Is this life time enough to enjoy all this? I had so many questions going around our head. but but the faith that just like this limitless nature human heart doesn't have any limits was getting stronger.
The beauty of Jawadhu Hills and simple life style and hearts of the people made our days more beautiful. What is travel without a full heart and great experiences? Travels like this have the beauty of life hidden in them. And this journey is going to continue to experience all this beauty. Thousands of People, Ever ending Earth Endless Stories
2022-08-08 09:04
Show Video
Other news