IRAQ WE DIDN'T KNOW BEFORE | S05 EP.21 | PAKISTAN TO SAUDI ARABIA MOTORCYCLE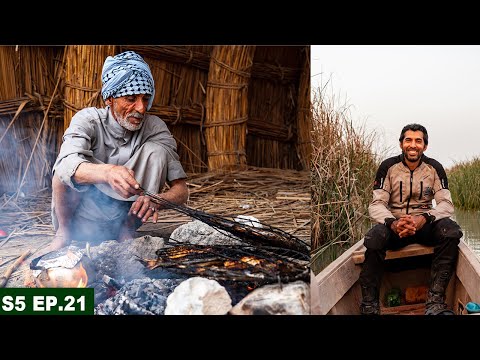 Show Video
Germany Deutschland Lets go He was so excited to meet a Pakistani. I couldn't believe it at first... how excited he was... as he was telling everyone... A Pakistani Pilgrim. We have finally reached Al-Qurnah. We just have another 3 km to reach the confluence point.
If our navigation is working correctly, then it's just a matter of few minutes. We don't want to go there for nothing. Navigation is suggesting to go over the bridge but the bridge is still under contruction.
Where should we go now? There must be some alternative route. There it is. O ... was that an iguana? They almost had a fight.
The rickshaw was coming from the wrong side and was still trying to argue with the guy on the motorcycle. That's another level of arrogance. The water in the river looks very pristine. Slightly turquoise ...
Big cars on this small road over this bridge. I don't want my motorcycle to touch the railing and crash. I think we have to turn from here. Al-Qurnah Hotel and Resort So... here I am... That's where I am supposed to meet my tour guide. Lets park the motorcycle here.
Lets wait for the tour guide here. At this point, Euphrates is on my right side while Tigris is on my left. And the river behind me is called Shatt al-Arab.
The two rivers meet each other at this point. Another interesting thing about this point is .... an ancient tree known as Adam's Tree.
The story goes as ... when the Prophet Abraham (A.S) visited this place... he asked to plant a special tree here. And this tree would be similar to the Adam's Tree in Eden. Hence, the tree got its name.
I'm mixing English and Arabic names. Now, I'm not sure if it's the actual tree planted in time of Abraham (A.S). It could have been planted later because Abraham (A.S) was more than 4000 years ago.
Even my guide was not certain about it. I also took some drone shots. It was made possible because of my guide. He encouraged me to go ahead and fly the drone. That actually helped to get such beautiful shots of the two iconic rivers. And also the view of city; it's a rather small city with no high rise buildings.
We are now going to a village called Al-Chibayish. Lets get going. We are gonna pass through Al-Qurnah now. Is this the correct route? Yes.
The navigation is possibly taking me to the main road. Although it's closed at this point, but there may be a way to get in, ahead. Lets get through this street. I think we are in the main bazaar right now.
The bazaar is empty for now. O God.. what are they trying to do. We are on the main road now. The whole are you can see right now is the marshes area. It's a rather huge area and Al-Chibayish is the main town here.
We'll be there in 10 minutes or so. Hopefully we'll be able to explore this marshes area. Would be great if we can get a boat ride. Since it's quite a large area and if we go deep, we can see some more villages. Salam... Al-Chibayish. From where you belong? Germany.
Salam Al-Chibayish Where are you from? Germany Pakistan and Germany Where are you going? Al-Chibayish What is this? Tent, food, clothes... everything. They have finally let me go. Took their time to decide. They didn't do anything special. Just took my documents such as passport. He took the documents with him but I'm not sure if they did check them. We are almost 12 km away.
There are two many check points along this route. I'll have to plan something ahead on my way back. One ends up spending 15 - 20 minutes at least on each check post. Even if everything is alright. I think there's another check post coming. I don't know what crop is this.
I have no idea. Another check post, guys. Even my guide is there at the check post. They have asked me to park the motorcycle aside and present my documents.
My guide is taking care of the matter. Do you know how long it is before we reach Al-Chibayish? 10 km. That's not too far. Tonight it will be in Nasiriyah.
Problems at the checkpost? I'm used to it now. Because I have a German passport but I don't look like a European. So I'm always taken as a spy or something.
so we are clear from here as well. I just hope there won't be any other check post till Al-Chibayish. Here they took pictures of my motorcycle.
Hopefully they will inform the next check post that they have verified my documents. It will makes things a little easier for us. You know how frequent breaks like this demoralize you. I mean it's not something that you look forward to. Why are they stopping here..? Okay. There is some official formality to do here.
He is from intelligence? Tourism Police? Welcome to Al-Chibayish. Since the Tourism Police has seen my passport, lets see if I get the permission to go on. The guide was telling me that the hotels in this region are full.
Lets see what happens to our night stay. We can use our tent as well. We do have that option. We are almost there. I'll just park the motorcycle there and go on for marshes.
The buses indicate that there must be many tourists here. Have to park it over there. Just here. We are going deep into the marshes using a boat.
The guide told me that it's gonna be 40 minute ride. It is a considerably long period of time. The good thing is that we'll pass by many villages along the way.
The village of one of the guy in the next boat is coming. So we'll go there. He 'll show the village life and culture. That is precisely what I have come here for.
Get ready to witness all that. But let me say that this boat ride is amazing. A little bumpy though. After a ride of 25 minutes, we have reached the place.
It was a great ride honestly. I think this area used to be inhabited by local but now they have made it for the tourists only. Tourists can take a boat ride and come here. They have made a small cabin here. Made by straws near the marshes. Our lunch is being prepared here.
The fish is caught from the marshes. The fish looks the same as the ones I saw in Basra; not sure if that is the same one. Let me show you a glimpse of the cabin. They are making the fish here.
Let me give you a peep. I forgot to mention one thing that the fish has reminded me. These marshes are almost 7000 years old and the area was inhabited by the Sumerians. Their lifestyle and even the cooking culture was the same. This is where it began. The water in the marshes is supplied by Euphrates and Tigris.
This area has suffered a lot in the recent past. The gorilla fighters fighting against Saddam Hussain would hide in this area. As a response, he blocked the water to these marshes and almost dried them. But it was restored after Saddam was removed.
Almost 70% of the marshes have recovered. The situation is expected to improve even further in the coming days. This area has been a part of the UNESCO World Heritage. Lets go and see if our fish is ready.
Seems like we had to eat this fish ... just not in Basra. Our cook is almost done with the cooking. He can't understand my Urdu so he's just watching me blankly.
He is adding some salt and that's the only thing I have seen him apply on the fish. So it's just cooked with simple salt.
2022-04-11 21:57
Show Video
Other news