Inside the Famous WHITE HOUSE in South Africa!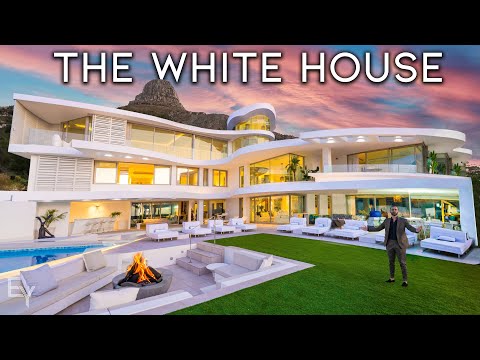 Show Video
Welcome to the famous White House located here in Cape Town, South Africa. Aside from these incredible views, this property embodies unique design, timeless art pieces, and an immaculate furniture collection that all add up to create an amazing experience. Now, let's begin. - [Philip] So the White House is a very special and unique property. It's an original Stefan Antoni design prior to him forming SAOTA.
It's been redeveloped and reimagined, but its original silhouette is reminiscent of Lion's Head on the slopes of which it sits. And what I love about it, especially, is its curves, which embrace the ocean and the coastline and the waves. My name is Philip Gullan. I'm a luxury real estate agent in Cape Town, South Africa, and it is my privilege to welcome you to the White House. All right, everyone, welcome to the White House.
We're going to start our tour on the exterior. Steel gate opens up to this private driveway, and this private driveway brings you to the motor court. House looks very deceiving from this angle. It actually consists of four levels, and we're currently on the second floor. Now, on my right-hand side, we have a detached garage that holds a beautiful McLaren. And on the other side, we have the second two-car garage that is attached to the main home, and that one holds a beautiful Rolls-Royce.
Now, this motor court is really spacious. You can actually see some of the steel screen details on the third floor of the property and follow me this way before we enter. They even have some art pieces throughout this driveway.
Now, double doors open up to a spacious foyer. Polished white stone floors, plaster ceiling, cove lighting above. I really like this LED lit mirror. And behind, Mikey, we have a hallway that takes you to the attached two car garage. From the garage, you can also access to the laundry room.
Now, they also wrap these columns with mirrors to make the space feel a little bit more spacious. And yeah, this is a nice, warm, welcoming space that leads you to the second floor. Now, right in front of us, we have the main staircase and the elevator.
This staircase goes up all the way to the top floor. And I just love how it's designed. You have this stainless steel frame, curved glass railing, glass steps.
It's open riser, super minimalist, and it just complements the home really well, and it gives it a nice modern twist. Now, follow me this way. First space we're going to check out is the formal living room, which is on the other side of the staircase. Love the minimalist tones, beautiful seating arrangement.
Coffee table in the center, sliding glass doors open up to an amazing backyard that we're going to check out in a bit. And above that, you can see these massive picture windows bringing even more natural light. On the other side, you have your fireplace. Above that is a book-matched stone that almost runs all the way to the ceiling, but they left it a little bit shallow so you can benefit from the picture windows up there and bring even more natural light to this gorgeous space. Look at this crystal chandelier, all the details, accessories, these Roche Bobois couches and chairs.
This room is super cool. - [Mikey] Yeah, I love just the white color palette to this whole thing, and it just reflects so much light. It feels so bright in here. Very relaxing. And, Mikey, can you turn towards the staircase for a second. This staircase is a phenomenal backdrop for this room. It looks so cool.
Look at the elevator shaft that's right in the center. And again, this staircase goes up all the way to the top floor. What a cool design. Yeah, it looks really cool. Now, on the other side, we have the show kitchen. But before we get there, let's talk about the specs of this gorgeous property.
So we have six bedrooms, eight bathrooms, 1,428 square meters of interior space, built on a 1,477 square meter lot. All the furnishings and art is included in the price tag, which is $17 million. Not to mention, this house was remodeled and redesigned by Lifestyle Design Group, and it looks spectacular. So I'm really excited for this tour. I want to give big thanks to the sales broker. Philip Gullan, for allowing us the tour his amazing listing.
And as always, you can find more information about this offering in the description of this video. Now, welcome to the show kitchen. We have a beautiful island right in the center, bar seating, LED lighting, mirror ceiling. And they use this mirror theme throughout the property with walls. It's also nicely incorporated into the cabinetry right there where we have the open shelves, nice coffee bar, and you have your Gaggenau wine fridge, freezer, and regular fridge here.
Now, the reason this is the show kitchen is the fact that on the back, we have a service kitchen. We have a service kitchen and a chef's kitchen. We're going to continue with the service kitchen.
You have a gas cook top, oven down below, sink, another coffee maker, walk-in fridge at the end, and then you have more fridges on this side. If this wasn't enough, across from the service kitchen, we have the main chef's kitchen. Look at the space. It's designed like a restaurant kitchen. You have your fryers, cook tops, grill, right in the center as an island design with a massive commercial hood vent.
If you look at the other side, you have a sink, commercial dishwashers, even a regular washing machine, I'm assuming for all the napkins and tablecloth. And all that. More fridges, ovens, built-in appliances, warming drawer, and above us, we have three skylights bringing natural light and providing ventilation for the chef's kitchen, which is a very clever detail and what a cool space. Yeah, so far we've been in South Africa several days and have been to several different properties, and it seems like a common theme to have chef's kitchens and walk-in refrigerators, which chef's kitchens are popular in Los Angeles, but we rarely see walk-in refrigerators. What's the reasoning for that? Well, obviously, service culture is really big in South Africa, so it's almost expected for homes to have service kitchens, guests, and staff that are staying at the property and servicing the owners or the guests.
Yeah, that makes sense. I guess two of the three homes we've seen here have also been rentals, so that does make sense. Correct. And speaking of the service culture here, there's a door that opens up to the back of the property. This takes you all the way to the first level.
On that level, we have an attached one-bedroom guest apartment with its own kitchen. And then the same hallway also takes you to the staff quarters, which has four bedrooms. You can also see the security booth there as well. So the property has its own security, and you have staff quarters and guest quarters down below, and you can go down to the first floor or come up to this level very, very easily.
Now let's continue our tour. Back to the show kitchen. Again, I love how much the formal living room gets natural light.
It flows straight to the backyard, which we're going to check out in a second. But for now, I want to bring everybody here so we can check out this exquisite formal dining room. Without a doubt, one of my favorite spaces in this house, and I don't even know where to begin with all details, look at this gorgeous glass table, chairs that are leather-wrapped, beautiful chandelier above. If you look at the table and the presentation here, it's so elegant. You have Hermes bowls and plates. Beautiful cutlery, glasses, flowers, and room is extremely spacious.
You can walk around very comfortably. You have a nice bar area here, these bi-folding panels that are mirror inserted, and they have these accessories throughout the property as well to just bounce off the natural light that comes in through these sliding glass doors. It just complements the space very nicely. I got to say, not only this is one of my favorite spaces. We had a fantastic dinner here last night, and it was just amazing to see the space alive. People were enjoying each other's company, great food, ambiance, the dim lighting.
It was fantastic. It was a very memorable night. Yeah. And not to mention, you talked about the way they dressed the table last night, the way they had kind of hung the flowers from the chandelier and.
Everything. The whole presentation was incredible. Absolutely. And before we move on, I got to talk about this. Do you remember this chandelier? We saw it at another property. I thought it looked really familiar.
Was this in Turkey? Kaya Palazzo, Royal Mansion. Okay, yeah. Really similar. I don't think they're the same chandelier, but I had to point it out it's really close. The way they hung that one over the table, I think, was at an angle over the table instead, right? Correct. But yeah, beautiful space and gets better. Follow me this way.
Look at this wine cellar and how they staged it with beautiful spirits. It's so elegant, obviously temperature-controlled, and you have marble throughout, open shelves, LED lighting, exquisite. Looks absolutely gorgeous. And then going to the other side, I have one more surprise for everyone. This might be one of my favorite accessories within this property.
Check this out. You have this nice dresser, and let's say you want to hide your very expensive spirits. This is where you do it.
That's very cool. Just the sound that thing makes as it's coming up. I know. Just for the sound, I want to buy it. And funny enough, we've seen this little mini bar at another property. I can't remember.
We've toured way too many homes at this point. I've seen this at another property, but look how nice it is. Especially when it's open, it really complements the space because it's beautifully decorated.
You even have a small coffee bar here, which I personally appreciate, and beautiful details throughout. I mean, furnishings in this house, all the textures, details, it's screams quality. I mean, you saw the formal living room. Yeah, it's incredible.
I got to say, it's very unusual for you to forget where we saw a detail from one of our other videos. We have toured a lot of properties over the last four years. Sometimes it gets a little bit challenging. I think it'd be a fun video for our second channel to maybe take a screenshot or a video from a specific house and have you try to guess which house it's from and maybe even give the specs of that house.
See how good your memory is. Specs would be tough, but I'm pretty sure I'll remember at least most of it. Now I'm going to open up these sliding glass doors.
I'm going to at least partially stack them so everybody can see how the space lives when you have these sliding glass doors all opening up to this amazing backyard, which we're touring next. You have a great indoor-outdoor flow. There we go. This section is also covered, so you have a nice shaded space. Before we talk about details here, I want to mention a few things on this side.
Number one, there are these really nice accordion glass panels to block off the wind that comes from the ocean. There's an elevator access here that picks you up from the street level, so your guests can come up to this level and go directly to the backyard. I don't know if you knew this detail. I have not seen that yet, but that makes sense.
The house has a lot of elevation changes. 100%. To park on the street and get an elevator straight to where the party is or dinner party is nice.
Exactly. Now, let's talk about this outdoor dining area. Massive table, seating for twelve, chandelier above, and next to that is the outdoor seating area that is covered, marble coffee table, TV around the corner, built-in speakers. I got to say, we have seen these couches and these chairs at another property in Malibu.
I remember exactly. It was a very colorful scene too. The house with all the backlit onyx. Exactly. It's a nice touch, especially since this is the white house and we have this white palette throughout the property. They did a good job by bringing these sofas and providing some color to this outdoor seating area.
Now, follow me this way. Let's check out this incredible backyard. I feel like I'm in Greece right now.
The white tones are really speaking to me. You have this outdoor lounging area, beautiful Roche Bobois lounge chairs, sunken seating area, relaxing water feature that flows into your pool, astro turf, above-grade hot tub, and views of the Atlantic Ocean. - [Philip] Currently, we sit in Fresnaye.
Which is a suburb on the Atlantic Seaboard. It borders Bantry Bay and Clifton. And what makes Fresnaye so special is that it overlook the Atlantic Seaboard, but also captures the city lights. You get a beautiful cosmopolitan atmosphere.
At the same time, it has a natural protection from the wind, which is provided by the mountain and the bay in which it sits. What a scene. Yeah, and I said it in one of our other videos, but the way that Cape Town is laid out is absolutely beautiful. We have these just two massive green hills or mountains rising out of this urban landscape.
I'm assuming that they can't build above a certain height, but it really is one of the most beautiful city landscapes I feel like I've seen. And then you have this incredible coast. And the blue water, and the coast runs all the way to Namibia, right? That is correct, which is insane.
And yesterday we were enjoying the views here, and you could literally watch whales breaching out of the water, jumping, and just enjoying their lives, which is fascinating, straight from the patio. Yeah. I don't know if we got the best footage of it. We tried our best. They were very far out, but it was absolutely incredible to have this natural, raw landscape so close to the city with all these amenities.
Couldn't agree more. This backyard is just fantastic. It's so relaxing to be here. Again, you have your hot tub, nice outdoor seating area, even the water feature, the way it's designed is so architectural, some art pieces throughout, your umbrellas, lounging beds. And while we are here, let's talk about the exterior architecture of this home for a second.
This property really opens up on the back side, again, consists of four levels, and we can see the top three floors from here. You have massive sliding glass doors, picture windows facing these incredible views and flowing the interiors to the exterior. Look at all these curved roof lines, cantilevered sections, skylights. This house is so esthetically pleasing to look at. And this was, one of Stefan Antoni's earlier projects before he founded SAOTA, which is fascinating.
I think they did a phenomenal job remodeling, redesigning, and reconfiguring the space and bringing it to today's standards. And it lives really well. It's really comfortable to be here. Something about this house. It's really easy to look at and, it's really easy to live in.
It's like very comforting and soothing. Yeah. Just all the smooth lines, all the curves. It's actually surprising that this was his first project because.
One of his first. One of his first because SAOTA, I feel like, is always straight, clean lines. This is very curved, a little bit different than any of the SAOTA projects we've seen. It is a little bit different. There's one more detail I got to point out.
They have these massive steel shutters on the exterior of the home that you can use to block up some of the natural light that comes in because it's pretty much all glass and these cantilevered roof lines. I don't blame them for it because you have these incredible views. You have to have glass. You have a lot of light.
That's right. Now, check out this pool. Of course, it has white plaster. Starlight lighting is actually incorporated into this pool. So at night, it glows beautifully. You have a bar on the other side, outdoor seating area.
Ready to dive in. It's so nice. It looks great. Fantastic. All right, let's continue.
Additional outdoor seating areas on this side. Now we're going to go back into the second floor or the main floor because on this side we have this gorgeous TV lounge. I really like the way they furnish the space. You have your coffee table in the center with beautiful accessories. The L-shaped couch here looks very, very comfortable. You have beautiful pillows, nice lounge chair, TV on this side, marble wall, fireplace down below, your bar cart, mirror back wall, plaster walls throughout also.
It's just a really nice space for you to sit down, watch TV, and flow straight to your backyard. Now on the other side or next to the staircase, we have the piano lounge, and the design of this room is really unique. Obviously, we have this massive U-shaped couch.
That looks very comfortable, coffee tables. Look at the ceiling design here and this light fixture. It looks like water drops that are hanging on the ceiling.
I actually thought that was an art piece. I didn't realize that was a light fixture. No, that is a light fixture.
And look at all the art pieces that we have on the back wall. The art pieces throughout this home are like museum quality, really complements interiors. Not to mention it is part of the offering, just like the furnishings too. And there you go.
Piano on the other side, picture windows, the Atlantic Ocean. It's a very, very elegant space. Now let's continue, back to the staircase landing. We forgot to mention this detail earlier, but if you follow this hallway right here, it takes you to a very nice powder bathroom dedicated to the main level. So I wanted to point that out. With that, we're done on this level.
I'm going to get in the elevator and I'll see you all up on the second floor. - [Philip] So one of the things that makes Cape Town so beautiful is that it has this unrefined background. You've got incredible natural beauty, beautiful coastlines, incredible mountains.
Within an hour, you have wine lands. You've obviously got the Karoo and safari regions as well. But then you have developed pockets within, which have some of the most beautiful homes in the world. All right, let's continue our tour on the second floor. On this wing, we have three guest suites and the movie theater. We're going to tour the movie theater last.
So for now, follow me. Long hallway, first door on our left-hand side opens up to the first guest suite. King-size bed, window opens up to the views, mirror ceiling, nicely decorated.
Continuing on our tour, we have the second guest suite on this side. I want to go right in another king-size bed. I love the bed frame and the headboard here, your pop-up TV, desk. I'm going to call this room the yellow room.
I like the wallpaper here. It gives you that warmth and what a contrast in color against white too. I'll call it the yellow suite. Yellow suite? Yeah. Fancy. I like that more. Then you have your sliding glass windows opening up to these views.
This is a very interesting view. Ocean, and then you have this cosmopolitan view, seapoint down below, but it is unobstructed. It's very nice. Yeah, I really can't get over the way Cape Town looks.
When we first came here, I honestly didn't know what to expect. I hadn't really done much research on Cape Town before. But again, it is incredibly beautiful. It is without a doubt.
Now, on the other side, we have a full bathroom. This bathroom is shared by two guest suites that we just toured. You have your built-in tub here, mirror back wall, marble throughout, your floating vanity, and the shelf design on the bottom extends out into the walk-in shower, and you pretty much have marble and mosaic tiles throughout the bathroom. It's very elegant. Chrome fixtures, toiletries, everything is well thought out. Now, the last bedroom suite we have on this wing is right here, and this is the junior primary bedroom suite, built-in closets off of the entry.
Bed is situated right in the center of this room. They have more of the whiter palette here. And again, accessories, details, desk, furniture, everything is so well thought out.
Room is extremely cozy and comfortable and relaxing too. And then you have this entire wall opening up to these views, once again, your backyard down below. This is how they were committed to the White House theme. The river rocks they have on the roof, even that's white. Everything. Everything. You can't even see those rocks unless you're on the second or third floor.
Yeah. They have a nice seating area here, couches, furniture. They have Roche Bobois, Minotti, and custom pieces throughout the property. Another pop-up TV. Very elegant.
Very much so, and very white. I just love how clean and pristine everything looks. Not to mention not only this house was just recently remodeled, no one has lived here ever since. So you're technically getting a brand new home.
Now let's check out, the junior primary bathroom. Layout and the design is, pretty much the same as the bathroom that we just toured. You have your built-in tub, marble walls, polished chrome fixtures, nice shutters, and casement windows, and the mosaic back wall continues, your toilet, your vanity, walk-in shower, rain head above, medicine cabinet, even the toiletries, details, towel heaters, soaps, everything is well thought out. What a curated space. Although it's for sale, it feels like a high-end rental property. 100 %.
And that's credit to Lifestyle Design Group. So the property underwent a massive redevelopment and reimagination by the Lifestyle Design Group. It has everything you could possibly imagine. I mean, there are bespoke furnishings, Roche Bobois, Cartel, Minotti throughout, down to the finest details. I mean, the art in this property alone is museum quality. It's got some of the finest South African artists in the world.
John Meyer, Neil Rodger, Beezy Bailey, Irma Stern, just to name a few. It's not just about finishing and designing and furnishing a space. They literally think of every single detail, and it's very easy to see that. Now, welcome to the movie theater. This movie theater is really interesting, really cool art piece off of the entry. Starlight ceilings that are throughout the space, cove lighting.
This room basically serves as your movie theater, lounge, hangout spot. You can technically turn this room into another bedroom suite because we have a full bathroom off of the entry. I love these electric recliners. You can have the leg side go up or the backs to go down.
They're super comfortable. Actually, there's a controller right there next to you. I was going to say, ask me how do I know because this is where I took my nap yesterday. There we go. Very cool. I guess how it goes up and that's how it goes down. Very cool. There we go.
And TV, built-in speakers, art pieces, and a very spacious room too. And on the other side, we have a standalone bar, chandelier above, wine fridge, built-ins, sink. There's a small fridge here, and they have these Nespresso machines throughout the entire property in every single corner. We've actually done a good job of not bringing up all the Nespresso machines, which we usually do on our tours. Correct.
But I really appreciate that. Now, let's continue back to the entry of the movie theater. This is where we have the full bathroom, marble floors, marble walls, water closet, two sinks, and a walk-in shower. Like I said earlier, you can close these doors and use this space as a guest suite as well if needed. Now back to the landing.
Picture windows bring so much natural light, and there's a dedicated hallway here that takes us to another spacious guest suite, king-size bed. Love the headboard design, wallpaper, built-in cabinetry, extremely spacious room, and just the way it's decorated, it's very elegant and cozy. And Mikey, we got to check out this space. This is so cool.
It has its own private patio, awning design, outdoor seating, built-in seating on this side. How cool is this? Yeah, I love this. This was the first thing I noticed when I walked in this room. It's very nice. To read a book, have your coffee, it's just a nice opportunity for you to get some sunlight and fresh air, and it is right next to your bedroom.
Fantastic. I could see a little outdoor gym there or something also. Possible. Let's not forget the pop-up TV. Now, of course, this one also comes with a full bathroom, stone floors, walk-in shower, vanity, everything you need. Now, going back to the landing on this level, we're going to turn to the left and start our tour with the primary bedroom, which is behind this door. Now, this hallway takes you to the bedroom itself, picture windows facing the views.
Down below is the formal living room, and next to us is the pajama lounge dedicated to the primary bedroom. Super cozy space. Love the glass coffee table, L-shaped couch, built-ins, small fridge, coffee bar around the corner.
You have the TV on this side. I also really appreciate how it's glass enclosed so you can still enjoy the views from this room. Now, there's actually one more detail here that I want to mention.
Another one. A little wet bar. These are so nice. Not wet bar, a little bar. Yeah, bar. Exactly. Pop-up bar.
Pop-up bar. There you go. What an elegant detail for a room like this. I got to get one of those. Those are so cool. They are cool, and there you go. Full extension.
Now, let's continue. We have this door opening up to the primary bedroom, and what a beautiful space. King-size bed, pop-up TV, picture windows, sliding glass doors, opening up to these views. Room gets a ton of natural light, curated pieces, desk, accessories, flowers. They thought of everything, and it is super quiet in here.
It's a really nice bedroom. Incredible views, but we'll go out there and see the balcony in a second. In a second. Now, on my left-hand side, we have the walk-in closet, built-in cabinetry, LED lighting, drawers, open shelving, everything you need.
Then they have this really nice ottoman, right in the center, giving this space a pop of color. Even the carpet has this border detail, chandelier in the center, and that's the walk-in closet. Next to that is the primary bathroom, and this room gets ton of natural light, marble floors, floating vanity on this side with two vessel sinks, chrome fixtures, LED lit mirrors. Look at that freestanding tub with a chrome fixture, all the toiletries. That section actually, cantilevers out a little bit.
Three-sided glass to maximize the natural light that comes in. It also gives you a chance to really appreciate these amazing views. Now, walk-in shower on this side, marble clad, picture windows to enjoy the views, chrome fixtures. Rain head above, glass-enclosed, really minimalist to the point. And on the other side, we have the makeup area, water closet with a bidet and a urinal.
It has this massive glass window section, but it's nice and private, toiletries, everything is well thought out. Place looks in immaculate condition. That's all I got to say. Now, let's jump back to the primary bedroom so we can check out the balcony.
Sliding glass doors open up, multiple outdoor seating areas, cantilevered roof line, glass railing, and the views of the Atlantic Ocean. This is incredible, and this is an amazing outdoor space for you to enjoy your bedroom and enjoy this incredible property. The top level of this house is primarily reserved for the gym and the master study. The gym is incredible. Usually in properties, you find the gym in a little dingy basement. Here, the gym has the best views in the house.
Now let's check out the top floor. First, we're going to see the office. It starts here.
Dark carpet, small seating area, desk right in the center, two-leather chairs. I just really like the design of this office desk where you have a single column leg and it just cantilevers on the other side, built-ins, art pieces coffee bar. And also, you got to appreciate the fact that you have a Juliet balcony off of your office. This is great. I want this office. It's all about the views. Of course, you would love to have a cantilevered desk.
That's just like on brand. Honestly, that's as on brand as it gets. I may need to get one. Well said, Mikey. I didn't think about it that way.
All right, now this hallway continues. We have a really interesting space at the end, another glass door that closes off this section. You have a half-bathroom here, natural stone floors, natural stone walls, floating vanity, LED lit mirror, and the door at the end opens up to the gym. You have your rubberized floors, all the gym equipment you need. Even a pop-up TV because you're facing the ocean right there.
If you want to watch something, push of a button, TV goes up. Massage tables, small balcony around the corner, and they even have a hairwashing station here off of the gym. Small coffee bar. Come on.
Yeah, I guess that's where you would get your haircut, right? Hair cut, you're hair washed. Cold plunge. Super cool. I want one of these in my own home. Yeah, this reminds me of.
We saw one of these in Malibu, at one of our houses. Oh, yeah. Grant Cardone's home. Grant Cardone's home, yeah. I totally forgot about that.
You're right. Then we have the sauna on the other side and natural stone floors continue. Full walk-in shower with a massive rain head.
Chrome fixtures, hand-held, casement windows. This is a great gym, great spa, and a very versatile space. I got to say, I've been really enjoying our time here between the people that we got a chance to work with, this amazing property, scenery. Every single day is very special, and I'm just really excited to be in South Africa. The same night, our hosts decided to throw an intimate dinner for our team. Elegant decor, Ritzy ambiance and a meticulously curated menu was just the beginning for the night.
We had high hopes coming to South Africa, knowing the incredible architecture and homes we were about to see. But it was the people that left us with the inspiration and a deep desire to learn about their culture that they were eager to share. From eye-opening conversations to intimate storytelling, this night barely scratched the surface what Cape Town was for us. Everyone's warmth and hospitality has made this journey all the more special.
And the best part is, that we have more tours, moments and stories to share from Cape Town that we are excited to bring to you over the following weeks. Cape Town is a remarkable place. We have a truly diverse culture here, but above and beyond everything else, we have a generosity of spirit, which I don't think you find in many places. Come here, experience our culture, our food, our arts, our beaches, our mountains. I promise you, you will love it. It's a special place.
It finds its way into your heart. We have a saying in Africa that Africa flows in your blood. And that is certainly true, I think, of anyone that even comes to visit.
All right everyone, that's it from the White House. Hope you all enjoy this tour. Big thanks to Philip Gullan and his team for making this tour possible.
And as always, you can find more information about this incredible listing in the description of this video. So make sure to check it out. Now, if you enjoyed our tour, give us a like, subscribe, and we'll see you guys on the next one.
2023-10-05 15:26
Show Video
Other news