Incredible First IMPRESSIONS OF DOHA QATAR S06 EP.73 | MIDDLE EAST MOTORCYCLE TOUR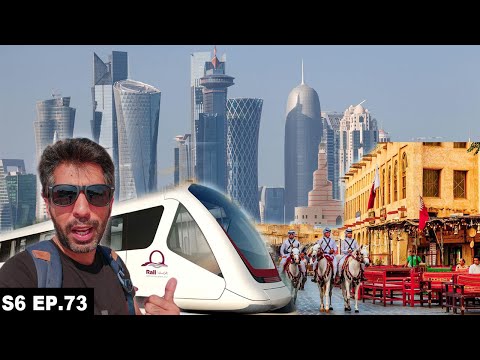 Show Video
This metro station looks amazing. The train has arrived and its arrival was soundless. Souq Waqif dates back to 19th century and can be regarded as the oldest and traditional souq here. Topping it with some pomegranate seeds.
I thought we are supposed to eat it with bread but they have taken it back. So we'll eat it with rice. You can see this fantastic view of mosque. Assalam Alekum Everyone and Welcome Back to the Channel from Doha, Qatar.
Finally we are in Qatar and preparations for FIFA World Cup are in full swing. I think for last 4 to 5 years... Well not just last 5 years, but ever since they got the World Cup hosting, they are busy with it. There's a hustle and bustle everywhere.
I'll try to share these World Cup preparations with you. Not just this but life in general. We are standing right outside the metro station. I was thinking about going on foot but since there's a metro, why not use it. Lets go and see how this metro works. But I know one thing for sure; These metros are free with my Hayya card that I got here.
All modes of public transport are included in the card. So lets go on with it. I wanna see a very historical souq here by the name of Souq Waqif. Assalam Alekum Wa Alekum Salam Metro stations here are nothing less than amazing. All of their stadiums are properly connected. I think it's a requirement by FIFA that all the stadium must be linked through public transport.
So even if some stadium is not connected through metro, there must be some bus service there. Nevertheless, the metro does take us to Souq Waqif. I'll show you the map if I find one.
Almost no one here to be seen. People here don't really go out early in the day. You mostly see them in the afternoon around 4. Even the matches are late in the day. And I think people just sleep here during the day.
Hayya Card? Thank you very much. Overall they have built such a wonderful metro station. I think we are at the second level underground.
There's a map over there so we can have an idea about where we are going. First impression is awesome. Assalam Alekum. How can I get to Souq Waqif?
Can I make your video? Here's the map. There are 2 lines that go there. How many stops from here is Musherib? The next stop is Musherib. Thank you very much. The train has arrived and its arrival was soundless. We'll know it better once these doors are open.
The train on the other track stopped producing any sounds as soon as its doors were closed. This is the metro. Let's see what's over there.
This is the section for ladies. Nope it's mixed. I thought it would be a gender segregated train like many other Middle Eastern countries. They have separate sections for ladies and gents. But that's not the case here.
You can sit wherever you want. I wanna show you other sections as well. People stare at you when you are filming but I'm used to that now. 'Is it okay?' Better to ask first.
There are women sitting there so let's not go there. Let me show the other side of this section. You can say that you are in a country that has just been built. Everything is brand new and shiny. It's like a never experienced before thing. Because mostly the metro systems around the world are pretty old.
And they might not be very clean; even in Europe. But here, it's so clean that you can even lie down on the floor. There's a map on the top of the door. The locations already crossed by the metro appear as red dots.
Our stop, Musherib, has arrived. That's where we get off. And it's color will change now. According to this screen, the metro operates until 3 am. We have reached our desired stop. It took 1.5 minutes to get here, to be exact. Let see which connection do we need to take now.
As soon as you come out of the metro station, you see a very beautiful looking mosque. It's called Al Fanar Mosque. Using this road, we can walk our way to Souq Al Waqif. If you look at the shape of this mosque...
And remember my vlog from Samarra in Riyadh... There's an Abbasid era mosque there by the name of Malwiya mosque. It has a very similar minaret in the form of a spiral.
But according to the internet, Al Fanar mosque has a minaret similar to a wedding cake. In fact, it's based on the architecture of Abbasids. We'll also visit the mosque but first we need to go to Souq Waqif.
Because I know that the souq will close in some time for a break. We will visit the mosque during the break. Look at this extensive security. I think at this point in time, there are almost as many security personnel as tourists. I'm a little lost at the moment.
Souq Waqif is a very big souq. This is a relatively older part of the city, that was recently renovated. I'll share more about its history but let me first find the place we are looking for.
Souq Waqif is the oldest and most traditional souq here. It dates back to the 19th century. But as you know, the arrival of oil money through the Middle East changed everything. People would come here to exchange their livestock.
This used to be a local market for Bedouins. The development brought by oil dollars resulted in a decline of this souq. There was a fire here in 2003 that burnt a lot of buildings here.
In 2006, the government decided to renovate and preserve this market to its original form. So the pre-1950 buildings were kept but all the buildings after that period were destroyed. And hence it was restored to its original form. Now, this is the main tourist attraction here.
I'll try to show you all that. There are mainly cafes, bars and restaurants in this area. This is mainly a night area and is so full of people at night. We'll visit again to capture it. And on the other side of the market, you'll see a lot of shops. It's a center of a lot of business.
There's a gold market here as well. I have just had a bird's eye view. I'll show you everything. We might as well purchase something if we like. This side will take you to the market area. Entering from this side, we'll see the clothes market.
We entered from this side but we'll leave from the other. We'll try to record as much as we can. Assalam Alekum I think we'll get football T-shirts from here.
We'd like to buy some nice T-shirt of German team. Assalam Alekum I'm having this feeling that... Everything here is to cater for the football tourists that will happen during the World Cup. I haven't seen a traditional item here yet.
Assalam Alekum Bro, what sort of items can we get in this souq? Well, you can get anything from here. For instance? I mean I can see clothing but what else? Other than you can get shoes... You can also get dry fruits. Okay and where is that? That's over there. Also the spice market. Thanks very much.
Most of the people I met here are from Kerala. Most of the security guys are also from India and Pakistan. I think 90-95 percent people here are from India and Pakistan. Bangladeshi as well.
This is the first time I'm seeing traditional Arabic clothing for females. Someone is making a video. The first glance tells you that it's a rather big souq.
Along with its narrow streets, it's built in the way all traditional souqs are built. The ceiling is wooden. And the inner construction and the color of walls is in typical Arabic style. That's what you see all around the Middle East. Even the cleaning staff has a typical Qatari uniform. The color of the uniform is the same as that of the Qatari flag.
We are now exiting from the other side. I think there's another entry point here. Here you'll see rather unique household items for sale. I'm talking to Muhammad Mustafa here. He's from Nepal and he told me that he has just seen my video the other day.
Lets benefit from his expertise and ask him about these birds. Tell us if all these birds are from Qatar. Assalam Alekum Wa Alekum Salam No. Not from Qatar. This one is from Pakistan. OK These are from India but they are bred here in Qatar. This one is from Holland. OK.
Bred in Qatar. These are from Qatar. This one is from Africa. OK. So this tortoise is from Africa. But as you said all of them are bred here in Qatar. Yes. Is it alive? Yes.
OI thought maybe the heat has taken a toll on him. This is from Africa. OK. This one can talk. Does this one talk? No. It's still a 3 month old baby.
Do you have any bird that can talk? Actually whenever a bird just starts talking, he is instantly purchased by customers. This is the main pet market of Doha. This is actually an Iranian souq but in Arabic it's called Souq Waqif. But all of us who work here call it Iranian market. So you call this souq the Iranian market? Yes.
Yes. Most of the people who work here are Iranians. Oi see. I thought most of the workers here are from India and Pakistan. Here are some more birds.
There are many more birds inside. Thank you very much Mustafa. Look at the beautiful colors of these birds. Actually this is such a large souq with narrow streets.
I'm sort of lost here. I actually wanted to visit the part where football shirts or similar stuff is being sold. But apparently we might have to visit it again. We are still roaming here and looking around. As you saw, talking to people gives you new information.
I had a mistake about the people working here. Every other person here speaks Urdu or Hindi. So I thought that they must be Pakistani or Indian.
Even the Iranians here, many if not all of them, can speak Urdu. That made me think that they must be from India and Pakistan. But there are a lot of Iranians here as well. Therefore, as our brothers here call it, we are walking in the Iranian market. Another thing that I liked about this souq is that there are many sitting areas here.
So, it's not just cafes and restaurants but also many small plazas. And these have sitting places like the one that you are seeing right now. I made another mistake. These are not the cleaning staff. They are actually here to carry the stuff that you buy here. Assalam Alekum You can call them helpers.
We are out of the market area now. Now we are in the cafes and restaurants area. An interesting thing is that I haven't seen any shop selling fake replicas. In fact, I was looking for them as the real items can cost you at least 80 or 90 dollars. You can't find them here. Perhaps because of FIFA World Cup, there are strict regulations to be followed.
Because the replicas you get are normally of poor quality. Just ordinary shirts of cotton or polyester, printed with country name and colors. We'll still try to look for some better quality replica. Otherwise, we'll just buy the original ones.
I've found a cafe and I'd like to sit here for some time. We are in a traditional Azerbaijani restaurant for a meal. I didn't know that before. But since we are here, we'll try some never tried before food. I've ordered something that will be served soon.
Thank you so much. We'll also find out if the prices here are World Cup prices or just the normal ones. People have really high salaries in Qatar. And that makes me think that the prices here will definitely be higher than other Middle Eastern countries. I'll show you my meal once it's served. Here's a bottle of water and even this is from Evian.
Evian means this is imported water bottle from France and must be expensive. We'll ask him if they have local water. Here's our food.
Yes, please. Served in traditional style. Freshly baked bread. Removing the top part to reveal the main dish.
Thank you very much. Pomegranate? Yes, please. Topping it with pomegranate grains. I thought it was to be eaten with bread but they are taking the bread back. So, it is to be eaten with rice.
Yes, please. This one is mint but don't know about the other one. Something similar to coriander. Thank you very much. Enjoy your meal.
The food looks great. The presentation is really good. The rice has saffron. Lets try it and hope it actually tastes as good as it looks. Making some room for the rice.
There are some more things in it but we'll know when we eat it. It was really hot. Luckily I just took a little for tasting... Otherwise I would have burnt my mouth. So it has kidney beans other than potatoes. They have mixed these few things.
It has lamb as well. I'm trying the traditional Azerbaijani food for the first time. Really loving it. The pomegranate is adding a little sweetness to the taste. The taste is rather unique.
I really like it. Don't remember it's name but I'll put it in the description. The food was great and I paid 80 riyals for everything. If I convert it into dollars.... Must be around 22 US dollars.
1 US dollar gives you 3.65 Qatari riyals. Let's go and visit the historical mosque now. Let's keep on walking by the souq so that we can share if we see something interesting. This is a small market outside the mosque that appears to be selling carpets. Many of them are Persian carpets. Assalam Alekum How are you bro? I'm good. Alhamdulillah. Thank you.
So these carpets are from Iran? Yes. Right in front of it, is a very large parking, meant probably for buses. People coming from metro have immediate access.
Metro station is right over there, behind that bus. If you got here using metro, you can simply take a bus to the stadium. There's a small board placed right outside the mosque. It gives the information about the days when they offer tours and the language of tour. There are two sessions in the day. One in the morning and the other in the afternoon. And then there's lunch break.
I think it's a good activity, especially for non-Muslims if they are interested in the history. They can also find out more about the Muslim religious beliefs. Let's go in. The timings are from 9 am to 9 pm.
Assalam Alekum Wa Alekum Salam Is it possible to visit the mosque? Yes. Are you from? Pakistan I'm in Fanar mosque right now. This is not just a mosque but also the Islamic Cultural Center of Qatar. It's called Sheikh Abdullah bin Zaid Islamic Cultural Center. It's such a huge center with a mosque as well as a library and a center for religious studies. You can call it a Dawah Center.
They arrange lectures about Islam for non-Muslim visitors. I've seen the mosque. It's a small one and has a timing schedule. The management is nice and they let you go see it from the inside. The iconic minaret that you see mainly has offices. I'm going back downstairs to show you something interesting. When you enter the center...
There's a lot of information about Islamic period and culture. It also contains detailed information about the Muslim Caliphs. Presented very nicely. And you can find this detailed information, printed on the walls right by the entrance. There are many sayings of the Holy Prophet (pbuh) as well.
A good way to present introduction of Islam. Here's some information about the rights of ethnic minorities. Also about ... Children in Islam ... Women in Islam ... I really appreciate this idea because soon there are gonna be a lot of tourists visiting the place.
The visitors can find all this information and have a first hand experience. This is the first instance of a Muslim country hosting the FIFA World Cup. The Qatari government is making a lot of efforts to promote Islamic teachings. This info is placed in a way that it's the first thing you see when you visit here.
Right next to the metro station is the Ooredoo office where the tourists can purchase a SIM card. I've already taken a SIM card as it was included in my Hayya card. You can see the available packages here. They give you 2 GB data free, though. For instance, here we can see that 32 GB data package costs 22 riyals.
16 GB for 100 riyals. I need more data because I need to upload YouTube videos. It's sunset time here. I took some rest as well.
Because it can get quite hot during the day even in November. It gets much better in the evening... around 25 - 30 degrees. Humidity levels are not too high either. Souq Waqif is really crowded at the moment.
Here you can see a fantastic view of the mosque. But we are not going to the souq right now. Behind the souq is the corniche and it's quite lively at the moment. Lets go there and capture it for you. That area is currently closed for traffic so we can walk there. The amount of investment done by the government is amazing.
So lets go and get amazed. There's a boat here that gives you a full round of the area. The boat guy told me that I'll get to see the skyline. Lets benefit from it because I was just passing by when I saw the boat. It's a nice but the music is a bit loud.
He has noticed me recording the video so he may turn the volume down. Get ready for some amazing views of Doha from this boat. The skyline of Doha is marvelous. Especially when you are on a boat and getting gradually closer to the view.. I mean from here, the buildings are really far away.
But as you get closer, the view gets more and more impressive. It has really impressed me. Because I haven't seen such a skyline anywhere else in the Middle East.
I haven't shown you Dubai in this tour yet. But we are definitely gonna visit that soon. Right now, we are at the backside of Souq Waqif, by the Cornish. Let's get moving now.
It is gradually getting more and more crowded here. It's a very lively area. Although I found the souq to be quite lively yesterday. The souq has really impressed me. Honestly, I didn't expect it to be so good. Because through out my tour, I have been seeing really historical souqs; centuries old. For instance Damascus, Aleppo and Iranian souqs.
And there's a lot of history present in all those places. However, this one is just too special. The vibes and atmosphere of this place is great. Everything you see and hear here, add to the beauty of this souq. There's a section here where many women serve their home cooked food.
I don't think I have seen this anywhere else. Well.. I think it was also there in Damascus. But I haven't seen this trend in relatively richer countries. This is the first thing that I noticed here.
Even if you visit this place after the World Cup, you are still gonna enjoy this place. Musherib city is very close to Souq Waqif. Its architecture is completely different from the local architecture. Almost everything here is based on their old architecture. But here, everything is modern. It gives you a very posh vibe.
And that was in fact the main motivation. There were many old buildings here. All of them were replaced by this modern style of construction. There's a nice walking street with splendid cafes on its sides.
You can call them posh cafes. That's what I felt but I don't know about the prices yet. Most of the buildings here are high rise buildings. There are offices and shopping areas. You can say that back there you feel like you are in the Middle East. But here, you feel as if you are in some rich European or American city.
Because you may not find such beautiful cities everywhere in Europe. I'm quite impressed from what I have seen so far. It felt really good to be here. I hope I was able to share useful information with you in this vlog.
We'll cover more areas in our upcoming vlogs. There's a lot to be explored here but that's all for the day. Don't forget to Like, Subscribe and Share if you liked this video. Remember me in your prayers. See you in the next one. Allah Hafiz
2022-11-23 01:03
Show Video
Other news