I Stayed with an Indian Sikh Family in a Village of Punjab EP.34 | Pakistani Visiting India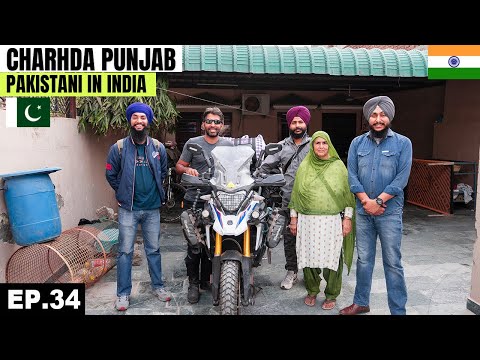 Show Video
Okay then. It was really nice meeting you. We are not gonna let you go like this. We have heard a lot of stories about how our village used to be...
But we never saw it... Nor did any Pakistani channel show that. Assalam Alekum. Sat Sri Akal. How are you? I've come from really far away... just like you. Which part of Rawalpindi did you belong? During that time Maharaja Ranjit Singh ruled as far as Lahore. He came to this area along with all his men.
We have reached the village. Sitting with the family now. Learned a lot of things from you.
I do want to learn from you, if ever I got that chance. Sure... The next time you are here, we are gonna take you with us. Definitely. It will be an honor for me to learn from you. Abrar... Borders are for politicians... The divisions of India and Pakistan are for politicians only.
This is a big hug from a world traveler to another. Wish you all the best in life. Keep traveling and inspiring people. God willing... We'll meet again some day.
Or you can simply share your plans with us and we can come and meet you. Need your prayers. Are you from Chandigarh? No, I'm from Sydney. I watch all your travels there. Thank you so much. Are you here to visit your family or just vacation? We are here for vacation but also had some work. Actually we used to live in Chandigarh and we are originally from Chandigarh.
But we got settled in Australia about 25 years ago. You're gonna return from Delhi and I'll do that from Wahga border. Okay then. It was really nice meeting you. These are my kids. Show your face.
Hello Abrar Hello. How are you? That's my son. Show your face. How are you? We are having our first breakfast in Chandigarh. And you know the most famous breakfast in north.... paratha, pickles and yogurt.
Yogurt is a must item in this region. We have with us.. Mr Nirendar. And there's Imran.
They have just met me in the hotel. Nice meeting you guys. The pleasure is all ours.
You have made us proud by visiting our motherland. Thank you. Every Punjabi has a dream. He wants to visit the land where our Lord Guru Nanak was born. And you are from that land.. Nankana Sahib...
A very warm welcome to you. Assalam Alekum. Good morning. Namaste. Sat Sri Akal to everyone from Chandigarh. We got here last evening.
Couldn't show you the city because it was late. Today we'll try to spend a few hours in the city. Although that's not enough to cover this city but we'll try.
G-20 Summit is taking place here that's why many tourist sites are closed. Only those guests are allowed at tourist places. However, whatever we'll see, we'll share that with you. Today, we plan to leave Chandigarh ...
And we'll reach some village or other city in Punjab wherever we can go. Because it's my 29th day here. So I'm left with only one or two days.
It's 28th day in fact. So I have to spend a night in Amritsar before I go to Lahore. So, we'll spend as much time here as we can and share it with all of you.
And then we'll move on. All the luggage has been set up on the motorcycle. I still have some guys with me... from Kolkata... Jaipur... And Chandigarh.
And back there is Karthikeyan who is busy with his phone at the moment. Shall we start now... You guys are taking me to the lake. Right? Bismillah... In the name of Allah... *Prayer for the journey* We pray to Allah for a memorable and fun day ahead. We have just left from hotel.
Some of these fellows are on their motorcycles while one of them is in his KIA car. They met me last night. What I do is that I post a story about the place where I'm going for a meal.
At least the people in that area can see the story and easily come to see us. Because you are never sure if you'll be able to meet all these lovely people later. And... These are the people who really wait for you... Following every story you post.
And they get there within 5 to 10 minutes. This is the least that I can do for the people. My channel exists because of these lovely people. If I could meet them and spend some time with them... Feels great.
All the love that I have been receiving in India... I just humbly try to reciprocate as much as I can. This way, people come and join me randomly. I was telling you last night that Chandigarh is quite different from the other Indian cities that I have visited. This is the impression that I got after riding here for a couple of hours last night. For instance, look at this electric rickshaw here. Public transport system has electric buses as well.
There are many things here for us to learn. Some of our cities are really loud. We should learn it from here how we can make our cities better.
It's a very green city over all. It's a planned city like Islamabad. You'll see the city nicely divided into different sectors. In Islamabad, we have different sectors like F, G, I ...
Here they have numbers to name the sectors... 1, 2, 3 .... You can see that on the roadside signboards. It's a very neat and clean city.
Of course the roads are great as well. I showed that last night as well. But unlike last night, we can see all this nature in the day light now. It's not really crowded here at the moment. Someone told me that there's going to be a metro here soon.
Then it can get more crowded. Because, when you are developing the metro system, the roads might need to get closed. Until all the construction work is complete. We faced this problem in Mumbai.
Many parts of the roads were closed due to construction work of metro. That's why traffic was really crazy there. There's a beautiful looking park on our left side. Apparently, quite a big one.
There's an electric bus over there. The bus is making absolutely no sound at all. We are riding just next to it. There is also a bicycle lane here which is a rare sight in this part of the world. I don't think I saw a separate lane for bicycles or for pedestrians anywhere else in India. But there's one here.
Right now we are the most famous tourist point of Chandigarh. You can see that there are so many people here despite the fact that it's still quite early in the day. It's called Sukhna Lake. Actually you can say that Chandigarh is the beginning of Himalayas. Most of the people who travel to Kashmir or Manali towards Leh and Ladakh They come to Chandigarh, make a stop here and then go ahead. It's still a bit hazy. That's why we can't see the mountains.
But we can still have small peaks. The lake is really beautiful. As I said earlier, it's a very peaceful and calm city. All the noise and hustle and bustle that we have been seeing, seems to come down to a halt here. This is my type of city; a lot of nature and not too far from the mountains.
And all the benefits of a big city. That's why you can see everything here. We'll visit the city shortly. I've been told that sector 17 is the main shopping area here. Let's see what's that like.
We'll be making small stops before we go forward. We are not gonna let you go like this. Actually I haven't uploaded any videos yet.
It will become more difficult when I start uploading videos. Everyone is following you at Instagram. I only use Instagram to follow your updates. Thank you so much. Lets sit somewhere... May be inside... Yes. Everyone is waiting for you inside. Come guys.
Let's not miss this chance. I need to take a selfie. Sure Thank you Abrar. Lovely to meet you.
We hope that you come for a longer duration the next time. There are some police guys back there. I hope there's no issue. No problem at all.
I am an Advocate General. That means I'm standing here with lawyers.. So I feel safe now. Sir, my grandfather was from Azad Kashmir. He would tell us a lot of stories about his village. We never got to see it... Nor did any Pakistani channel show it.
Then came your channel. I watched your videos and told grandfather about those places. And he was like...'Yeah.. it was something like that..'
His memories had gotten hazy. We were really happy to see Azad Kashmir through your lens. You know we go to Kashmir as a tourist. We just visit the place and come back.
But it's a misfortune for the people living in Kashmir on both sides that they can't visit their whole region. The feelings that we get from the Punjab in Pakistan... Man, your Punjabi is way better than mine.
Yours is much sweeter. Your Punjabi sounds really sweet. You just feel like saying something in Punjabi. Feels great. It's our mother tongue.. How can we separate from it...
Nice meeting you. Thank you. We are really glad that you came to India. All my family watches your vlogs. What's your name? Himanshu.
How are you? I'm good. How are you? Our whole family watches your videos. Thank you so much. Assalam Alekum. Sat Sri Akal. How are you Sir?
I'm good. What about you? I've come from really far away. 40 km Looking at how excited you are, really makes me happy. That's my son in Australia. Say Hello.
Hello Sir. Sat Sri Akal. How are you? Yes. Now I can hear. Speak in Punjabi, please.
Yes bro. How are you? Punjabi... Please. How are you? Thanks very much. I really wanted to meet you.
I'm so glad. Thank you so much. She's our cutest little fan from Chandigarh. Inayat.
Inayat, please say Hi to everyone. Everyone's watching you. Would you like to say something? No. Say, 'Thank you for coming'.
Thank you for coming. Thank you very much Inayat. We came here for shopping. He advised me to get some t-shirts from here which I'll show you in some other vlog. What's your name, sir? He's from Rawalpindi. I noticed your eyes getting brighter when you asked me if I am from Pakistan.
When did you come to India? When India and Pakistan got independence in 1947... I was a little older than this kid. That's when I came to India. Which part of Rawalpindi did you live in? I don't know the area but someone from our viewers must know where that is. Thank you so much Sir. I didn't that he was your friend.
Who doesn't know us... Leading us is Mr Amar Bir Singh Salar. And a couple of his friends whom we have already met. We are going to his village. Many of my viewers asked me to show them Punjabi villages.
So I thought to show you guys a Punjabi village. So, we'll keep exploring some more places of Chandigarh while we are on our way to the village. It's a village near a small city called Ropar. The whole ride will take no more than an hour, as per Google maps.
Many Punjabis with nice cars, visit some parts of Chandigarh for a nice drive. It's sort of a special route for car enthusiasts. I had heard about that. So I asked the boys to show me that route. So that our Rangeeli (motorcycle) also gets that experience. And then we'll get on with our journey. I'm sorry guys. Since I'm in Punjab, I can't help but speak in Punjabi more than I normally do.
It feels great to be visiting a place where you can speak your local language. You can see nature in this beautiful city. Apparently every street has countless, old and huge, green trees. And you can reach mountains after a half hour long drive. You can also go to Shimla from here. Shimla is like our Murree.
We are on that special route. There is a famous college here by the name of DAV College. That over there is a museum and this is an arts college. It's a college for girls. So this remains a busy road. Some famous pop songs have been shot here.
The point where we took the left turn from the main road is all a part of this special route; these couple of sectors. For instance this guy is just driving here. We have a long weekend this week due to some holiday on Friday. That's why the colleges are closed now. I thought this area around these colleges is the main part of the route.
There are these three four sectors from 8 to 12. For instance this is Sector 8 and it's the starting point. Then Sector 9 and 10 and on. So I recorded Salar giving you all the information.
This is the Government College of Art. Right now we are passing through a residential area with some really beautiful houses. It's not a very touristic city.
Not a place with too many tourist points. In fact, most of the tourists who come here are on their way to Leh Ladakh. Or are coming back from there. It's more like an intermediate stop for them on their rather long journey.
Every sector here is... I can't help comparing it with Islamabad. Just like Islamabad, every sector here has its own small market. It's a very similar feeling. We'll now leave from Chandigarh.
It's almost an hour ride. I've been told that we'll travel through New Chandigarh. That way, we'll get to see the new area being developed by the Punjab Government. Apparently the route is very scenic.
Chandigarh is a union territory and capital of Punjab and Haryana. But it's basically a union territory. Look at the Bullet by Royal Enfield.
It's a beautiful motorcycle. You must have seen it before. Looks like we have reached the village. I have a feeling that all these people have gathered here for us.
Ma Sha Allah Sat Sri Akal Welcome Sir He is my brother in law, Abrar. Sat Sri Akal Sir Please come. It was nice to see everyone here to welcome us. Let's go a little further.
Looks like we are right at the banks of Satluj river. Such a beautiful area this is. This was the last post of Khalsa Raj; Nishan Choki.
This was the last point under the rule of Maharaja Ranjit Singh. The area on the other side of the river was under the British rule. Maharaja Ranjit Singh's rule was up till Lahore. Maharaja came here with all his men.
At that time the English governor here was Lord William. Maharaja came here to have an official meeting with the governor. He came with all his men on the other side of the river.
Whereas the British governor came to this side of the river with all his men. Both men had a meeting to discuss means to expand business opportunities. That place is right here and we have a memorial to commemorate that meeting. It's a very historical place in that aspect. The river is Satluj.
There's a hill station very close by. Almost 60 to 70 km from here. This area has a really nice Air Quality Index. Also in winters? Yes.
Water, forest, mountain and valley... a rare thing to have all four together. Water, forest, mountain and valley Here we have all four of them together. We have lesser industrial places here now.
Previously there were more. Some factories have been moved from here and that has improved the climate here. People here are mainly related to agriculture? That's right. Punjab is overall an agricultural state.
70% of people here are associated with agriculture. Sat Sri Akal We are in the village now. Will spend some time with the family. Normally you are served a hot cup of tea when you visit someone. But here we are being treated with a hot cup of milk.
So I had a cup of milk and you can look at my attire. Since our luggage is still on the motorcycles, I requested our host to give me some clothes. So thanks to him I am wearing these comfortable clothes.
And they look nice. I actually like wearing shalwar qameez. That's why I feel good wearing this pajama kurta.
It's a traditional Punjabi dress. We are gonna spend some more time with the family. We'll try to get some footage for you if possible. But we'll explore this village in the morning.
It's paneer bhujia. I'm trying this for the first time. It's a famous dish here and made instantly. You just have to crush the cheese and give it a tadka; nothing else.
Don't you add eggs or something? Nope. Readily cooked. You just have the cheese.. no need for any gravy. Much like egg omelette. We are done with our dinner. And it's almost 10:15 pm.
Almost everyone has gone to bed. As you know, people in villages are early to bed and early to rise. That's exactly what we are gonna do today and wake up around 5 in the morning. And we'll try to showcase the village life for you. We did show you some part of that today.
We are here for the night stay. Coming to stay at someone's place and getting so much love... I really wanted to show all of you...
The amount of love and respect that I'm getting here as a Pakistani... Thank you very much. I'll keep making such content for you. Allah Hafiz
2023-05-27 01:10
Show Video
Other news