How to tour AK with (and WITHOUT!) Genie+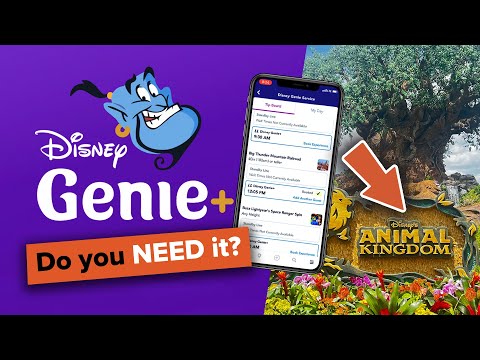 Show Video
Recently, a couple members of our team decided to test out touring at Animal Kingdom with Genie+ and without. Here's how it went. Good morning, I'm Heather. Good morning. I'm Felicia.
I'm going to be testing with Genie+. Heather will be testing without. We got up this morning. We purchased Genie+ around 6:30 this morning.
You can purchase it starting at midnight, but we were already in bed so we did not do that. Um, and then at seven o'clock we were able to buy a Lightning Lane for Flight of Passage for me. Um, I booked that at 11:40 to 12:40 because we have lunch at one o'clock at Tusker House. Um, I also, purchased or booked my first Genie+- not purchased it- at, um, meeting Mickey and Minnie at Adventurers Outpost.
Um, so I'll be doing that around nine o'clock this morning. The park opens at nine. There's Early Entry at 8:30, so we recommend getting to the bus around 7:30. It's about 7:20 now, so we'll be a few minutes early.
Um, I plan to start my day at Navi River Journey. Heather's going to rope drop Flight of Passage cuz she doesn't have a Lightning Lane for it. Um, she's also going to be testing out stacking Genie+ selections. So she did that this morning. And what did you book? Well, I haven't booked anything yet. I'm kind of watching and waiting for things to get past two o'clock with the idea that, looking at how stacking works, if you wanna show up to Animal Kingdom later in the day or park hop there.
Yeah. So we will update you as the day goes on. We got in line here at about 7:20 and that's how many people were already ahead of us when we got here.
The bus originally said 7:45 was the first one, but now it's at 7:33. Typically that first bus of the day is about one hour before the park opens for Early Entry. So we look like we are in a good spot to get to the front of the pack. Okay, it's 8:10. We're inside the park now. Um, they open turnstiles around 8:03.
We were able to tap in and scan our magic band to show that we're staying on site and now we're waiting over by Pandora to get in. Um, you can see there's Tiffin's and Nomad Lounge behind you, and then you can see that whole line of people. Um, we're not too far back.
There's also a lot of people behind us. So, um, we will wait until they let us in. It's now 8:15 and we are walking into Pandora. Wave goodbye, Felicia! Got in line at 8:16. They held us for a few minutes. It's now 8:18 and they're letting us walk through the queue.
There are about 15 to 20 people ahead and me. I imagine I will be off this pretty quickly. All right, so I'm just getting off Navi River journey.
Um, I got in line at 8:16, so almost 15 minutes before it was supposed to open. Uh, they let us start going through the queue at 8:18. I was on 8:20 and now it's 8:27.
I'm off already and it's not even the actual start of Early Entry yet. So that's something to keep in mind that sometimes they, um, let people in earlier and onto attraction sooner. And so next I'm headed to Kilimanjaro Safaris.
It doesn't technically open until nine o'clock, which is 30 minutes from now. But that is also another attraction that sometimes they let people on earlier for, and if not, I'll at least be at the start of the line. So we'll see how that goes. Um, a little bit change of plans. So there was a delay with boarding. They said that there were animals blocking, uh, the Safari path.
So I waited about 10 minutes. The line didn't move at all. Um, I didn't wanna waste the rest of my Early Entry time, uh, for something that wasn't actually boarding.
So I'll get a Genie+ selection for that in a little bit. I was going to head over to Expedition Everest, but it is down at the moment as well. Um, so I'm gonna go ride Dinosaur. And maybe Triceratop Spin.
Get those out the way. And then I will use my first Genie+ selection, um, to meet Mickey and Minnie. All right. It is now 8:52. I'm over at Dinosaur getting ready to get in line here.
It says right now the wait's five minutes. I'm sure it will go quickly. Okay, so it's 9:02. Um, it only took four minutes, uh, to board that attraction, and most of that was just walking the queue and then waiting in the pre-show area for a few minutes.
I managed to get off with only a little bit of whiplash. It's kind of, um, an intense ride for this time. Now I'm headed to Triceratop Spin. The park is officially open now, so, um, guests that aren't staying onsite are in here, but I don't think that will affect my wait at Triceratop Spin. It's not exactly people's first choice, so headed there now.
Just got off Triceratop Spin. A lot of fun. Um, it's posted wait time was five minutes.
It took three minutes. One thing to note on that one. Um, right at park opening there, it's not busy. No one really is there and so they'll let you stay on and ride repeatedly if you would like, up until a line builds.
So it's a good option if maybe you have a younger kid that doesn't wanna ride Dinosaur or something. Um, you can entertain them on that while other family members are in Dinosaur. And so right now I am either going to go use my Genie+ to meet Mickey & Minnie or I'm gonna go meet Moana. The app says the meet is at 9:15, but the actual meeting location sign says 9:30. So I'll just stop by there and see, um, what's going on.
It's 9:12 now, so I should know if it's 9:15 or 9:30 whenever I go over there. Okay. Moana wasn't meeting yet, so it is 9:30. There was already a pretty long line, so I bypassed that and I came here to Adventurers Outpost to meet Mickey and Minnie. The posted wait time right now is 10 minutes. I have a Lightning Lane, so I'm using that and I'll let you know how long it'll take.
Just finished meeting Mickey and Minnie. The, um, posted wait time when I was walking in said it was 10 minutes. A cast member was telling people it would probably be closer to 20 minutes. I used my, um, Genie+ selection for it, and I waited. It took me 12 minutes to get all the way through the queue and out.
Um, now I'm going to head over to Kali River Rapids. It says right now the wait is five minutes. I'm sure that will be, um, accurate.
I booked a Genie+ selection while I was in line for Kilimanjaro Safaris, so that's at 10:50 to 11:50. So I'll do a few things between now and then. Let's see what goes. I'm getting in line for Kali River Rapids. It shows a wait time at five minutes. So just got off Kali River Rapids.
That attraction I do not recommend. It's only the second time I've ever done it. The entire ride feels like you're waiting for something to happen, and it never does. There is one small drop, which is where, um, most of like getting wet comes from. I got soaked on one half of my body.
The way that, the one that was like facing the water, I, I just, I can't recommend that ride, but there's not a ton of attractions here. And so if you wanna ride it, obviously feel free to. It's nice on a hotter day.
Um, I was going to show you that right outside the entrance, there are these lockers back here. So if you have anything that you don't want to get wet, you can put 'em, um, in the locker. I, at this point, only really have Kilimanjaro Safari, Expedition Everest, and Flight of Passage left to ride. Um, Expedition Everest is still down. I have my Genie+ for Kilimanjaro Safari um, at 10:50.
It's only 9:45 right now. Um, so I'm going to actually walk the Maharaja Jungle Trek which is what my shirt is. Matches the sign that's back there. Um, yeah, so I'll do that, waste a little bit of time and then maybe see if Expedition Everest comes up so that I can ride it before um, my Genie+. I just finished walking through Maharaja Jungle Trek. It took about 15 minutes.
You could spend more time in there if you wanted. You could walk through it quicker too. Um, some of the things you see in there, tigers, um, bats, water buffalo, and then there's, um, a bird enclosure where there's, you know, a ton of different types of birds that you can see they have spotting guides available, um, that you can pick up whenever you go in and drop off whenever you're leaving that, you know, kind of tells you what you're looking for. Um, I didn't really see any tigers. They said there was one in there, but it was hiding behind some stuff. I did see plenty of water buffalo.
Learned that they're named after the Golden Girls, so that's cute. Um, it's 10 o'clock now. I'm going to walk around and look at some of the animals just around the park for 10 or 15 minutes, and then head to Feathered Friends in Flight. That show starts at 10:30, so I'll probably get there around 10:15 which will be more than enough time to get a seat. Um, after that I'll use my Genie+ at Kilimanjaro Safaris, and then I'm going to see where I'm at then. Close to 10:20 now.
I walked around Asia and looked at some of the animals there for a little bit, and then I got a snack. I was trying to decide between a pineapple spear and pineapple dole whip, but I did the responsible thing and got the dole whip. It's delicious. Now I am heading into Feathered Friends in Flight. Let's see up here.
The show starts in 10 minutes. Lots of space available still. Just finished watching, um, Feathered Friends in Flight. It's a 30 minute show, so I got there around 10:20. The show started at 10:30. It's now, um, 10:58, almost 11 o'clock.
It's cute and educational. Um, it's also in the shade, so it's a good place to stop and take a break. Um, right now I'm going to head over to Kilimanjaro Safaris. I have my Genie+ selection for there.
Um, it's from 10:50 to 11:50, so I'll be within my window. Once I tap in, I'm going to see if maybe I can get a Genie+ selection for Festival of the Lion King. Um, for the 12 o'clock show, which I think I'll probably be able to do that.
So that's what I'm doing next. It is now 11:33. I just got off Kilimanjaro Safaris. I only waited six minutes for, but the attraction itself is between 20 and 25 minutes long, so it's a long one.
Um, right at the exit, whenever you're getting off to the right is Gorilla Falls Exploration Trail. So if that's something that you're interested in doing, doing it right after, um, getting off is the way to do it. I'm not going to do it today. I wanna make the 12 o'clock, um, Festival of the Lion King.
I did grab a Genie+ selection for it whenever I, after I tapped into this attraction. Um, so I'm gonna head over there and do that. Then I will use my Lightning Lane at Flight of Passage. Have lunch at one at Tusker House.
So that's what's up next. All right. Heading into Festival of the Lion King. Um, I got a Lightning Lane for this. The Lightning Lane return time says 11:30 for a 12 o'clock show.
It's 11:45 now. Shouldn't be a problem to tap in there. Okay, so I'm leaving the Festival of the Lion King. It's a 30 minute show. It's very good, very enjoyable. I would definitely recommend it.
Um, heading to Flight of Passage to use my Lightning Lane and then heading to Tusker House. I am entering the Flight of Passage queue using my Lightning Lane. So I entered the queue at 12:37. I am exiting the attraction at 12:56. So, very, very quick, um, from entering the line to getting to the first pre-show room. It was six minutes, so almost no wait.
Um, standby queue was an hour. No, 140 minutes, two hours, 20 minutes. So saved a lot of time by having the Lightning Lane. Um, headed to lunch now at Tusker House. I haven't booked another Genie+ selection at this point cuz there's nothing available past lunchtime that I haven't done yet. So we'll see how we end up doing.
It is now 2:10, just finished lunch at Tusker House. It's a buffet that's also a character meal. Um, so there's Mickey, Donald, Daisy, and Goofy coming around to your table. It was delicious. It was a good time. Um, recommended if you're here.
There aren't very many table service restaurants, so it's a good option if you are looking for that. Uh, for the rest of the day, I'm not actually going to do anything. We're headed back to the hotel to do some work, but what I would do if I was staying is Expedition Everest which finally did come back up while we were eating. So the next Lightning Lane, like Genie+ selection available is for 2:50 to 3:50.
So I'd probably grab that now. Um, and then I would head over and watch the Finding Nemo The Great Big Blue Beyond... whatever it's called, um, that show. It's over near Expedition Everest.
Um, so the next showing for that is 2:30. So I'd go to the 2:30 showing of that, then use my Genie+ selection at Expedition Everest. And then I would probably take the Wildlife Express Train out to Rafiki's Planet Watch. Um, there's a kind of a petting zoo out there, and then also the Animation Academy, which I've wanted to do. So I would do that and then I would finish out my day at It's Tough to Be a Bug on the way out of the park, and I think you can easily accomplish all that. Um, by 4, 4:30, 5ish.
Um, so really easy to get everything done here in a day. Um, yeah, so it's been fun. Okay, we are making our way now up through the queue.
We entered the queue right about 8:24, which is not bad. I was, I would say couple hundred people back in line, which again isn't bad. Something to keep in mind when you're doing this, the mornings are probably one of the more stressful parts of park touring. Especially if you have little ones or a stroller. If you're a group of adults or a couple or um, solo traveler, you're gonna have a much easier time.
It's a lot less stressful. You don't need as much space. It's easier to kind of dip in between people if you need to. Just something to keep in mind. Um, cuz it was just Felicia and I, we had relatively easy time of it this morning.
Okay. Just got off a Flight of Passage. Did I keep my eyes closed the entire time? Yes, I did.
Do I feel just a little bit queasy now? That's also a yes, but you know what? That's okay. Science, we're testing things this morning, so that's fine. I will pop me some ginger chews and I'll feel just great.
So got in line about 8:23. Got off at 8:54. Not bad at all. I will say though, that is why if you're gonna purchase one thing here at Animal Kingdom, purchasing an Individual Lightning Lane for Flight of Passage can make it so much easier to tour during the day, and that's because if I would've purchased that Individual Lightning Lane, I probably could have knocked out a couple other attractions during Early Entry and not had to have the stress about trying to get to the front of the pack in order to minimize my wait on Flight of Passage. You don't have to fight those early morning crowds, and that is worth a lot. So something to think about if you're considering purchase purchasing one thing, if do recommend that you go ahead and purchase that Individual Lightning Lane for Flight to Passage.
Otherwise, you will be perfectly fine without it truly. Okay, next up, Navi River Journey. Posted wait was 15 minutes. It is now nine o'clock. So the theme park has officially opened Genie+ return times start now.
So let's see how long the wait actually is. All the queasiness from Flight to Passage is over and Navi went excellent this morning. The posted wait was 15 minutes, but it actually was zero wait. It was just a walk on and then I was able to board immediately and I exited about 9:10.
So 10 minutes total to finish the attraction versus the posted 15 minute wait time. So nailed it. Next stop this morning is gonna be Kilimanjaro Safaris. It's about nine 15 now. So park's been open for 15 minutes. Let's go see what that line looks like.
Just got off of Kilimanjaro Safaris. Posted wait was 25 minutes, but my actual wait was 15, so that's not bad at all. It is now, let's see. 10 o'clock.
So the park has been open for one hour. Expedition Everest is still down. So I guess my only option now is to go to Kali River Rapids.
"Kali?" "Coh-lee?" It doesn't matter. I'm just gonna go get soaked. Wish me luck.
Just some overall observations on the park today. It is not busy at all. It's um, park's been open for, a little over one hour now and the walkways are still nice and open. Not a lot of crowds.
Makes touring without Genie+ on a day like this really nice. I feel like this is almost giving me Audrey Hepburn vibes? Done with Kali River Rapids. I survived. Trusty poncho came in clutch.
Um, didn't get that wet. I do think that it helps if it's not fully, if your raft isn't fully packed because you don't make quite as big of a splash at the end. So, I mean, I'm not a scientist, but that seems like it would make sense that if the raft isn't fully weighted, that it wouldn't, um, create as big of a wave on that first drop. So that worked in my favor because there was only one other family on the raft with me, um, which definitely helped. But then of course for all the sprays that happened, the poncho came in really, really handy. The wait time was posted five minutes, took longer to walk through queue than it actually did to, um, board at zero wait.
Just walked right on and off just a couple minutes after that because it is a very, very short ride. And now I'm gonna take a look at the wait times and figure out what I'm gonna do next. Ideally, I would like to ride Expedition Everest, but I think it's still down. So if that's the case, I may hike it over to either Dinosaur or see what time the first show is over at Festival of the Lion King and do that. Just wrapped up watching Festival of the Lion King. It's about 11:35 or so.
So I went to the 11 o'clock show and I jumped in line at about 10:35. It's recommended that if you are doing this one standby, that you show up around 30 minutes before the show starts. During slower times of the year, you can show up closer to the actual, uh, showtime. Um, busier times of the year, you definitely wanna make sure you are no later than 30 minutes because they can and do cut off the line if it gets to be too long. Absolutely love this show.
It is one of my favorite things here at Animal Kingdom. I love the music. I love the, um, the whole, the ambiance. It's fast paced.
You're sitting down. It's just a really, really cool show to watch. It appeals to people of all ages, so definitely don't sleep on this one or skip it just because you think it's just a, a show and you wanna ride rides. It's something that I think everybody should see if they're coming to Animal Kingdom. Now, when I jumped in line for it, the wait at Dinosaur was five minutes, and now I think it's posted at 45.
I could have gone to Dinosaur and done Festival of the Lion King later in the day, but here's why I didn't wanna do that. The queue for Festival of the Lion King is outdoors. The cue for Dinosaur is primarily indoors or all indoors. The later shows for Festival of the The Lion King get longer and longer lines. And you'll end up waiting longer and longer outdoors. And in fact, you might even wanna show up before that 30 minute mark, um, if you want to not get cut off, not have them cut off the line.
So then you're standing outside for a long time. Now, there is some shade and it's covered, but it's still outdoors. So if I'm gonna spend 30 plus minutes waiting in, in a line, which I don't like to do for anything, but if I'm gonna have to do it, I'd rather do it in an indoor queue. So that's why I decided to do Festival of the the Lion King first.
And I'm gonna head over to Dinosaur, like I said, posted wait, it's 45 minutes. I don't know if I believe it. We're gonna go see if that's accurate.
Cross your fingers that it's not. Let's see how long the wait really is. It's posted at 35 minutes. Let's go see how long it actually takes us.
Looks like I will have a bit of a wait in the outdoor section of the queue, which is still fine. It's still better than the Festival of the Lion King queue. This one is at least fully covered and there are fans. Uh, so that was terrifying.
No matter how many times I ride Dinosaur, I always forget just how loud it actually is. So something to remember if you don't like loud things or if you're traveling with a little one who meets the height requirement but may get startled easily. It's very loud, it's very, very dark. It can be very scary for, for little ones, even if they are tall enough to ride. So definitely make sure that your child is gonna be comfortable with something like that before you decide to ride it.
The posted wait was 35 minutes. My actual wait from the time I entered the line until when I boarded the vehicle was 25 and I actually hit the pre-show at 20 minutes. So not bad at all. Um, definitely not a bad wait. I was mostly in air conditioning and out of the sun, so, that's totally doable for me.
I have about 25 minutes until my lunch reservation at one o'clock, so I'm gonna try to hit up my second most terrifying attraction at Animal Kingdom: it's Tough to Be a Bug. You guys. Can we talk about It's Tough to Be a Bug. Yes, it looks really cute.
Yes, the friendly bugs are very friendly, but I have never, ever, ever attended or watched It's Tough to Be a Bug without a chorus of cries and screams when the scary parts come on. So, there's zero height requirement. Families think, oh, this looks fun. And then the spiders drop down from the ceiling and all heck breaks loose. So be warned, just because there's no height requirement does not mean that it is not terrifying. It is absolutely terrifying.
So, posted wait was 10 minutes. I think the entire time I spent there, um, was 15 total, well, maybe 20, just because it took a while to start the show. But I had, I went right into the pre-show, um, got into the theater relatively quickly, sat for a while. They started the show, everybody cried and then, yeah.
All done, walked out right at one o'clock, which was the exact time of my lunch reservation over at Tusker House. So I'm going to go meet up with Felicia and we're gonna compare notes and see how each of us did. I have a feeling she had a much better day than I did, but I still feel like I got a lot done and I didn't wait in very many lines.
I think the longest I waited today so far was 25 minutes at Dinosaur and then this morning for Flight of Passage, but that wasn't bad. Okay. Just finished up lunch at Tusker House. It was amazing.
As always, highly recommend it. If you're looking for a fun table service character meal at Animal Kingdom. There's not many choices anyway, so Tusker House is a great choice. We are going ahead and heading back now. It's about 2:15, but if I were sticking around today, here's what I would do. I would hit up Expedition Everest, which is now open after being down for most of the morning and early afternoon.
I would hit it doing Single Rider Line. I would catch the Nemo Show this afternoon, Finding Nemo: The Big Blue and Beyond. I would spend some time on the Maharaja Jungle Track, maybe look at Gorilla Falls Exploration Trail, and maybe head out to Conservation Station. All of those things should probably not have too much of a wait, so shouldn't be too bad to finish up everything that you want to do this afternoon without having to wait too long. Today my longest wait was 23 minutes, and that was Dinosaur. So I feel like I did pretty good.
Um, I think Felicia and I did some comparisons and I ended up waiting for things about an hour more than what she did, which is how she got that many more attractions done than I did. But still, overall for not paying for anything. I saw and did most of the major attractions this morning and I could easily finish 'em up this afternoon. Animal Kingdom is definitely something that you can do without Genie+, as I mentioned before, if you want to pay for something, I would suggest that you pay for an Individual Lightning Lane for Flight of Passage.
Choose your time for that, and then you can spend your morning, uh, touring will be a lot, lot more simple, so, that's it from Animal Kingdom. Thank you for following along on this Animal Kingdom touring day. Do you have any questions about how it went or suggestions? We'd love to hear it in the comments. Thanks for watching.
2023-05-29 16:09
Show Video
Other news