How EXPENSIVE is Living in SWEDEN ? Should you move to Stockholm ?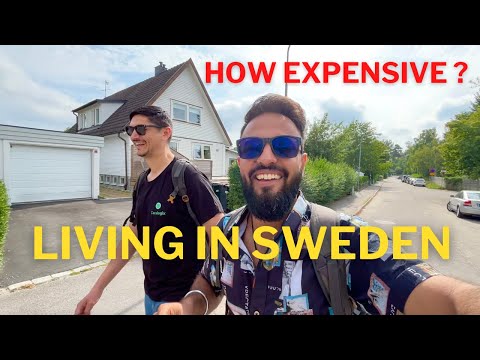 Show Video
So brother, how much money do you get? IT people get a lot of money. As of now, there is a language problem here. Okay, this is the entire shop. This is not a supermarket.
The rate of all of this is 800. Look at this brinjal. Who will eat this brinjal? In 800 rupees per kg. If you have a family, you have a child, you both, then what is the expense? If we consider the family of the 3 members, then the family would die.
Greetings, welcome to the Punjabi Wanderers YouTube channel. Today I am in Stockholm, Sweden. I have with me Malkit. He is from Jalandhar and he lives here with his family.
So in this video, we will see how was his journey. He was working in Jalandhar. It has been 2 years now. How long has it been?
Soon gonna be 2. Okay, it will be 2 years. So bring your family here, buy a house, salaries, and what is the expense, what are the taxes.
We will know all that in this video. Stay tuned. Malkit, in which area are we now? In Stockholm.
Speak a little higher. Speak in Punjabi. But don't speak in Punjabi, speak in Hindi. Now we are in Sponga. Sponga? This is a Swedish pronunciation. There are many other funny words in Swedish.
Yes, yesterday we saw a station on the way. It is called Lund. Lund is a very famous place. Yes, it is a university. Now we are in Sponga.
There is a small mall called Galeria. Place name is Shista Galeria. The spelling is K-I-S-T-A Shista.
But in Swedish it is called Shista. Okay. There is mostly an Indian community.
And there we will get Now the plan is to take you to a library. Okay. Here you will also get Punjabi books. I saw it yesterday, I read it at home. Punjabi book.
I thought I would get it from home, from London. But then I saw that the library is written here. So I said we will see this too.
Now the library and after that we will take the ticket later or first? We will take the ticket later. Okay, the library is walking distance. We can go, but no one takes us for a walk.
No, then we have to take the ticket first or later? We will take it later. Yes, so we will also take the ticket. What is the metro system here? It is 7 days, 3 days.
Here you can buy it on the phone. Do your app. Whatever app comes, we will take it in that app.
So we will show you that too. But obviously, it is Scandinavia. So it will be expensive. Like this. Where are the gold ones? Where did you get it? Aston Martin? Tesla, sorry. See, they have put a cut here.
This is going to be repaired. Because the road was a little damaged. They have put a cut.
We will come and fix it. There is no need, but the same. See, here too.
They have put a cut here too. That this is going to be repaired. Great.
So now I saw here. I thought what is this? So Malkit told me that like those who live in flats, they do not have a place to do kitchen gardening. So they can apply. Here is the code. You apply in the line.
When your number comes, then you can come and do your gardening. But it is not allowed to stay here at night. You can come, do barbecue and all that stuff. And do it during the day. And then you go back. Also, tell me Malkit.
You can camp anywhere, right? Throughout Sweden, it is allowed. You can pitch your tent anywhere. Not in the private property, but it is allowed. Okay, okay. You have become English, right? Give me the first ticket.
Okay, so this is the public park. So if you come here with your tent, then it is a good trip. It is a good tip in Sweden. Because everything is very expensive.
So you can come, bring your tent and sleep anywhere. So your living expenses will be zero. You can bring your barbecue and grill. This is very small. On the other side, there is an open gym.
It is called Ute gym here. You can do pull-ups, all those weights. So you do it every day, right? Not like this. So this is the same. I mean, it looks pretty good. It is so peaceful and beautiful.
But this is because it is summer. In winters, it becomes very gloomy. This road looks so beautiful. In winters, I fall down 2-3 times.
So this is it. No problem. So this is the app.
So you can buy tickets here. So here, I am buying a 7-day ticket. So I have to buy it here. And after that, I will show you my card details. So how will it work inside? There are scanners inside.
So what do I have to scan? There will be a QR code on it. So I am buying a one-week ticket. So the ticket is for one week.
It costs 430 crowns. So it will cost around 350. So a 7-day local ticket will cost around 350. So it is quite expensive. This one is for a month.
It is double than this one. It costs 970. So it costs 8000.
So it is quite expensive. That's it. The bus is here. I hope the payment doesn't stop. After the payment, So after the payment, there is a QR code. So I will show you my QR code.
This is a 7-day ticket. And it will run till 3rd September. We don't have to spend anything. It will cost around 32-3300. It costs 430 crowns.
So it is quite easy. And it will run on buses, trains, trams, and ferry boards. Are we going on the ferry? We will take you. It is quite famous.
It is quite far away. So we have come here to have a drink in the evening. To have a drink. And I will show you how expensive it is in the supermarket. As I show you in every country. So let's have a beer first.
So first of all, read this. Hey Bro. It costs 840. So it costs around 70. Pilsner.
It costs around 1000. Oh sorry, around 100. Just multiply it by 8. This is a Guinness can.
It costs around 200. So let's buy this too. It will be okay. It is okay. This is not a supermarket. All the alcohol is here.
So we will go to the supermarket later. For now, just check the alcohol rate. So here is our JD. It costs around 3000.
And this is Jameson. This is also a little cheaper. But yes, it costs around 3000. I just came here from the store.
Look at the beautiful sweater. It costs just 1500. It will be less than that. And here I saw a T-shirt. It costs 500.
It is very expensive in Scandinavia. There are also cheap brands here. So let's find something. If we find something.
We will buy it. So this is our store. This is an Indian store.
Kista Grossen. It is not an Indian store. All the Indian products are available. Mix of Middle Eastern products. So now we will buy Golgappa.
So today I wanted to eat Golgappa. So let's go to the store. Let's buy Golgappa. Take this oil. When I came to India.
I did not bring oil. It is very difficult for me to find oil. Look at this ladyfinger. This is chili. It costs 800. It is around 100.
It costs 800. What is the price? 200. In our garden. So some things are expensive. I don't know how it looks. I don't know how long it has been here.
Look at this. This is a common rate. Take any vegetable from here.
It costs 800. Look at this eggplant. Who will eat this eggplant? It costs 800. I won't eat it. This is spinach. It costs 240.
You get coriander for free. You don't get it at the vegetable market. You get it for 160.
You get it for 160. This is jaggery. This is Amritsar sugar. How much is it? 350. Look at this Maggi. This is a big packet.
It costs 300. Milk Golgappa. It costs 450.
30 Golgappas. We will fill it with beer. You will fill it with beer.
He is so happy. This is what I earned. Look at this. Blessing flour.
It costs more than 2000. This is 10 times the rate. Indians living here and eating food is a bit expensive.
We have taken a lot of stuff. We have filled the bottle with fish. Milk, curd, Golgappa. And here... What do you call this? This is how it looks outside the mall.
Let me show you. This is for sunbathing. People don't get sunlight here. We have filled our bags. Let's go home. The subway stations in Stockholm are very famous.
They are very beautiful. They are painted in different colors. This is 6 levels below. I have seen them in Moscow. They are very deep. But here it is different.
Nothing like Moscow. But it is different. Let's see other stations.
This is my second or third station. All of them are painted in different colors. This metro station that we are seeing is very beautiful.
We have come here to see the stations. What is special here? It is more beautiful ahead. There are a lot of waterfalls here. It is like we are in a cave. The subway system is almost the same here.
It is rough. There is no finishing. Everything is like this. This is free of cost entry.
What is the name of this place? The name of this church is St. Clara Church. St. Clara Church. St. Clara Church. When someone searches the skyline of Stockholm, they find one of the buildings. Unfortunately, it is closed.
Let's open it. Music Mr. Malkit Singh, where have you brought us? We have brought you to Stockholm City Hall.
There are so many brides and grooms. People come here to get married. You also see something. This is the City Hall. It is like our own Municipality or Municipal Corporation.
People come here to register their weddings. There are a lot of photoshoots going on here. This is Sweden.
Stockholm. This is the centre. This is the centre of the city.
Let's start. When did you come here? We came here on January 16, 2021. Speak a little louder. January 16, 2021.
Okay. So, it's been one and a half years. So, it's settled in one and a half years. It still feels like an opera city.
It still feels like an opera city. So, as soon as the language is spoken, people start talking in English. English is acceptable everywhere. It affects your profession the most. If you are in IT, you have a white colour job, or some other job, then it's okay.
But if you want to do something else, then you have to go there. If you don't do any job in IT, then, otherwise, Swedish is kind of mandatory. Which brings us to the topic of which job do you do? I am a cloud engineer at the moment.
Oh, the bell has rung. It's a holiday. It's a holiday. It's a holiday.
Shaktimaan fan? Yes. It means IT. Oh, man. So, the most important thing.
How much money do IT people get? Oh, man. It's not ending. Stop it. So, how much money do IT people get? IT people get a lot of money. IT people get paid well. What do you mean by good? No, no. No, no.
No, no. IT people get paid anywhere between 30,000 per month to 70,000. It's our cap, which I have seen. If we talk about Indian Rupee, it's between 3 lakhs to 7 lakhs. Sort of.
Depends on your career plus your skills. Yes, that's true. Oh, the train is going. So, the salary is done. Now, the expenses. First, tax.
The thing about taxes is that it collects tax. Like every other European country. Here, the tax depends on the locality you are living in or the commune you are living in and how rich your neighbours are.
The concept is that if everyone around your house is paying 32% tax, then chances are very high that you will also end up paying similar. What kind of system is this? It depends on the commune you are living in. So, it doesn't depend on your income.
No, it depends on your income. It affects your income. But it doesn't influence you much.
But the range is between 28% to 50%. If you earn a lump sum amount, for example, 150,000 SEK per month, then you directly end up paying 50% tax. Oh, oh, oh, oh. Yeah, percent. So, we are home now.
We are going to wash our clothes. So, tell us about the system here. In a society, there is a room like this. This is called the washing area. Whatever your apartment number is, you can lock it.
So, this is my slot. So, this is my slot. So, this is my slot.
So, this is my slot. So, this is my slot. So, this is my slot.
So, this is my slot. So, this is my slot. So, this is the time slot. So, we booked this machine and six-cash will be inserted into this plaza. These machines need to go into the dryer. Least 45 minutes are written for them.
After atmosphere天氣层溜 TWFORIDAY And then you can hide them outside. So, how is it? Have you fallen asleep? So, there's only one thing left over, Let's see the house later Please sit here for a minute I have to ask you a few questions Yes, Jitendra I have also asked you to sit there One minute So, Malkit, we had a discussion about salary and taxes How much is the rent of this house? The average rent of this house is between Rs.8000 to Rs.12000 It depends on where you are buying the apartment If you convert it into rupees, how much will it be? I will convert it to Rs.8000 So, it has reached Rs.70-80 lakhs Yes, it depends I have seen some of my friends paying the highest rent of Rs.16000 So, there is a bedroom here This is the hall and that is the kitchen This is it, right? So, it is one BHK Do you have to pay any maintenance on it? No, everything is included Is the electricity bill included in it? No, the electricity bill comes separately The electricity bill comes in two parts One is the consumption and the other is the infrastructure cost So, how much do they charge per month? For example, if you have a family If you have a child What is the cost? If you don't go out to eat If you are a family of three If you are a family of three If you cook openly If you cook at home So, it is around Rs.5000 per month
It is very good Okay So, it is good The salary is Rs.60-70 per month So, it is a good It will be good So, you will suggest people If you have a good job If you have a good software If you have skilled people Will you suggest them to come to Sweden? IT people should come People who are in IT People who are in IT IT people are also different If you have DevOps If you have a full stack developer I am a full stack developer Or if you have an MBA If you have a mechanical engineer Or If you have IT But you work in QA Then it is a little difficult for you Because people in QA Prefer automation They prefer a guy Who is comfortable with automation And who knows the language Okay, okay, okay Okay, okay Tell me, how is the school here? It's good We talked here the other day We don't teach him He will be taught in Punjabi Now you speak Swedish Tell me something I don't know I don't know No, like a sentence You are not able to speak properly. You have to do it.
Today is the weekend and tomorrow is Jazzy's birthday. That is why we have all these candles. Happy Birthday Jazzy. How old are you? 6 years old. So, the schooling of the kids is free here, right? Yes, the kids' schooling is free. But you need to pay if the kid stays there before or after school.
If both husband and wife are working. Yes, yes. That is also a maximum cap.
Around 1200. They can't take more than that. And it costs around 700-800 like this. Okay.
So, we have reached. Mr. Gurtwara. It's not like that. There is a dome structure on top. There is a villa here. Let's go inside and see.
There is a lot of community here.
2022-11-19 19:08
Show Video
Other news