Helsinki, Finland, Top 5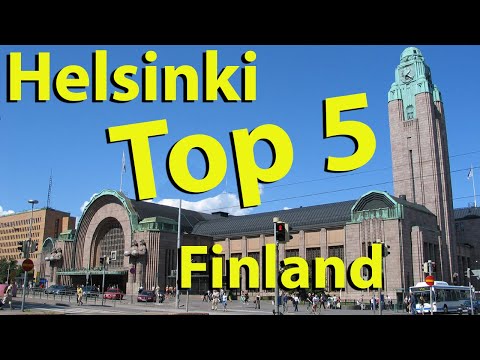 Show Video
We are visiting the beautiful capital of Finland, Helsinki, with a look at my favorite top-five visitor attractions Of course, there are many more things to see and do here, but just for fun, let's take a shot at five of them. Esplanade Park and shopping district, Market Square with its food and crafts on the waterfront, number three, Senate Square with its historic buildings and cathedral, four, you'll want to do some shopping and people-watching in the vibrant downtown center. The streets here are mostly for locals. It can get pretty busy, but has a relaxed pace and authentic atmosphere. Finland is located between Scandinavia and Russia. And you'll see a lot of blond hair in this city, which is the second-most northerly capital in the world, after Reykjavík in Iceland, and rounding out our top-five activities -- It's fun to take a boat ride out to the nearby islands, including an old fortress called Suomenlinna where we'll get off the boat and take a walk around.
Helsinki's downtown is rather compact, making it quite easy to walk to each of our main sites in just a few minutes. we'll start out with the Esplanade, then the food market and Senate Square, saving the shopping and boat ride for later. The Esplanade is one of those great city parks. In English, it's pronounced Esplanade. In Fin, Esplanadi.
But the locals just say espa, and it runs from the market and waterfront all the way to the busy commercial streets of town. There's beautiful greenery all around you, especially in the summertime, and you can bring your own food into the park if you like, have a picnic on the lawn. And there's some very comfortable benches here. The park was designed in 1818 by Carl Engel, and it took a few decades to develop with extensive landfill and landscaping.
You could even take a horse carriage ride, if you like, or just pet the horses. This park is very much the heart of town, and it's not just for tourists. This is one of the favorite spots for locals to come and relax and enjoy the environment. There are many fine restaurants around the outside of the park, and an excellent choice inside, the famous Kappeli cafe.
Kappeli has a dining terrace that faces a stage and outdoor performance area popular with musicians, and today, a gymnastics family, who also put on a performance with their trained cats. Can you believe that? Is it possible for cats to perform an orchestrated routine. Just watch. Well, yes.
The cats can jump through a hoop, climb a pole, fly through the air, jump into a basket with her young daughters supporting the action. It's very common to run into the street musicians playing rock or classical, all kinds of music. But to see a family performing with trained cats is most unusual. This video was photographed during several different tours, all of them in the month of July. July is a great time to be here because the weather is very mild. It doesn't get hot or cold, and the town is not crowded because locals tend to leave to go on vacation.
The streets on each side of Esplanade host a main concentration of stores selling Finnish-made goods such as wooden toys for the kids and Marimekko fabrics, especially along the North Esplanade. These shops are all noted for their world-famous Finish design, a sleek, modern functionalist look. The Marimekko shop is part of the stylish Kamp Galleria. This upscale shopping mall, right in the middle of Helsinki, brings top international brands and high-quality Finnish fashion designs, providing a luxurious shopping experience in this unique center. The Finns are proud to be a major creative force in the development of the Scandinavian design movement, whose roots stretch back to the Art Nouveau period of the early 1900s and have continued evolving into our postmodern world. There are several stylish restaurants on this block, including Brasserie Kemp, whose food philosophy is a combination of French cuisine and Finnish food culture.
My friends enjoyed a deluxe seafood platter The restaurant is open for breakfast right through late dinner, located right along the Esplanade, with seating indoors and outside. Another popular and more casual restaurant here is the Cafe Strindberg. Great spot for a pot of tea. Maybe some pastries or a light meal, perhaps sitting at an outdoor table watching the passing parade of people. At the top of the Esplanade there is an interesting restaurant complex, the Teatteri, and includes the Theater Gril, Theater Bar, a Clock Bar, club and a deli. Walking back through the lower end of the Esplanade, which will bring us down to the food market at the South Harbor Market Square, Walking past a beautiful fountain with a statue of a naked lady, the statue of Havis Amanda in the market is one of the most beloved pieces of art in Helsinki, representing a mermaid rising from the water to symbolize the rebirth of Helsinki.
One of the most popular attractions in Helsinki is Market Square. This is a colorful outdoor market, selling fresh produce and delicious cooked food ready to eat. Plenty of chairs and tables to sit down. Take your time and enjoy a fine meal. And you can also do some shopping for souvenirs, clothing, arts, crafts and jewelry. It's located about one kilometer from the train station at the lower end of Esplanade next to the South Harbor.
And it's open every day quite early from 6:30 in the morning, with the produce stands closing down about 2 p.m. and the souvenir and restaurant kiosks stay open until later in the afternoon. What time do you stay open until? Oh, maybe about 5:00. Salmon and other fresh seafood is grilled in front of you with a tasty aroma that makes you want to buy. Here you'll find all sorts of fresh produce and prepared foods ready to eat, along with some booths selling those souvenirs and crafts and clothing.
The air is fresh with sea breezes and the music of seagulls accompanying the sounds of the merchants hawking their goods. However, watch out for those big white birds who have become notorious for stealing the food right off your plate. They are always on the lookout for a free lunch. And while talking about thievery, it's always good to be careful with your personal possessions, your purse and your wallet, because it is possible there might be a few pickpockets around.
Wherever you travel, you always want to be careful. And Finland has a very low crime rate. You'll be quite safe here. Most people working at the market are the farmers themselves, or oftentimes it's students working during their summer break. You'll be really tempted with the luscious red berries for sale here in the summertime. It's the peak of berry season.
All sorts of fruits. Terrific snacks. And you're going to find that it's not just tourists who are circulating about here at Market Square.
There's plenty of locals who are out to pick up their fresh produce for the day in that typical European style. It's delightful to look at these colorful fruits and vegetables, but most travelers are not doing any cooking while they're visiting a place. They don't have a kitchen, they're in a hotel room. They just want to eat.
And this is the perfect place to have that delicious, authentic meal and a nice place to mingle and have conversation with fellow travelers and perhaps some locals. Nearly all Finnish people speak very good English, so you'll have no trouble communicating and you'll find they're quite friendly. Each Eating at this market is a special experience for many reasons. The food is delicious.
The price is less than you'd pay in a restaurant. And the atmosphere all around you is indescribably wonderful. And the fish was caught today, all of which enhances the taste of this food beyond belief. You can see why this market is the most popular place for visitors to come and look around. Spend a couple of hours shopping and eating, taking pictures, so therefore it can get very busy midday, especially in the summertime.
Best to come in the morning. If you want to avoid the crowds, then have an early lunch without having to wait line. If you're looking for cheap souvenirs, you come to the right place, postcards galore, or if you want some high-quality handmade crafts and paintings and jewelry and other original creations that you can buy directly from the artist, you've picked a good spot, in support of local artisans.
The obelisk is the town's oldest monument commemorating the visit of Russia's Empress Alexandra in 1833. Visible in the distance is the Russian Orthodox Church called Uspenski Cathedral several blocks away on a separate island. It's the largest Orthodox church in Western Europe. It was built between 1862 and 1868 with a design based on a 16th century church near Moscow.
Another wonderful place for food by the harbor is the Old Market Hall, which has been a favorite hangout for food lovers for 130 years. This beautiful old building has two long shopping aisles lined on both sides, with 30 merchants selling a nice variety of foods ranging from pastries snacks to ingredients for a gourmet meal. You can even sit down for lunch at one of the snack bars or purchase foods to go.
There's cheese, coffee, fish, chocolates, meats, spices, fruits, vegetables, alcohol, all manner of great stuff. And there's lots more to discover in the many stalls, including sushi and smoked reindeer meat that is sealed well enough for you to bring home as a gift. The market is such a pleasure that it inspired creation of the similar food hall in Boston at Quincy Market, which has in turn served as a model for waterfront food courts everywhere in America. A lot of revitalization of the central cities of the USA has really been inspired by the European models.
And specifically here in Helsinki at the Old Market Hall. It opened in 1889 as the city's first indoor food hall, with a design based on the models of other European food markets, opened daily from 10 a.m. till 6 p.m. From here, you could walk one block over to Senate Square, a ceremonial center that was originally planned in the early 19th century to be the main public square of the city, dominated by Helsinki's famous cathedral with two major buildings on each side of the cathedral on the left, the university, and on the right side, the Government Palace where the Senate met, giving rise to the name of the square. It's now offices for the Prime Minister and Cabinet, and the Parliament meets in a different part of town, but it's still called Senate Square.
It's the oldest part of the town center designed by Carl Engel in a neoclassical style with a strong Russian influence. In 1809, Russia had conquered Finland and these buildings were constructed about a decade later in that Russian style under Emperor Alexander, the first, who was the Grand Duke of Finland and the Emperor of Russia. Throughout the 19th century, Russia granted Finland major autonomy, leaving it alone to manage itself practically as an independent nation. For example, Helsinki Cathedral is Lutheran, not Russian Orthodox. The statue in the center is of Alexander, the second, of Russia, who also allowed autonomy and encouraged growth in education, the arts and the economy, which continued somewhat under the rule of his son Alexander the third. But by 1899, Nicholas the second, took over and forcing what's called Russification policies, with Russia taking total control, until Finland won their independence in 1917.
The town's oldest stone building is Sederholm house on the southeast corner of the square, dating to 1757, now part of the City Museum. In front of the square you'll see Helsinki's City Hall that was also designed by Carl Engel back in 1833 as a hotel and has been City Hall since the 1930s. Now we're walking a few blocks over to the train station to begin our exploration of the downtown shopping area. The Helsinki Central Railway Station is the most famous Art Nouveau building in the city. It's the main station for commuter rail and long-distance trains used by some 200,000 passengers daily, making it Finland's most visited building.
It was designed by Eliel Saarinen and opened in 1919. In the 1960s, an underground shopping and pedestrian underpass was created to connect the station with the center part of the city. There are a couple of these small shopping malls that connect through from the train station over to the main shopping streets like a shortcut. So you don't have to walk all the way around the block. On to the busy street we see the famous Academic Bookstore designed by Alvar Alto and opened in 1969 with the widest selection of books in all the Nordic countries, including many titles in English. This brings us to my favorite street of downtown Alexander Street.
It's the main east west street in the city. It's known in Helsinki as Alexi, and it was named for Emperor Alexander, the first of Russia in 1833. It's historically Helsinki's main street, for pedestrians, trams, taxis and maintenance vehicles, but no cars. Stockmann department store anchors the street at the corner with Mannerheimintie. It's the largest department store in all the Nordic countries.
Even if you are not shopping for clothing, you will appreciate the basement collection of foods ready to eat. This subterranean food hall is sometimes overlooked by the visitors, but you should give it a try. Tearing yourself away from this giant department store, we're back on the streets, turning around the corner to Mannerheimintie. And there's another department store Sokos, which also operates a hotel in the same building that we always like to stay in when we're visiting Helsinki, right next to the train station, very convenient if you're coming in from Russia. And they have a rooftop restaurant with a great view looking out across the town, with a terrace that's open freely to the public.
Across the street on Mannerheimintie there's a small section of old fashioned low-rise restaurants and shops. There are always lots of trams buzzing around in this part of the central city. Not so many busses, but they like the trams on tracks, a more comfortable ride.
UniCafe is a student cafeteria that's open to the public, mostly for local university students. But you might want to consider eating here because the food is quite good. It's buffet service and the price is very reasonable. They're open for lunch and then right up till 7 p.m. a good place to strike up conversation with some locals. And notice the cooperative way they take care of cleaning up their dishes, not just put them on track, but they bring them right to the kitchen, into the washing rack.
Easy to find. It's one block over from Stockmann. OK, are you ready for some serious shop thing? We are going to go hit the two main shopping malls in the center, the Forum and Kamppi, a total of more than 200 shops altogether.
Starting in Forum, the larger and more central mall right on Mannerheimintie 140 shops along with restaurants and cafes it's one of the oldest and busiest shopping centers in town. Naturally, there's a food court where you can get inexpensive quick meals, and as usual the shops have many clothing stores for the ladies. Even if you're not shopping, it's a fun place to do some people watching and admire the mall architecture. This city offers all shopping possibilities: little streets with boutiques, open markets with food, big department stores and two major shopping malls in the heart of town, including Kamppi,where we're going next. They've got a hundred more shops waiting for you. The Kamppi Center opened in 2006 as part of a larger redevelopment of this neighborhood, including many other buildings.
At that time, it was the largest singular construction site in the history of Finland. The shopping mall has six floors with a supermarket, many shops, restaurants, nightclubs and service points. The development includes high-end apartments and many offices in the neighborhood. The mall is also a center of transportation services because down in the lower level, there's a major bus terminal offering local and long-distance bus services. And then you go down another level deeper into the subbasement and you'll find a metro station.
The Metro opened in 1982 and is the only metro system in Finland, and they say it's the furthest north metro in the world. It's got 25 stations, carries 60 million passengers a year, with a total length of 35 kilometers, but they are planning to extend it further out. From trains to boats. We're taking you to our number five activity in Helsinki, a boat ride through the inner harbor and out to a fortress in the sea.
We have returned to the waterfront next to Market Square. Numerous excursion boats are docked here, offering a variety of enticing itineraries, including lunch and dinner cruises or choice of several 90 minute sightseeing voyages along the city's shores and through the nearby archipelago. There is one particular destination on the boat rides that is one of the most popular activities for visitors, and that's to go out to the island fortress of Suomenlinna. The boat ride only takes 15 minutes, and it's quite enjoyable.
You can see some of the bigger ships in the harbor, the overnight ferries that continue on to Stockholm or Tallinn. And there are some boat clubs, houses, restaurants out here in these islands. You can take a public ferry to get out to Suomenlinna or a private tour boat. Suomenlinna is one of the world's largest sea fortresses, stretching over six separate islands and consisting of 200 buildings and six kilometers of defensive walls. These popular islands are a mile offshore and they are sight of an old military fortress that has been turned into a vast park, with acres of meadows ideal for picnicking, massive defensive walls constructed centuries ago, a military museum, outdoor concert venues, cafes and restaurants, all set in a delightful green preserve with refreshing sea breezes and dramatic vistas looking back towards the city. Can you imagine if Russia had a giant military fortress right at Helsinki's harbor? Well, that's what they had from 1808 through 1917.
This was controlled by Russia, but it was originally built by Sweden back in the middle of the 18th century to defend themselves from Russia. The fortress is just filled with amazing episodes of history that you can learn all about as you walk through it on a self-guided tour or even with a local guide. They have free maps to hand out and also on their website showing all the different buildings and they have a suggested walking route with that blue line right through the middle. This other map shows more clearly the outlines of the many buildings. The Suomenlinna website has a tremendous symbol of information that will help guide you through in your visit, or just something to read about, to learn more about this fascinating fortress. You'll have a complete immersion as you get to walk through some tunnels that are inside these massive stone walls.
Suomenlinna is one of the most popular tourist attractions in Finland, and because of its historic importance and high state of preservation, it was declared a World Heritage Site by UNESCO. About 800 people still live on the islands, enjoying what is now a peaceful and serene environment. So the islands are well-supplied with restaurants, cafes and visitor information. There are even a few little sandy beaches and waterfront coves for swimming, picnicking, family fun. It's an ideal location for people of all ages, but it was not always so peaceful.
Sweden had been at war with Russia in the first half of the 1700s, a time when Peter the Great was building up the fortifications of St Petersburg. Sweden was losing territory to the Russians in the east, so Sweden decided to reinforce the defenses of Finland by building this fortress, starting from 1747. Those battles continued on and off throughout the 18th century, and finally in 1808 the fort was attacked by Russians in the Russo-Swedish war. Sweden surrendered the fortress and the Russians took over.
Then war broke out between Russia and Turkey, and England and France joined forces with the Turks and attacked the fortress, bombarding it for two days in 1855. But Russia was able to hold on to the fortress until 1917 when Finland achieved independence and reclaimed ownership of the fortress. Everything is quite peaceful now, for the time being, so this is a great place to put on your list of the top-five things to do in Helsinki.
Obviously there are many more interesting attractions in this superb city. So this is not the end. We have more programs about Helsinki that you can find in our collection.
And now I'd like to leave you with some of my favorite scenes of the beautiful people of Helsinki and the entertainment on the Esplanade. (Music plays) We frequently upload new movies so please subscribe to our channel and click that little alarm bell so you'll be notified and if you enjoyed the movie. How about thumbs up and we always welcome comments down below, or if you have questions about the destination. Make note and we will answer them. Thanks for watching
2022-05-25 14:03
Show Video
Other news