FROM SCUBA DIVING TO GETTING DETAINED IN JORDAN S06 EP.28 | MIDDLE EAST ON MOTORCYCLE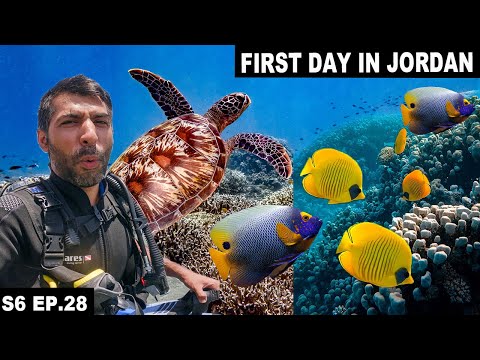 Show Video
I have rented a speed boat here. And in the meantime, the police has joined us as well. Assalam Alekum Everyone and Welcome Back to the Channel from Aqaba, Jordan. I got here after I crossed into Jordan from the Saudi border. I hope you must have enjoyed my previous video.
It's my first day in Jordan. I'm at the only port of Jordan right now. It's a small area by the Red sea where 3 different cities meet. Well not 3 but 4.
Haql in Saudi Arabia... Aqaba in Jordan... And if we go a little further, we reach Eilat. Going even a little further gets you to Taba in Egypt.
These 4 cities are in close vicinity. Right now I'm sitting at the breakfast table... In a hotel called Hashem.
They offer a traditional breakfast here. Hopefully, our breakfast will be served shortly. I'll share it with you all as soon as it is served.
The breakfast is here and I have a feeling... that I've ordered too much food. Let me give you a glimpse. First of all, we have orange juice on the left... Then there's coffee. Falafel and omelet.
This would be our breakfast for today. I ordered falafel because I thought... I may get real good falafels in this region.
Breakfast is done and we are all set to start our day. I paid only 6 JD for this breakfast. That's about 8 dollars. Not too expensive.. But really good.
Fresh juice was matchless. Bismillah.... In the name of Allah... *Prayer for the journey* I pray to Allah for a smooth, safe and fun filled day. As good as it can be.
We are moving through the city center of Aqaba. Let me share the views of this city with you. Then we'll head out of the city, towards the beach. I think we can go this way from here.
This is the local market... mobile phone shops... Clothing stores... Restaurants...
Souvenir shops for tourists. You can get all this from this market. We need to take a small stop here at the Orange outlet. I need a Jordan SIM card. Better park it here.
We should take a SIM card from here as we are gonna need it now. Ever since I started making videos, I always need internet. Suddenly it's become quite windy. We have got ourselves a SIM card now. We paid 13.2 JD for that. It includes 40 GB internet data package for one month.
That's roughly around 20 dollars. That's quite expensive. But it's still cheap if you compare it with Saudi Arabia.
Back there, I used to pay 50 dollars but it was the unlimited package. We are now going towards the south beach. It's quite windy here since morning. Not just this morning, rather it has been like this for a couple of days now. If you remember the night when I was camping by the beach side.
It was windy yesterday as it is today. Let's see if they allow us to go into the water. Because the weather is a little unreliable. But we can roam around and watch the city. You can have an idea about the difference between Saudi Arabia and Jordan. It's almost 12 in the noon and around this time...
Everything gets closed. Closed from 12 to 4. However, it's so much more lively over here. Not just in this time window, but through out the day.
The shops here are closed in the evening around 8 pm. Afterwards, only the restaurants and tourist places are open. So you have the vibes of a proper tourist city. It's 13 km from here... In the same direction as the border.
All this area towards my right is the tourist area. There's a castle here as well. I'll show you the castle after we return from the beach. Around 5 p.m.
What an awesome view of the sea. This wind is really strong. I'm finding it hard to ride even without luggage. Gladly we don't have to go for a long ride today. Another five minutes or so before we get there.
I can now see the reef from here. The previous area was boat area... The beach area is coming now. The good thing is that the beach is not too crowded. It's not too hot here during most of the day. A cool breeze is blowing.
After 2 pm, the wind gets slightly warm. During that time, people go and take rest for a couple of hours. It gets more peaceful during that time window. I mean the shops are still open...
But you won't see too many people around. Mostly rest. I can't see any shop to rent out a snorkel. This wind... He's gonna be our instructor.
What's your name? Yahya. I'm Abrar. Nice to meet you. Same here.
He's Hatim. So we are not going for snorkeling but for diving. As I told you that the wind outside is too strong. I wanted to go for snorkeling. It's my first experience of diving though. But you know... there's a first time for everything.
I'll try to capture the internal beauty of Red Sea for you. Since this is my first time, I have no idea how this is gonna take place. They'll give me a short briefing. I do know a bit of swimming.
I think it's gonna work out for us. The instructor will be with me. So I'll not be on my own. We are all geared up.
Time for some instructions and then we'll be good to go. So that was our first attempt at sea diving and it went rather well. I really enjoyed it. Going into the deep water was a different and unique experience for me. I can do snorkeling with whatever little swimming I can do.
But this was a new thing. Going under water with all this equipment was a little tough for me at the beginning. As soon as you dive and let the first gulp of oxygen in.. you feel like you are in a totally different world. Why go through all this trouble.
However, you start feeling comfortable gradually and then it becomes a great experience. And then you don't want it to end at all. There was one issue though... When you go deeper... Like we went only 10 meters deep... You start to feel a slight uneasiness in your ears.
One of my ears was in pain... But the other one was okay. The temperature must be around 40 C. But the cool sea breeze makes the motorcycle ride somewhat pleasant. Because you are continuously in motion.
You will feel the heat if you stop. We are now back in the city center. Apparently some of the shops are still closed. Some of the shops do get closed from 3 to 5. But the restaurants and cafes are open.
We better go and find a nice place in some cafe. I've come to one of the traditional cafes for a cup of coffee. You won't find these cafes just in Aqaba rather they are all over in the Arabic world. Especially in places like Egypt.
Their key purpose is socializing. You'll see a lot of people enjoying Huqa or Sheesha. That's one of the main things in this culture. Interesting fact is that this area used to be a part of Saudi Arabia after the Ottoman rule. Later, Saudi Arabia exchanged some of its territory with Jordan. Because Jordan didn't have any port and they wanted to have this area.
So they exchanged a part of their desert for this port. Let's sit back and relax and enjoy our cappuccino. It's still quite hot here. Hopefully it will get better in some time.
The coffee is great though. We paid 2 dollars for 2 cups of coffee. OI means 2 JD... which is almost 3 dollars.
So you can say a cup of coffee for 1.5 dollars. The prices are okay. Almost half as compared to Saudi Arabia. As you can see that the city is gradually getting its life back.
Everyone gets a bit slow around 3 pm due to heat. We are now going to an old castle by the beach. Why not go and take a look. And explore the beach area.
There's nothing much to do here. It's a beach and port city. And the main activities here revolve around these things. You won't find many historical sites in this region. Although it's a very old city.
That's a very beautiful looking mosque. We had our breakfast by the road on the other side of this mosque. Is he trying to stop me? I don't think so. He gestured in a way that made me think he was gonna stop me. I have my registration card with me in case someone asks for it.
Well... You can see a giant flag post of Jordan. The sun is still bright in the background sky. After visiting the castle, I've come to the beach. It's a very small castle which is normally closed. I've rented a speed boat...
And the police has joined us as well. They are escorting us to tell us that we have to leave this area. We are in the middle of this area with Eilat on one side. Well... we have to stop recording now.
Finally, we are out of the Police Station after spending 3 hours. Our evening didn't go as we planned. Turned out to be an unfortunate evening. Let me share the story briefly. While I was in the boat...
Because there was the Palestinian/Israeli city Eilat on the other side. That's not how I planned it. But such things do happen while traveling in a country like this. In this region in general... You plan something and something completely different happens.
There are things that you won't even like to discuss in front of the camera. You don't want to spoil your relationship with the country. You don't want to face any trouble in case you want to visit the country again. Just to mention without going into much details, Eilat is on the other side. That's an Israeli city.
And there's border in between ... somewhere in the sea. I'm not sure about the exact location. These boats only take you to a certain point. I was like... let's go and see.
Would be a good chance to record the city from the water. That way I thought I could show you both the cities. While I was doing that, the police came and asked me to go with them. At first, they checked my camera and found nothing problematic. When I resumed the recording and was recording myself, they came back. And told me that I'll have to go with them.
There they started an unending session of questioning. Had to spend a lot of time there. The poor boat guy had to sit there with me for almost 2.5 hours. I should have paid him right then. I think he kept on sitting with me for the money.
But he was being questioned as well. Let's take a round of the city for now. Afterwards, we'll look for some restaurant. You can see all the hustle and bustle in the park at this hour of the day.
Good ambiance over all. Such a shame... I've never been welcomed this way in any country before. As we were discussing before, there's a first time for everything. So, it happened on the first day of Jordan tour.
And something of this sort was at least expected to happen in Jordan. Where's the hotel... A little further ahead. Finally back to our hotel.
I've come to a traditional Jordanian restaurant for dinner. It's a very famous restaurant of Aqaba, by the name of Al-Shami. The dinner has been served. It's very common to find rice based dishes like Mandi in Arabian countries. The traditional food here is called Mansaf.
It's a rice based dish but cooked a little differently. As you can see, these are white rice. And on top of it is, a very thin sort of bread. I can also see some nuts; almonds mainly.
But let me taste them first. Then there's cucumber. Some coriander. That's how the rice is prepared.
And over here, we have lamb and yogurt. It's like a curry of yogurt. They have also given a basket full of bread. Let's start in the name of Allah and hope it will taste good. I think we'll have to put some yogurt on the rice. And a chunk of lamb... There are two pieces of lamb here.
It has a very unique taste. Totally different from whatever I've been eating in other Arab countries. Lamb is really delicious.
Let's finish our meal. Hopefully we'll be able to finish it as it's not too much.
2022-08-26 18:43
Show Video
Other news