FrankTalks - More Than a Vacation: Why Tourism Matters - May 2023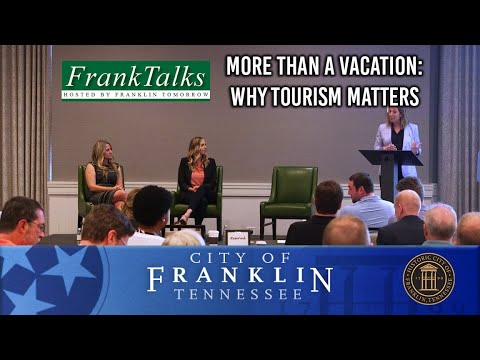 Show Video
Good morning. Hi, there. It's just that Boy Scout thing really work. Just a Boy Scout thing.
Really work. Okay. I think it. Does really work. Good morning. Well, that's great.
Good response for a monday morning. I'm really proud of y'all. So, hi, I'm Mindy Tait, CEO of Franklin tomorrow. And welcome to Welcome to the Monday, May eight, 2023 2023. Frank talks more than a vacation. I just got back from vacation, so I might be, you know, might be a little spoiled there.
But I will say that obviously there's nothing like coming home to William and County for sure. And it's so popular for tourists and visitors, but it's popular for our residents, too. And today we're so excited to present the program today in collaboration with the folks from the Harper Hotel and visit Franklin and who parked in the garage this morning, who got a sticker for their car? For the ticket? Who needs a sticker for their ticket? Okay, Emily has those outside.
And thank you to Hamilton Young and last parking for making it possible for you to park in the garage today and get out. And so we appreciate that that tickets are good through today. So maybe after this you want to go have lunch somewhere. You're you have that ability to go have lunch in downtown and enjoy that or you maybe may decide after this program that you need to go see the visitor center, too, which is on Fourth Avenue across from Franklin Mercantile. So, you know, you've got a little time to wander. I wish it was a little sunnier day, but every day is beautiful.
And Williamson County, so thanks so much for being here for Frank talks. As you know, Frank Talks is presented in collaboration with Renaissance Bank Williamson Health and our sustaining partners at most energy and waves and Health. So we appreciate their support. Atmos Energy.
They're a great community partner. You'll go to any variety of events and see their participation in supporting our community and we appreciate Kenny Hay and Kristina Christensen for their support of our community. So thank you to Atmos Energy for being a sustaining partner for Franklin. Tomorrow. Williamson Health is also a sustaining partner and I don't see Greg here this morning.
My missing Greg No, I don't see Greg. So we will we do have a short video from Williamson Health talking about the Williamson Health Foundation and so we'll play that. We are the charitable arm of the hospital and we do things from raising money for different programs and services to capital campaigns, to people in the community who want to give back with things like they just want to support our team members, all of our heroes that work here in the hospital. We work with Girl Scouts, we work with different church groups. We work with just moms that get together and say, Hey, we'd love to do something for the people that are working so hard in the hospital. We have been doing what we do for over 20 years by highlighting the different programs and services of the hospital.
We work really closely with administration. We work really closely with the different teams in the hospital so that if there's a need and if there's a patient that has a need, people in the hospital come to us and ask us for it. We figure out ways to come behind the hospital and prop that up so that we can make different things happen.
We don't have a tax base that supports us. We don't have significant funds to do the things that we need to do to support our community. I think philanthropic efforts help us get there. They help us provide the high level of service and care that we provide. The philanthropic efforts really help us do the expansion projects like we're talking about in our current capital campaign.
They allow us to do it quicker than we might be able to do it on our own. These are important things that really make a difference for our community. The 20 years the foundation has existed, we've done a lot of wonderful things because of the wonderful support we have from the community members and patients that are just grateful for the care that they received here in the hospital. When I think about why it is an honor for me to serve, I think about the fact that I was born in the original hospital when it was it was a smaller county hospital. On the other side of. Town.
And then I think about what I'm able to do because of my family members. And though the hospital has served them over the years, even my daughter that I lost in 2019. But to think that I can get up in the morning and I can come and I can work with the community to provide philanthropic support to the clinicians here at Williamson Medical Center is is amazing because I know that they have cared for my family so well. And I know that they will continue to care for many families for years to come. Wow. That's a great message from Lee Williams, the executive director of the Lives and Health Foundation.
So thanks for sharing that. Williamson Medical Center. And I'm going to advance one Renaissance Bank. Okay. Now I want to ask I forgot to do something before when I started.
I forgot to do something when I started. So I've got several of my board members and our board chair, Teresa Ashworth Harris is here. But if you're a Franklin tomorrow board member, wave your hand.
And thank you so much for being here this morning. FRANKLIN Tomorrow's mission is to engage the community, foster collaboration and advocate for a shared vision for the future. FRANKLIN And we believe you, as the citizens have told us, that you want Franklin to be a community with distinct character, robust economy, vibrant neighborhoods. And we appreciate your support being here today for this event, which is a monthly event always on the second Monday of the month at various locations across the community. And so we appreciate your support and you can learn more about Franklin tomorrow at Franklin tomorrow dot org. So thanks so much Rana stop bank now they're going to they're going to let us laugh this morning and that's always something but they're have two locations in Williamson County, both on Columbia Avenue and in the Cool Springs area.
Diane LeBlanc is in the back and Diane's a board member, but also works with Renaissance Bank. So here's the video thing. Southerners say. You know, I don't mind grilling for everybody. Besides, you know, I heard Tim switch to propane. Yeah.
Just when you think, you know, ago. Who made this potato salad? Who? Hey, Karen, we didn't need the raisins. Well, the Wilsons are supposed to bring. Dessert, but I don't really trust her not to try.
To sneak in a Walmart cookie platter. So I made a batch of brownies. Imminently and. Popsicles for the kids. Hey. Hey. I like your steaks. Good. Your medium.
I gotcha. Medium rare. Not a. Problem. You well done. No, but I just give you a rock to chew on. So whose idea was it for us to eat outside? You know. Real taste is just.
As good in the house. Whoa, whoa. Oh, so that's how you pack cooler. Okay, It's ice drinks. Ice drinks. Ice. I mean, well, they even teach, you know, in science class anymore.
We've got. Chips. Succotash, watermelon, double eggs to go. With hamburgers, hot dogs.
Ribs, corn bread and dessert. I think that's enough food. Now, let me tell you, I'm about this close to give me one of them Komodo jokes. Smokers. Yeah, I already refinanced the house, sold a kidney, so I'm. I'm about $1,000 away.
Derek wants an impossible burger. What even is that a veggie burger? Oh. Yeah. Tell him it'll be impossible. To get that at my house. Hey, whoa, whoa.
You better put down that ketchup. I didn't marinate that chicken for 12 hours. Put to go to rub on it so you could smother it in red sugar paste.
Yeah. Danny and. Lisa are bringing. Little into Catherine. She's adorable, but she can really plow through some watermelon. It's not adorable when one child eats enough watermelon for 20 people. So I'm brought back up. Oh, what's the matter? You drop your hot dog here, I'll just put it back on the grill. That'll kill all the germs.
Now, keep the cornhole boards away from the dessert table. Now, I don't want actual mud in. That Mississippi. Mud pie. And Eileen made. That is my great grandmother's recipe. I'll listen.
Everybody's grilling corn now. That's not impressive. You know what I did a smoked a cake. Two tiered chocolate cake, 180 degrees for three and a half hours. If it don't move, I can smoke it.
Let me place myself, because I got three more backyards to hit today and a limited supply of small town. You think this is impressive? You should've seen my spread on the 4th of July at five different kinds of meat, all of them wrapped in bacon. You had to take five Lipitor orders to come near this grill. Did you invite you? Oh, no. I would just love to be down on a plate of beans in front of my boyfriend.
Really? Let him know what he been missing. Oh, you think I do that just for fun? No. This is how we dads communicate with each other. That's actually Morse code.
Yeah. This guy gets it. Brought to you by Renaissance Bank. The bank that understands you learn more at Renaissance Bank. Dot com.
Well, it is a southern thing, as we know sometimes, isn't it? And we're so lucky to be here today at the harp with hotel and at my office is located right next door. We're in the bank building next door on the second floor. So I'm over here quite a lot. I wish they'd give me one of those FOBs. Get in the side door when it's locked all the time.
It's just, you know, coffee shop closes at three. It's just hard to get in. And so. But so far, no, not so much.
But I think they have made a good plan. There. And we really appreciate working with Kimberly Elder and Justin Foster, who's the general manager here at the Harp Hotel, which is a curio.
I'm not going to steal any of his thunder, but I might. Justin, come up and tell us a little bit about the hotel, and I really hope you all will welcome him. And thank him for being our host. Have some fun with it. Hey, Mindy, which one? Yeah, that's perfect. All right. Thanks, Mindy.
Appreciate the time and welcome, everybody, for coming in to the carpet. We're going to do a quick raffle. But before we do that, I want to do a little survey. How many people, by a show of hands, went to Taylor Swift this weekend? All right, So this is working perfectly with this is working perfectly. So I'm in a household with all women and they went on Friday and Saturday, so we were totally outnumbered. I did not go in the glitter and do all that.
I hung out with the dogs. So so we got one person. I hope it was great. That's why from what I saw, it looked pretty amazing, however. So on, on another show of hands, how many people have been in the Harper's Hotel before? Yes. So you're saying we're better entertainer.
All right, that's great. So one thing and Maureen and I were talking about this, what better way to kick off Tourism Week than to have just a gangbuster weekend where the hotels are packed, Restaurants are packed. Hopefully stores were packed with with people shopping to get their outfits for for Taylor Swift and really just a great way to kick it off and show how important tourism is. So Felicia is going to hold up.
We're going to two items when I pull from this bowl here. So we got a mug from Visit Franklin Mug, is that correct? All right. Okay.
Four, six, 617400. Some have been put away. All right.
And then we got. One. More a candle. All right, Custom candle for those of you. That's the next level.
And then the next level would be one that's produced here in Franklin. How about that? Four, six, six, 1699. All right. Thank you, Felicia. All right. So just I'm not going to take up too much of your time, but I want to tell you a little bit about the hotel based on the raise a hand show of hands.
Looks like everybody's experts and everybody knows everything about the hotel. So that's really great. So I don't go in too much detail. So as Mindy mentioned, we are a Curio Hotel, so why is that unique? So curio is part of the Hilton umbrella, if you will. So curio it takes in the distinctive culture and the stories and the feel of the local community that it's in.
So that's what's perfect about the curio for the harpist is it allows us to have that that big engine we call Hilton from the from the sales side and from the reservation size. It drives reservations our way, but yet lets us be ourselves. There's only two spots in the entire hotel that say Hilton. The rest is the harpist. And that's that's what our brand is.
We're a four diamond hotel. We have a flat. Our whole background is founded on stories. So whether it's music, whiskey, the history, Ben Franklin, all those different things tie in.
And then our guests experience is all about the stories that they create. Here in Williamson County, we're 119 rooms. We have outstanding food and beverage. So one of the things that's that I'll get into on my next slide is just we're heavily driven by the local community. 119 rooms is not a big hotel.
All right. So to make things really work from a business standpoint, we need to have great food and beverage which contribute significantly to our success. So if you've been Demographics Cafe, so that's our breakfast and lunch restaurant. And then we have 1799, which is our dinner and evening. We do brunch and soon to be adding Saturday brunch hopefully this month. So then we'll have brunch two days a week.
The other thing is, is we have Crockett's little retail shop, so you can buy local gifts and things that are from the community in here, as well as things that maybe a guest forgot or if you just live down here, it's an easy spot to grab, you know, a gift for for somebody that's right here within walking distance or if you just need some Tylenol, we have that as well. So and then just what's really great about our our team and I know everybody, all the business owners in here will will always sing the praises of their team. But our service, our team is is really dedicated. We call them Hotel Terrians. They're equipped with the knowledge to look at things brilliantly. And they are very focused on taking care of guests and learning why they come here, not just checking them in and checking them out.
If you've ever been here as a guest, it's a little bit nontraditional. You come in and you sit down. It's kind of like coming to check in at your your home office, if you will. So it's got a different vibe and feel there next year. Just I mentioned community based.
We would we wouldn't be successful. We wouldn't be the hotel we are if we weren't. What we always set out to be was the living room of Franklin.
We wanted to create an atmosphere where people, especially our locals, wanted to come and hang out, something that they were proud to say, That's my home hotel. That's where I that's where my family stays and that's where I go and hang out on Fridays and Saturdays or whatnot. So to do that, we really we wanted to bring in as many partners as we could that were local. These are just a few. And, you know, the artwork in here was done by many different artists. Kelly Harwood which is, I like to say he is the gallery.
202 is exactly on the opposite side of Second Avenue south that we are on north. So a great partner, tons of pieces throughout the hotel as well as many others. So that was a great one.
They're the landmark booksellers as anybody's been in our library. We have a bunch of different books that are from the county, from books about there could be cookbooks, they could be history books. But Joel and Carol at Landmark Booksellers helped us curate all those.
So that is a really great story there. Honest Coffee Roasters. When we were looking for coffee roasters, we look no further than honest who's at the at the factory.
So we wanted to make sure we kept it. Local Levers Fort Distillery Lee and I have had countless conversations on how we drive whiskey, and to hear even more, we just created a new whiskey borrowed. You'll see some some photos, a barrels a barrel bar, I guess, if you will, that we use for events and as well as for our Piaggio in the in the courtyard and then Winchester Antiques. I don't know if Kim is in the room, but she helped us.
We got old farm tables which are now in McGavick. So there's, there's all these different ways that we tried to pull the community in and then Amber Vale, we have basalts for all of our soap tubs that come from her and as well as our candles. So and our candles are custom set, our vanilla bourbon, if you smell that when you come in, it's probably one of the most requested things that we do get, which is great community service. So whenever we try to do community service, every month, so whenever we think, we think first. So I saw Chris with one gin here, we try to help out.
We've been to the the, the facility, we've been to the food drives. That's really important to us. And I saw Brandy here as well.
We went over and did some heavy labor power washing curbs and making the place look great. So that's really important to us. And then just I know everybody get at their pin ready and ready to write down in their calendar. May 24th, we have a blood drive right over here. So if you're if you're willing to do that, we can get the link out to everybody to to get everybody signed up. Let's see.
So as I mentioned, community focus events, our guests are super important to us. That's, you know, that's the hotel side. But in order for us to do events and things like that, we need our community involved. And everything is from this whole list really involves our community and how we we think of everything. So simple things like live music every Friday, Saturday, Sunday, we're looking to add it to the weekdays as well.
We have those in the lounge we have at Magnavox. We do music in mimosas during the winter. It's shifting over to music and margs Saturdays 12 to 3. We have Happy Hour. We have our Whiskey Key program where you have a whiskey locker in 1799 and there's a program there that we can share.
World's Best Beer Garden. That's important. So you guys are sitting in a beer garden. So we did that during Main Street Festival. So do we turn this into a beer garden? And we also had the outdoor as well. But as you know, it was a beautiful day.
You got to come in from the sun. What better to cool off as a nice cold beer? So we did that and we plan to do more events like this. But this all stemmed from world's best cup of coffee. How did anybody come to that in December? Just a few.
Well, it's coming back. It was a huge success. Megabucks at night will be turned into world's best cup of coffee.
So it's a play off of Elf and it's holiday themed. We have Santa. He comes in. We also have a Santa's brunch. And these are the cocktails.
So pretty cool. And then we have our courtyard that we do cookouts and we have our Piaggio car that we had custom made for out there. And this just allows us to do things that the community will be involved in Santa's brunch. Anybody been to Santa's brunch? So it's it's Sundays in in December. Hopefully it'll be Saturdays this year. And then we do have a little pulse check on the kids behavior in July just to make sure they're doing they're doing all right.
So so again, heavily driven off the local community. And we wanted to share that with you guys. And thank you. Here's just a one of our guestrooms and bathrooms and then just the end. Is there any questions about the harp? It's 1799. MCGAVIN It's the lounge.
Crockett's awesome. Well, thank you very much for having me. What's that? Oh, don't you. Want to put those back. In? Sorry.
No, they get to win twice. In prize money. So it was so fun. The Santas best cup of coffee. Like there were people lined up almost out the door for both the coffee and cocktail times. I will say for sure, if you want to learn more about the development of the harpist, which this is part of the whole harp at Square complex, you can watch Franklin Tomorrow's podcast, which is called Front Porch Conversations. Our last and latest edition was with Rod Heller, who led the development group for the Harbor Square Project.
And you can find that on YouTube or on our website. FRANKLIN Tomorrow, talk. Okay, Now I want everybody get warmed up. Make sure you have a copy of this piece of paper.
And if you don't raise your hand, Diane, in the back or in the center of your table, Diane has some to bring to you. But I'm excited. Now. Am I bringing I'm going to bring up Maureen Thornton, CEO and Heather Del Shaw and Lauren Ward from Visit Franklin. And I'm gonna turn it over to them. Let's have fun.
Let's have fun. Thank you so much. Mindy and I don't have as many good Southern jokes because I am relatively new to the South, but I do know it's good manners to thank your host.
So thank you so much, Mindy, for being a collaborative partner and the vision that you all have been casting for Franklin and our community and Justin wherever you snuck off to. Also, thank you for having us in our living room here in downtown Franklin. I love hanging out in the library and getting a drink in the bar.
Justin is also a member of the Williamson County Convention and Visitors Bureau Board, so thank you for your service on that. I know there are a number of our board members here as well, so if you wouldn't mind if you are on the CVB board, if you could raise your hand, I would appreciate it. Thank you all so much. And Brandy is a double duty CVB board and elected official.
So it and Franklin tomorrow. Look at that busy woman. Thank you so much that you weren't even planted with your first one. So thank you all so much for your time and your commitment, our board and our elected officials really for your support of tourism.
And it's so nice to see so many happy, warm faces bright and early on a monday morning. Lots of familiar ones, but also a whole lot that I have not yet met. So glad to have you all here and excited to talk about tourism with us. A woman in front all embarrassed for one moment. Miss Susan Whittaker, former Tennessee Department of Tourist Development tourism commissioner, knows a little bit about tourism to it. So I will push the big green button. I've worn my whole team.
I'm caffeinated, so watch out world. I am Maureen Hayley Thornton, president and CEO of the Williamson County Convention and Visitors Bureau. And we like to have fun and we like to celebrate the power and impact of tourism. And I almost forgot to do the raffle.
So why don't you all get your raffle tickets handy? We're going to do two more, each of us, when we come up and talk are going to do them. We've got a lot of great stuff to give away from our visitor center, branded merchandise and gift items. So the next winner of a drum roll, a branded collapsible water bottle, which you can come by and visit us in the visitor center and fill up in our fancy water fountain.
A great place for a break is ticket number one for six. Awesome. And I will do one more. And the lovely Miss Felicia West, our director of Visitor Experience and retail, is serving as Vanna White this morning. This next ticket is for a fabulous branded Franklin Stadium blanket. One of my favorite items in the visitor center, might I add.
And this goes to number 138. All right, I'll set those off to the side. Don't worry. Lots more chances to win when Lauren and Heather come up. And then, as Mindy mentioned, their quizzes on your table. So please get your pens and pencils ready so you can take notes for all this great information we're going to share.
Only kidding. But there will be a grand prize, the Pilgrimage Music and Cultural Festival. One of the fantastic things that draws people to our community has graciously provided a pair of tickets, general admission tickets to a grand prize winner that we'll talk about and announce at the end of this. So as I mentioned, Maureen, Hayley Thornton, nice to meet you all. If I haven't met you before and want to talk to you a little bit today, of course, I push the red button, talk to you a little bit today about the Williamson County Convention and Visitors Bureau.
Our mission, and to sum it up, is to welcome visitors to Williamson County to ensure that we have provided for them a welcoming experience and a fantastic one so that they leave their dollars here and go back home and tell all their friends what a fantastic place we are to visit. We are a team of 13 full time and nine part time staff, so there's a lot of us here in the room right now. If you were on a visit Franklin team, could you raise your hand? This is really the key to the magic.
We have a beautiful place and we're happy to promote it. But without this tireless, fantastic group of people, we wouldn't be able to do what we do. So thank you all for that. And then just to tell you all a little bit about how I see our role, how we think about our role in our work as an organization. I'll talk sort of big picture and then I'll let Lauren and Heather get into some of the more fun things.
But there are three key areas that we divide our work into that one in the middle there is sales and marketing. That's what most people think about. We have a beautiful website. We run branded campaigns advertising social media. Hopefully you're following us and we have a sales team that goes out and convention that convinces meetings, events, sports events, all that sort of stuff to come and bring their business here and stay in our hotel rooms. So that is absolutely key and core and central to our work.
But there's two other areas that you will see more and more from us, and that is destination leadership. How do we work with all of our partners throughout the tourism community, whether that be hotels, restaurants, things to do retail and provide data and information so that they can take advantage of the tourism opportunity. But also rally everyone together so that we can drive back into this unified sales and marketing voice so that the sum of our community can be greater than our individual parts. So that's really important to us. An important part of how we work very closely with so many fantastic partners.
And then this other area of destination management that's really how do we help visitors experience our destination. So we of course, as you've heard, operate a visitor center in downtown Franklin, but also a lot of the work that we do is helping visitors not only understand and want to come here, but also help them think about how do I plan my trip, how do I move around the destination? We've created trails and experiences that get people to experience different parts of our community. How do we lure them in and then help them move around? So this is a fun slide and you'll see it from us a lot. It says 2021. We get these numbers from the state of Tennessee on an annual basis. The economic impact of tourism.
So keep your eyes peeled in the fall will have 2022 numbers. So a little bit of a lag, but this is for full year calendar year of 2021, which if any of you remember, there were a couple of things happening in the beginning of 2021 that we won't talk about today, but pretty good numbers here. And so I always find it amazing to look at the fact that visitors spent more than $1,000,000,000 in Williamson County in 2021 billion with a B, that's a lot of dollars.
That's almost $3 million a day. And the dollars that they spend not only help our businesses thrive, it also generates tax revenue, which alleviate some of the burden of our residents in terms of paying taxes. And that tax savings equates to $1,111 a year. That's a combination of Thank you. That's a combination of state, local and municipal sales tax generated that flows throughout our community. And if you're keeping score, that puts us at number six out of Tennessee's 95 counties.
And I don't know how many of you know, cities that are in these other counties ahead of us, but we're talking about ranking right up there, Nashville, Memphis, Knoxville, the mountains. And look at us, Williamson County in number six, pretty far ahead in number seven. So something that we can be proud of that we have a community that has assets that people are interested in visiting, that they want spend their time and their discretionary dollars. And and it really helps us thrive and continue to have businesses that we as residents enjoy as well. So we're just as excited about this number six as we are about the numbers on the last slide.
And that is the the data part of our presentation. I'll turn it over to Lauren Ward, our vice president of Marketing and Communications. All right.
Get your tickets back out because we're going to do another drawing before I get started here. Felicia, are you ready? We are doing a branded Franklin hat. The winner is 0466175. Yay! Congratulations.
All right, I'm going to do one more here. I'll wait for our Vanna to drop that off and get back to her spot. I will mention I'm going to talk a little bit about our visitor center in a little while. But if you have not been in our visitor center, please stop by. We have a lot of helpful information.
If you have family in town, friends in addition to all the beautiful merchandise that you see here and more, a lot of people don't know that we sell merchandise. Some folks have looked at us as an information stop only, but we have a lot of wonderful things for gifts for family, corporate and whatnot. So you're welcome, Felicia, for that plug. What is that, one of the cell phone cell phone grip? It goes on the back of your phone so that you don't drop it when you're taking a selfie. All right. 0466167. All right.
Congratulations. Well, it's great to be here this morning. We're really excited to celebrate National Travel and Tourism Week. And thank you all for coming out. This is a great crowd for Frank Talks.
I'm Lauren Ward. I'm the vice president of marketing and Communications. So I oversee all of the marketing efforts for the bureau as a whole. That includes branding anything that we're doing on the leisure side to promote our destination to visitors. And then we support our sales team and our visitor center with marketing efforts as well.
So before I move any further, I want to show you a video that kind of highlights all of the tourism assets around our county, and I hope it makes you proud to live here. Travel is more than. Just getting away from the daily routine. It's about having time, time to relax, refresh and. Unwind. And be spontaneous with no agenda and just play.
Time to experience the thrill of something new. Why don't we take more time to step away from the screens and truly connect with the ones we love? It's these moments seeing. These new.
Places for ourselves, which we will remember over time. Slow down, take some time. And plan your trip to experience Franklin, Tennessee for yourself. Does that make you want to visit? If you didn't live here, you would want to come here right after seeing that. So I'm going to start by talking about our organization as a whole and how we are branded to the to the visitors as a whole, too. So we are the Williamson County Convention and Visitors Bureau.
We actually cover all of the cities across, the county that you'll see here on the map, but we're branded as visit Franklin because Franklin is the driver for tourism. So we've seen through research that Main Street is the hook. That's why people are coming. They love that historic Main Street beauty, the history, preservation aspect, shopping, dining.
We truly are small town America. And so that is the driver for us from a branding perspective. If you think about it, you rarely say, Hey, I'm going to so-and-so county for a trip, right? You mention the city. So that's why we're branded as Franklin, Tennessee.
But we use all of the tourism assets from around the county to satisfy the visitor once they're here. So we send people out to Arrington, We obviously send people out to Lipase for work. That's our second most visited community outside of our second most visited asset outside of Main Street. We send people down to Spring Hill to do a Avila and do some shopping out to Nolensville. There's some wonderful assets out there as well.
So we're really grateful to be able to promote the entire county because. It expands our offering outside of just Franklin, but Franklin is certainly, certainly the driver for tourism. Speaking of what draws visitors, the top draw really is historic Main Street.
I will mention the factory over here that is our second most visited asset. It is getting, as most of you probably know, a major facelift right now, and it's going to be even better. So we're really excited for the improvements at the factory. We also draw people in with shopping, unique dining experiences, events specifically pilgrimage music and cultural festival, which we're doing the giveaway today.
In addition to all of our Heritage Foundation events, all the Main Street Festival Pilgrimage, I'm sorry, not Pilgrimage Pumpkin Fest. In addition to Dickens outdoor experience, CES have become really popular in agro tourism as well over the past several years, especially post-COVID. People are really interested in learning more about agriculture. They want to be out in nature, they're interested in scenic drives. They love the beauty that our area has to offer. I think a lot of times on our drive into work, we're driving past these beautiful scenery and we don't even notice it.
I think hopefully we're not becoming numb to it. But someone coming in from Chicago, New York, L.A., it's breathtaking when they see that and they simply just want to drive around the county and experience it.
We also draw folks in through business travel meetings and conventions and youth and amateur sports. We have a couple of our sales team members here up front, but we fill our hotels through a combination of that midweek business. So people coming in for meetings and then the weekend business people coming in for leisure activities as well are unique stories. We have Matt Maxey here, who is our director of public relations. These are some of the stories that he works with national travel writers to tell about our destination and he travels to several shows each year and meets with many different travel writers at each show.
It's almost like speed dating. He sits down with them. I don't know how his wife feels about that, but is actually okay with it. Yeah, he sits down with them for about 6 minutes at a time and pitches a story, unique story about our destination that he thinks would be of interest to them. Those stories obviously change. They ebb and flow according to what's happening in the destination. But you can see some of those stories now.
Obviously, history is at the top and preservation, we're a leader in that space across the nation. Serenity. I want to talk about kind of our positioning between Nashville. Nashville is a wonderful partner of ours. They have blown up in the tourism space over the past ten years, as we know, and they've been a great driver, particularly for day trippers for us.
That way people can understand our destination and come back and hopefully stay overnight. But we have a much different offering than Nashville. They are Taylor Swift, as just mentioned earlier there, you know, bachelorette parties there, they're a party scene in a sense.
They have a lot of culture and music and culinary experiences that differ from ours. We are much more relaxed, historic, slow down, Take a deep breath. As you can see through that video, we just have a much different offering than Nashville. But so that that's kind of what led me to the the scenery and kind of the relaxing and slowing down aspect.
We also I want to mention one other here, the Southern community. Doing things differently has been a really wonderful story for Matt to tell the travel writers over the past couple of years with the addition of the US statue downtown and the Fuller story markers, the fact that we have handled Civil War history in the way that we have. Eric Jacobsen and those that have helped lead the way. And that has been a really interesting draw for travel writers. And that's a fun story for us to tell.
Unique music experience, of course, as well. We also just want to visit Franklin. We had a website for many years, but we just relaunched a brand new website. Please check out when you get a chance to visit Franklin dot com.
This is a snapshot of our home page. You will find we really have focused on beautiful photography around the area, telling our story through video as well. We are pointing people to inspiration but also want to make sure that they can make a transaction on the site so you can book a hotel room through our website, which is really exciting. We have our five by five, which is our Web site partner. They're here, the room with us.
And we also, you know, really work hard to ensure that when a visitor's on our site, they're able to get around the county easily. So we're we have a new county section that you'll see whenever you visit our website on plan your trip where you can understand exactly how our county is positioned and what you can do in each community while you're there. So please check it out when you have a moment. Maureen mentioned earlier experiences and trails. Has anyone done a trail here that's on the screen? Wonderful. We have a few in the room.
So if you go to our visitor center, they can tell you all about it. Or our website is at Franklin dot com. You can find that information here.
These are all free trails If you have family and friends in town or if you have kids, it's a digital passport. And how it works is we've curated these different trails to help people move around and experience the interesting things within each category. So for example, Masters and Makers Inc., it includes our winery, our two distilleries and our two breweries. Midnight Sun is a fun kids trail where children few summer break is coming up. So if you have a child that wants to understand more about the history of Williamson County, check out the Midnight Sun scavenger hunt.
We have a craft coffee trail where it takes you around to all of the craft coffee spots around town haunts and headstones, which is a history trail in addition to great American Main Street Sweet Treats, which is my favorite trail, it takes you to all the cookies and cakes and bakeries around town. I wish that wasn't my favorite trail, but it is here. There's another history tour, the historic homes of Henryville. And then we also have a murals tour.
There are many murals and some hidden spots around town, so you can hop around and take photos at those spots. If you fulfill a certain number of spots on each passport, you can come into the visitors center and redeem a prize. So it's a really great way to spend a day with family and friends that are in town or with your kids if you need something new to do. And we're going to continue to add to these trails over the next couple of years as well. I want to also mention the Franklin Hop tours.
Anybody seen the hop or taken the hop yet? This is a great this is a new addition this past year. This is a 90 minute trail. There's five stops. The narrator does a wonderful job of telling visitors about our town. It is a hop on hop off trail trolley. So if you've not experienced that, you can just ride the full loop and hear the story and ride by each stop.
Or you can hop off at any stop and spend a number of time the amount of time there that you want. So if you want to stop off in a carton for an hour or two, the bus will come right back around and pick you up a little while later. I'd really encourage you to check out this trail.
You can purchase tickets in the visitor center. This is a great way for people to get kind of a 30,000 foot view of of Williamson County as a whole. We hope to expand more trails like this down the road. It runs six days per week. You can see the details here.
But we would love for you to to take the hop as well. And it starts and ends at the visitor center as well. So you'll you'll see it out on Fourth Avenue quite often. And then I've mentioned the visitor center throughout, but I wanted to give it one more plug. We're right across from the Mercantile deli. We work really closely with the downtown Franklin Association as well.
Heidi Hood is there in the back. We work with our downtown partners to make sure that we hear to understand what visitors are asking, what they want to know about why they're here. And so we provide that information in the visitor center, in addition to some wonderful retail options for our visitors to take home.
And remember Franklin. So stop by the visitor center when you can. And I'm going to turn it over to Heather Dalzell. She's our stakeholder engagement manager, and she's going to tell us about our ambassador program. Lauren does not want water. Good morning.
I'm so excited to see everyone here this morning. This is awesome. It's great for us to be in this space. Thank you, Mindy, for allowing us to be here. We did mention in the beginning that we are kicking off a national Travel and Tourism Week. I saw a lot of people writing down the slide numbers that were tourism page numbers.
There is a card on your table that has all those numbers. Also on the other side of that card is an invitation to a free event that we're doing this Wednesday and this week we're really just sharing a lot of this information, a lot of our numbers highlighting who we are in the community. As you can see, this is a lot of stuff that our visitors can take advantage of, but also for you guys to take advantage of as well. I want to make sure that you know who we are, and that is an exact segway into what I was just making sure our partners know who we are. I don't know if you mentioned it, but we are not membership based. And so sometimes if a partner doesn't know who we are, they know one asset of ours, but not the other than I connect them.
I help them see what we do, what we can offer them, resources, where to get it and even connect it, connecting them to other parts of our team members. So we're going to watch. The other part of my job is that I maintain the health of our ambassador programs. I'm going to watch a short little video about what that program is and explain hopefully how you all can take advantage of them. This program is an immersive experience and you're going to leave here with not only the knowledge of how tourism affects this area positively, but you're also going to leave here with the experience that you just collected and you're going to be able to relate that in an exciting way to your guests and visitors that they're going to want to go out and experience everything that you just did.
When you come to the ambassador program, you're going to sample some of the food offerings around town by a few of our favorite partners. You'll learn a little bit more about the positive impacts of tourism in this area. And we'll take you on a walking tour and you'll get to meet some of the merchants. Then you'll hop on a trolley and you'll get to see some sights of Williamson County. Once you complete the program, you'll officially be a certified visit.
Franklin Ambassador At that point, you'll have all the tools and knowledge to help others have an amazing experience here. Williamson County okay, I did see some of our ambassadors in the room, so if you have taken this program, you are one of our ambassadors. Will you raise your hand? Really? Will you? So tiding so I have been with Visit Franklin for over seven years. I actually started as soon as this program started in our ambassador program originally, which was designed for the hospitality community.
What we were seeing is a lot. We have 55 hotels in the community. They my the the folks at the concierge, the folks working there or if you're any visitor facing business, a boutique, a restaurant, anybody is asking you, where should I go for this and where should I go for that? Sometimes they don't live in the area. Sometimes they don't know what our assets are. And so we developed this program really to just kind of give them a bird's eye view of what there is in this area and what there is to do.
We share a lot of the stats that we've already shared this morning. We take you out into the community. We meet some of the merchant owners. What I'm trying to do is develop this one on one, this personal touch, and also get them out there to see it for themself. What this has done is just grown more and more.
I think the last time I counted out of our 55 hotels, 39 of them were just making this regular onboarding of the folks that that they are hiring. And what this does is keep the money in the county. If I am here and I am wondering where to go and where to have lunch or what show to see, I want to go where someone else has been.
And so we're giving them that experience. We're helping them know what there is to do and also sharing those stats, whether you are a business owner, whether you are interacting with visitors that you know who are a visitor is you might be a small business, you might not be hiring the data company that we are hiring to get our numbers, to know how we're to do our marketing, but we're sharing that with you. And that's one of the things that I love to do a lot to connect people to. So to us, what we were doing was marketing to the hospitality community. But then what we were seeing is a lot of our community members wanted to know the same information. We have a lot of new folks moving here.
That's not our fault. It speaks for itself. But once they get here, they might want to know what to do. And at the end of the day, we're sharing our lovely businesses.
The reason why we all live here with the community and then helping to shape their marketing, helping them understand who who is our visitor. So this is who we consider an ambassador. This is an advocate of tourism in Williamson County.
You're sharing accurate information. You are supporting local visitor facing business. This is not just monetarily.
This is following them on social media. This is telling somebody where to go and then really engaging with the community. Our ambassadors love the ambassador program and it's taken a lot of us to put it on, but they continue to talk about it, and then we're continuing to engage them with providing experiences for them to go out and see another asset on a monthly basis. So becoming an ambassador, this is what the program looks like.
It's a three and a half hour program. It runs April through October. It's the second Tuesday of every month and we actually run two back to back in that same morning. But really it's a 45 minute overview of tourism and more information that we've even shared this morning. More numbers and data and just how and why we're doing what we're doing, and then also how that translates as a community member, as a resident, as a business owner. And then we're doing some sort of historical element.
We're providing them with information on where they are. We're doing a 45 minute factory and history tour and merchant tours. So if you haven't been to the factory lately, we know that the factory is an amazing staple in our community. There's a lot going on there and there's a lot of neat revitalization of that building they've actually hired is one of my favorite parts of this program. There's a young woman who grew up in this community who became a historian, went to school, did her paper on the revitalization of the factory, and the factory hired her to come back and be their historian.
So she's part of our program. She's walking us around. She's telling us all the things, a lot of things that we know and a lot of things that we don't know. And then a 90 minute hop tour.
So you did hear about the hop tour, this program Free. I'm giving you a little bit of a an insider. And we do utilize the Hot Trolley tour. So we do want you to bring your friends and family.
But if you do go through the ambassador program, you get to experience that. And there are some added elements that you don't get on the regular hop tour and then 30 minutes visitor and then some celebration. I don't want to give away all our secrets, but it's been an awesome, awesome program. The popularity has grown immensely and what that tells me is that this is very valuable to our community and this is information that we want everybody to know to be able to share with other residents. So I hope and encourage you, if you haven't taken this program, there's some information on the table back there. And then also I'm going to get into I didn't do my raffle in the beginning, but this is part of our marketing plan as well.
It's helping you guys see what we have in the visitor center. Like Maureen was saying, a lot of people think it's just there for information. It really is.
There's so much going on there and there's so much new stuff all the time that we would love for you to come see and experience. So get your tickets ready. Yes, it's a twofer.
So you. Thank you. A twofer among and a wooden spoon. 0466172. I love to hear the odds because it means you. Means you really want to win.
Right here. This one is a mystery prize. Mystery prize? Yes. All right. 0466171. I feel like that was right.
Right over here. Okay. Keep your hand up, please. Is going to come find you. Okay? I'm going invite Maureen back up.
She's going to have some more exciting things to do. This last week. You know? All right. We promised more prizes. Hopefully you all have enjoyed winning things.
If you have filled out the quiz that's at your table, We're going to do this the old fashioned way. If you could swap with your neighbor, we're going to grade quizzes really quickly here. I'll give you one second to do that. All right. This is this is going to be on the honor system here. So who can tell me how much visitors spend each day in Williamson County? Shout it out.
We're going to look for 79, 59. All right. Oh, yes. I wrote the wrong thing on my card. Yes, you're right. Whoever said that.
What is the per house? No, I wrote the wrong answer. Down. Sorry. Look on the car. To your table. Sorry. 2.86 million. I don't know what I was. Oh, I.
You know what? 1.73 million is the number of visitors. 2.8. 6 million is the number of dollars. Sorry about that. What is the per household savings from tourism spending $5,000. That's right. Where does Williamson
County rank in tourism spending in the state of Tennessee. Awesome. Name three things that draw visitors to Williamson County.
So yeah. All right. That is correct.
All of those things are correct. Name one trail you can complete for a prize. Masters and Makers, Midnight Sun Craft Coffee, which happens to be my favorite prize for anyone else who likes coffee. You should do that one for sure.
Sweet treats. How many stops does the Franklin Hop Trolley Tour make? Five is correct. Where is the visitor center located? 400 Main Street is correct. Name one thing you can get at the visitor center.
Knowledgeable information specialist maps and brochures, unique branded retail items, locally made goods. If you had a specific retail item, we'll take it out to. If you if you wrote it down. We don't make it. We won't make it. What does a visit Franklin Ambassador? Do I advocate or advocate? Share support and engage? That's right.
And I will have to say this last one is a little bit of a freebie. But does anyone want to yell out their favorite thing to tell friends and family to do when they come to Williamson County? No film festivals, but somebody said spend money. I think I love that one. I love it. All right, everyone, get your own papers back.
We're going to do a little bit of how many do you get, Right. This is where we're going to come up with the grand prize. Okay. Raise your hand if you got at least one right. Okay. Keep them up.
If you've got keep them up. Keep them up. Keep them up. If you got at least two. Right. Three, right. Four, five, six.
Wow. Seven, eight, nine. Did anyone get all ten? Right? Amazing. Okay, we'll give you it.
We'll give you a ticket and we'll raffle it off. If you are still have your hands raised. Come see Felicia at the end of this and we will pick a winner. Okay. Wow. Hope you leave today feeling a little more informed about our county and what to do with that bunch of company that's going to come this summer to see you.
And if you don't have the information you need, where's the visitor center again? That's right. So thank you so much to everyone for being here this morning. I do want to mention on your tables a small business card for the QPR training question. Persuade and refer Franklin tomorrow.
Coordinates for Mayor Ken Moore's Find Hope Franklin Initiative. The Suicide Prevention Training is very important in our time. In the time right now, we have two classes coming up, one at Williamson Inc's Power Room on Friday, I believe it is, and then one on Monday at West Haven. It's a free crack class. It takes about an hour and a half. I'd be happy to talk with you about it, but there's a QR code on the screen and on that card where you can go to register for the program.
Again, it's free. We encourage you to take part in that program. So here are some things coming up. We've got this is the Franklin Rodeo is May 18th through the 20th. The parade is this Saturday, State of the city, the mayor, state of the city.
It's free. It's like you're going to breakfast with the mayors, but it's the state of the city. It's at Rolling Hills Community Church on the 24th starts at 7 a.m..
And then every weekend in May is the Tennessee Renaissance Festival. If you don't already follow, visit Franklin on social media. Do that because you'll or sign up for our newsletter to get information about what's going on in our community every week. It's a great way to do that and we hope you also will follow Franklin tomorrow on social media. We are so excited to announce that the Jimmy Gentry coach, Jimmy Gentry and the Lost Hero Statue Fund.
Has been completed thank. You to the donors who helped raise that money as part of a leadership Franklin team project, and Franklin tomorrow served as the fiduciary agent. We're wrapping some things up. We are working with our sculptor Scott Wise out of Clarksville for finishing up the statue or working on that, and we'll keep you informed as to when it will be installed. At the intersection of Fifth and Main.
It's a public art project and we're very supportive of that as well. But you know, there'll be a few things for wrapping up and if you didn't make a donation and you might like to help, you know, fund some of those incidentals that come along with a project that might be possible to do as well. Those donations are made to Franklin tomorrow, but go to the statue fund and we're so excited for this to have occurred in our community.
And within less than a year of raising that, that $85,000 for the statue project, that's a great, great thing. And so thank you to the community for doing that. We're very proud to be part of that.
And then that's how you follow us on social media. Don't forget. Well, you'll get an email from us today or tomorrow with a survey, but also with the link to participate, to register, to participate in our On Second Thought program, which is a follow up to this project. This program, you'll have a chance to ask questions, participate.
It's a Zoom only event. It's a meeting, and you'll have to register through the link you receive to get the link to participate in the zoom. That's a great way to ask some questions. Start thinking about those. But also we'll have some special guests for that program as well, and it'll be well worth your time.
It's an hour long. It'll be sometime next week. We just need to confirm with one more guest and we'll send that out today or tomorrow. And thank you for being here. If you didn't if you parked in the garage and you didn't get a sticker for your ticket. Gotcha. Emily, at the front desk again, our office is right next door.
If you've never been to our office and we'd like to come over and visit us, feel free. And thanks so much and go out and make it a great day and celebrate tourism in Williamson County. Thank you.
2023-05-18 21:59
Show Video
Other news