Forest Camp & Hot Springs Fun-Filled Video Philippines ൽ ഞങ്ങൾ ആറാടുകയാണ് !!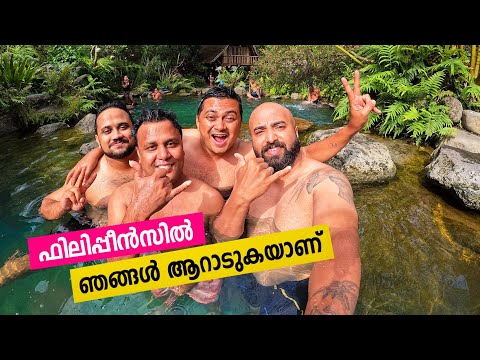 Show Video
Welcome to a new video of Tech Travel Eat Today we are going to a forest that has a natural swimming pool. It has an awesome hot spring too. We are at Dumaguete islans, Philippines. Welcome to a video that will be showing the beauty of this place.
Its an awesome video. If you watch the whole video, it will be great. Look at the colour of the water and the pool. Saheerbhai, today we have to urgently do something. What is it? Its been a month since I left home. I dont have anything to wear.
Wearing the same again and again. I have taken a bag full for laundry. He wants us to send him home. This is around 7-8 kg in total.
Have to give these for laundry and then go out. Only then I can travel the next days Hold on to the bag, We will be going home only after few days. We are at Dumaguete. Today we are going to see a hot spring. Shall swim there. There is a forest jungle camp. Might be some other swimming.
Today you will be seeing some interesting scenes like that. Before that lets go and give the bag for laundry. Today we have Mithun and Rahul with us in the morning. Looking colourful!
Your t-shirt looks awesome. Oh are you still single? We have a single pilot training officer here at Philippines. Anybody interested may check out. Come lets go. Thats our room They may not like us making noise. I didnt notice that. This is the resort we are staying. First lets give our laundry.
Please open the boot of the car. Lets dump in the bag. We found a laundry here. They say if I give it today, I get it tomorrow. You can see clothes put to dry. Nice system. They take clothes kg wise.
The rate is kilo wise. Are your underwears made of iron? Those are my dresses and not underwears. That pretty heavy. This is good. Do they fold and give it to us like this? Wow!
Such a good system. Just 160 Peso to wash all these. Thats just 250 rupees. Nice system. Just 160 Peso which is around 200 or so rupees to wash all these They will wash, dry, fold and give it to us. We are going to buy food and go, We will be buying from Biriyani point restaurant. This is awesome. Whats all these?
Are these our snacks or theirs? Do you have bread or bun thats not sweet? This is Saheerbhai. He is from Mangalore. He is the person who makes food for us on special request. Ok Bye. We have bought mutton biriyani, egg curry and something else. I am hungry to the core and thats when he is keeping shredded chicken in front of me Even I want You had eggs for 2500 rupees yesterday.
There and many who came here, married Philippine girls and settled here. For a second I thought I was at Chennai. Yellow Bajaj autorickshaw So happy to see Bajaj vehicles outside. Autos are used for private uses here
We got into a shopping mall and bought 2 pickles and Jollibee, like KFC. Hello Sir, you sit in the front. I will sit behind. I want to eat Jollibee I bought the spicy one. We have reached a forest camp. Its this an artificial forest? Its an improvised forest with a swimming pool in here. People come for recreation
Looks like there are many people here. I have come with food. Lets see whats in Is this our mutton biriyani? Wow! Thats a big quantity Closing this Look at this Its written Toyota Land Cruiser Is this Land Cruiser? I am not sure. If anyone knows which this is, do comment. Looks awesome. I think it might be an old Land Cruiser. Superb.
Nice place. You cannot call it a resort. People come here for day activities. You can come here. There is a pool, private huts and many more. Lets see. Cottages, pool, restroom, bar, restaurant.. People enjoy how much ever they want in the pool Should buy ice tea They have done it in a forest theme. Its like a forest only I think each set is given an area. You can buy or make food and come. Not necessary you have to buy only from here.
You can buy from here too. They have catering here. There are lots of people relaxing here. All are looking at me. We are the only Indian foreigner. Rest all are natives here. Wow! Thats nice. A swimming pool that resembles a natural pool Its a beautiful place filled with vibes. A place to relax. So many people here. A separate pool.for kids. Families are having food n drinks
Here you can see a small forest river Its just next to the forest. They have developed and an area and gives us a private space here We have reserved this table. We can have food, drink like others here. People come here, have food, drink alcohol, jump to the pool etc.
Drinking alcohol is not a sin here. Its a part of their life You can see families here having alcohol, some just food, all enjoying their own ways They then jump into the pool. Its a relaxing mood for them. Sundays and public holidays are full here. Weekdays crowd is less. Lets check it out. Thats how its here. They have a pool upstairs, one here and two down there. Separate pool for kids.
Awesome feel. Water in the pool is natural water. You can see it flow from there They have connected a pipe from this river and made this pool here. If this was done is our place, the forest department would have shut this down. All behind this would be fined with a heavy penalty too. But here, all these are legal. They dont have any other issues. What all do we get to see in different countries for promoting tourism, Entertaining people, for people to enjoy and relax too.
You can see a bar counter near the pool. There is a dining area next to it Few pipes are connected from the river to here, filtration takes place here. Later from here the water reaches the pool. We have mutton biriyani, Jolibee, beef, egg curry. Manglorean style beef. This is awesome.
I will not eat mutton. So I shall have it with the biriyani rice. There is pepsi, cocoa cola, instead of fanta, its royal here. We didnt get ice tea. The beef is very tasty Awesome. We had food and relaxed for a while. Now lets jump into the pool Its very cold.
I never expected it to be so cold. Its a natural pool. Getting into cold water is a big task for me. Look at this. It seems the floor is slippery. Its very cold. I feel lazy to jump. Let me sit and get set first. The floor is very slippery and the water is very cold.
Its slippery so might slip and fall. Its an awesome place. Look at the way they have made it. Thats a small waterfall from where the water comes from the water tank. Cant they do something to get rid of the slipperiness? But then the naturality goes. Thats true. I cannot hold the stone too. After this cold water, we have to go to the hot spring.
Hot springs are awesome. I have seen them only at Manali, Himachal Pradesh There are many that side. Its said to be sulphur in water. Its has medicinal value There was one at Palawan too. Since we were told to go throgh some muddy place, we didnt go.
It seems hot springs are very good for our body. Its said to be helpful to detox our skin. Because of the flow of the water, I am not able to go that side. Struggling to go with my camera in one hand. You can give me your camera and walk and go.
I am not able to walk, let me try to swim but cant move forward. I am moving backwards. I want to go forward. This is awesome. Its a free massage place too. True. Free Jacuzzi. Saheerbhai, come fast. Jump in. Its awesome.
Its cold water and awesome. Come fast. We are the only Indians here. We havent seen any Indians in Philippines.
Very less indeed. We have seen only you people. Next person ready to jump in. Its very cold. Only you people are here? Are you respected? Once when we went to Kumarakom, there were many foreigners in the pool.
When we jump in, to respect us they go from the pool. This is our private pool. Nobody else is here. We have taken this private pool for us.
There are many pools here. We have taken this as our private pool I think he is also vlogging This is another pool. You can see another set of people here. Thats a small pool. Another pool below that too. We are freaking, bathing and swimming in Philippines.
Can I swim with one hand. Camera in one hand. It works. I was in the sea many days. Learnt to float and swim slightly After Phelps, its Sujith Bhakthan. Pilots should be quick. When we ask you to jump, you should jump. Fly when asked to fly.
Thats how pilots are. How deep is it? I am scared of heights and depths. This is how you study all this. Thats true.
Looks so good and colourful. All the pools have families in it. At the same time people are having alcohol too. Is anyone misbehaving or creating any issues? Since its not sunny, all are relaxed. Its very deep here. I cut my hand, skin got peeled off.
First time having such an experience at Philippines. How do I climb up to go back? Shall catch the stones and walk. I rubbed by hand here only earlier. Are you going to jump? Great! The water is so good. Its being recycled full time. Since there is no chlorine in here, you can lie in this water for a long time. Let me try swimmng in this deep place. I shall stop at that end. If I happen to sink, please pull me up.
Done. Thats only if I am not able to swim. I dont know to swim. Let me try.
I reached here. Its very deep and an awesome place. You can see a baby pool down there. Slides and floating accessories are seen
Its a pool mainly for babies. All of us are in a good company now. Awesome. You should see the way people enjoy here. I loved it. Its for the first time I am seeing Indians given little respect in a foreign country.
Being very frank. Happy for that. Thats a couple. That man jumped with their child. Arent you jumping? Tired? I stopped jumping.
You can stay at these huts at night. Even this one on top can be used for night stay. It would be just basic accommodation, but awesome. Kids are not scared at all. They just jump. I want to jump, but I am scared. I am holding the camera in one hand and swimming with the other hand Not able to put my legs on the floor. Saw? Its slippery.
Some have food, jump into water, have food jump into water.. Thats it. Now we are dont with our cold swimming pool. Next we are off to hot spring. We have leftover food. We packed it up Can see people enjoying here. All these are natural water. So nice to see the way tables are set at the pool side.
We paid 2000 for the cottage like place we sat. To stay at night, we have to pay extra. 700 Peso entry fee per head to come here. You have a pool here too. People are taking photos here. Wow! You have all these here. Awesome. You can see people going up there.
You have to pay extra for wall climbing etc. Awesome place. I loved it. Wow! Stop here. Will these mountains be hot? On the way to the hot springs, at the road side, you can see this. Its a sulphur deposit place between the mountains.
Its called sulphur fumes. You will experience the smell felt at labs when you get out here. Thats what you see here. I am first time seeing something like this. These are not hot. The smell is horrible but its not hot.
The steam is hot. This is amazing. I am seeing something like this for the first time. There are many active volcanoes and that bursted long ago too here in Philippines. Looks like someone lit fire and you see smoke. But its not like that. Its coming from here and there. Miracles of nature. This is not hot. But you can feel the heat when you stand here.
I am seeing something like this for the first time in my life. Have you seen a mountain that gives smoke? I am so excited seeing this. It may be due to seeing this for the first time. This is too good. The smoke is coming like water coming from inside.
Is the water hot? Its very hot. You will burn your hand. Let me touch it slightly. Oh my God! Its boiling water. You should have given me a hint. Will the hot spring be this hot? No. This was totally unexpected. I first thought someone put fire or its fog.
This is coming from here and there. Landslides happen here. If its toxic, lets not breathe much of it. Lets go. Landslides happen at many places here. Thats why stones are put up here Mountains with smoke. We have come to see red rock hot spring. This is at Valencia region here.
Its a private property owned by a private family. The hot spring is in here. This is now a big tourist destination too. You can see small restaurants and hotels close by here.
You have to pay a small entrance free to get in to the hot spring. Cant believe there is such a thing in a private property. They gradually made it a revenue making when tourists began to come. They made a pond like to promote tourism and is running it here. In China you have many hot springs. Natural and hand made. This is natural
Oh you have man made too? Yes. There are many there. Saheerbhai was saying that people in China jump into the hot spring naked. Thats how its there, even at spas. Males and females have separate spaces. They wont wear anything. We wear a turkey towel and go.
People who have gone to China would be knowing how they are. Anyways lets see the procedures to get in. The temperature of the water here is around 37-39.5 degree Celcius. He said we can sit up there and have food. A place like we saw earlier.
This is a hot water pool. You can see people there. This would be fun. Its 5 ft deep. Lets sit here for now. He is arranging this place for us to sit. We can have food from here. Why is this 100 note wet? You jumped with it int he pocket? You get tea, coffee, food, drinks, alcohol etc here. We shall relax and them jump into that pool and see how hot it is.
They have a set a private property like this for people to come and enjoy. Just imagine if you had a waterfall in your property, Would be nice if you did facilities like this for tourists to come and enjoy. Its deep there. This is hot. Nice.
The other place had cold water and here its hot water. This is natural water. Its the rocks only that has been cut and made to a pool. At some places in hot springs, you can see the smoke rising up. There are places where the water is that hot. You cannot stay in that water for long
Lets go sit there for sometime. They are re routing water from several places like this. Awesome. The camera is being coverd with smoke. This is a place where we come for a weekend after a busy week schedule This tastes like the battery water. You tasted it? True. This might be the battery water they use.
This water is not good to drink. At that end, its not deep at all. You can sit there The place I am standing is nearly 4ft deep. There its deeper. Its written that its 6ft deep. It is. Right? I cannot reach the floor.
Its safe here. But you shouldnt dive. Its deep here. I would have swum but I have the camera in my hand. Its a problem when the water goes into our mouth. It doesnt taste good. Otherwise everything is safe here. To enter, its 100 Peso per head, 150 rupees You can stay for how long you want. Its unlimited.
If you want to sit at the cottage on top, its 400 Peso. If you want you can take that or relax on the chairs here and use the pool. There is a cafe that side. You can hear music from there. People make and bring food or you can even buy from here and enjoy. Anyhow. Can see smoke rising from the water now. I think it comes by evening.
Especially when the red lights are on. Till what time is it open here? Till 7. Good. We have seen heated pools at few hotels and resorts. Its there at Munnar. Heating a pool is very expensive. Maintaining a pool itself is expensive. Heating he water in it is again expensive Here its natural water thats coming from that pass.
What over flows from here, goes to a pool below there. We can see them drying up the pool down there and cleaning it. This has to be cleaned daily. If you wear white briefs and get in here, Due to the sulphur in the water, it will turn red.
You have to wear black shorts to be on the safer side. Wash it well after you go from here. Since it turns red like that, they clean it daily after drying the pond.
Otherwise it turns slippery like the other pool. To avoid that they clean it. To clean it, they close the pipes at night, clean it and open it in the morning. Since its a good flow of water, if fills fast.
They have re routed the water and made the system in that way Nice hot water. Its more hot than the water in the pool. Now lets go back. While sitting here, it rained well. It would be so nice to lie in the hot water during the rains. Awesome. It rained a lot today. Its real Kerala now.
How is it? Awesome! Is it fun to jump when its raining? Its 6.30pm. This place closes at 7pm. Lets leave from here. We are going back to our resort. Its an awesome place. Dont miss it if you get a chance to visit this place. After the hot spring, we got back to the hotel and slept at night. Now in the morning, we are going to check out from the hotel They have washed and folded the dried clothes we had given for laundry. You dont have to do anything to it. Just keep it in your box.
All I had to spent was 160 Peso to wash, dry, fold and pack all these clothes. That comes to approximately 200 rupees. This is 2000 Thai Baht. It was inside a pocket of some shorts of mine. They found it in our pocket, kept it safe.
When we went to take our clothes, they gave it to us. See how good the people here are. My mother always checks the pockets before washing the clothes. They have to check before putting it in a washing machine.
If coins are there, the machine will get spoilt. Its mainly for that too. Then if anything like this is there in it, to help it from getting spoilt. Like that they checked and found this cash and gave it back What are our plans after check out? We are going to twin lakes. Today is our last day in Philippines. Tomorrow we are going to Cebu and from there we are going to ... Shall say that in tomorrows video Ending this video here. Thanks to Rahul and Mithun for giving us company. We had very good experiences from Philippines.
See you tomorrow with a brand new video. Bye bye.
2022-05-25 11:07
Show Video
Other news