First Major Problem and Hospitality of Indians EP.11 | Pakistani Visiting India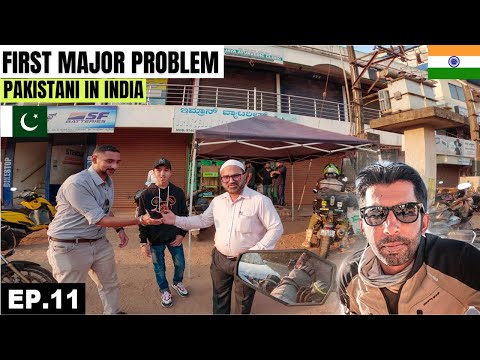 Show Video
Our motorcycle has gone non-responsive in the middle of this road. And it's not starting up. It has developed some new problems. This is the Malpe beach. It's dead...
Dead? Yeah. Now you can wave your hand. Do you speak Hindi? No. Only Telugu. I don't speak Telugu. Here we have the special biryani from Bhatkal. Anything special about it that you want to mention.
Don't know about that but people just love it. You mentioned its other name... It's also known as Nawayathi biryani. We are going to see the sunrise. The battery of my motorcycle is fully drained.
And same is the case with this one. It has never happened before. It's just a slightly cold area.
You can't say that it's too cold here. It's hardly 14 or 15 degrees at the moment. But the batteries drained despite this not too low temperature.
Lets give it a try. This is GB40 by NOCO. There's some problem with my motorcycle. But it is charging this one.
Let's see if it works. One of our motorcycle is finally alive. Lets try it with the other one. Hopefully, we'll be able to start that one as well. Joseph has brought us morning coffee. Actually we were going to the sunrise point with him.
That's probably the highest peak? Yeah. You can see the sky very clearly from there. I could see it with the drone. But the footage from here is not that good. Thank you so much Joseph. You speak Hindi, right? Yes I do.
I want all of you to listen to this beautiful sound. Our motorcycle is back alive. We tried whatever we could. And eventually this tool came to rescue us.
It was giving some error at first. But it did charge the motorcycle somehow. It's engine is powered on now but there's still one problem. Take a look.
I'm gonna remove its key. That means the motorcycle should be off now but its meter is still on. Even the front light is also on. This problem appeared once before in Oman.
When I was traveling from Oman to Dubai. I did show it to some experts in a workshop. But that issue disappeared on its own. And the workshop guys told me that they can't fix anything if there is no issue.
But here we are facing the same issue once again. Now I have no clue as to what to do next. If we just leave it like this, the battery will get drained. And... Then we'll have to use this tool once again.
Alternatively we can remove one of its fuses whenever we want to take a break. That way it will not get drained. And we'll get it checked when we get a chance. We can't turn it off now without using the kill switch.
For instance, I'm holding the key right now. So it should not start. I'm gonna go pack my stuff and then get some breakfast. And then we'll leave. This is our breakfast. Just like yesterday, we have upma once again.
We also have coconut chatni along with it. But today we have a different type of dosa. It's called neer dosa. We have also used some local honey on it. That's what we are gonna eat today.
The breakfast was really good. We paid a total of 2600 INR here, including food and night stay. We are having a cup of tea now. I have some company. He's Tabarakullah.
One of the reasons why we are still here is because he was on his way to see us since morning. Your city is almost 85 km from here. Right? Yeah. The name of the place is Shimoga and he left before sunrise. He's here just to meet us. I put a story on Instagram with the location of this place. Thank you so much.
You undertook such a long journey so early in the morning to see us. Thank you for that. But your journey is much longer. It's the least we can do. Thank you so much. We are gonna spend some time together and enjoy our tea.
Today we plan to go to Murdeshwar. We'll go to Udupi first and from there we'll take the coastal road to Murdeshwar. And from there.... We might not get to Goa...
We'll try to reach the city of Gokarna which is along the way. We'll try to cover around 200 or 300 km today. You can see Tabarakallah is holding a wild hen. He told us that this poor thing collided with his motorcycle when he was coming here.
Is the leg injured? OI see... One of the wings is injured. So he'll put it in his bag and take it along. Will you look after the bird? And you'll release it once it has recovered. Otherwise, some animal might eat it.
If I just leave it like this, it will be eaten by some animal. Yeah because it can't defend itself now. I don't want any complaints against me on social media.
You look after it, then. Okay. It was really nice to meet you Tabarakallah. Always remember me in your prayers.
Pay my regards to all at home. See you again. Bismillah... In the name of Allah... *Prayer for the journey* I pray to Allah for a problem free and memorable day ahead. May we be able to create some great content for you without any hassle. We came here because of the famous sunrise here.
We wanted to witness the sunrise on the mountain and get some drone shots. But we couldn't go because of the problem with the motorcycle. Secondly, this area is much more beautiful during Monsoon.
It's a big forest and it receives the second highest rainfall in India. It's actually a rainforest. There are a lot of wild animals here.
King Cobra of this forest is particularly well known. We may get to see a King Cobra along the way. We have now decided to go towards the coast. We have already shown you the mountains of the Western Ghats. We now want to cover some nice beaches for you. This way, we can see a nice mix of variations in the scenery as we travel north.
We'll also cover castles, forts and temples. So this tour will also capture the cultural aspect. I came to know that there are 27 hairpins here. It's a little rushy here. Especially when there's a bigger vehicle on the road, it causes the traffic to stop. Because only one bigger car can pass through the car at one time.
I can imagine how Monsoon will enhance the beauty of this forest. Light rain... low hanging clouds... and lush green forest... Ma Sha Allah, it will look really amazing. If I ever get a chance again, I'll try to cover this area during Monsoon. It's still very green though.
But riding during rains with clouds around you is a totally different story. We are at a considerable altitude right now. This road is going downhill towards the coast from here.
Oh my God... I don't understand why that guy is in such a hurry on this road. Even we are going slow despite being on a motorcycle. It's bus drivers like these guys that.... I mean he is responsible for the 50 people sitting in his bus. Our motorcycle has gone non-responsive in the middle of this road.
It's not starting up now. Let's drag it to one side for now. We'll try to start it somehow.
It has developed some new problems. Let's see what we can do now. We just talked to BMW.
They don't have any setup in Mangalore. We need to visit them either in Bangalore or Mumbai. Both these locations are fairly far away from here. And there are so many things that we have planned to visit along the way. Hopefully we'll be able to figure something out.
But we'll try that such incidents don't break our spirits. We just want to keep exploring and keep going with our journey. There'll be some solution for sure. The problem is getting more serious now as it just turned off on the road. And I didn't do anything stupid. It just turned off without any warning.
I don't know what happened to the battery as it's not charging at all. Let's see. Let's just go to Malpe beach for now. We'll come back to this later. Here we are at the Malpe beach. As you get close to the beach, you see...
You can get here all the accessories that you need on a beach. Where to park the motorcycle... Lets park it in the parking lot as it has turned off again. I put it in the second gear but that didn't help...
And that's it. The end. All systems down. It's dead.
Dead? Yeah. Thanks very much bro. We are still unable to fix the issue with the motorcycle. So we have called a mechanic. That's Mansoor. I'll introduce him to you guys. One of my subscribers, Mishal, has come to help us in his car.
We can even get a new battery from him. That is if it's a battery related issue. So we found out that the ignition switch is out of order. We'll have to get it replaced.
But it would be great if we can manage to do something about it for a couple of days. Here's Mishal. Do you live in Udupi, Mishal? Yes. You are from Udupi. Udupi and Qatar. Yes. And here's Mansoor. We are standing with Mansoor at his shop.
We have got a new battery from him. Is it charging? Yes. All good. Can we reach Mumbai now? You can even get to Germany now. I'm going to Pakistan. Yes definitely.
So when we'll stop the motorcycle, we'll remove the switch and everything will be off. Okay. Thank you so much. We have finally reached the Malpe beach.
I'm visiting any Indian beach for the first time. The camera is facing this side. You can wave your hand now. Do you speak Hindi? No. Only Telugu.
I don't speak Telugu. Where are you from? Name? City. Andhra Pradesh. AP.
I'm Jagan. The locals are very friendly. A lot of tourists are here as it's a public holiday here. It's a white sandy beach. You can see countless coconut trees here as far as you can see.
There is also an island here where people can go using a ferry. That was our plan as well. Had our motorcycle not developed the problem, we'd have visited the island. We wanted to spend a couple of hours there before moving on. But it's a little too crowded here.
We also want to cover some more distance. There will be some more beaches along the way that we'll show you. Let's get going for now. We have Mr. Abrar ul Haq Khatibi with us. And his son Aflak Ahmad.
They are here to meet us from Bhatkal. That's definitely a couple of hours away. Thank you so much Sir. We'll meet again in Maravanthe. It's on our way. He will also be there.
We are going to Maravanthe from here. I can't turn off the engine or leave the motorcycle for long. In Sha Allah, we'll see you there. Thank you so much Mishal. Remember me in your prayers. Allah Hafiz.
It's really hot here. Standing in the sun just for a few minutes has had its effect. It becomes more difficult when you are wearing your full riding gear and helmet.
So we paid a total of 2800 INR for the battery and the related job. That's almost 35 USD... including battery. We don't know yet how good the battery is. But it's more than enough if it helps us get to Mumbai. That's sort of an easy solution to our problem. We'll get a permanent solution once we are in Mumbai.
There is a BMW workshop in Pune as well. But I'll get it done in Mumbai. We have just crossed the Maravanthe beach. There was still some light so I took some shots. It was a very beautiful beach. A proper beach with a road that runs along.
There are almost 30 to 40 small beaches in the form of curves. I don't know if they are natural or man made but they are beautiful for sure. After capturing the beach, we have taken a quick stop here. I'm not sure if it's a restaurant or a hotel.
We have got a juice. It's quite hot here. The gentleman that we met, Abrar ul Haq, insisted that we have dinner at his place in Bhatkal.
He will treat us with Bhatkal biryani. As soon as we get some of our energy restored, we'll go straight to Bhatkal. It has been a hectic day in this heat. So, we are in Bhatkal.
We are looking for Abrar ul Haq's house. I have put his address in navigation. Just a few hundred meters to go. Assalam Alekum This is the parking space for motorcycles. We are at Abrar ul Haq's place.
The food has been served. And he's Aflak. And that's Asrar. They are Abrar's kids. And the other two are his newfews. He has arranged a very nice dinner for us.
You told us that it will only be biryani. But there are some other items as well. Look at that.
The famous biryani from Bhatkal. Something special about this? Don't know about that but people really love it. You also took another name of this biryani. It is also known as Nawayathi biryani. Nawayathi is actually the language we speak.
It's what we speak. So the people in Bhatkal speak Nawayathi? Yes. And the population here is around 85 thousand. Yes.
This is Bhatkal Sandow Halwa. It's made in Bhatkal. The special thing about this is that in Bhatkal, it's the first thing that is served to a newly married couple. And then they are served milk. But we haven't served you any milk.
Because I'm not getting married. Try it with yogurt. Here are Ismail and Mohayuddin.
They have been texting me for quite some time. Finally go to meet them today. Okay guys. Allah Hafiz The biryani was too good. I'm now a fan of Bhatkal biryani. Do try it guys. I don't know about the quality of Bhatkal biryani that you get in restaurants.
But the one that I just had was amazing. We are headed to Murdeshwar. Have already booked a hotel there. Just a 20 minute ride from here. We have reached Murdeshwar. Right in front of us is the Murdeswar Temple.
You may not be able to see it clearly at this point in time. But we'll show it to you tomorrow. Also, our hotel is right next to it. The lighting is really good as well. That's our hotel.
Let's just take it to the main gate of the hotel. We'll remove the luggage and then take it to the parking lot. We are in our room now. It's quite a nice place.
The hotel building is relatively old. But overall it's very well maintained. We paid almost 3500 INR for this. That's a pretty decent amount. Right next to the hotel is the temple. And we also have a great view of the beach.
We'll show you the beach in the morning. That's all for the day. Hope you liked it. Please don't forget to Like, Subscribe and Share. That you guys forget quite often. Let's hope it doesn't happen today.
Remember me in your prayers. So that our motorcycle stays clear of problems. Allah Hafiz
2023-04-22 06:51
Show Video
Other news