FIRST IMPRESSIONS of PALEMBANG, INDONESIA [Episode 10]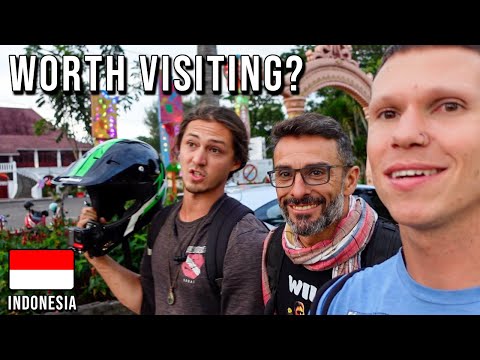 Show Video
in this video we're making our first visit to Indonesia's oldest city, Palembang he's gonna take a toe off you need to come here and you need to try this we're going to be visiting the riverside trying the delicious Pindang and singing some karaoke we're starting our trip from Baturaja and driving 220km across South Sumatra to Palembang join us on this chapter of our journey as we drive our motorbikes from Jakarta to Sabang Across the sixth largest island in the world, Sumatra, Indonesia good morning from here in Baturaja, South Sumatra in our last video we were in the village not far from here visiting the rubber farmers and now we're on the way to Palembang GPS says we have a four and a half hour drive to get there getting out of the city. trading this city for an even bigger city we are on the road again to go to Palembang we are officially out of the city and back into the wilderness now it's time to ride we're pulled over at a Pertamina getting gas. I'm a little bored. this drive is just the same road the whole time I'm trying to dance and stuff to keep it exciting there's been some nice parts but it's just the same road. but we'll see if it gets more exciting we're in some decent sized city. not too big, not too small I don't know what city we're in right now. we still have two hours until Palembang
it's really surprising how big some of these cities are on the way I would have never expected it it is time for a break long time on this road. we need some energy maybe a coffee or energy drink. I'm feeling sluggish and my butt hurts how's your butt feel? huh? how does your butt feel? how does your butt feel? good it doesn't hurt no it is hot but let's go in Indomaret I thought you're gonna try to take it from me. of course not
dates yeah four hours breaking fast what time is it? for one hour and a half guys the road smell very bad oh my goodness GPS says 1 hr 50 minutes get me off this road and get me to Palembang please we are coming up to a train crossing says there's a train crossing but I don't see any train look these guys are going everyone's crossing. I want to see the train I'm doing it I don't see no damn train here she comes. it's just one car looks like we're entering Palembang now 15 minutes to our accommodation back to the busy and craziness that is a city in Indonesia we're coming up to cross this really cool looking bridge. I think this is a suspension bridge there's a couple famous bridges here in Palembang to connect in the different bays and canals now it feels like we're in a big urban industrial city a lot different than the scenery we've been seeing the last two months one of the beautiful bridges. apparently there are a few of them here I'm gonna take a lot of photos on this bridge we're entering the heart of it (the city) now and this is more what I imagined the big bridges, this giant Fountain here, and wow look at that beautiful Mosque this is more of what I imagined what Palembang would be like Antonio is having a nice chat with a lady. looks like we're coming into a market it's early afternoon so they're probably closing things up here down there it must be real busy over here there's still some stalls open I don't like cities in Asia too much but this kind of place with the market and fruit so nice this is it? yeah we'll book already? no go in here how are you feeling after that drive? 4 hours 20 minutes. yeah still okay still young
a the room here is 130k on Agoda and 150k to add an extra mattress. so we're gonna get two rooms we're gonna split the price evenly and flip a coin to see who gets the room by themselves so they can have some nice private time also the people in the reception they are really good looking. all of them. the woman the man the uniform is really nice the way this is working is the odd man out gets their own room it can either be good or bad depending on what we're flipping for. now you want to be the odd man out heads heads heads all right it's never it's never taken more than two tries 500 heads 500 you won again maybe you'll meet someone nice we are all checked in and showered. I no longer have dirt all over my face two rooms. Antonio's is the lucky man honeymoon suite I leave you two alone next door is our room same thing but two beds all right now we're gonna hit the road and where are we going? we don't know. we're gonna figure it out we're gonna check out the city. we're definitely hungry
make sure there's food okay. there's gonna be food. if there is no food.... it's 6 p.m everyone's breaking fast, there's gonna be food. let's go we are here at dermaga point. there's a market here. they're selling a bunch of stuff and also there's a lot of street food
we are looking for street food? yeah street food there's a big street market with games and any kind of food you can imagine you see now there's a lot of stuff being sold here in 30 seconds this guy gets it antonio are you going to ride this? oh even I have the helmet. come on let's go let's do that I can beat you in this in these motorbikes this is your best chance to ever beat me on a motorbike now we're getting a clear view of the river here and the bridge that was the bridge we drove on when you saw us on the road before this area is pretty lively. all these rides for the kids, inflatables, little Jeeps he's really trying to get the most out of the honeymoon suite he's moving quick 5 minutes we are doing well today. we are waiting
we have breakfast and lunch but for dinner we are waiting over on this side, by the river, it looks like there's a lot more options I'm sure some of you are asking: why aren't you guys eating pempek? well we're gonna save pempek for its own video so just wait for that these stools are just my size you cannot sit there that's perfect right there these are made just for me i don't know. she said something with broth. I haven't tried it that's why I'm gonna get it all the food is here and tonight we all ordered very different things Antonio's got the kwetiau gotta love the musicians at the night markets there's usually 10 of them. one of them comes, you pay them, and then 10 of them follow you we are finished with our food and now we're gonna go to the bridge. try to get a good view of the city
get on one of these bikes I think they have a weight limit it looks like a scooter for a toddler these kids are going to take a toe off these kids are gonna knock us out (with fireworks) not as much foot traffic as I thought. I thought there'd be more people on here I don't know if that's because it's Ramadan everyone comes out for a bit and then goes home. I'm not sure but it is a Monday night the people are somewhere we don't really walk much around cities but whenever we do I feel like a proper tourist I feel like I'm... yeah it's totally different now we're in the center of the bridge and you can get a view of where we were eating earlier decent view of the city. not too many big buildings wasn't sure what to expect when we came to Palembang. it's big but not a tall skyline like Jakarta or Surabaya t also looks like there's a train or Metro up there that runs along the bridge. almost like the MRT, I'm not sure the name
oh that's a big one that's enough here on ampera bridge. we're gonna get back on the bikes and go to some more spots we're looking some stuff up. hopefully we can meet some people, let's go here's the deal guys we've been in sumanja for two months we haven't had a beer in a long time we found a spot to get beers and there's karaoke it's lit (hype) it's lit (hype) we're hanging here. we'll show you more of Palembang tomorrow good afternoon. day two here in Palembang
we are here at pak raden because it's time to eat we're gonna eat some pindang. typical of palembang we're here with a few people from the Department of Tourism here there's head, body, and tail. which one do you want? body mix of pempek and egg they mix it together and fry it this not Pindang. this is only the appetizer heavy appetizer these are original Palembangnese snacks this is the cuko. you should slurp it brown sugar with garlic and chili maybe like teriyaki this is different you have to use the cuko i don't have to do that right? you have to it's optional yeah? before we take a bite of that notwe wanted to let you guys know that we just launched our membership program today and if you guys are interested in directly supporting us the lost boys go check it out after this video now back to the food now is when he said he's not really spicy it's not that spicy it's not but the sauce the sauce is it's like sweet and spicy you know what I mean first it's kind of sweet and salty and then the spices has a Chinese flavor to it yeah yeah yeah this guy can be in the campus where the people grow shopping and he's gonna be so happy why do you put more you need more it's part of the experience the sky okay like this right egg yeah it's okay oh okay but that's not too bad no no it's still okay I'm fine I drank it it's not bad many things it's good actually it's very good it's not that you'll be honest no no this point is what you say but also money is sweet yeah so it's name yeah it's really nice it's really nice guys you need to come here you need to try this oh it's so good yeah it's like Tom young yeah awesome awesome money yeah yeah that's amazing wow it's so nice but I didn't try the fish it's so nice so soft tender yeah so it's so tasty yeah yeah I love the soup oh my goodness the flavor is to come inside today yeah guys this fish is so tender that it just comes off the bone in the soup here it almost has a creamy texture when you buy it after an amazing lunch time for dessert looks Savory these all look sweet this I'm curious about there's some chabe on top a little bit of chili going on I don't know what that's about your curious you are scared I'm curiously scared they put chili in the sweets yeah any bowling has yeah okay okay I challenge you guys well I'm only getting half of this so Rob can try it as well with this right yeah okay oh this is a dessert papaya it's very sweet but what do you think um it's really good all right you have to grab your fire yeah having fun we got guys we got enough we got an audience here foreign hello a nuts no there's no nothing can beat this nothing can beat this yeah I want some oh you won let's go one is surikaya sorry making some abundance thank you that's no sugar we're gonna be bouncing off the walls for the next who knows how long but one of them foreign so we're here in the center of the city guys also behind me is the Grand Mosque of palumbong this is quite a busy area here and this Monument behind me they told us is dedicated to some of the Legends and the heroes here that got the freedom and Independence in palomang and South Sumatra so we're gonna walk with the locals here from the Department of Tourism we're gonna ask him some questions to try to learn as much as we can about it we call it five days war between the colonial and Indonesia yeah so they're fighting for Independence yes and then we win in five days oh my goodness amazing it's amazing the water take place in the city or was it out in uh actually in this area wow really yes and this Monument is dedicated to all of the foreign foreign how funny from the second Warrior here and these are guns from other countries from Netherlands Indonesia built this one ah okay this one is for uh from local they made it you see the design it looks different it's very different yeah this is to the leader the leader in India they also the warrior is the governor the first governor the first governor is the second governor but they also the apartment emperor see oh yeah there's all these different holes and these different room oh no yeah all right squeeze through hello this is so nice look at the view the beach see everything here yeah you can see everything in here guys it's beautiful see these holes that we came out of so interesting sixth Bridge yeah you can see Lucy four bridge over there you can see the um we are now back at the bottom of montpeda guys we've enjoyed exploring palamong over the last couple days stay tuned for the rest of our content coming from here over the next few weeks hit that like button if you enjoyed the video and don't forget to subscribe and we'll see in the next one and if you guys are interested in directly supporting us go check it out after this video. now back to the food
now is when he says it's not very spicy it's not that spicy it's not but the sauce is... you want me to drink it? not all of it it's so good. i love sauce like this it's sweet and spicy first it's sweet and salty and then the spice at the end it kinda has a Chinese flavor to it this guy can be in the village where they grow chili and he's gonna be so happy why do you put more? you needed more so it's egg mixed with fishcake it's still ok. i'm fine i drank it. it's not bad it's not as spicy as gejrot not nearly as spicy how many things do we have to do in Indonesia? it's good actually it's very good it's like you said. sweet and spicy
guys you need to come here you need to try this oh it's so good. yeah it's like Tom yam that's amazing wow it's so nice but I didn't try the fish yet the fish is so nice. so soft and tender so good. so tasty I love the soup. oh my goodness
the flavor is inside the fish there's a variety of Pindang this fish is so tender. it comes off the bone. it almost has a creamy texture after an amazing lunch time, for dessert these all look sweet but this I'm curious about. there's chili on top I don't know what that's about your curious or you are scared? I'm curiously scared they put chili in the sweets I'm only eating half of this so Rob can try it as well oh this isn't a dessert it is a little sweet it's so good i wouldn't call it a dessert though all right rapid fire we have an audience here this is gonna be like a sweet potato muffin this is like north carolina nothing can beat this he wants some. let's go i love srikaya you know srikaya? i want a big one like this that's enough sugar. we're gonna be bouncing off the walls we're going to monpera now. it's a beautiful monument. hopefully with a beautiful view no more sugar. no more coffee
we have arrived at monpera we're in the center of the city. behind me is the Grand Mosque of Palembang this is a busy area. this Monument is dedicated to some of the Legends and the heroes that got the freedom and Independence in Palembang and South Sumatra we're gonna walk with the member of the Department of Tourism, ask some questions, and try to learn as much as we can we call it the 5 days and 5 nights 5 day war between the colonials and Indonesians so they're fighting for Independence for South Sumatra and then we won in five days oh my goodness amazing did the war take place in the city? It was actually in this area. Wow And this monument is dedicated to all of the legends? Yes Let's go inside. It's from the second world war And these are guns from other countries. These are European weapons. Germany, Netherlands Indonesians built this one. This one is from local people.
You see the design, it looks different. It's very different. These were the leaders They were also warriors He was the first governor And he was the second governor But they were also soldiers. Generals This was the center of the "Sriwijaya Kingdom" This is cool. Look at this.
There's many different holes I have to squeeze through This is so nice. Look at the view. You can see everything from here It's beautiful You can see the holes that we came out of. It's so interesting. There's 6 bridges. You can see 4 of them. You can see the grand mosque You can go on it We are now back at the bottom of "Monpera" We've enjoyed exploring Palembang over the last couple days Stay tuned for the rest of our content coming from here over the next few weeks Hit that like button if you enjoyed the video And don't forget to subscribe. And we'll see you in the next one.
2023-05-02 15:18
Show Video
Other news